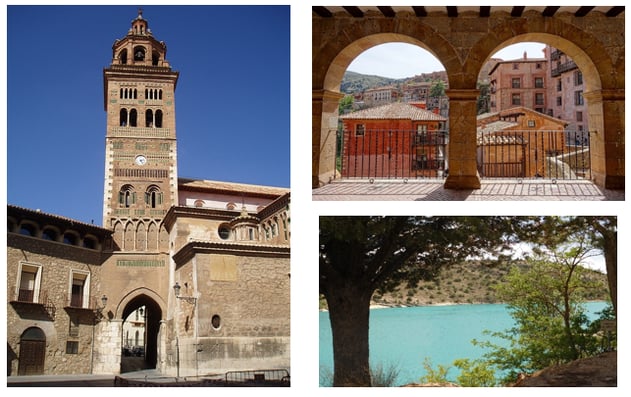 In 2016 we commenced new operations out of the beautiful town of Teruel, located in Eastern Spain. A sister campus for our base at Brighton City Airport, Teruel's antiquated features and unique Spanish charm has made it a firm favourite of our students.
Teruel Airport is where our students enrolled on Option A of the Integrated Flight Deck Programme complete Phases 1,2 and 3 of their flying intruction. This they complete in our PA28 aircraft before returning back to the UK for the final stage of training in our Diamond aircraft.
Here we explore just what makes Teruel special and just why it has been a fantastic addition to the training here at FTA:
LOCATION, LOCATION, LOCATION
Aeropuerto de Teruel is located 15km to the North West of the town of Teruel and approximately one and a half hours drive North West from Valencia.
Teruel itself is traditionally renowned for the following:
Jamón serrano

(cured ham) - With the dry conditions of the climate reaching around 35 degrees Celsius in summer, this makes the perfect conditions for procuring high quality ham and pork.

Pottery – The

Mudéjar

style of ceramics, which arose out of techniques of fathering architecture as a result from Muslim and Christian faiths living side by side, is ever present within Teruel. The beautiful churches, archways and indeed pottery are simply fascinating pieces of architecture to look at, with lots of history from times gone by.

Dinosaur remains – Palaeontologists in Spain have unearthed some of the most complete dinosaur remains in this region of

Aragón. This is one of the reasons for the construction of one of the largest museums for palaeontology in the world, Dinópolis.

Here in Teruel, you have the chance to see a skeleton cast of 'Brachiosaurus', measuring 24 metres long and 12 metres high, they stand as one of the largest dinosaurs from Africa.

AIRCRAFT
In Teruel, we have two Piper PA28 aircraft. The Piper Warrior has been a flight school favourite since its inception. Dependable and resilient with responsive handling, the Warrior is an ideal aircraft for the demands of student pilot training. Built on the same quality of its Cherokee ancestry, the Warrior comes equipped with a 160 HP Lycoming engine. The Warrior is an exceptional training platform to meet a multitude of flight school requirements.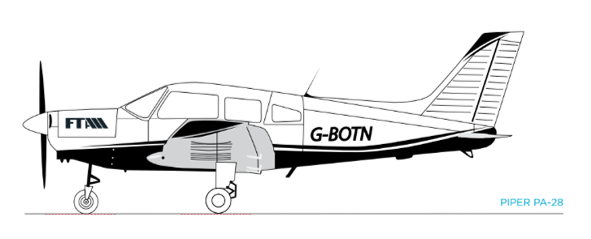 WHERE WE FLY
During the hour building phase of our student's flight training in Teruel, they have the chance to carry out 'land aways' in various different airfields across Spain. The main airfields that we use are:
Castellón Airport. This airport is located South East from Teruel and North along the coast from Valencia. The airport commenced operations in 2011 and has since begun scheduling commercial flights. With an asphalt runway length of 2,700m, Castellón provides the perfect location for students on training flights.
Huesca-Pirineos Airport. The airport is located close to the border between France and Spain. It was intended to assist skiing resorts in the Aragonese Pyrenees and serve the province of Huesca, which is home to the tallest mountain in the Pyrenees, the Aneto.
LIFESTYLE
For many, the chance to learn to fly in different locations and in a variety of fully equipped aircraft is one of the many reasons that students pick to come and complete their flight training with FTA. Teruel offers consistent weather, instructors and aircraft, which is vital when it comes to laying the base foundations for a career that will provide endless opportunities and skills for the rest of your life.
So far in Teruel, all of our students have gone solo in the minimum hours required. We spoke to our student Alex Wagner about the time that he had in Teruel:
"For me the most enjoyable things about training abroad in Spain is obviously the warm temperatures and the consistently clear blue skies, but I would also say that the other students on my course and also my flight instructors make the experience a lot more enjoyable too. Everyone gets on really well and there is a real feeling of community between us all. The ability to go out flying every single day is helping me to adapt and learn very quickly – I was even able to do my first solo flight after only 10 hours of instruction! Finally, all the people who work at the airport have made my time out here really enjoyable, they are all very welcoming and friendly which makes it a pleasure to train out here in Teruel"
There is also plenty of extracurricular activities that are available to the students whilst out training in Teruel. Swimming pools, gyms and theatres are all located in Teruel, meaning that there are plenty of ways that you can unwind at the end of a day's training. If you have access to a rental car whilst staying in Teruel, there is also ample opportunity for you to explore cities like Valencia and Alicante. Training here is a great way to immerse yourself in true Spanish culture.
COURSES
Option A of our Integrated Flight Deck Programme is becoming increasingly popular with cadets. We believe this rise in popularity is down to the price of the course (£63,950) and the unmistakeable benefits of training in such a beautiful town with superb flying conditions.
David Davis, who was the winner of 'The Honourable Company of Air Pilots Flight Instructor Apprenticeship Scheme' (in 2016) has spent some time in Spain. He was based at Teruel Airport whilst he trained with FTA to obtain his Flight Instructor Qualification (which he has subsequently completed). He explains what it's like to live and train in Teruel:
"Teruel is a nice place. It has the feel of a large town, with plenty to do and lots of bars and restaurants. You can go to different places at the weekends, with plenty of different things to explore. The transport links are cheap and simple to work out, with cities such as Valencia and Zaragoza in quite easy reach. The Plaza Torico is the main square in Teruel where I spent most of my time, as it was the central point for events that occurred over the weekend"
"The airport itself is massive. The terminal is set in modern space, with floor to ceiling windows, good lighting and great views of the apron. Large jets such as 747 aircraft park outside the FTA terminal, which is quite an impressive sight! They are currently building a second hangar designed for 737s and 747s for storage and also for scrap. It is also a dedicated maintenance facility. The airport manager is very friendly and takes students on a tour of the location when they arrive. It very much feels like an International Airport with the amount of security present. Out in Spain we conduct 'Phase Briefings', which usually takes about an hour and that is done with every student there. Each student will then get their own individual briefing before the flight and this works out really well, as students gain a thorough understanding of everything they're meant to be doing before they get into the aircraft"

ACCOMMODATION
Whilst we do not offer accommodation as part of our course, we do provide assistance with sourcing accommodation in Teruel. Our Student Welfare Manager, Cheri will assist with identifying the best options for you and your budget. As most groups start the integrated course same at the same, the most popular option has been to share an apartment between the group. Daily transport between the airport at the apartment is subsequently included in the course fee, which ensures that commuting to and from the school is hassle-free. We've seen that sharing an apartment encourages the formation of close friendships which helps as students progress through the training.
Whether you choose to complete Integrated Flight Deck Programme Option A or Option B with us, rest assured that you will receive the same consistent and quality training from our fantastic team. We are committed to getting you from zero hours to holding your own Frozen ATPL in the minimum amount of time we can. To talk more about Teruel or any further aspects of training life at FTA, then please do not hesitate to contact us.