For many, identifying how to finance pilot training is the only barrier to pursuing this fantastic career. There's no denying that whilst pilot training is not cheap, it is a valuable investment in your future.
The cost of the course is comparable with that of university and one you will need to carefully consider before completing your studies at school or college.
Pay in instalments:
2022 - 2023 courses
FTA asks that an initial payment of £10,000 is paid upon enrolment (to secure your place on the integrated course). Due to Student feedback, we have recently extended the timescale of the balance due, which is now paid over the next 18 months in equal instalments. This extended payment term spreads the cost over a longer period of time, therefore reducing the monthly payments.
If these are still a stretch, you can chose to complete your training in phases. FTA offer the modular flight training and a competitive rate for completing your MEP, ME IR and ME CPL.
The three-course package costs £32,685 (Dual Licencing £34,685) and usually takes around 3-5 months to complete, subject to weather and student performance. The Advance Modular Package incorporates everything after your PPL and hour building - and you can even do your PPL and hour building here at FTA too! Visit FTA's modular course page for more information.
More information about our course fees are available here.
You can also weigh up the pros and cons of modular vs. integrated training, with the help of our blog article, available here.
In order to help your research, we have put together some information which may help you weigh up the options available.
FTA have partnered with Pegasus Finance with whom you can discuss any borrowing needs. Please see below for more information.
Finance Specialists
Pegasus Finance provides a range of flexible finance options to suit all needs.
Offering both secured and unsecured loans to their customers, Pegasus Finance gives you the freedom to repay your way – with a wide range of large loans available to good and bad credit holders.
Whilst they're specialists in big loans for big purchases, they also work with experts in the world of small personal loans – meaning they're ideally placed to help with finance for any purchase of any size.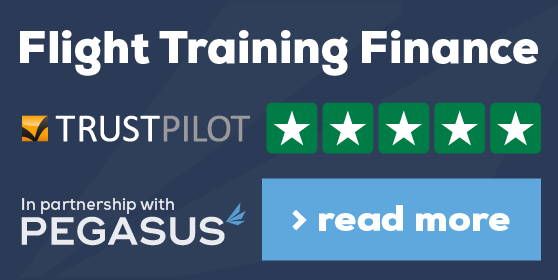 Secured loan
There are a few banks that will lend larger amounts of money with security - usually in the form of a property. The property you, (or someone interested in funding you) will need to own needs to have a value of over £150,000. However, most banks will only lend up to around 60% of the value of the property.
You will be able to discuss your options with an approved IFA or mortgage company direct.
Flight training finance specialists
There are a number of companies that offer loans specifically for modular and integrated pilot training. Details about these companies, along with applicant criteria are available online, search: pilot training finance
Savings
A number of students fund their training with an inheritance or finances they've managed to save over time. A cool £87,950 is not the typical amount found in the average teenager's piggy bank so if sizeable funds are an issue, it may be that you opt for the modular route to a frozen ATPL. You could then use savings to kick start your training. Flight phases can be completed over time and you can work between modules to earn enough funds for the next part of your ATPL. The pros and cons of integrated vs. modular can be found in our online guide
Help from family
It can be tough to ask a parent to fund your pilot training, but it is worthwhile. Pilot training costs can easily be compared with those of going to university.
By taking a commercial pilot training course, many students have the ability to start earning as soon as they qualify, within 14 months of starting their course.
Your starting salary upon completion is generally higher than that of a university graduate and you're starting your career at a younger age. Can many 19-year-olds say they were earning £25,000 per annum in their first full-time job?
It's not just starting salaries that prove attractive. Commercial Pilots consistently top the polls for the highest average salary, and this year the average salary of a commercial pilot was stated as the highest – a whopping £84,592 – above CEOs and Senior Officers.
View the Guardian's article on the 'highest paid jobs' in 2016.
View a payscale for pilots here.
The prospects for graduates are very positive – with Boeing continuing to predict unprecedented growth for airlines globally over the next 20 years. So, work hard and the opportunities are there for the taking.
Read all about the prospects of pilot careers on the following website: prospects.ac.uk