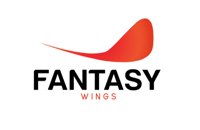 We are excited to announce a new partnership with Fantasy Wings, the programme that gives Black, Asian and Minority Ethnic people and Women a platform to enter and excel in the Aviation industry and become commercial airline pilots.
Aimed to make pilot training more accessible to those who are underrepresented in the aviation community, FTA has taken proactive steps to address career development and financial barriers to study by committing the following benefits to Fantasy Wings participants offered through our Pilot training and Flight Instructor Ratings.

● The FTA Fantasy Wings Bursary. £10,000 off a Dual Licence integrated ATPL Course at FTA.

● Publicising relevant FTA global positions to all existing and Alumni Fantasy Wings participants.

● Discount to all Fantasy Wings participants past & present from the list price of any course or package at FTA.

● Discount to all Fantasy Wings participants past & present aimed specifically at the Flight Instructor Course to develop employment opportunities not only at FTA but with other training facilities.
Sean Jacob, Managing Director, FTA says
"We are a flight school open to all, providing opportunities to students of all nationalities, from a variety of backgrounds. We're delighted to announce this exciting partnership with Fantasy Wings, which opens up even more opportunities for women and those in underrepresented communities to access more training and jobs in the commercial airline industry."
Jackson Smith, Founder and Managing Director, Fantasy Wings, says
"Our partnership with FTA is a key step in the right direction when it comes to addressing a number of important barriers to diversity within the Pilot / Aviation industry.

Fantasy Wings was created to address the lack of diversity and inclusivity within the Airline Pilot / Aviation sector. We provide young people with crucial insight and knowledge development that allows them to go off and have successful and satisfying careers within the industry. It is great that through our partnership with FTA, our young people will have some of the financial restraints of training eased which is a key step forward in making the industry more diverse and representative. We look forward to this being a long and successful partnership between FTA and Fantasy Wings'.
Further information on Fantasy Wings can be found here.