We are delighted to have officially reopened our main building and the heart of our flight school, Wingfield House.
The occasion was marked on Friday when a ribbon to the doors of the building was cut by FTA's co-owner and founder Anthony Realff. All the staff were excited to be part of putting everything in place, ready to welcome back our students.
Due to social distancing measures, the celebrations were a lot quieter and more restricted than we would have liked but we could not let such a momentous occasion go unmarked.
The company's Managing Director, Sean Jacob explains more: "We are very fortunate to have used the time during the country's Coronavirus lock down to complete extensive renovations to all our classrooms and office facilities. Wingfield House has been the flight school's main home for almost 15 years and, with so much expansion, there was a need to rejuvenate and repurpose all the available space.
As a business delivering elite flight training for professional pilots, our aim is to become the best flight school in Europe and reopening a lighter, brighter, redesigned centre is just the beginning".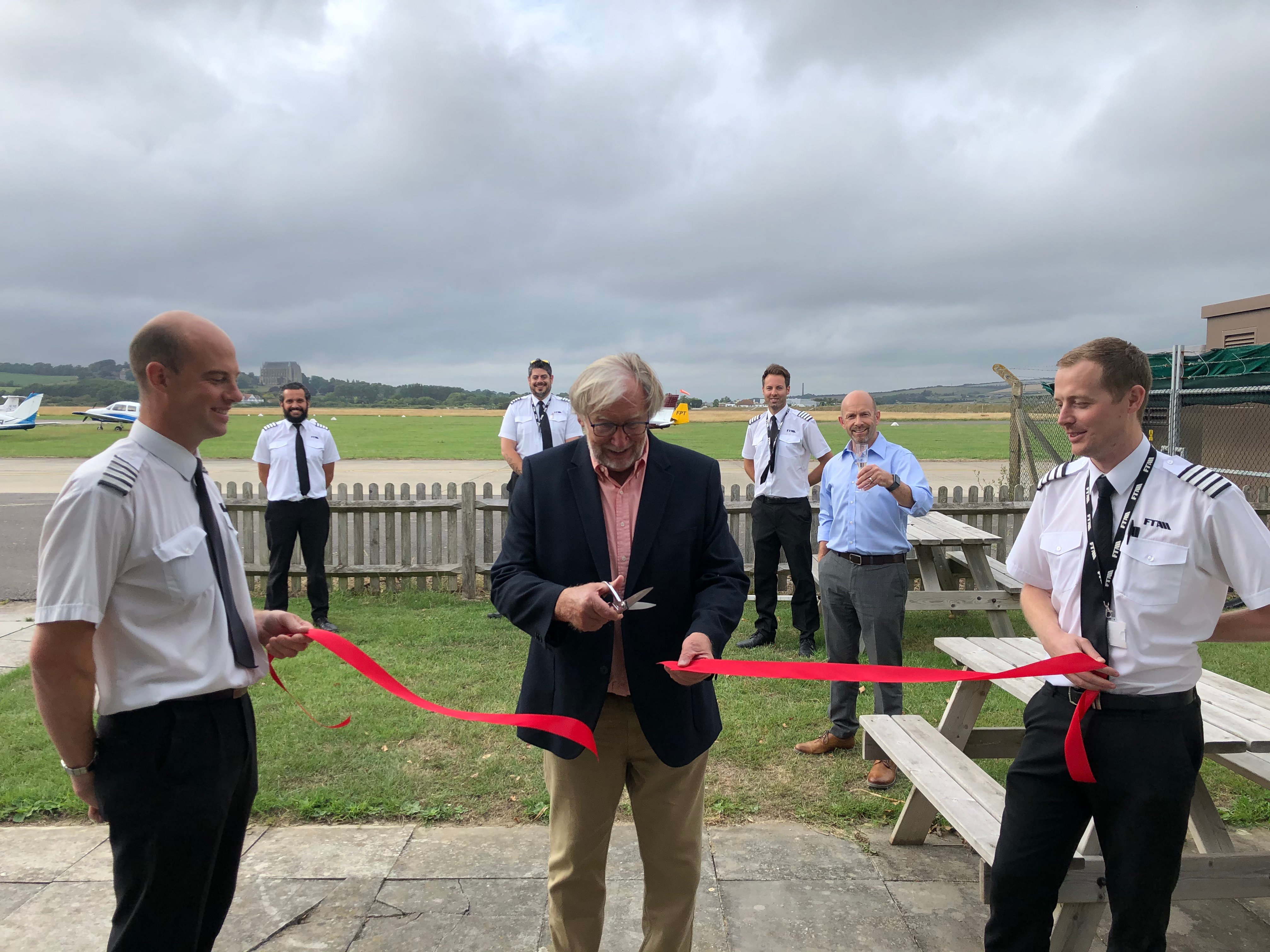 Picture: Co-owner Anthony Realff cuts the ribbon in front of Wingfield House.
The building is unrecognisable from its original existence. When FTA originally moved in, we only used a fraction of the building, which was also home to an airfield social club and as shared office space for an external company.
Since the school's humble beginnings, we have increased the space we use at the airport fivefold. We have trained over 2,000 students since the school's inception in 2006, and FTA is now responsible for almost 80% of all aircraft movements at Brighton City Airport. All of FTA's training is delivered in the UK, unique for this industry, where flying schools often look to make cost savings delivering training abroad or through third parties. We are excited to be in an such an ideal location and to be ready to welcome increasing numbers of selected students over the next 5 years.
In addition to all the space we have for tuition at Brighton City Airport, FTA is also proud to have our own engineering company on site, who maintain and service our expanding fleet of aircraft.
Building renovations were not the only thing the school delivered over the past four months. Ground school was moved to remote teaching via Microsoft Teams and students were back on-site this week to complete their mock tests, and begin revision and consolidation for their formal exam sittings later this month. Since lockdown in March we have welcomed 2 new intakes of students onto our integrated flight deck programme and have everything in place to welcome a third cohort for integrated training in September.
Whilst there has been plenty of media coverage of the impact that Coronavirus has had on the Aviation Industry, green shoots are already evident and noted industry experts are predicting a U-shaped recovery, taking the industry back to a level that will be bigger and busier than ever before. For students embarking on a two-year training course, there probably hasn't been a better time to train.
Although 2020 has been a turbulent time for many businesses, at FTA we have seen the year as something transformative. In 2021 we will launch new and enhanced integrated and advanced commercial training programmes with extended airline preparation services and we are encouraged and excited about what the future will bring.