Infection is not limited to pandemics: sometimes it is a positive thing. Fredricka explains how her dad's love of aviation became infectious. Now in the final stages of her training, she has kept both her parents happy by training to be a pilot whilst maintaining her love and care for horses.
Fredricka is not afraid of a challenge. Her determination and resilience has been proved, as she simultaneously trains through the pandemic, plans her wedding and keeps up her responsibilities at home with her horses.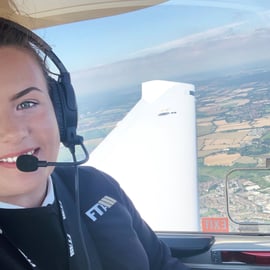 When did you start your training and what stage are you at now?
I started in April 2019, so about a year and a half ago now. I was one of the last people to join the course when it was run it the old way (starting with flight phases one to three before joining ground school). I have completed ATPL ground school and now returned to complete phase 4 (my advanced flight training).
What training were you doing during the Covid-19 lockdown?
I was in ground school. I had started ATPL Theory in class and during lockdown the training was delivered using Microsoft teams.
It worked really well. It was just different. Nothing can replace the classroom environment.
Has the training been what you expected?
Yes - up until COVID at least. However, I think FTA dealt with it really well, so we definitely didn't miss out on anything when it came to the level of teaching. My flights have always been very good; the level of teaching both in the air and on the ground has always been very high. When I've needed something explaining the instructors have always been very helpful and easy to approach.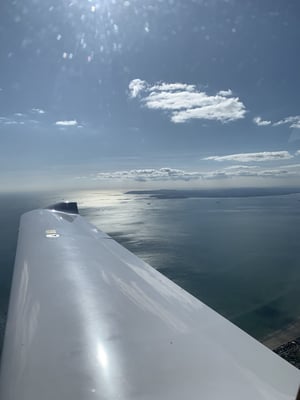 What is next for you in your training?
I have started on phase 4, so now I start flying for my CPL, which is really exciting because I will be doing it in the DA42. I will do the CPL test in a couple of months, and then move on to the Instrument Rating. That will, of course, take time but I hope to be finished this year.
Why did you choose to become a pilot
–
is it something you have always wanted to do?
I would say it has been something I was interested in since I was young, but I didn't really know it was an option for me, as I only saw men flying. Even now people say 'oh... can you do that?' It's true, some people actually say that! My dad has always been interested in aviation, so I'd say that's where my interest came from.
So you learned a bit about it and thought it would be something you would be interested in?
Yes. My godfather, who is a pilot, used to fly at a small flight school at Redhill aerodrome. He arranged for me to spend the day there as part of a school assignment. My dad then took me up to Redhill for the day and they gave me a half an hour flight at the end of the day, which I still remember now as the moment I knew I loved flying! I think I was only about 13 years old at the time. I began with lessons once a week, or as and when I could, and then I stopped when I started my GCSEs.
After that point I didn't really know how to take it any further, so I studied at college and made a job out of my horse riding, which I still do now, just not full time anymore, I still instruct and train young horses. I then decided to go back to Redhill for another trial flight, to see if I still loved flying, which of course I did, so that was when I decided I wanted a career in aviation. I then did a lot of research and found FTA.
You mentioned people
'
s reaction to your pilot training, what do you think of the gender bias in the profession?
I think it's better now than it was 5 or 10 years ago. I think it is still a male dominated industry but there are definitely more women completing training and working in the industry, which is really nice to see, so hopefully that will continue! I started with one other girl in my class, and since then I've met more women joining FTA, and made some really close friends too.
What
'
s been your favourite bit so far?
Definitely the flying. The first solo flight was a really big high for me. Then in phase three you have to do a lot of solo hours, so a lot of long navigation flights and you get to do your qualifying cross country, which was probably my favourite part because that was a long flight. You're flying all day, for hours, and you get to go to two other different airports.
You're on your own and it makes you feel like a 'proper pilot'.
I went from Shoreham up to Norwich. I stopped for a coffee and refuelled, then went all the way back down to Lydd. I was very lucky and has a cloudless day with no issues. It's my favourite flight to date!
What have you found the most difficult?
I'd say ground school was what I found most difficult. The actual material is fine. It's more the amount of it. I think my worst subjects are ones like Operations where there are so many numbers to try and remember. People have different ways of tackling it; the instructors always have really good ways of how to remember the different numbers or different sayings or phrases to help it stick in your mind, which is really helpful.
My exams had to be rescheduled or cancelled due to COVID, and Brexit had a play in that as well. It means I have still got some exams left to do, but so far so good. It has just been a bit of a juggling act trying to get it all done.
Can you describe a typical day for you at the moment?
My days off are Sunday and Monday. The rota will depend on the phase you're at. Sometimes I get two flights a day, sometimes I get one. The weather affects it a lot.
A flight is usually about an hour which is from 'brakes off to brakes on'. You're actually getting 45 minutes in the air and if it's a navigation flight it could be 90 to 120 minutes maybe.
A navigation flight is where plan your route using reference to the ground. You could fly from Brighton Marina up to Heathfield and then there's a big lake called Buel Water and you draw it out on your chart. Then you'd plan your headings, times etc. taking into account the winds and weather.
What do you do like to do in your free time?
It's quite good because flights don't take up all the day. You have to do your mass and balance and performance. We do that planning at home at the moment (to minimize time in the school due to COVID), but normally we'd do that in the planning area in Wingfield House. We complete a walkaround of the aircraft and have a brief with the instructor to discuss what we're going to do in the flight or what we need to work on or any questions we may have. I check the weather and any NOTAMS. By the time you get home you've probably only been at the school for about 4 hours, so it does actually leave quite a lot of spare time. I have eight horses at home, so I usually have time to ride or do some teaching in the evenings.
My fiancée and I live in a little house on my family farm, close to my parents. We live in Horsham which is about 30 minutes away.
Why did you chose FTA
–
did the location play a part?
Yes, I couldn't believe there was a flight school so close to me, that offered everything I wanted. I spent a lot of time on the website and I was emailed a brochure too.
I went on the tour with my mum and received a USB with loads of information on it. We had everything we needed to make the decision and then that was it - decision made. It was quite an easy choice for me, as FTA has very good reviews and I'd been able to talk to someone who had completed their training a few years ago, so they has some useful tips and comments on what I should look for. It also meant I didn't have to move to a different location and leave everything behind.
Since the location is outside Brighton itself, you don't get stuck in all the city traffic. I went to school in Shoreham, so I am very familiar with the area. I think maybe I take Brighton for granted because I live so close to it, but it is very good for shops and has really nice restaurants. I don't really go there that much but when I have, I have always enjoyed it. There is so much to do.
Do you have any last tips for students?
I would definitely advise you to research your flight school thoroughly. You need to be comfortable with the one that you choose because the training is intense. Go to lots of open days, ask lots of questions. Everyone's different and every flight school is different, so the more research the better. I read the reviews and took note of what people said. There are lots of good forums and websites that rate and review the schools and how people have found them so far. Pprune is a good example. A trial flight is a great idea as well, maybe even a couple.