The Airline Pilot Standards programme is held in high regard by major airlines who recognise the need for pilots to demonstrate a broader set of competencies such as leadership and teamwork, situational awareness, problem solving and decision making.
Our APS/MCC course (delivered by our training partners Jet Masterclass) sets out to achieve the highest possible exit standard, including unrivalled manual flying technique, ample spare capacity to manage inflight non-normal scenarios, and the broadest possible skill set to pass any airline assessment and transition to the airlines with ease.
What is an APS course?
An APS is an enhanced Multi-Crew Cooperation Course which is delivered to airline standards. It follows the successful completion of your commercial pilot's licence and concludes the training required to possess the skills and training to apply for a role as a first officer with an airline. The training is designed to develop the necessary competencies to operate effectively within a complex multi-crew environment, with additional capacity available to manage the scenario and the other pilot if they're not as strong as you are. The training is comprised of both simulator and classroom instruction and delivered by highly professional pilots currently working in the industry.
How does an APS differ from a standard Multi-Crew Cooperation (MCC)
A regulated course, the APS aims to address a common skills gap between completing a Multi-Crew Cooperation Course (MCC) and Initial Multi-Pilot Jet Type Rating.
An MCC course trains a student on the mechanics of working with another pilot, and the soft-skills required to communicate and work effectively within a complex team environment. These can be delivered on any multi-pilot simulator and some providers opt to complete the course by use of autopilot. This can leave a skills gap in manual flying techniques.
Given the leap from a non-complex single pilot environment, to a vastly complex multi-crew environment, it is not possible to develop a thorough understanding of the new environment in a basic MCC course.
In comparison to a standard MCC, the APS course features an extra 20 hours of practical flying of which 12 hours is advanced handling, 6 hours of advanced airline scenarios training, and a final 2-hour check to a formalised exit standard.
This additional instruction offers recruiters an increased confidence in a regulated standard being achieved.
What is the difference between an Multi-Crew Cooperation/Jet Orientation course and the Airline Pilot Standards?
Historically, only the MCC element was regulated with no requirement for jet orientation handling prior to first type rating. Given the complex nature of jet handling, pilots that completed a MCC on a non-jet aircraft type, may have found airline assessments and transition to first multi-pilot jet type-rating a challenge.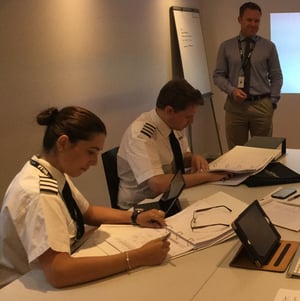 In order to ensure a high standard of candidates, many airlines made the 'jet orientation' course a pre-requisite for employment.
Before the introduction of the APS, the first attempt success rate for airline assessments was low. The APS provides a more formalised development programme to ensure readiness for airline assessment, transition to first multi-pilot jet type, and transition to a vastly complex airline operating environment.
Airline Preparation at FTA Global
Our 2020 Integrated Flight Deck Programme included the MCC/JOC as standard and we work with additional specialists in airline interviews to layer up all the soft skills expected of airline pilots. Including the APS with the 2021 Flight Deck Programme has resulted in an increased price for our students but also the best possible chance of employment.
The course is delivered by our training partners Jet Masterclass, who are highly experienced professional airline instructors. They conduct the training on behalf of FTA, with our training ethos, pilot competencies and behavioural markers fully aligned between both organisations.
Can my training course guarantee me a job with the airlines?
The aviation industry is no different to any other supply/demand market, so investing in pilot training does come with an element of risk. Jet Masterclass Co-founder and Instructor, Frank Jukes explains: "If the market is in a downturn, and demand for pilots is low, there will likely be experienced pilots in the same market applying for the same jobs, so a new pilot coming into the market will likely have a period of waiting for the next upturn. The length of that wait will be out of everybody's control, and purely market driven, so it is remiss of any ATO not to highlight the risks of investing in pilot training.
It is disappointing to see professional training organisation make false promises of employment, or over-egg airline relationships that are largely futile during a downturn."
Aviation is a highly competitive and sometimes unforgiving industry and where supply of qualified pilots outstrips demand, airlines have rich pickings, so, for new pilots in particular, when the opportunity comes, need to perform well on the day of assessment. Investing in training with the correct provider will prove invaluable in more challenging times.
It is crucial for pilots to be as skilled and ready as possible for when the opportunity comes. There are many variables on the day of assessment, for example:
What technical questions will they ask me?
Can I put myself across well in the competency-based interview and group exercise? Who will be my sim partner?
Will they be competent and supportive?
What airport, what scenario? etc. etc.
It's important where possible, to control the controlables, and that means being as prepared as possible for the interview, the group exercise, and the simulator assessment.
If you haven't already realised, there are no guarantees of employment in this industry, even if have a signed training contract with the promise of a job, be very weary of false promises. Take responsibility for your own development and success. Do your research and invest in the best training provider.
What specific competencies does the APS develop?
ICAO and EASA have published a set of pilot competencies to which our training is aligned. Within each of the pilot competencies are behavioural markers, and just like in the airline environment, these markers are designed to develop the overall performance of the individual. Developing nine competencies at once can be overwhelming and 'cloudy' for the pilot, so Jet Masterclass have grouped them into manageable Foundation and Advanced competency groups.
A building block approach is taken throughout the course, with the early phases really focusing on developing the foundation competencies of Knowledge, Procedures, Manual and Automatic Flight, and with that solid foundation laid, the more advanced competencies of Communication, Situational Awareness, Workload Management, Leadership & Teamwork, Problem Solving & Decision Making, are developed.
The APS phase of the course really expands the advanced competencies with some quite complex scenarios to develop a 'thinking' pilot. It is impossible to train for every eventuality, and experienced pilots will tell you that non-normal scenarios rarely unfold as they do in the simulator, so the focus is on developing all of the competencies required to deal with any scenario.
How to enrol
The APS/MCC is included within our 2021 Flight Deck Programme and is completed during phase four of your training, (when all advanced flight instruction is near completion).
As part of our overall commitment to enhance all elements of our training, students will be exposed to the skills and standards required as part of this training as early as possible in their - enabling them to refine their expertise during their time in the B737 simulator.
If you are a modular student and need to complete an MCC then we thoroughly recommend you consider the MCC/APS delivered by Jet Masterclass. For more information on how you may enrol as a modular student on the APS/MCC course, simply click here.