Andrew enrolled with FTA to complete his ATPL Theory. In his job prior to pilot training, Andrew travelled a lot, working for EDF energy as a safety advisor in the nuclear industry. His father and sister are both commercial pilots so the aviation gene is definitely in the family.
What is most obvious during our interview with Andrew is his emotional intelligence. He is both grounded and realistic in his ambitions. He is also fiercely proud of his father who is very clearly a role model for him and his siblings. Prior to enrolling with FTA Andrew had already embarked on his commercial pilot training but had decided to put his dream on hold. His sister had qualified as a commercial pilot at the height of the economic recession and so having witness her own struggles with securing an airline role, Andrew decided to get some valuable life experience first. He explains:
"My father was in the parachutes brigade in the military he joined without a diploma and the army is his second family. He met my mother in Montpelier when he was training and has since become a commercial pilot with instructor rating as well as gained his helicopter licence, which he now utilises working for a helicopter search and rescue in France. Our parents had a big impact on us all. My father did my flight training in Local flight club of Montpellier in France, he is very happy and very proud of me and my sisters. My parents care and are united and are very supportive, encouraging me to be independent."
When he was 17 years old he moved to Toulouse for two years, having caught the travel bug he decided to make it a way of life early. Toulouse as recognised as very aviation related and so it proved a great place for Andrew to live:
"During my time at university I complete an internship at the National Search and rescue helicopter maintenance Center in Nimes. Then two months after I completed my degree I started working at EDF. I wanted something new and it was a great challenge. The job also enabled me to save a lot of money to fund my training. They knew I wanted to become a pilot and gave me a two-year secondment from my job to complete my training. They understood the dream, and I was seconded from my job in 2018 and free to complete my commercial training up until 2020 – it was a great safety net. I have updated them on my training and they have always been very supportive. I took an aerial photo of my company flying one day and the manager love it and said that he'd keep it forever."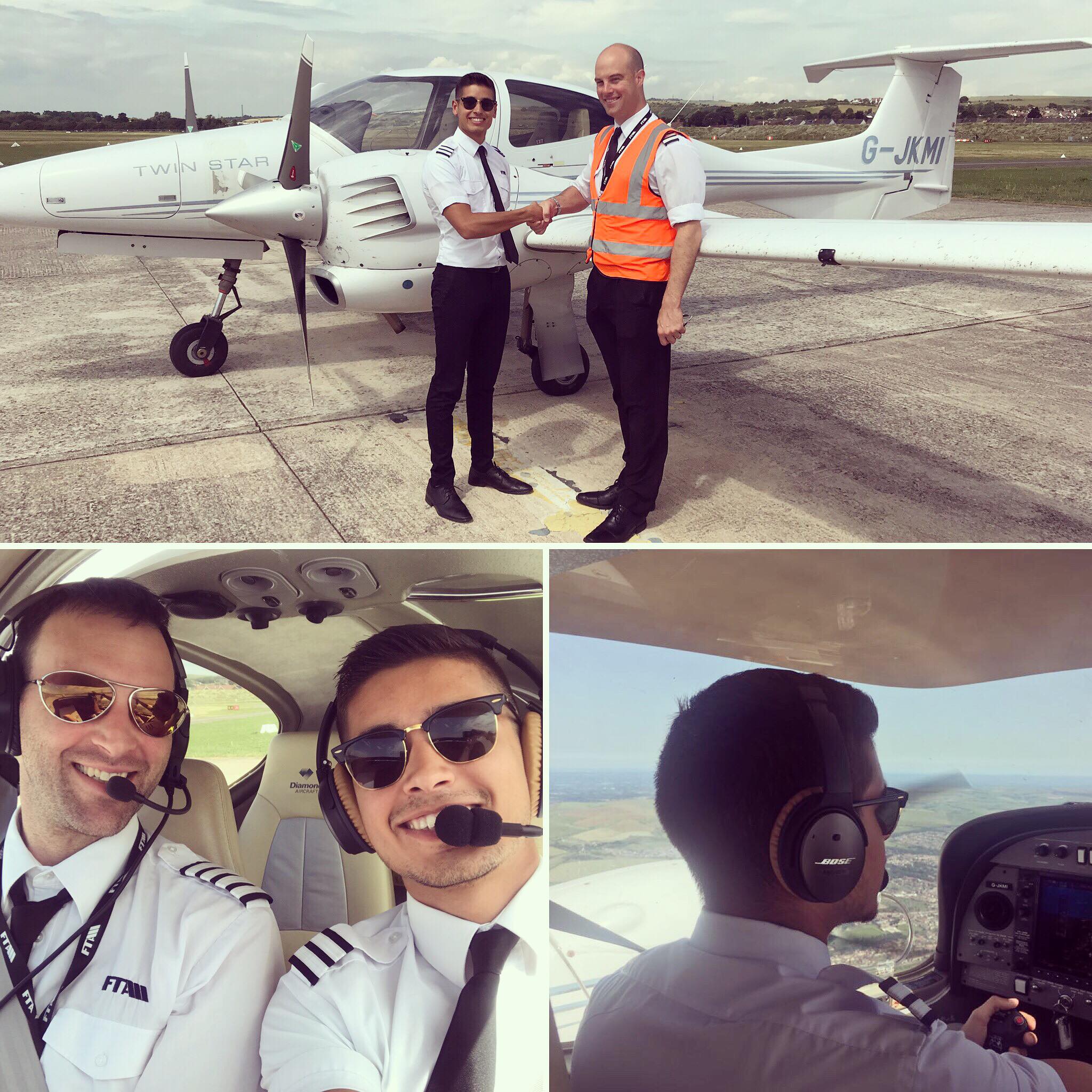 Why FTA?
"I found FTA after searching online for a flight school in the UK. I came for a visit and saw all the facilities and the decision came naturally. I liked the Diamond aircraft and the airport is a challenge.
I had already completed my Private Pilot's Licence part-time, and accrued the necessary hours. I chose FTA for my training because I wanted to complete my training to a high standard. By training in the UK I could also spend time improving my English which is very important in this industry.
I did also apply to another UK-based flight school but the dismissed my ability to complete the ATPL criticising my English and telling me I would not be able to pass the course. Being able to go home and tell my family and friends that I not only completed my ATPL theory but also did so in the minimum time-period felt fantastic."
The perceived high standard of UK-based flight schools was very important to Andrew, we asked him how we measured up?
"I remember my first flight with Dave Steven - it was a big shock. New aircraft, new airspace, speaking in English – I have admit that the high standards and my own expectations were intimidating.
My flight instructor Dave Steven impressed upon me the importance of maintaining a high standard. I questioned whether the standard was too high and if I had made the right choice but after my fifth flight, I felt comfortable. Before I knew it was completing my instrument rating.
When completing you Instrument Rating (IR) you have to have the commercial standard and apply the IR rules and you have to be accurate.
It was hard every studying every day from 6 am-11 pm, definitely the hardest time in life. Getting me through the challenge of ATPL and all other challenges, were the instructors who were brilliant and congratulated me when I was finished.
Because FTA's instructors are also examiners, you feel that you're truly prepared for the exams, but it also means that when you do go forward for test, you feel that much more relaxed and able to be at your best. "

Brexit
I was worried about training to become a pilot throughout all the Brexit uncertainty but I felt comforted by the proactive steps that were being taken by the flight school.
Unforgettable first solo experience
We asked Andrew what it felt like to 'go solo' for the first time:
"You have to make decisions and you have to make tough decisions with safety first. My instructors have been really great. When in I was in France and my instructor said I was ready I was so shocked! But it was a flight I had do after that was very exciting. Your first solo is an unforgettable experience but it's when you are left to fly outside of the circuit and fly an actual route that you get a real adrenaline rush. Knowing that I had everything under control for my first solo navigation, and landing at Bourg-en-bresse (famous for its chicken) was terrific.
I remember landing and being really excited about finding someone to sign my logbook."
Life after FTA
My first priority will be to apply for Air France as it' recognised as a good institution to go with but as long as I fly, that is what is important to me.
Air France have invested in new aircraft a350 and A22Os, good close network of French students at FTA. I feel it's a great company to progress they fly short haul with the opportunity to progress to fly long haul flights In bigger aircraft such as the A380, B777 and B787 huge aircraft, which translates into a difference performance and routes for experience. My mother is from the Reunion Island and the possibility of flying to her little island is a big dream I'd love to realise."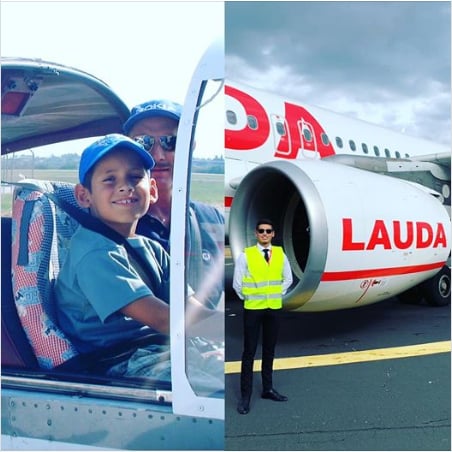 When he's not training Andrew like's to keep himself busy…
In France, I was also a relief/volunteer fire fighter so it is a priority for me to keep active and healthy. I like to run, swim, and go to the gym so staying healthy and happy is important to me.
I am still a relief fire fighter and so need to keep in physical condition. I want to be able to continue working as a relief fire fighter although it is most likely something I will need to give up once if I secure a role with an airline. Working as a fire fighter follows a similar premise to that of a pilot, you have to assess the situation and make the best and safest decision. I took on the role when I was 17 and have done it for years.
My hope I to one day become a captain at Air France, I like a challenge and I am sure I will do something else."
Andrew offers advice to those embarking on their commercial pilot training:
The advice I would give to those interested in training to become a pilot is as follows:
Do a medical exam, so that you know that everything is OK and you can complete your training.
Make sure you focus on maths and science but English is one of the most important things.
Start with a PPL and travel to do your hour building
Choose the UK.