Restrictions regarding travel and study have meant that we've all had to think creatively about how we may practically, 'keep calm and carry on'. We're grateful that we have been able to implement measures which have enabled us to stay largely open and operational throughout 2020. We have continued to enrol both modular and integrated students over the last 12 months and have even added new programmes to our list of options.
One of such additions is our hour building package. You can book a block of up to 20 hours on either a PA28 or DA40. You could wait for restrictions on travelling abroad to lift, or you could stay safe, stay local and complete your hour building here in the UK. There are many benefits to building experience in the UK, the main one being that you gain experience flying in congested airspace. Stay active in your pursuit to realise your dream and learn more about how student pilot Chloe has found the experience so far.

How have you found hour building at fta global?
It's been good. FTA launched their new a 20-hour building package late last year and I booked a block to keep me going. I hadn't flown since my skills test last October and it meant I could fly whilst staying close to home and continuing to work. By late December I had completed almost half of the 20-hour package.
Poor weather meant there were a couple of weeks where I didn't fly and then I had to go up for a dual check. Working four days a week has meant it's not easy to fit everything in. Weather and work disruption aside, it's proved a good choice. Having completed so much of my training here already, I've made many friends who it's nice to be surrounded by when I am here.
What are your next steps (after your hour-building)?
I will eventually do the ME IR CPL but I have just got to finish my exams and all the hours. I need a total of 100 and at the moment I've got about 20 so I've got a long way to go.
Being a modular student means I have to acquire more that you would on the integrated programme. The integrated students complete theirs as part of the complete course and the course is structured with back-to-back lessons so there is little flexibility and time for other things.
After completing my PPL at FTA Global I went straight into ground school. I finished in the summer after seven months (continuing training throughout COVID-19) so life has been far from normal.
Completing the foundation stages of your pilot training in a commercial pilot school is not cheap, but I completed my PPL in a Diamond DA40 for which I feel very privileged. By hour building in the PA28, I can save a little money and gain more fixed-wing flying experience.
Was the location a factor in choosing to stay here?
Yes as I am only 30 minutes away. After completing my 20-hour block I will probably complete some with a flying club. However, it's just finding the time to research realistic options when I am also studying for my ATPL exams, working etc. I like that whist I am here, I am able to study and reach out to the instructors for expert help. They are all accessible, especially on bad weather days when aircraft are on the ground. I like that I have a PPL and that I'm surrounded by others in training, so we can converse about flying.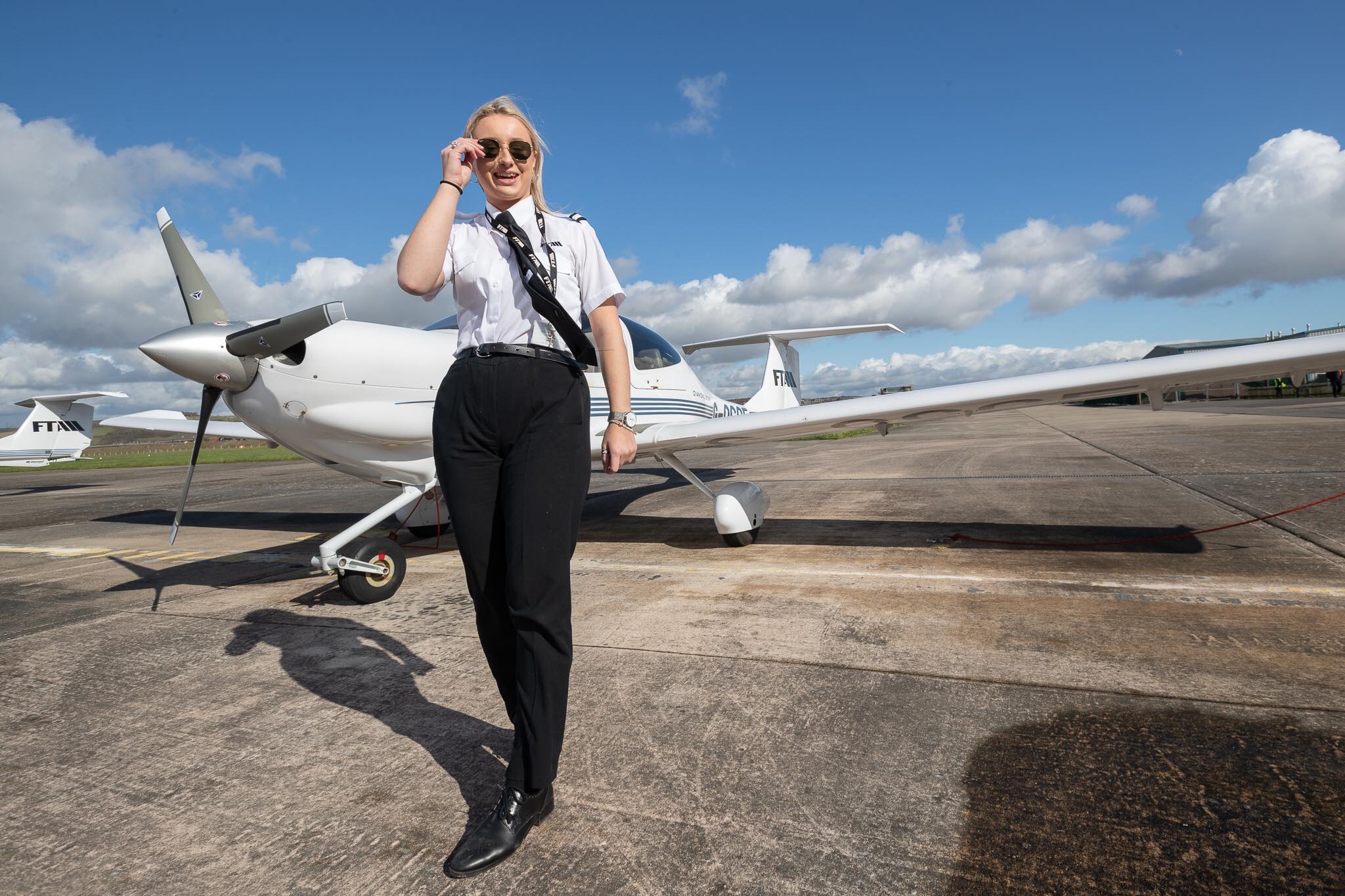 Did you consider going abroad for your hour building?
I considered so many different things. A couple of people that were modular here did theirs abroad. I think they did theirs in Florida and someone that was in my ground school did his in Florida as well. I inquired about a few schools and locations, including Spain, but then coronavirus happened which halted any plans. Someone in my class did his PPL out in the US and another in Europe, where it proved cheaper to fly and the weather was better.
You're sort of put in the deep end flying here. People say the location is really good for technicality but it's life experience as well. Whilst the flying may be cheaper abroad you do also have to pay out for accommodation, food and travel. My commute to the airport is less than an hour a day and I am able to save on rent with the safety, comfort and cost saving of living at home with my parents. It sounds silly but with so much uncertainty, it is nice to have stability and the support of my parents.
What have you found the hardest about hour building?
The weather. When I did my PPL it took me longer than I would have liked because of bad weather days. It's the UK so at times you can go for weeks without flying but I know that planning around the weather and demonstrating resilience in my training will help me to develop the right skills to become a commercial pilot. As a modular student it's good to have the freedom to do what you want. I am glad to be able to stay local and at a commercial school because I worry about getting into bad habits when flying alone. I'd hate to struggle with my CPL because I'd lost that focus on precision flying – something that's easy to do when you're flying for leisure.
When flying with a commercial focus, everything's done to a high level. My PPL instructor warned me of ensuring good etiquette and professionalism at all times. Whilst you may become accustomed to jumping into the aircraft and flying to the Isle of Wight, you should always use the opportunity to practice your navigation skills, because you'll need to demonstrate them when you complete the CPL.
What have you enjoyed the most about hour building?
I like having freedom - being able to fly where I want to and do what I want to do. I haven't been able to take anyone up with me yet (because of COVID-19) but it's something I am excited to do when restrictions are lifted.
Where have you been flying?
I have stayed relatively local so far. I've done a couple of navigations out to the east and the classic Buel Water. I do need to do more and increase my confidence. I had two flights in August getting familiar with the Piper. I do prefer the diamond but hour building with it was more expensive and the aircraft is not yet available for hour building.
We can have arguments all day in Operations about who prefers the Diamond and who prefers the Piper. The Diamond is modern and I can't wait to fly it again. Flying the Piper is good experience and if I was to go to any other flying club it's likely to be a Piper. I won't have the luxury of a glass cockpit or G1000 navigation. You're a bit spoilt with the Diamond but then I was a bit spoilt to get to do my PPL in the Diamond in the first place.
Did the pandemic play a part in where and how you chose to complete your hour building?
There are a few flying clubs that offer hour building on the airfield at Shoreham. There's one, which some of the instructors fly with, which gets a lot of good reviews but I wanted to do my familiarisation with FTA anyway just because I hadn't flown in so long. I've looked at loads of places across the country but I don't see the point in going somewhere else in the UK when you're still going to have the same weather or most likely – worse! There are other options which are also local but they have grass strips so again, in the winter they're not suitable for flying. A year is not a long time in the scheme of things. FTA want you to be to a good standard because they know what my goal is in the end: to come back and get a commercial licence.
I think I'm the only one doing hour building at the moment but I know others due to complete their PPLs are planning to do the same. It's quite nice that there's a time limit on the package (90 days) because it gives you the incentive to book the aircraft out and complete the hours. Whilst 90 days seems like a long time, a week of poor weather can easily eat into your availability. I can fly for as little as an hour or book longer and specify my requirements. I book out the time through the scheduling software FlightLogger and it's all quite seamless.
Would you advise modular as an alternative to integrated training?
Given the current pandemic, I am glad that I chose modular. However, if you speak to someone on an integrated course they would suggest the route they have chosen. We all choose what is right for us. I am able to manage my training and hour building myself and save by staying local and working at the same time. Whatever happens I have my PPL and can continue to enjoy flying.