Ben had planned to fly in the military but the realisation that he would need glasses as a teen, meant reconsidering his options. Already familiar with handling adversity, Ben made a positive decision about his pilot career.
Early inspiration
I fell in love with everything aviation at a young age. The momentum behind my training came when I joined the Royal Air Force Air Cadets. I stumbled across their stand at Shoreham air show and the very same day I decided to sign up! Watching a typhoon flying overhead was magnificent and I think would be enough for anyone to gain an interest in the industry.
I had originally planned to pursue a role in the Royal Air Force, everything about it attracted me to the career. I was in the air cadets for 8 years and progressed to rank of Cadet Warrant Officer, I took up every opportunity offered to me and eventually became a uniformed staff member. I helped to train and teach other young people in the different aviation subjects which also gave me a brilliant base knowledge before I started my ATPL ground school training.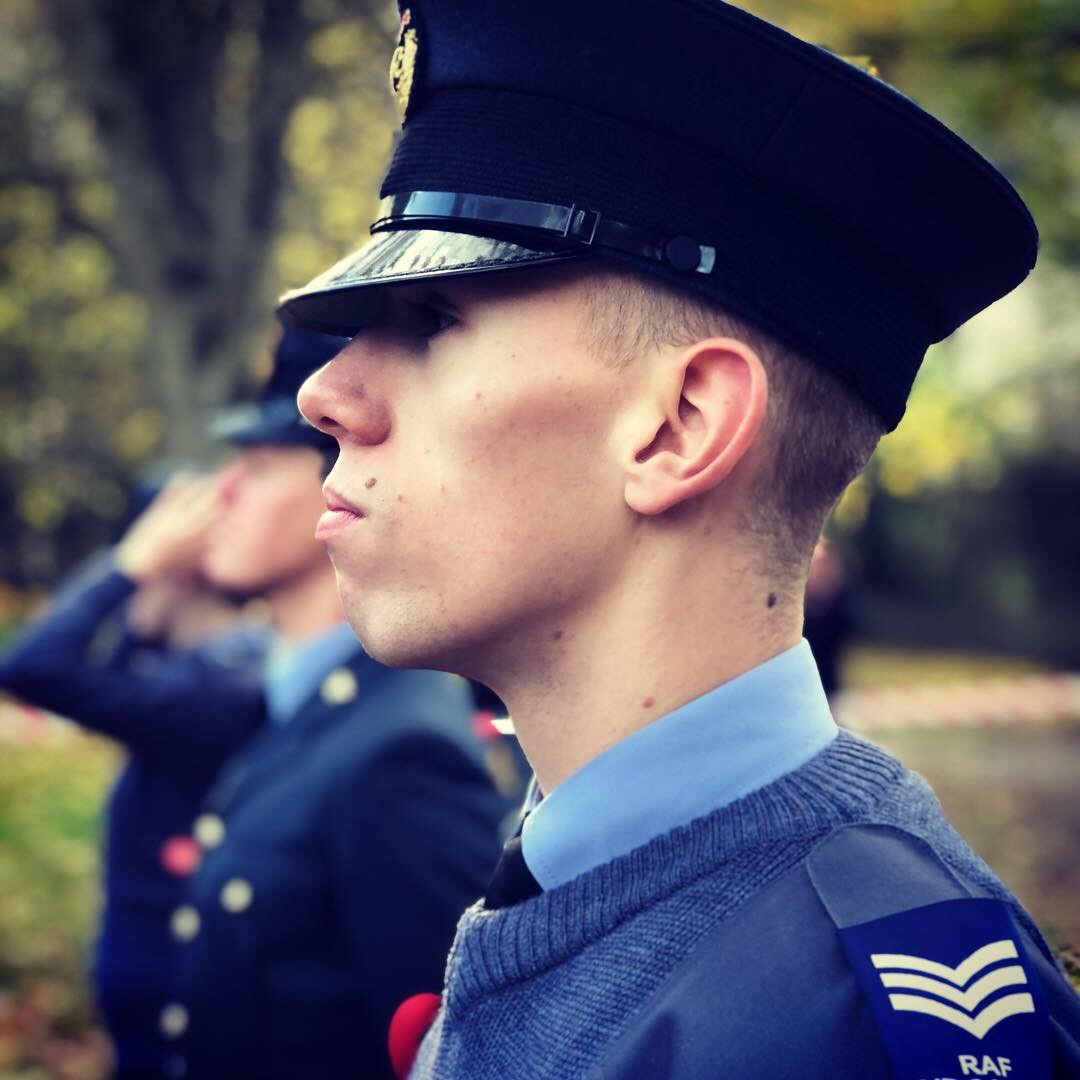 Unfortunately, once I started my driving lessons, I quickly realised that I was unable to read a number plate at the required distance. I had my eyes tested and discovered that I required weak glasses for long distance, this meant I would be unable to become a fast jet pilot which was my original dream. Although I was disappointed, I knew that all I really wanted to do was fly and that's when I started to shift my sights towards commercial aviation.
I made a start on my training, pursuing my Private Pilot's Licence (PPL) at Shoreham Airport. I knew that I could continue training a module at a time, but I was really interested in FTA's Integrated Flight Deck Programme. I took a tour of the flight school where everything was explained, and it cemented my decision so I signed up that evening!
Before I signed up but after I left college, I secured a job at Gatwick airport as a security officer for 3 years. This allowed me to save up a chunk of money to support myself throughout my training however I still work evenings doing deliveries for a local pizza take away.
I know the cost of pilot training does deter a lot of people from enrolling on a programme. Training locally meant that I could save on the cost of accommodation whilst training. Training to become a pilot is a lot of money, but there are always ways and means of making your dream a reality.
It was thanks to my mum that I was able to afford the integrated route, she raised the funds for the course, sacrificing her taxi the process. I was adopted age four after I lost my mum when I was 18 months old. People are shocked by some of the experiences I've had but I say to them that everything I've been through has led me to where I am now, married and training for the career of my dreams. I am completely aware of how lucky I am and I am so grateful to my family now for the opportunities I've already had and everything they continue to do for me.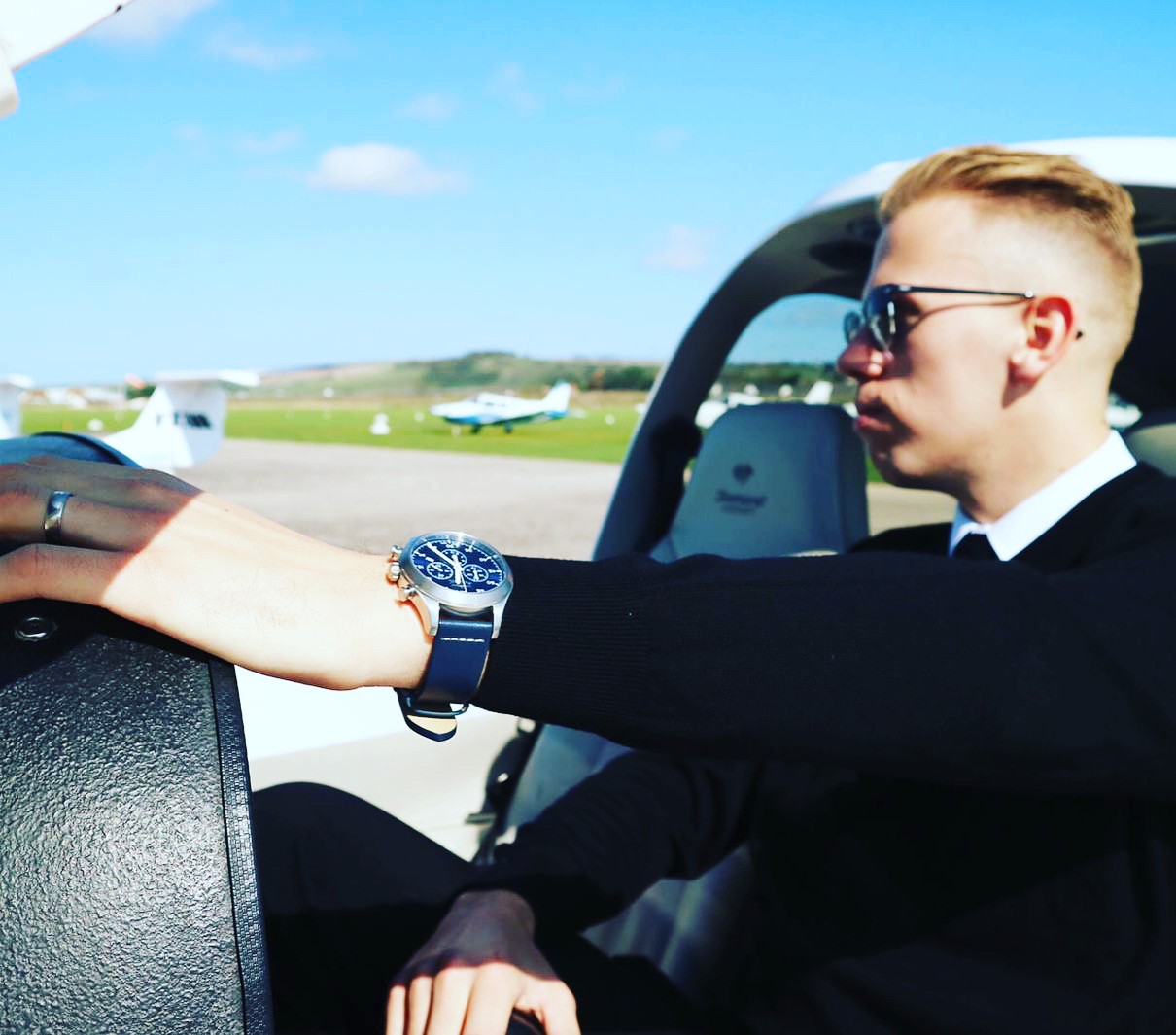 The training journey so far
I am now in phase four of my course and I can't quite believe how quickly the time has gone – and that's despite Covid-19! Flight training was suspended briefly but it didn't affect me very much as I was completing my final ATPL module and exams when the government locked the country down.
I have friends at other flight schools that started at the same time as me and haven't even made it out of the elementary stages of flying, and that wasn't because of covid-19 but their schools' poor operational planning. I cannot fault the aircraft and instructor availability at FTA.
I was one of the students that experienced the six-month approach to ATPL Theory as well as the new 9 month style of delivering the training. I completed my first two modules and exams in four months, but the third and final module I completed over three. The training is intense but when the instruction was delivered over the three months, it felt not more enjoyable (it is ATPL theory after all) but certainly more manageable. There was more time to consolidate using the CBT software at home, as well as revise and prepare for the exams. I was really pleased with my results and have finished ground school with 14 first time passes and an overall average of 91%.
FTA was a brilliant option for me as I live 15 minutes away. Following my tour of FTA, which was given by Dan (now a qualified flight instructor at FTA), no other school compared. As soon as the tour was over, I went home and immediately completed the admission pack.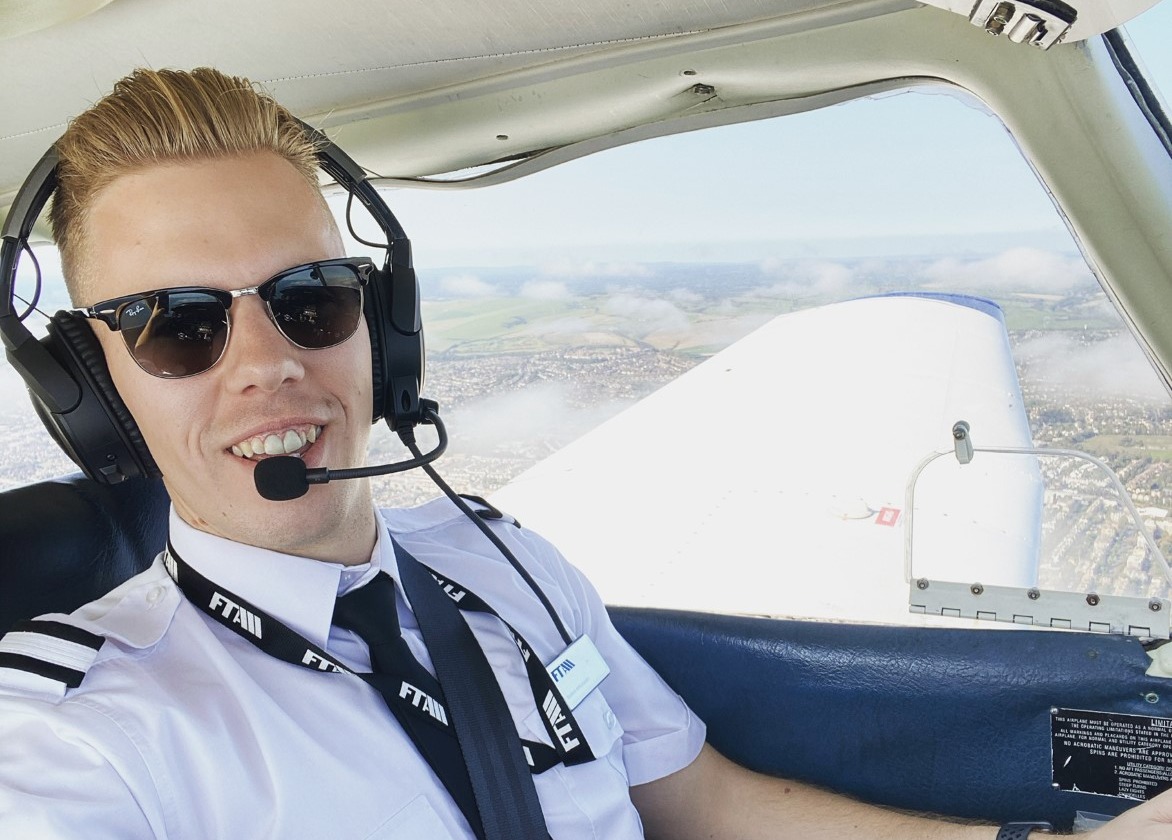 Life at FTA
On a typical day I will check the schedule for the following day. I will plan everything ready and on the morning of the flight I will check the weather, any NOTAMs and the aircrafts documentation to ensure it is ready to fly.
I will brief with my instructor and go through the lesson and any planning I have completed before so that we both know the plan for the flight and any threats to look out for e.g. approaching weather. Once the flight is complete, we debrief and then I would sometimes hang around the school to study for any outstanding ATPLS. Talking and studying with other students is an extremely valuable resource as they may have tips and tricks that can really help you out!
When I was completing my ATPL theory earlier this year (prior to the pandemic) myself and other students got together in study groups to support each other throughout the tests, we'd practice asking each other questions and making sure we were ready for the exams. There is a sense of equality and you are inspired by other people doing really well and we offer each other support and advice. FTA really does feel like a massive family and everyone is there to achieve the same goal so help is always available to anyone who requires it!
The value of the Royal Air Force Air Cadets
The Royal Air Force Air Cadets really is a brilliant organisation for young people who have a passion for aviation. There are so many opportunities that you can take advantage of. During my time in the organisation I completed a Gliding scholarship which saw me complete my first solo winch launch and flight at age 16. The following year I was awarded with a fully funded 12 hour flying scholarship in Dundee paid for by the Air Cadets. This scholarship took me through to my first Solo flight at age 17 and everything was paid for, including 2 weeks accommodation at a beautiful local hotel!
I do feel my time with the air cadets was highly advantageous to me. I am seeing the real value now as I progress through the different stages of my training. Having gone solo in Dundee, repeating the experience with FTA Global was less daunting. I completed a circuit lesson with my instructor Oliver when he turned to me and said I was to now go and do it by myself! That first solo is pretty magical but I found my first solo general handling even more so – you plan your own flight and then when you are in the air at 3000 feet all by yourself it really starts to sink in!
The Air cadets definitely assisted with my ground school studies. Whilst a cadet, I completed a lot of training, such as a leadership and team management course, first-aid and also a BTEC in aviation studies. This gave me an excellent foundation knowledge of a lot of the ATPL subjects as well as helping me to develop discipline, drive and a skillset that stood out among others my age.
Life outside of pilot school
My wife and I are both very focused, she's currently studying to become a paramedic whilst also working with disabled children with complex medical needs. When we're not training or studying, we like to find time to relax together. I also like to stay fit and healthy and the local gym is one of my favourite places to unwind. Covid-19 is a reminder that life can throw some curve balls at you. From what I know of those that are working in the industry, air travel looks set to recover in a couple of years and my plan is to continue with my training, completing each phase to the best of my ability. I currently assist the flight school with tours each week, this I will try to continue as I really enjoy helping others understand the training and process. I will certainly be keeping my hand in the industry working in related disciplines and enjoying some time with my wife before my career, hopefully takes me on exciting adventures.
What next?
I'm strongly considering training to become an Instructor as I love teaching as well as flying but I am open to what the industry has to offer. I would honestly love to pursue a career in business/private charter jets as I think that it looks incredible but, in this industry, you need to take any opportunity to get you on the first rung of the ladder. As long as I'm flying and making a difference, I will be happy. This isn't about the money for me, I just love being in the air!