We spoke to FTA Operations Supervisor Dan as he prepares to take his ATPL Theory exams, about his childhood ambition to become a pilot and what steps he has taken towards turning his dreams into a reality.
WHAT INSPIRED YOU TO TRAIN TO BE A PILOT?
From a young age I have always been interested in aircraft and aviation, as I'm sure most aviators have been. It was always the highlight of my year to attend the local Shoreham Air Show with my family and could only dream of flying for a career, though believing it to be too expensive to consider. My curiosity to pursue further actually began with the purchase of a flight simulator program from a car-boot sale whilst I was studying in high school. Although a simple simulator, I found the principles of flight fascinating and began to study in my own time the design and functioning of various instruments and the physics of flying. As a birthday gift, I flew a trial lesson with FTA and decided this is what I wanted to do with my life.
HOW DID YOU GO ABOUT CHOOSING A FLYING SCHOOL AND WHAT ASPECTS WERE IMPORTANT TO YOU?
The choice of a flying school for me was down to money and accessibility. I settled on FTA for my PPL after researching their full time courses and how they were surprisingly more affordable than I had originally thought. For me the most important thing was finding a school that was commercially orientated with their standards, even at a PPL level and one that would not differentiate on me for choosing the modular route as I had discovered several schools did. I toured FTA's facilities and fleet and was very impressed with what I had seen.
HOW DID YOU FIND OUT ABOUT FTA?
After having flown my original trial lesson gift with FTA, I was aware of their suitability when later considering the PPL course. It was also clear from the first email enquiry reply that they were both courteous and professional towards my training needs and couldn't have been more helpful in providing me guidance for preparation and recommendations on books and materials.
CAN YOU TELL US A BIT MORE ABOUT YOUR ROLE AT FTA?
I am currently employed as the most senior member of staff responsible for the management of flight operations, after having been taken on as an operations assistant over two years ago. My day to day responsibilities include the supervising of other members of staff, coordination with our maintenance company and other airfields for various bookings, internal auditing, flight planning duties, handling admission enquiries and aircraft scheduling to name a few.
THEY (FTA) WERE BOTH COURTEOUS AND PROFESSIONAL TOWARDS MY TRAINING NEEDS AND COULDN'T HAVE BEEN MORE HELPFUL IN PROVIDING ME GUIDANCE FOR PREPARATION AND RECOMMENDATIONS ON BOOKS AND MATERIALS
HOW LONG HAVE YOU BEEN IN THIS JOB AND HOW ARE YOU ENJOYING THE ROLE?
I was employed by FTA shortly after the completion of my PPL in 2015 and enjoy every day working here. The complexities of flight operations can produce demanding and sometimes stressful days, but this only adds to the excitement of working in this industry. I have made friends for life in staff and other students and value the team I work as a part of.
CAN YOU DESCRIBE A 'TYPICAL' DAY IN YOUR JOB?
A typical day for me begins in opening the flight school during the week and preparing flight-planning documentation for instructors and students to avoid any delays to the flying schedule. I then proceed to audit the previous day's aircraft technical logs and assist students with their enquiries and requests. Invoicing then follows, swiftly proceeded by checking for any amendments to EASA and UK legislation and manufacturer supplements, maintenance bulletins and aviation database updates.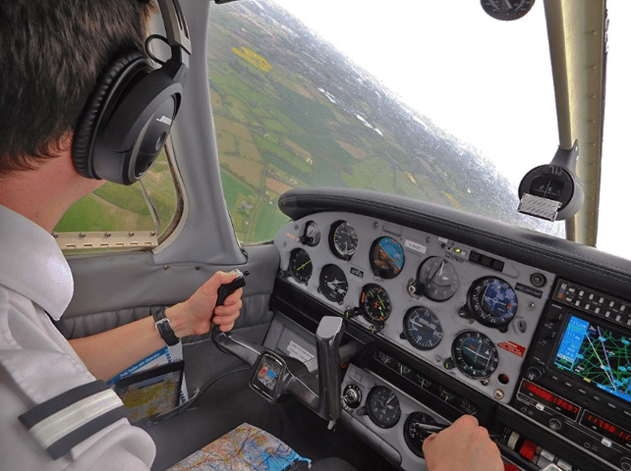 WHAT ARE THE MOST ENJOYABLE AND REWARDING ASPECTS OF YOUR JOB?
By far the most rewarding part of my job is the knowledge gained by working in this role and technical discussions with students and instructors, as well as manoeuvring our aircraft to and from various locations on the airfield. I have found that a tremendous amount of additional information has been gained whilst working on flight operations that I am already finding is assisting with my current ATPL theory studies. One of the highlights so far was flying an aircraft solely as Pilot in Command to our satellite base in Teruel, Spain. The experience gained as a PPL pilot was invaluable and has hugely increased by confidence in flying more challenging routes and even to other countries. Although not (yet) flying commercially for a career, I love knowing I am working in the industry I most admire.
One of the highlights so far was flying an aircraft solely as Pilot in Command to our satellite base in Teruel, Spain. The experience gained as a PPL pilot was invaluable and has hugely increased by confidence in flying more challenging routes and even to other countries.
WHAT ARE YOUR NEXT TRAINING STEPS?
I am currently self-studying towards the ATPL Theory exams and hope to have these complete soon. The last few years have been spent furiously saving every penny possible and I aim to begin my advanced flight training at the beginning of next year as my hour building is also nearing completion. Although a real challenge due to the amount of content, I am very much enjoying the self-studying and look forward to sitting the actual exams shortly.
WHAT ARE YOUR AVIATION CAREER GOALS – WHAT WOULD YOU LIKE TO DO IN THE FUTURE?
My ambition for flying remains in flying smaller commercial aircraft, the dream still being in a Pilatus PC12, King Air or Caravan. As I continue to see the progression of our flight instructors and the joy in teaching other people, I am also strongly considering instructing upon the completion of my training and look forward to any future opportunities with FTA that may exist in the future.