Kate takes us through her motivation to become a pilot and her experience training.
When did you decide you wanted to be a pilot? What was it that first sparked your interest in aviation and becoming a pilot?
I'll start with the cliché, I've always been interested with everything aviation related, between going flying with my dad, an unhealthy addiction to air crash investigation or spending hours on flight sim with my little brother. However up until a few years ago it was never something I saw going further than getting a PPL to go galivanting at the weekend. The thought of raising the statistics for the number of women in the cockpit was a big push towards making this a career for me, and having a dad who is an airline pilot, he has always made me feel like this is something that I can achieve.
What was it that made you decide to finally start your training?
Around the middle of year 13 I became uninspired by the subjects I was taking to study Biochemistry at uni, which at the time had seemed like the obvious / only route to go down. I'd already made up my mind that flying was the career path I wanted to pursue, especially after having a few lessons at my local flying club, so I decided to bite the bullet and head straight into my training after sixth form. I've been so happy that I made that choice! Don't get me wrong ATPL theory was tough but it's so much more rewarding and interesting (fun is probably a bit of a stretch) when you are passionate about what you're studying.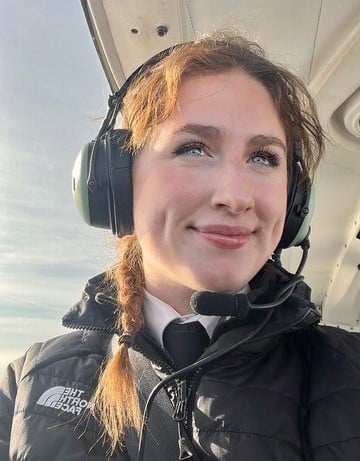 Why did you choose FTA for your pilot training?
FTA was recommended to me by a family friend after I'd visited and gone through the interview process with one of the other schools which had left me somewhat underwhelmed. I came on one of the open days to FTA and was really impressed with the integrated programme. Having never lived away from home before, the family feel here really stood out and made the prospect seem less daunting. I liked that FTA also has a good reputation for having mainly career instructors.
What's it like to learn to fly in the UK?
Training in the UK does come with its complexities, especially down in the south-east of England, but it pays off in the long term to be thrown in at the deep end. Around Shoreham we are exposed to a bit of a microclimate and it is surrounded by all the busy London airspace, but it means from day 1 on the flight line you're being prepared to cope with all these challenges. It can get frustrating waiting around for periods of bad weather to pass, but those days when the sky is crystal clear and you can see forever really make it worth it!
What do you think of the aircraft?
The last few months in the warrior have been great fun, they're a really forgiving aircraft for the start of your training. That said, I can't wait to move onto the more advanced phase in the glass cockpit diamonds at the end of this month.
What is it like living here?
Having never lived near the sea before, being a 10-minute walk to the beach is so lovely and I'm counting down till it's warm enough (or I'm bold enough) to go swimming in there again. Currently I'm living in a flat in Hove with two of the other guys that I started the course with. It's been great for creating a support network, especially as we've been reaching different milestones at similar times.
What do you like to do when you're not studying?
I've picked up a rugby ball for the first time in years and started training with the girls at the Uni of Sussex. As much as I do love the flying, it's nice to have some non-plane obsessed friends. The beautiful South Downs are also right behind us so I've made it my mission to try and complete the whole walk before I finish my training.
What are your plans for the future?
Up until recently the thought of completing my time here seemed worlds away but it is coming around fast. I'm happy to see where my licence takes me in all honesty and at 21 I'm hoping the world is my oyster. If you were however to offer me my dream job, it would involve operating a PC-24 somewhere in Europe.
What is it like being a female pilot in the aviation industry?
So far I don't think my experience is too dissimilar to my male counterparts. While the percentage of females in the industry is still not showing as much progress as it has in other STEM areas, there have been many outstanding women who have paved the way, so we no longer experience prejudices as we may have just 20 years ago. Obviously, you still encounter certain individuals who, for some reason, don't think women belong in a cockpit, but it's great to be part of a movement to prove them wrong as, at the end of the day, female or male, we are all trained and held to the same high standard.
Do you have any advice for those considering training to be a pilot?
Go for it!! It can seem like such a daunting prospect, but the outcome is incredibly rewarding. Aviation is a small industry with lots of people more than willing to pass on their knowledge. Go along to lots of open days, have a trial flight, and ask lots of questions to see what and where works for you.