We caught up with FTA student Will who recently completed his PPL with us. Will explains about his love for aviation and discusses his pilot training journey.
When did you decide you wanted to be a pilot? / What was it that made you decide to finally start your training?
Having always had an interest in being a pilot growing up, my decision was made concrete in the summer between my second and final year of university, when I was given a fantastic opportunity to do work experience within an airline as I was interested to find out more regarding fleet management in airlines. During this time I found myself also learning more and more about the role of pilots and I began to realise that was the job for me and what I could see myself doing, especially as the office also housed some of the pilot and flight crew training facilities for the airline. From that moment on, I was excited to graduate and start my own training!
What was it that first sparked your interest in aviation and becoming a pilot?
Being the fourth-generation in my family to pursue a career in the aviation industry, it is fair to say I have grown up surrounded by people with interests and a passion for aviation. I believe it has been my family who have fuelled my own passion and have strongly supported my decision to become a pilot.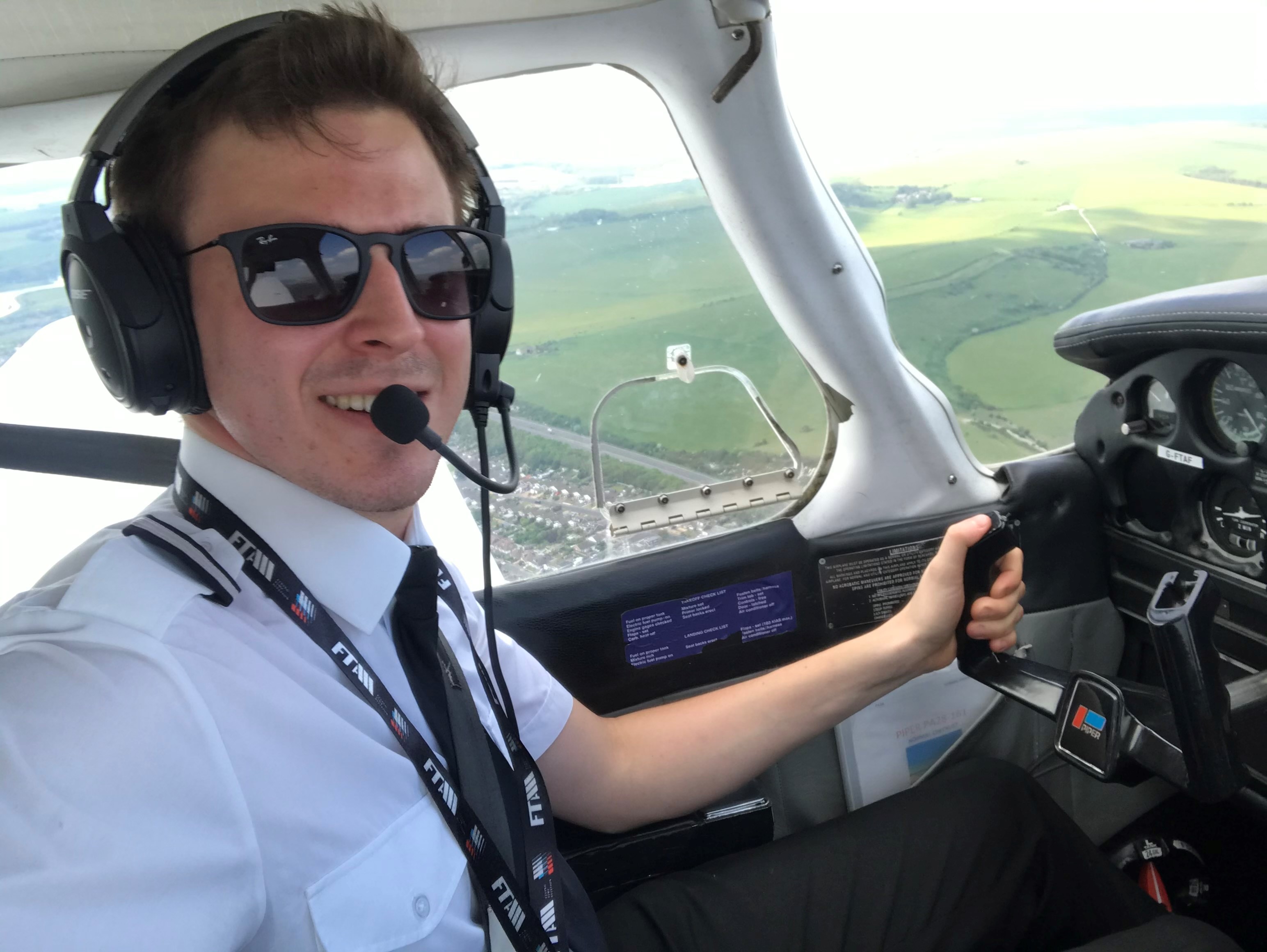 Why did you choose FTA for your pilot training?
I have been aware of FTA's good reputation within the pilot training industry for some time and being so near to where I live made it the perfect place for me to do my pilot training. When looking at my options, FTA were very accommodating and able to find a training programme that suited me. I received a warm welcome by all staff and students when I had visited and I could see myself training there and being part of the FTA community.
Can you explain what it was like to go solo for the first time?
Going solo was an exciting, but also nerving, experience but I trusted my instructor, Callum, who believed I was ready and before I knew it I was taxiing to holding point K1 for Runway 20! I remember that feeling of the wheels leaving the ground, the cabin feeling quiet and empty with no one in my peripheral, and realising I have to get this plane back down. When I taxied back to parking, only then did it finally sink in that I had flown on my own.
What's it like to learn to fly in the UK?
My favourite thing about flying in the UK is being able to fly around places I know. I live not too far from Brighton City Airport so it's been great to fly over villages, towns, landmarks etc that I have grown up going to but have never seen from the air. And I am very grateful to have been able to learn to fly at Brighton City Airport where we've got the beautiful coastline and the South Downs.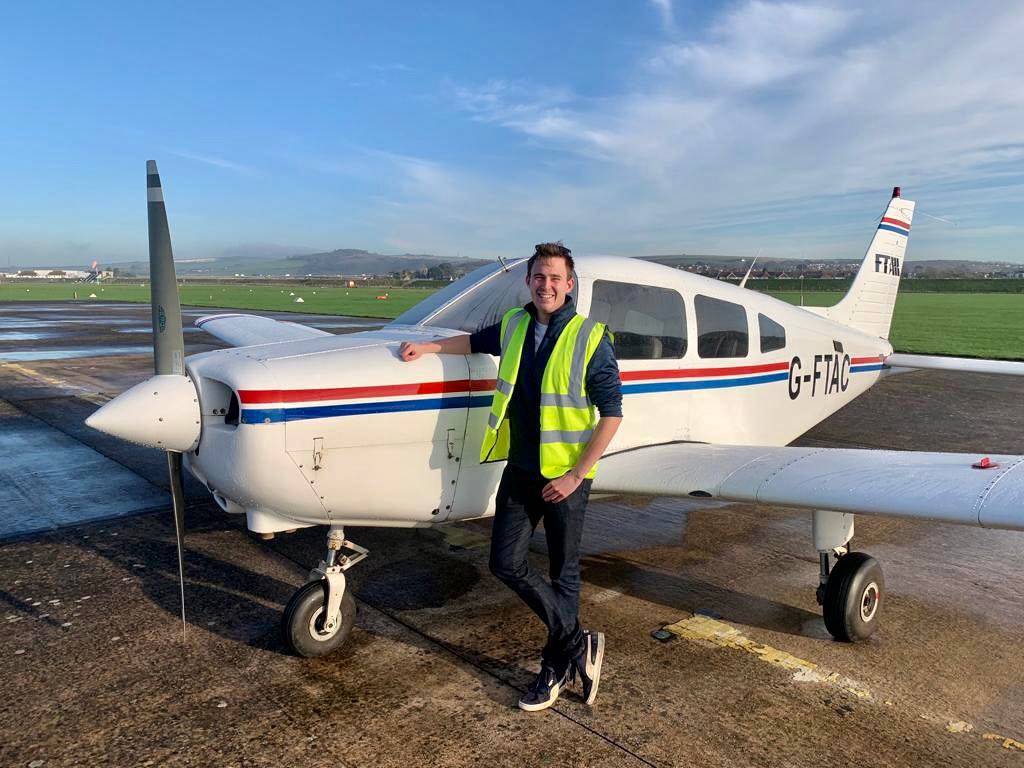 What do you think of the aircraft?
I learned to fly in the Piper PA28 which I really enjoyed, and still do enjoy, flying in. Whilst FTA gave me the option of flying the more modern Diamond DA40, I wanted to learn to fly an aircraft with basic mechanical instruments so that I could learn the very foundations of flying, which I hoped would make it easier to transfer to other cockpits in the future.
What is it like living here?
I am incredibly fortunate to have grown up about half an hours drive away from FTA at Shoreham Airport, as I love the area, with its beautiful countryside and towns with good transport links.
What do you like to do when you're not studying?
I decided to do my PPL course part-time which allowed me to work full time. During this time I have worked in a chocolate factory and as a vaccinator in the NHS. When I wasn't working or studying I like to get out running.
What are your plans for the future?
The plan now is to continue building my hours to the minimum required to start my next phase of CPL training. Once my training is complete, I look forward to finding a job to start my career as a pilot.
Do you have any advice for those considering training to be a pilot?
My advice would be to really research and find the best route for you, whether it be an integrated course or the modular route. It is a big decision in which you would be investing a lot of time and money in to. I started on an integrated course and made an important decision to move to a modular route when the pandemic hit, as this suited me better at the time. And, secondly, there will be hard work ahead but really focus and work hard right from the start and it will pay off in the long-run.