We recently ran a competition with the chance to win a free introductory flying lesson in FTA's DA40 aircraft, and we are thrilled to announce that Chichester-based Charlie was the lucky winner. Charlie is an aviation enthusiast and keen to train to become a commercial pilot one day. He's already visited his list of pilot schools and we are pleased to hear that FTA is one of his top choices. Charlie was understandably excited about his flight which was delivered by Nidal. Here he talks about his flight and what he learnt from the experience.

Hi Charlie, Congratulations on winning our competition! Are you excited?
Obviously! It's a perfect day weather-wise, and I have the chance to control a brand-new aircraft for myself.
Have you had any flight training before? When did you decide you wanted to be a pilot?
I'm currently undertaking my Private Pilots' Licence at Goodwood Aerodrome, 22 hours through and loving every minute. In October I went solo for the first time - what an incredible experience that truly was! I'm sure I'll never forget the feeling of being alone in an aircraft for the first time, it's definitely something special.
I've always wanted to be a pilot. I was never influenced as a child, it's just been something for me which makes sense- it feels like the norm. On my tenth birthday, I had an introductory flight at Goodwood (in G-HLOB, I would later go onto do my first solo in this exact aircraft). This cemented my decision that aviation was the only path for myself.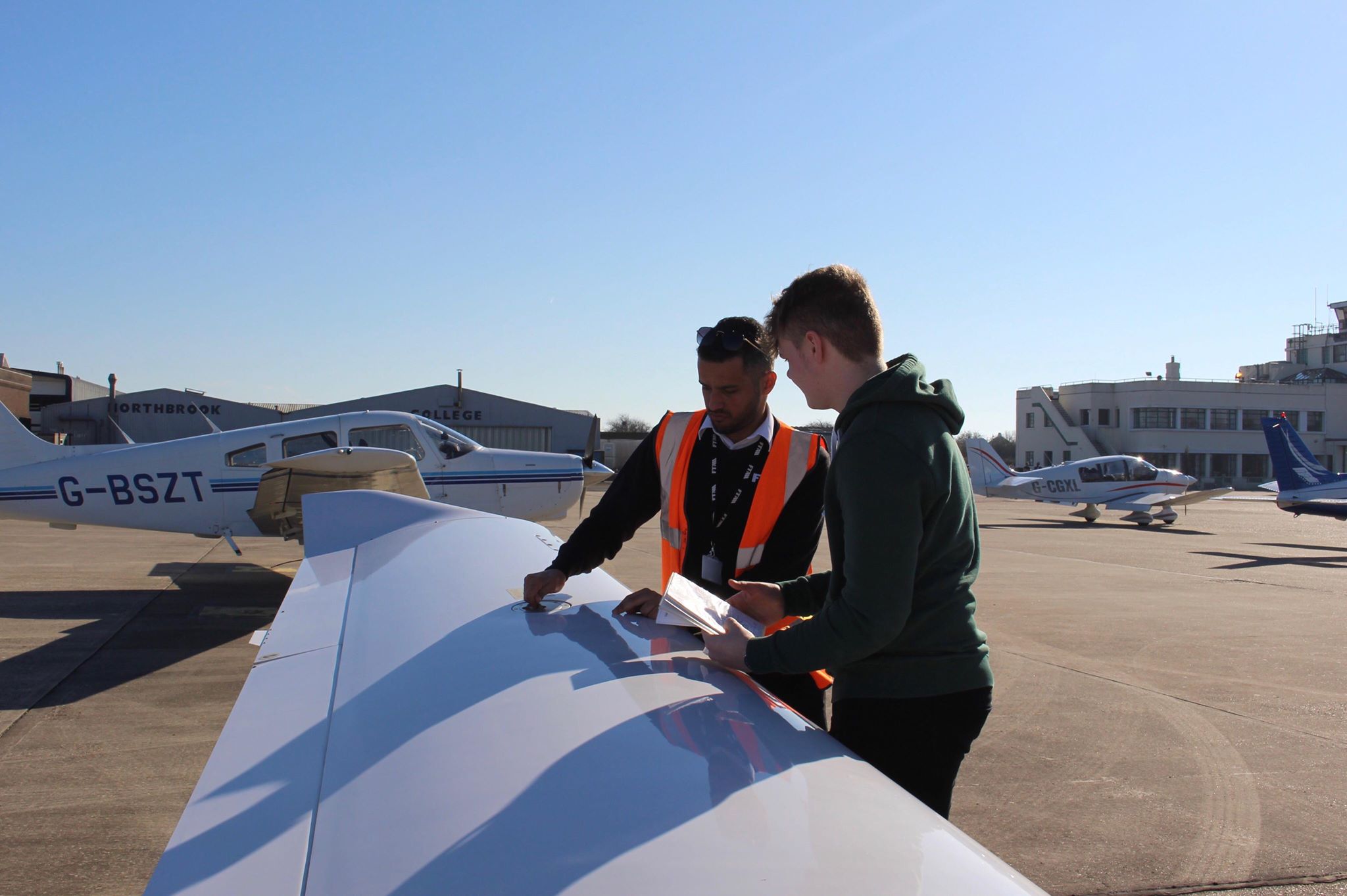 What do you think of our Diamond aircraft?
Originally, I believed them to be similar to the Cessna's I'm currently flying- with similar cockpits. But I'd definitely take back that statement now. The aircraft I found easier to fly, feeling nimble and state of the art. There's no carb heat or mixture on the Diamonds which naturally makes it more joyful. I also found the joystick to be easier to operate than a yoke, which surprised myself having already done 22 hours with a yoke.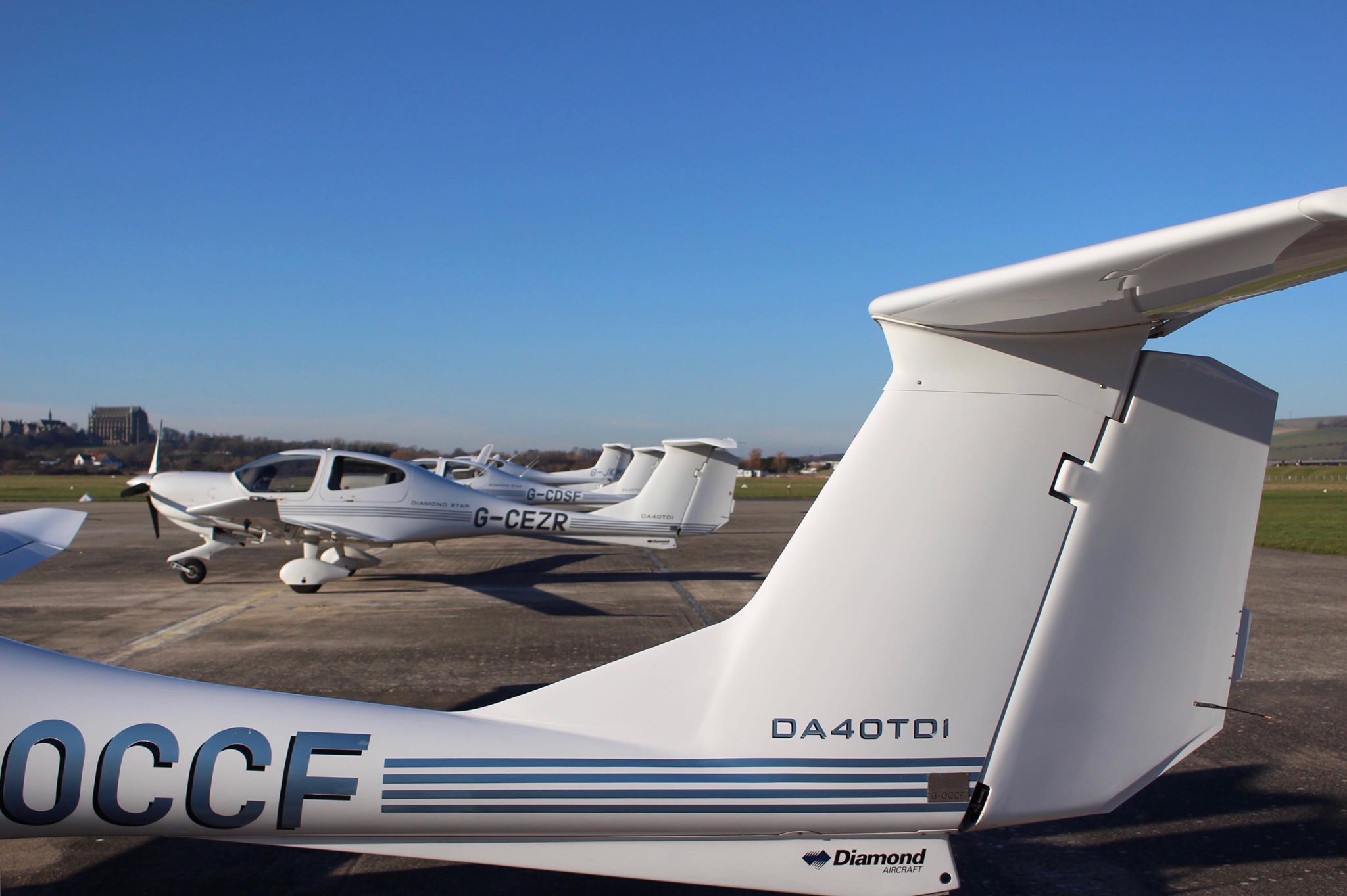 Tell us about preparing for your flight? What have you had to do so far?
We had a briefing with our instructor; going through the plan for the flight. I desired to try out all aspects of the aircraft to compare its performance and my ability. This ranged from stalls to medium level turns at a bank of 60 degrees. Afterwards, we went out to the aircraft to perform a B check. This included a walk around of the DA40 to ensure everything was operating appropriately before the flight. When completed we were ready for flight!
How did your flight go? Describe what you did?
The flight was amazing! We decided to fly out to the east as I hadn't been in that airspace before. We took off from runway 20 before making a left turn to follow the coastline past Brighton to Eastbourne. At this point, we were able to perform some forced stalls and medium level turns which was a lot of fun. I was then given some time to manoeuvre the aircraft to get a real feel of the DA40 before we made our trek back to Brighton City Airport. I was able to control the aircraft until base, where we made a speedy landing back on Runway 20.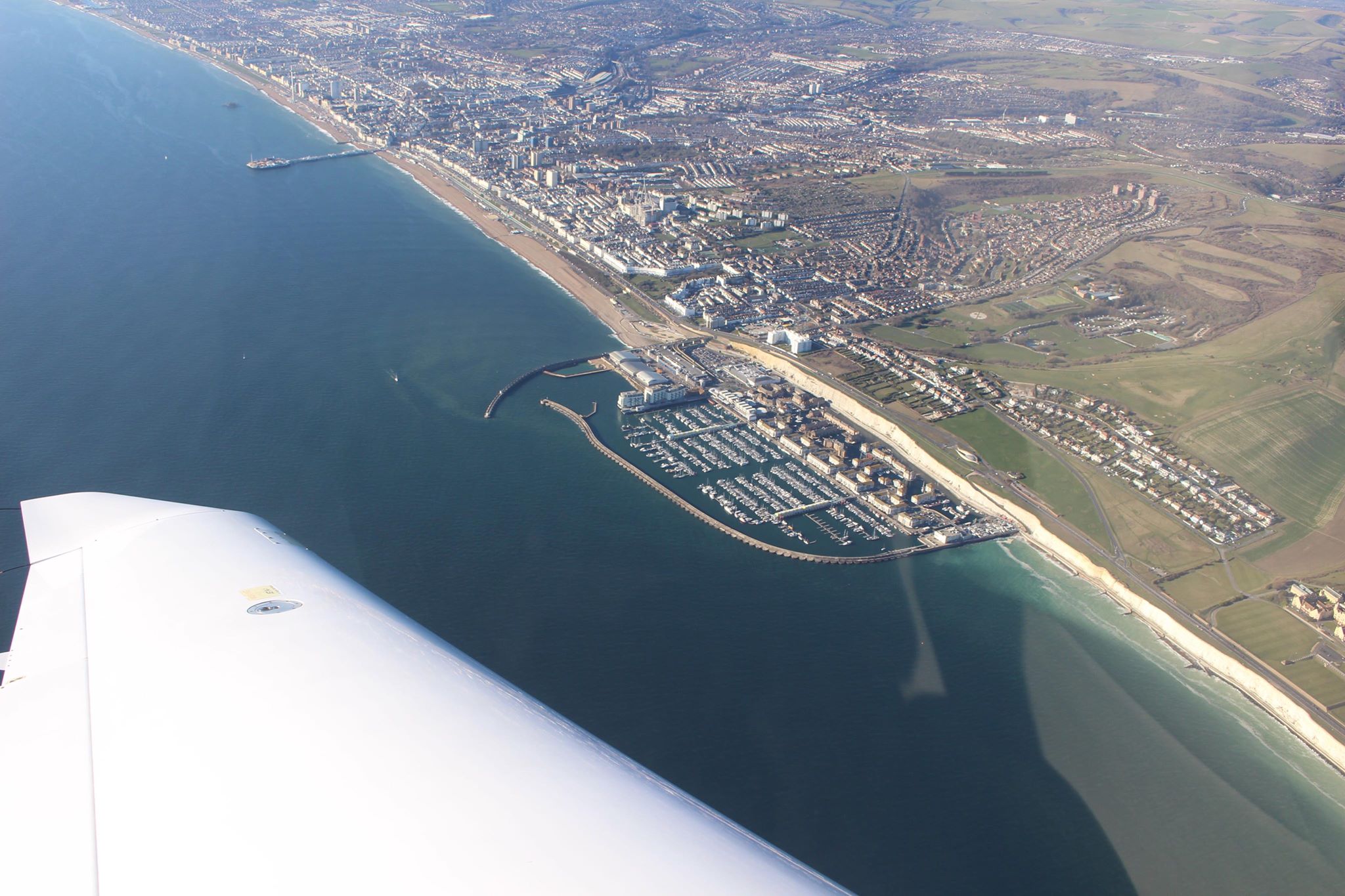 What was your favourite moment?
Definitely the landing, although I could only follow my instructor through with the controls there is something about a perfect landing which gives you the best feeling. I'm sure all pilots agree.
How was your flight instructor?
My instructor; Nidal, was great. I was surprised when he said he only started instructing in September. You couldn't tell. He was able to answer all my questions about the school and aircraft without fail. Most importantly I felt safe throughout my flight. All the instructors I spoke to were extremely welcoming and made me feel comfortable.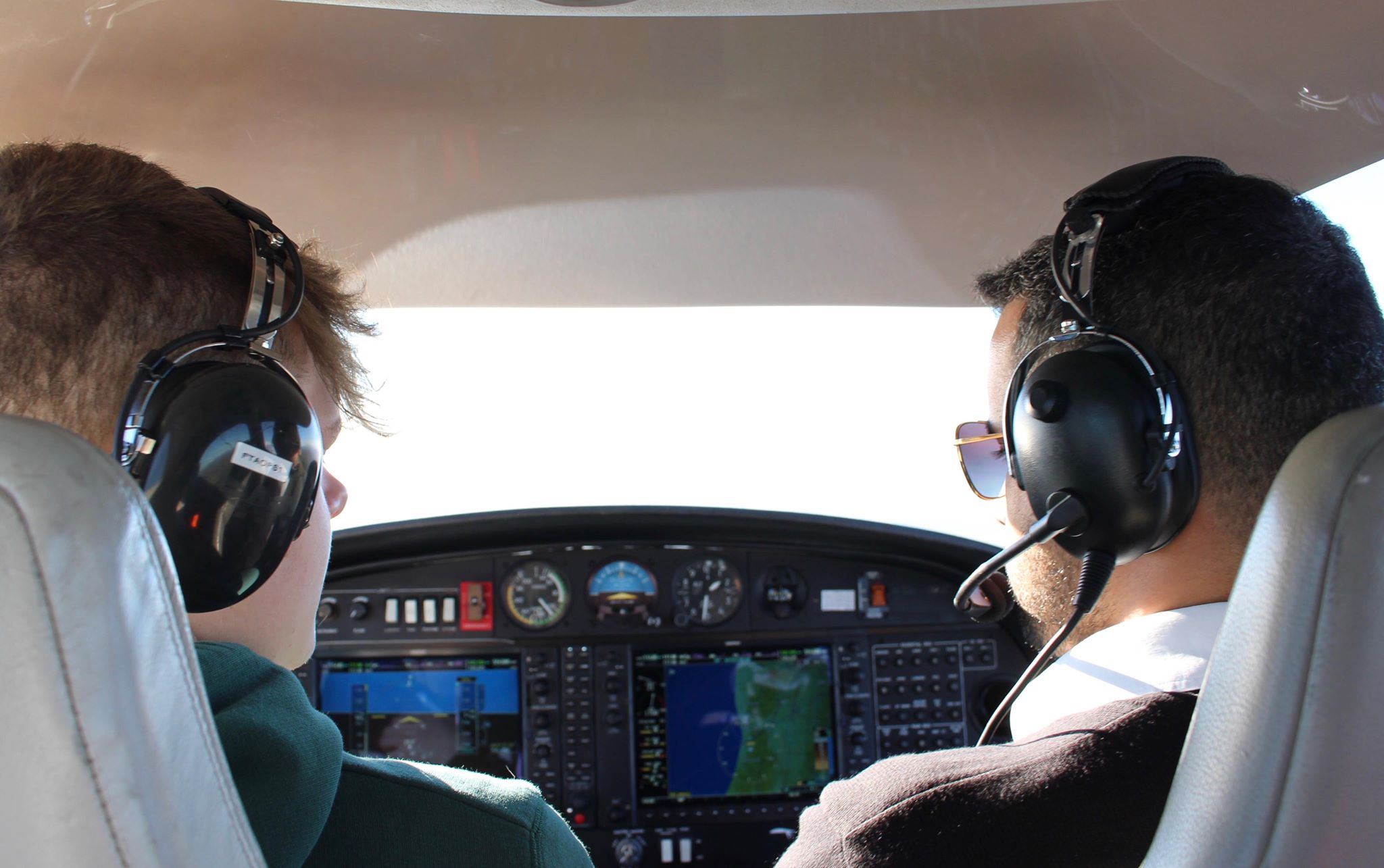 Now you have done it, will you start your pilot training soon?
Without a doubt, I'll be starting my commercial training soon enough. I hope to complete my PPL by the end of 2019 and then I shall be signing up with FTA for their modular route, as I sadly cannot afford the integrated route with only being a seventeen-year-old. I really look forward to completing my night rating and so on with FTA.
What do you think of FTA? Have you had a good experience?
I've had the best experience with FTA; there's something about it being a smaller school which gives it a family feel. It's definitely their USP. Everyone seemed to know everyone, which I'm sure you wouldn't experience at a larger school. I for sure felt welcomed when speaking with the instructors, operations and cadets. I've visited other UK flight schools like L3 flight academy, personally I think FTA is on a different level if you're looking for catered learning.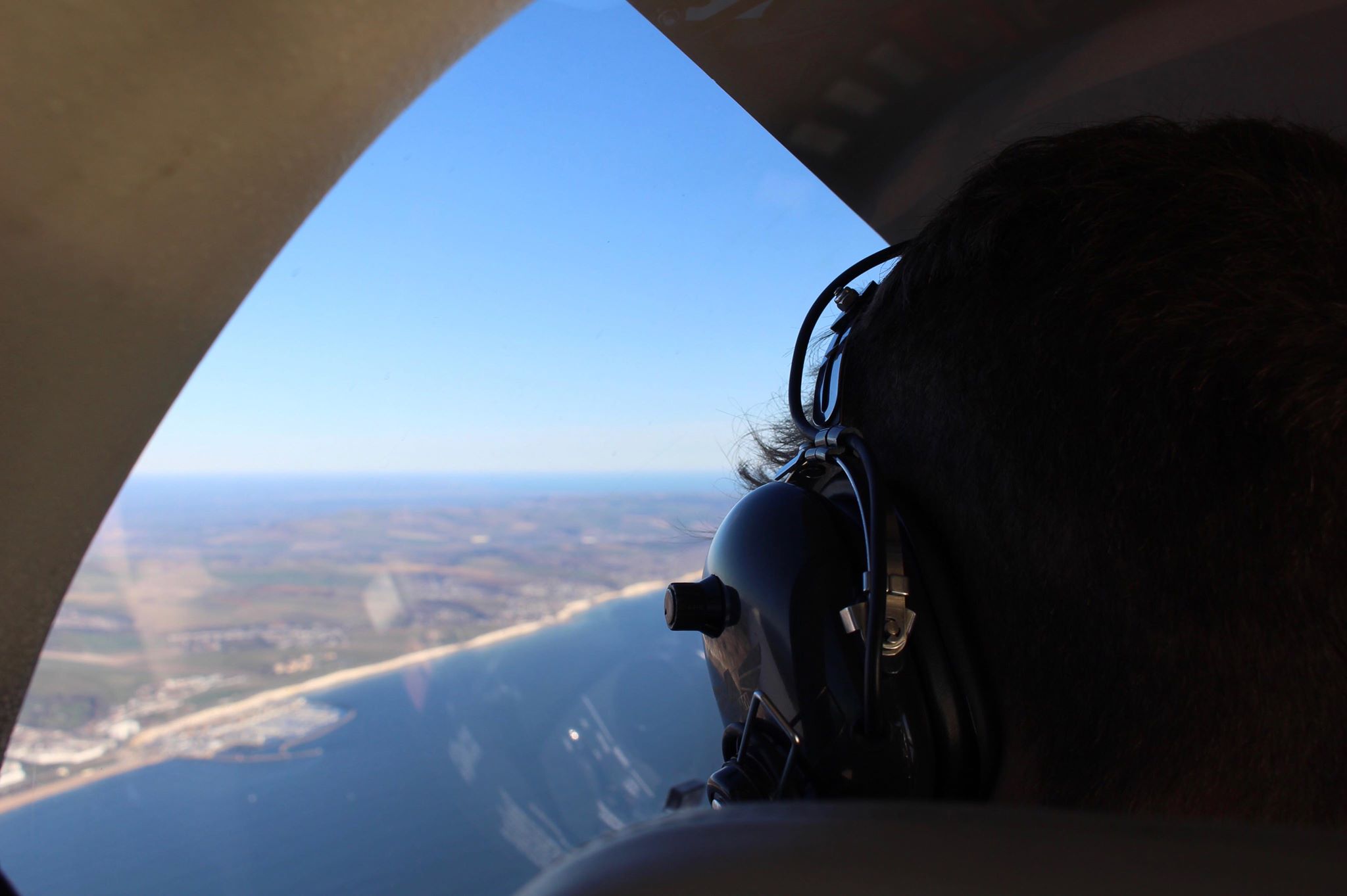 Would you encourage anyone interested in pilot training to do an introductory lesson first?
Always take an introductory lesson before signing up for anything major. Although an open day is great; the feeling of actually operating as a pilot within the school, even only for two hours, feels completely different. You'll be able to spend time with an instructor in a lesson-based environment, and test out the aircraft you may possibly be learning to gain your frozen ATPL in.
What are your future plans?
I know commercial aviation is the only way forward for me. My frozen ATPL being my long-term goal. I finish my A-levels in June 2019 so afterwards its straight into full-time work in order to fund my passion. I'm sure it all be hard work, but if others can do it, why can't I.
Congratulations to Charlie! We regularly post special competitions so please look out for the next one! Alternately if you are interested in pilot training, then having an introductory flying lesson is the perfect choice for you! Contact us now for more information.