Our aim is to help you to make the most informed choice for your pilot training.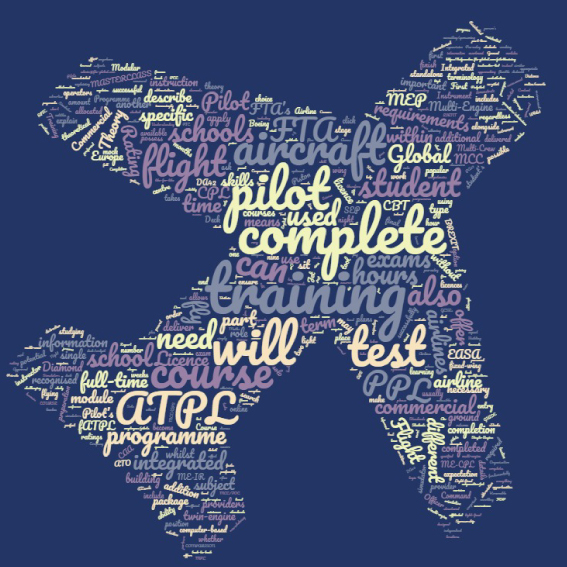 Flight schools approach commercial pilot training slightly differently and will use different acronyms. Understanding the different terminology used by airlines, training operators and flight schools will assist with comparing like-for-like courses, but also – understand flight training in general.
See below for the abbreviations and terminology you may come across as you compare one training course or school against another.
Integrated training – Is the term used to describe a full-time training that includes everything you need to become a commercial pilot. Once completed you can then expect to be able to apply for a role as a first officer. Flight schools may offer different types of integrated programmes.
Modular training – Is the term used to describe the completion of training modules according to a person's time and ability. Modular is more flexible that full-time integrated programme as you have the option to complete the training part-time, or in different locations and schools
Flight Deck Programme (FDP) – As per the above, this is the name of the full-time, integrated option offered by FTA. You complete your commercial pilot training back-to-back. When you finish, you are in the best possible position to apply for First Officer positions with airlines, (subject to their specific entry requirements).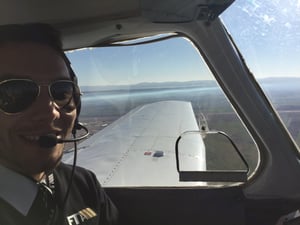 ATO – Means Approved Training Organisation or, FTA Global is an example of an ATO.
PIC – This means 'Pilot in Command' and explains how student hours are characterised. This is when the person is in command of the aircraft, regardless of whether they have a co-pilot or passenger.
SPIC – This means student Pilot in Command and is usually only when the trainee pilot is approaching a test and will be flying under supervision but with no expectation of intervention required by the instructor (such as a mock test). This abbreviation will be used to describe the finite details of FTA's integrated programme.
Solo – This is the term used to explain when a student flies an aircraft without an instructor.
PPL – A Private Pilot's Licence is a modular course that entitles you to fly a light-fixed wing aircraft for personal use. The training is comprised of 45 hours flight instruction and ground school (in preparation for nine exams). An EASA PPL licence allows unrestricted visual flight anywhere in Europe.
NR – A Night Rating is a perfect addition to a PPL. It fundamentally teaches you how to fly an aircraft at night. The night rating is a short course that includes five hours flight instruction, (of which two hours is solo).
CPL – This mean Commercial Pilot's Licence. You complete a CPL test as part FTA's integrated programme and can elect to enrol on this single module after successful completion of your MEP (whilst in possession of a PPL).
MPL – A Multi-Crew Pilot Licence you only complete for an affiliated training programme. These courses are designed in collaboration with the airline and the training operator that completes the training.
fATPL –This is an unofficial way of explaining the type of licence a pilot has when they have passed all 14 ATPL exams, an ME IR, Commercial Pilot's Licence and MCC. The ATPL licence becomes 'unfrozen' after successfully gaining 1500 hours in the specified manner. An fATPL also means that you are in a position to apply for a role as a First Officer (subject to airline requirements).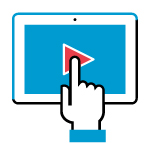 ATPL Theory – This is a 'module' or stage within your commercial pilot training. When studied full-time this takes a minimum of six months to complete, plus additional time for exams. You need to sit an exam for all 14 subjects delivered within ATPL theory. It is important to note that some airlines will look at your average pass rate as part of their selection process.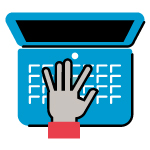 At FTA Global we deliver the training over nine months or 36 weeks. The training takes 12 weeks with time allocated for structured revision, mock test and exam preparation. We also deliver the course instruction using Padpilot eBooks and computer-based training (CBT) (in addition to instructor-led classes).
Ground school – Is a popular term used to explain ATPL Theory, as students receive all the training in a classroom environment.
CBT – FTA Global use computer-based training to deliver aspects of ATPL Theory. Content is available online so instructors can login and track a student's progress. CBT is also used by the airlines alongside simulator training.
Residential ATPL Course – Flight schools use this term to describe full-time study of the 14 different ATPL exams from a single location, other similar terms which are also appropriate are 'ground school' and 'ATPL theory'.
Distance learning – Some training providers offer ATPL Theory or ground school online. This is popular with those that need to complete their theoretical exams whilst working or studying. A number of providers offer distance learning and some schools will offer it instead of a residential course. Whilst the online/remote training offers a high level of convenience, you will sit need to sit the 14 exams at an approved CAA test centre.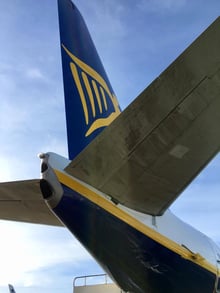 Airline Sponsorship – Some schools or airlines will advertise 'sponsored opportunities' for pilot training. More often than not, these require the student to pay their pilot training, with contribution from an airline toward the training or loan payments. There expectation is that at the end of the training the pilot will be selected for a role within the recruiting/sponsoring airline and the finance be paid back through a 'student bond'. It is important to read the full details before enrolling on such a programme.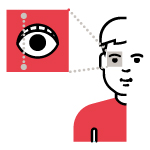 Pre-entry assessment – Some flight schools ask their potential cadets to complete an entry test prior to enrolment. This is so that they can assess whether the student has the necessary skills and ability to train to become a pilot. You can also complete this type of test with independent provider such as The Honorable Company of Air Pilots, click here for more information. FTA Global do not have a pre-entry or aptitude test, we simply ask you to possess the same academic skills and qualifications as those requested by the industry; Five GCSEs (including English, Maths and Science) and preferably two A'Levels (or equivalent).
HB – In addition to complete several specific licences or ratings you also need to complete a specific amount of time building hours. The time allocated to this stage of your training is 'Hour Building'. Students complete their hour building after successfully attaining their PPL and NR. You can complete your hour building at the same time as studying towards your ATPL exams although this is usually completed first, (so that you can focus on your theoretical studies without distraction). A student should finish a PPL with at least 10 hours solo and will need 100 hours before a skills test can be taken.
Test fees – Not all training courses include the cost of the CAA tests, or the aircraft hire for the test. These you will need to check when you enquire about a course.
MCC/JOC – At the end of your training, you are required to complete a Multi-Crew Cooperation Course (MCC). Completion of an MCC demonstrates to the airlines that you have the correct skills to work alongside another pilot in the flight deck/cockpit. At FTA, you complete this training in a Boeing 737 simulator with another student.
MCC/APS – Airlines are increasingly requesting more from their potential employees/pilots. An Airline Pilot Standards (APS) course aims to ensure that a pilot has all the necessary, additional competencies to work well in an airline. It is optional as a upgrade after successful completion of your fATPL by a number of providers, but we recommend Jet MASTERCLASS as your provider of choice.
BREXIT – The UK is an EASA recognised state and therefore any training programme delivered in the UK is recognised within Europe. Britain leaving the EU without a deal could affect this agreement. Training operators may have plans in place to ensure that their training is recognised within Europe and by EASA, regardless of the outcome of BREXIT. FTA Global has put the necessary plans in place.
Light-fixed wing aircraft – Student pilots complete their flight training in both single and twin-engine light fixed-wing aircraft e.g. Piper PA28, Diamond DA40, Diamond DA42. The type of light fixed-wing aircraft used will vary from one flight school to the next.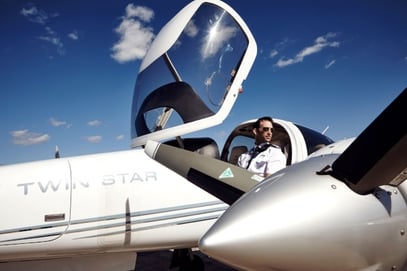 Simulators – We use Diamond DA42 simulators for the final stages of commercial pilot training (phase 4/multi-engine licences). We also offer the multi-crew cooperation/jet orientation course on a Boeing 737 Simulator through our training partners Jet MASTERCLASS.
ME-IR – In order to demonstrate that you can fly a multi-engine aircraft in challenging weather conditions you complete a Multi-Engine Instrument Rating (ME IR). The training for this course requires you to fly using only your instrument panel, in a twin-engine aircraft. The ME IR training can be completed as a standalone module (subject to specific requirements), or course package such as the Integrated Flight Deck Programme.
ME-CPL – One of the final elements of a student's commercial pilot training is a Multi-Engine Commercial Pilot Licence (ME CPL). The ME CPL is available as a standalone module (subject to specific requirements), or part of an integrated course package. The test will be flown on a complex aircraft whilst adhering to commercial standards.
MEP - The Multi-Engine Piston Rating allows you to fly a twin-engine aircraft. If you intend to take up a professional flying career, the MEP is an important step. This course is part of FTA's Flight Deck Programme, but also our MEP, ME-IR, ME-CPL course package.
SEP – In order to fly a single-engine aircraft you need to possess a Single-Engine Piston Rating (SEP). A PPL will include a SEP test as part of the PPL skill test.
Other ratings (such as the Instrument Rating) will have additional requirements for validity.
Expert information
To discuss your training options in detail please call admissions on 01273 455177 or email marketing@fta-global.com
FTA's search tool 'help centre' should answer any questions about flight training. Access the search tool on our website, or click here: https://helpcentre.fta-global.com/pilottraining