We managed to get some of Tim's time, a modular student from FTA who since completing his training, has been pretty much non stop.

Soon after finishing his advanced pilot training at FTA, he went into a role as a calibration pilot and travelled around the world. He's now secured a First Officer position with easyJet and realised his dream of becoming an airline pilot.

Tim has worked extremely hard to be where he is now. He once worked in Air Traffic at Brighton City Airport while completing his training, a job which is in itself a demanding role. However, he made it work and completed his training at the end of 2016 before swapping his headset in air traffic control for a seat in an aircraft as a commercial pilot. It's been our pleasure to be part of his story and we hope to stay in touch with Tim as he progresses through his career.
How did you get to where you are now?
I started my PPL way back in 2006 aged 15, but after logging just 6 hours, I decided to pause my flying training to focus on my GCSE's. What was supposed to be a short gap ended up being five years! However, after finishing my exams followed by a years' travelling, I was determined to resume my training.
In May 2011 I dusted off the logbook and made my way back to Shoreham. After gaining my PPL during the summer of 2012 (one of the wettest summers the UK has ever seen!), I embarked on hours building and the biggest challenge of everyone's journey, the ATPL ground studies….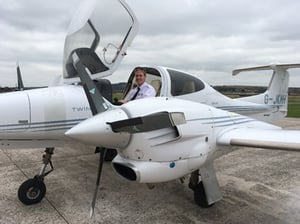 I was very fortunate during this period to obtain a job in Air Traffic Control at the airport, which allowed me to both stay in work and finish my studies. This proved a challenge, but worthwhile as it kept me in aviation and allowed me to remain exposed to the industry while being in study lockdown!
Having passed my ATPL ground exams, I embarked on my advanced training at FTA. I continued my full-time job, and the advantage of working on the airfield proved vital, as I managed to maintain an income through the later stages of training. Once all my advanced training was complete, I was extremely fortunate to get my first flying job as a calibration pilot.
This took me all over Europe and the Middle East, flying DA62 and PA31 aircraft. This job allowed me to build valuable experience and multi-engine flying hours in a challenging environment. Then finally last summer, I achieved my ultimate ambition and gained a first officer position with easyJet, and the rest, as they say, is history!
Have you always wanted to be an airline pilot?
Absolutely! From day one that has been my dream from as long as I can remember.
What is your most treasured or favoured memory?
That's a tough one, we all remember our first solo but I think Airbus base training (circuits in an A319) just nudges it to the top, it was an incredible day.
Did you have any negative experiences?
Yes, training is tough, and there's no such thing as a perfect or easy run through. I remember failing one of my ATPL exams, and at the time I really beat myself up over it, completely overlooking that I had passed the other 13! Setbacks will happen, and the important thing is to pick yourself up again and go straight back to it.
What do you want to do in the future?
I'm very happy where I am and aim to continue to progress through the airline towards captaincy.
What advice would you give to someone about to embark on their training?
My advice to anyone about to start or who is thinking of starting training is to go and get yourself a class 1 medical. Training is expensive, and heaven forbid if anyone were to invest heavily only to find they are unable to meet the medical standards. Also, spend time doing your research about what is financially/practically feasible. The part-time modular route was my choosing, and although cost-effective, is very challenging and takes time.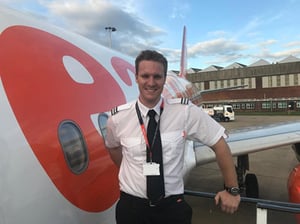 Go along to roadshows like Pilot Careers Live and have a chat with the schools. Follow up with a visit and see what works for you. I also recommend making contacts; speak to those who are going through/gone through their training to build up a broad perspective, and don't rush your decisions on this. The reality is that it is very tough and expensive but don't let that put you off. If you have the drive and passion Io succeed, it really is worth it, and in my view, the best job in the world!
Can you explain what the recruitment process was like for your airline role?
The process is made up of several stages starting with an online application which is then screened. Once this has been accepted, you go through to online aptitude assessment, consisting of psychometric tests assessing personality, reaction speeds and numerical reasoning. Following successful completion of this stage, you are then invited to an assessment day involving group exercises, interview and a simulator assessment.
What's your favourite thing about flying?
I love the freedom flying gives; when you hear it being spoken of as a "privilege", it really is. There is so much you can do with a pilot's licence that's broad and far-reaching, you can take yourself anywhere!
What's the best and worst thing about being a pilot?
I get to see the sun shining every day; there is just no feeling like being on top of the clouds and no better view! The worst (in the commercial world) is disruption out of your control and the consequences it has on an operation and your customers, be it weather or a mysterious drone!