Over 37% of FTA's October intake (on the Integrated Flight Deck Programmes or FDP) were female. If this were any other academic course that statistics would not be so unusual. But with over 94% of pilot jobs held by men, this number suddenly sounds very exciting!
So far this year 22% of FTA's students, enrolled on an Integrated FDP have been female, and at Pilot Careers Live this month, we spoke to more women than ever before. The majority of students we meet are passionate about aviation from a very young age. Some have grown up where generations before them have either worked in the industry or simply loved it their entire life.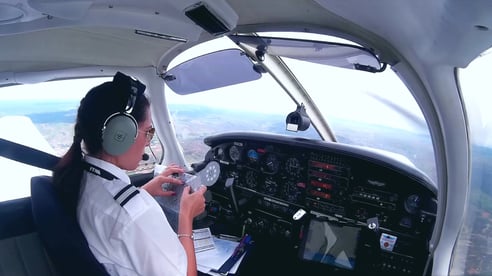 Indeed, such was the case for Julie, who embarked on her training after refusing to give up on her dream:
"That incredible feeling as the wheels leave the ground and the plane takes flight is incomparable. Whether I am the pilot or a passenger, that feeling makes me breathless. The possibility that one day, my days will be filled with looking out at the sky, the sun and the beauty of twilight leaves me with my head in the stars. For me, that vision is soothing and an incredible source of motivation."
(Click here to read about Julie).
However, every now and then you meet students for whom the love wasn't born in early years, but instead as a young adult. Such is the case for twins Angie and Michelle.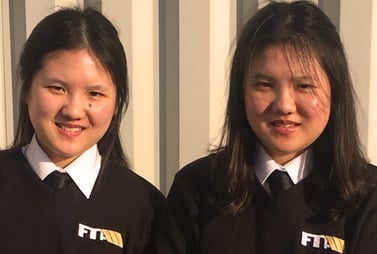 What is most inspiring about Angie and Michelle's stories, is that it was the opportunity to challenge the statistics that motivated them to start their training, as Angie explains: "For me, unlike others, it wasn't a dream from childhood. It was a decision that I never believed that I would make at the age of 17. It was the beauty of the sky that gave me the driving force to pursue this career. Sometimes, I felt curious about the sky and asked myself what it would be like to fly up there. Moreover, there are not many female pilots out there so I want to contribute to the global increase. I always want to do something unique; something that in my age group wouldn't thought of doing it or rarely doing it."
Her sister, Michelle began her training for a similar reason: "I started to discover to become a pilot when I was 17 years old. Starting to train to become a pilot at the age of 18 is a very hard decision to make, especially for me as a female who have just finished secondary education... whenever I went to airports and watched pilots walk past me I'd ask myself: 'Why there aren't any female pilots? I want to see one'. Instead of seeing one, why not becoming one?"
It seems that the sisters recognise the barriers to the industry and want to go further than simply challenging the statistics. When asked about future plans, Angie explains: "I definitely hope I will pass all the exams so that I have the opportunity to work for an airline. I would like to talk and share my experience as an airline pilot, especially to people who have never thought of pilots across their mind. Not only women that I want to inspire but also children from poor background. I want to let them know that anyone can have the opportunity to become a pilot no matter what background they come from."
Angie and Michelle have just begun their training. At FTA you begin your pilot training with basic theory before completing flight phases 1-3 (the elementary stages) of flight training in a single engine aircraft and then finally phase 4. The sisters have chosen to complete their training entirely in the UK, having enrolled on Option B of FTA's Integrated Flight Deck Programme. As Michelle explains, "it has only been 3 weeks since I started the training and I have found the course very challenging and intensive. Additionally, the classroom teaching hours were 7 hours long which was a big change from secondary school. However, at the same time I found the subjects very interesting to learn such as human performance and meteorology. The instructors were very approachable and whenever I have questions they will help and solved my issue."
What is lovely and humbling about Michelle and Angie and other FTA cadets such as Paulina and Julie is their honesty. It's important to them to share their thoughts and experiences of pilot training because they recognise that it's only by sharing their experiences that they'll inspire other females, like themselves to embark on a career within the industry. And this is exactly what the industry needs. Just 6% of British pilots are females, but the global figure is just 3%. There are a number of initiatives to attract more women in to the industry and it seems to be having an impact. In 2016 Easyjet launched an initiative worth £600k to boost the number of female pilots. Their goal is to double their 6% female pilot figure to 12% by 2018.
The launch of easyJet's Amy Johnson Flying Initiative, is in partnership with the British Women Pilots Association (BWPA). The BWPA has 300 members and has been supporting female pilots for more than 60 years having been born out of the Air Transport Auxiliary. The association has recently started to work with schools and careers offices to help enthuse girls about STEM subjects (science, technology, engineering and mathematics) – and a potential career as a pilot.
If you've been inspired by this story then please, get in touch. We want to hear from anyone, but especially women that are interested in learning to fly, the steps you've taken and how you hope to make your plan a reality.