Now more than ever it is easy to see how tough life can sometimes be. In unprecedented times there is need to maintain focus, demonstrate resilience, and apply hard work and self-discipline. These are all qualities that culminate to create an ideal pilot.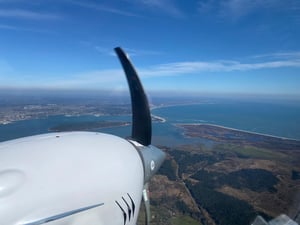 Even though our routines are out of kilter, it's important now more than ever to keep to some sort of routine. Our past students know this better than anyone. In times of worry it is also good to look to others for support and inspiration.
The following article includes a collection of the most inspirational quotes from students (past and present). Our hope is that they will brighten your day, and inspire you to progress forward with your own pilot dream.
A passion for flying
"For 23 years now, I've been consumed by my desire to become a pilot; with every cell in my body, I know that flying is something I was born and, moreover, meant to do." Paulina
Supporting each other
"It's a varied and immersive lifestyle. No two days are ever the same, especially when on the flight line, as you are continually having to deal with a multitude of factors e.g. weather, delays, beacon slots etc. What I would say though is that there is a real sense of camaraderie for all those involved in the training, as there is always someone to hand who can sympathise with your stresses and achievements. So whilst being a trainee can be tough going, it's very rarely lonely." Ashley
Standing for equality
"I don't see myself as a 'female pilot', just a pilot. I'm so proud that myself and my male training colleagues have completed the course and been successful. I know the hard work that each and every student has put in. It's about dedication and passion, not gender." Hannah
Bumps in the road
"It seemed as though it was always going to be a dream. Then, when I was 14 I heard about a scholarship at the local airport. Cotswold airport offer a two-week flying scholarship each year for 10 lucky candidates.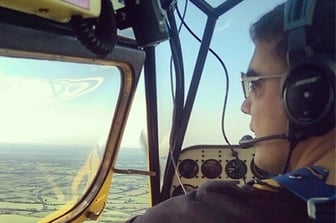 I was due to start at Easter however due to unforeseen circumstances it had to be postponed for 6 months and unfortunately I wasn't free until the following year. I was crushed but when I eventually did the scholarship it was an amazing experience – like nothing else. After the two weeks I knew that it was all I wanted to do." Yak
Facing your fear
"I had been building up to my first solo but I thought it was going to be the next day…I remember the day like it was yesterday. It was such a scary feeling although not knowing when it would happen, meant I didn't find myself worrying about the night before. The airport that day had such a buzzing atmosphere, and so I had no fear, just a mixture of excitement and thrill - it was such a surreal feeling. I remember just smiling the whole way through, telling myself I could do it and to be confident. The landing felt like it took ages, but when I had done it, I was very proud. It was a great day." Ryan
Believing in yourself
"I questioned whether the standard was too high and if I had made the right choice but after my fifth flight, I felt comfortable…It was hard every studying every day from 6 am to 11 pm, definitely the hardest time in life. Getting me through the challenge of ATPL and all other challenges, were the instructors who were brilliant and congratulated me when I was finished." Andrew
Putting in the work
"The ATPL's were tough. They consist of months of hard work and dedication. Everyone always says in aviation when flying aircraft, to always think ahead of the airplane. You got to be one step ahead and be prepared for what's to come." Jordan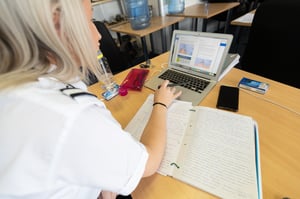 Working together
"It's difficult to pinpoint a specific part I enjoyed the most. I went into training with my whole heart and full dedication. Each step carried its challenges and each day I was put well outside my comfort zone. Knowing I'm doing this for the love of flying and fulfil my ambitions, I enjoyed every moment.
I can't imagine any other industry where everyone works so closely together and do their best to help each other. I've met like-minded people, made good friends and made the sky, my office. I enjoyed every bit." Kamil
Being resilient
"If I've learnt anything through my experience so far, it has been not to let other peoples' self-doubt, opinions or experiences get in the way of you knowing your abilities and motivations. That said, I don't want people reading this not to realise the stakes fully. Working several jobs while studying towards my ATPL theory was very hard. It took me a year all in all as I studied via distance learning and thankfully finished with a high average and first time passes. I can look back on that time now with pride and great relief." Dan