Tom, an instructor for FTA explains what he enjoys about teaching others to fly and his journey to get where he is now.
I feel so lucky to be paid for what feels more like a hobby, than a job. I get to share my passion for flying on a daily basis with like-minded students and I'm constantly learning whilst gaining experience.
Life before FTA
I started learning to fly in 2006 and actually came to Shoreham to complete my private pilot's licence (PPL) part-time, whilst working at Gatwick Airport as an Aircraft Dispatcher. Once I gained my PPL, I bought a share in a Shoreham based Cessna 152 and moved on to work in Operations for an air cargo management company. I worked there for four years in what was a very diverse role. I did anything from booking charters to flight planning for Boeing 747F aircraft in Africa. It gave me a fantastic foundation for a future career.
In 2015, I decided to leave the Monday to Friday office job to follow my dream of becoming a professional pilot. I enrolled with FTA to complete my ATPL ground school in six months, before going to another school to gain my Commercial Pilot's Licence (CPL) on a single-engine Piper Arrow. I then moved to Australia for a year's working holiday with my girlfriend. Whilst in Australia, in addition to sunbathing on amazing beaches, drinking lots of coffee and learning to scuba dive, I wanted to gain more experience as a pilot, so I studied for an overseas conversion and gained an Australian CPL (CASA) in Melbourne. From there, I moved to Darwin where I found employment with a general aviation charter company.
Whilst in Australia Tom did a lot of bush flying, and he explains more about what that's like…
Bush flying can be an exhilarating but also a challenging experience. I got to fly a variety of aircraft across the expansive terrain, avoiding wet-season storms, and landing at incredibly remote gravel airstrips, hundreds of miles from civilisation, without any road access or phone/radio coverage. You really have to be accurate with the flight planning, especially checking the performance for short runways in such hot, humid conditions and the fuel requirements for the long routes with no close alternates! At times, I felt a bit like an explorer discovering untouched land, and found myself revising survival tactics in case of an emergency in a remote location, which didn't seem all that relevant when I was studying in the UK.
Towards the end of my working holiday, it was suggested that I research the Honourable Company of Air Pilots, who were offering a bursary for becoming a Flight Instructor. As I had already been interested in instructing, I flew back early from Australia especially for the interview in London.
The day of my interview was a long one, I was awake around 4 am with jet-lag, but the interview panel put me at ease, so it went well. I had originally intended to see out my VISA in Australia, but because my interview was successful, I ended up staying in the UK, knowing I'd have to head back out to Australia at some point to collect all my things.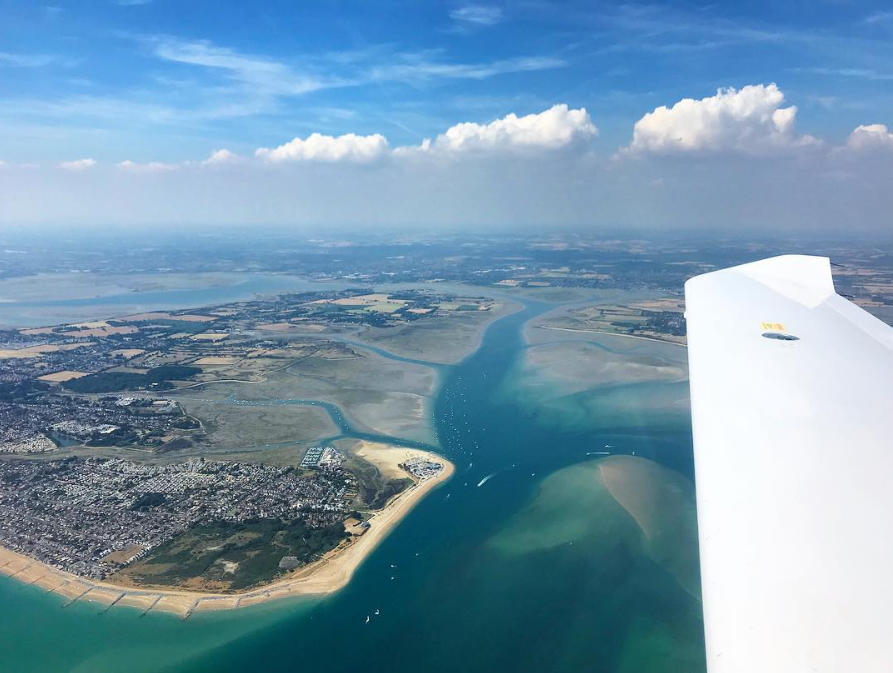 Learning to instruct
The course took only a few months to complete, I started in June and completed the course in August. The training was run by Dorothy Saul-Pooley and Neill Evans at Pooleys Flying Instructor School (PFIS).
The course was very thorough, professional yet also really relaxed. I feel very lucky to have had most of the theory completed on a 1-2-1 basis with Dorothy. On a couple of occasions, we even stopped on the Isle of Wight and at Headcorn for lunch in-between lessons.
Halfway through the course, FTA contacted me about working as a basic Flight Instructor. They needed someone to teach PPLs, the night rating and flight phases 1-3 of the integrated flight deck programme. I grasped the opportunity and I love it, I get to teach on a modern fleet of Diamond aircraft at Shoreham and occasionally at FTA's Spanish base in Teruel. For me, instructing involves a lot of psychology, every student is different and you need to learn what drives and motivates each one so you can adapt your teaching style.
It's also great to be based in the same airfield where I began my own pilot training. I completed my pilot training via the modular route, learning different flight phases at different schools and because of this I have had my own experience of both good and bad instructors. Knowing first-hand what it is like to receive bad instruction, gives you the motivation and the skills to ensure that you become a good instructor yourself.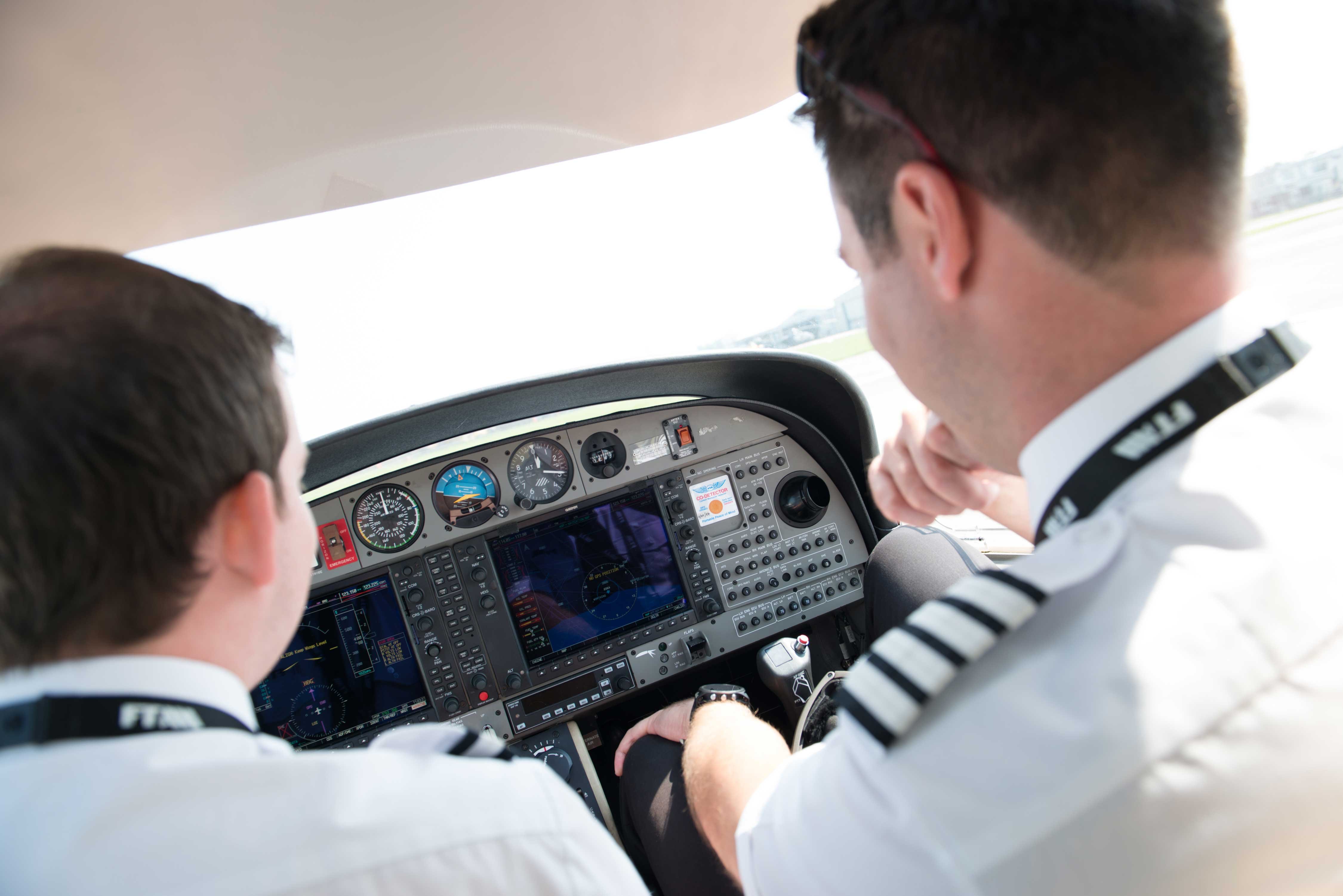 Teaching in Teruel
Tom has spent a great deal of time in Spain teaching the elementary stages of Option A of the Flight Deck Programme (FDP) and has really enjoyed his time there. He explains:
I enjoy trying to speak Spanish and immerse myself in the culture out there. Teruel has such fantastic weather, and for the early stages of learning to fly, the conditions are nearly always perfect. It's also great because you get a small group of students, who all learn together, which gives you the chance to build a strong working relationship with them all.
Because of the size of the groups, the students support each other, whilst also enjoying a little friendly and healthy competition as they progress through their training, which is really rewarding to watch as an instructor.
On a typical day, I will fly up to 5 hours and oversee students that are flying solo. The student's schedules are completed each evening (for the following day). This is so that students know when they are going to fly and can prepare themselves for each flight. I get to teach quite a variety of lessons, depending on which training programme students are enrolled on or what phase they have reached at the time.
The future
I would absolutely recommend training to become a Flight Instructor. But like anything worth doing, it does take work and commitment. Having decided to study to become a pilot via the modular route, I have had over 25 different instructors over the last 12 years. This I've found to be very valuable as it has taught me the kind of instructor I want to be. This is not a career path you should take lightly; the love of flying is a big reason for choosing to do what I do. I fly every day, and it's fantastic. But you also need to have a passion for inspiring others to learn, and the patience to support them to progress.
In the future, Tom hopes to progress to become an advanced instructor. This requires further training but will mean he can deliver the more complex elements of commercial flight training such as the multi-engine IR, CPL piston rating. He has already begun this career development and is a crucial part of the high-calibre flight instruction team at FTA Global.