Experienced pilot and First Officer Jerome, talks us through his unexpected journey to becoming a First Officer for Ryanair and how he'll never lose his love for teaching.
Jerome worked for FTA a short time ago as a Flight Instructor, he went on to a position with a private jet company who he worked with for almost two years before now progressing to a role with Europe's biggest airline Ryanair. Jerome is passionate about teaching, it's clear from his enthusiasm when he talks about the importance of the role that he recognises its significance to the next generation of pilots.
Jerome was a popular instructor throughout his time at FTA and we love to stay in touch with him and catch up on his latest adventure. We are fortunate to have had, and continue to have such terrific instructors who reflect on their time with our company with such positivity – and of course want to keep in touch for the future.
What makes Jerome's interview so enjoyable is his obvious, relentless enthusiasm about life's journey which is infectious…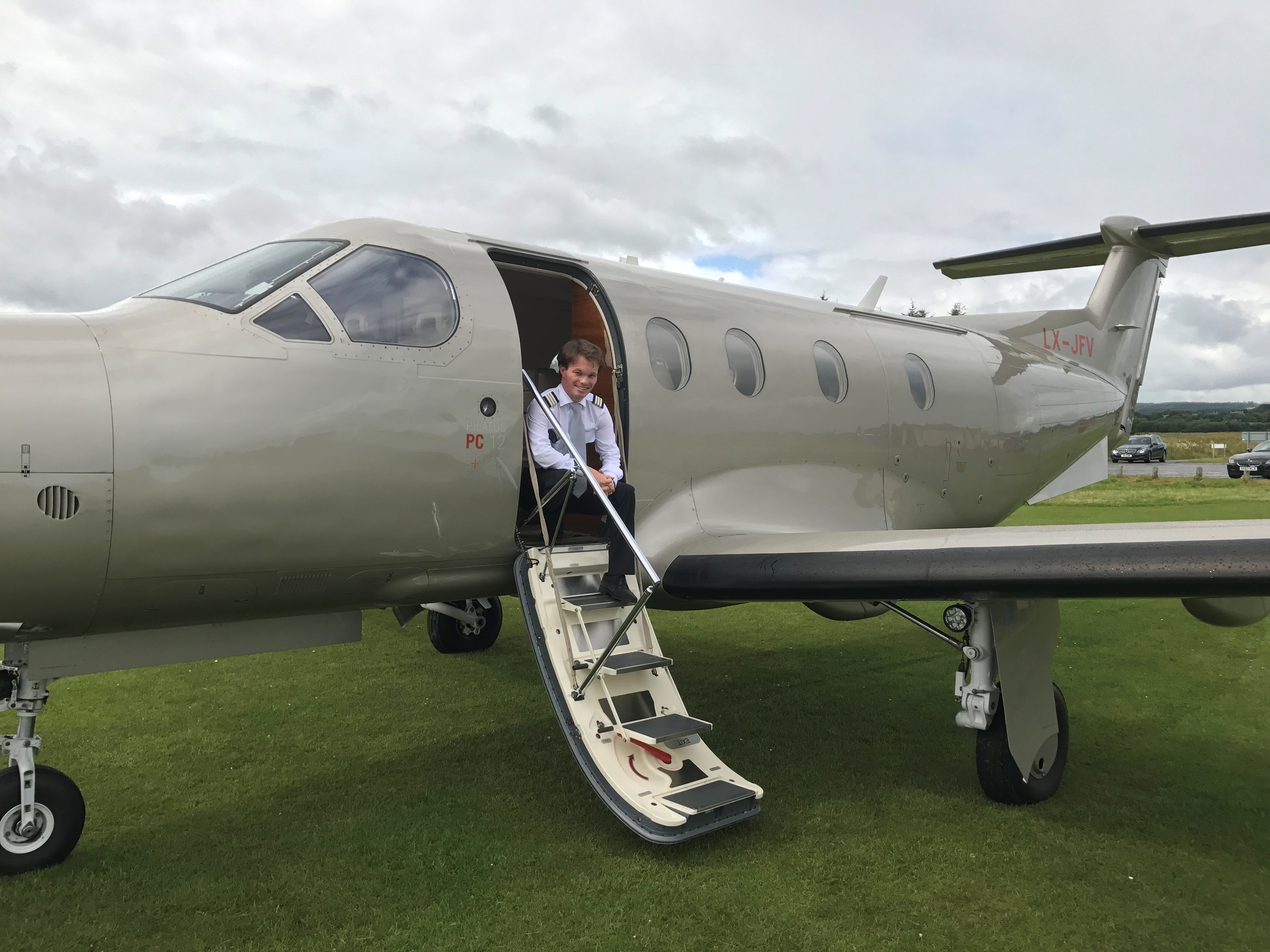 I'm very passionate about aviation, if you're passionate about something you have a 50% chance to achieve what you want. It was like a dream for me as a child since I was born.
As soon as I started my PPL I recognised the importance of my English so I moved to Oxford to study the language and complete my ATPL ground school. I then moved to Bournemouth to do my training as a Commercial Pilot, but when I finished my training in 2012 the aviation industry was not as good as it is today. So, I made the decision to become a Flight Instructor. I like to teach almost as much as I like to talk and I found I loved it. I enjoyed the job so much that I decided to progress to become an advanced flight instructor.
After instructing you worked for a private jet company – how did you find it?
I enjoyed the customer service aspect. It happens a lot as an instructor as you're always moving forward, you make sure that the student is very happy so treat them like a customer – just as you do at Jetfly.
You've recently secured a role at Ryanair, tell us how that came about?
Ryanair invited me back for a second interview 18 months after my first, (this was in December). It was unexpected because I had been so busy enjoying my job with Jetfly I'd not given my application to Ryanair a second thought. I considered my options and just thought 'why not just go speak to them?', so I did. One month later I went to my interview and the decision to offer me the job was so quick that as soon as I'd completed my two months' notice with Jetfly I went straight into my training with Ryanair.
A lot of students reading this will be interested to learn more about Ryanair's training and recruitment process, can you tell us a little about it?
The training was very professional and very well organised. As a previous instructor, I had a great experience. I think it's one of the best training in the world because there are a lot of things to study and they look after you.
You first sit through ground school and training in a simulator. Then we had to do the base training, which is basically a T6 take-off and T6 landing before I moved to Malta to do my line training. Here you assume the role of a First Officer and a Captain and teaches you all you need to know on working as a First Officer with the company.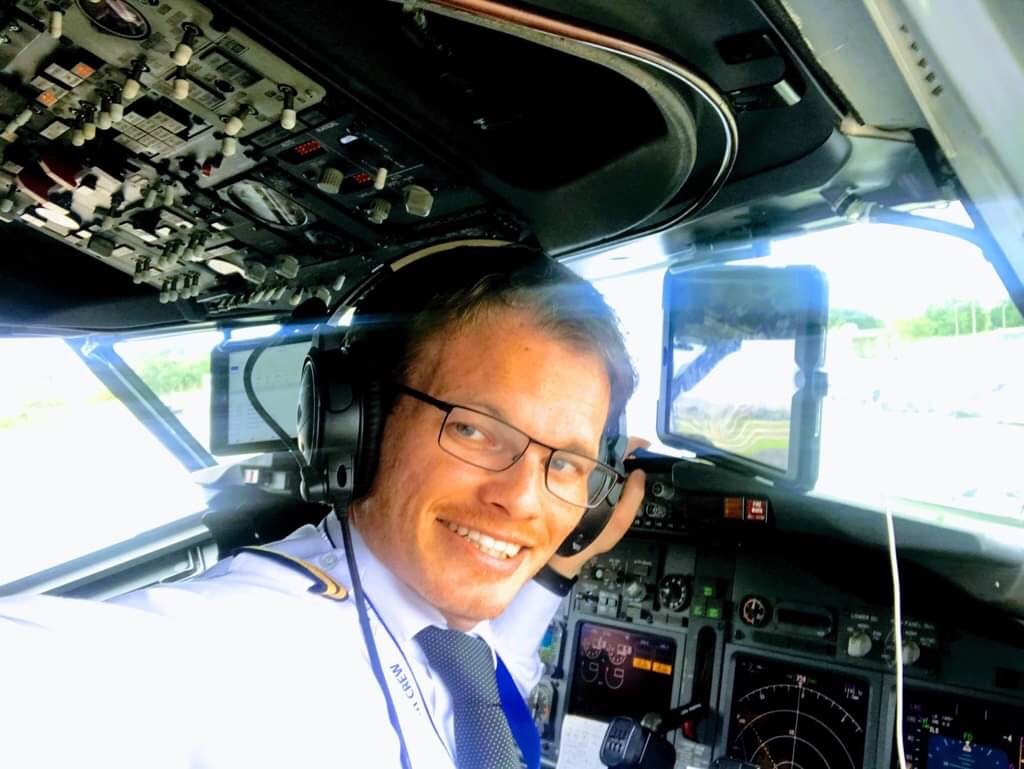 The move was quite quick, how did you find that sudden demand to move?
I love challenge and adventure. In Malta, everyone speaks English and it's a lovely place to live.
By November I'd finished my line training and my first official flight as a First Officer with Ryanair was in December, and it felt no different from my training. The training to become a First Officer involves simulating the real-world scenarios with the instructor acting as a Captain would, so the transition is very natural.
I've been working as a First Officer in Budapest, (my base) ever since.
What's it like to fly a 737?
To take off in a 737 is an amazing sensation! If you act as the PF (Pilot Flying), you have the control and the captain will act as the PM (pilot monitoring) will monitor what you do. When you press the button to start the take-off, everything moves forward and you have a very nice sensation and it's amazing to know you're flying the plane with 190 passengers. You take control of the plane and it's amazing to have a feeling like that.
What interview advice would you offer our students?
Study. They expect you to have good knowledge of the aircraft. If you like to study and you're a good student with good motivation, everything works in the challenge. They expect you to become a Captain one day, they want to find a candidate to be a First Officer who will progress to the position of Captain in the next few years. They don't want a First Officer just as a First Officer, they want a Captain. Few airlines offer the same career progression as Ryanair.
And therein lie the benefits of the job – opportunities and a secure position. The airline offers the opportunity to progress in the aircraft and in the classroom and they offer development opportunities for First Officers to progress onto roles as Synthetic Flight Instructors (teaching others to fly the 737) which is something I want to aim for next year.
I'm moving fast and have done a lot of things. Aircraft engineer, flight instructor, pilot, examiner. I want to enjoy my work and see how it goes from that. My goal in a year and a half is to be an SFI or a Captain and I am very happy with the opportunities with Ryanair has already given me.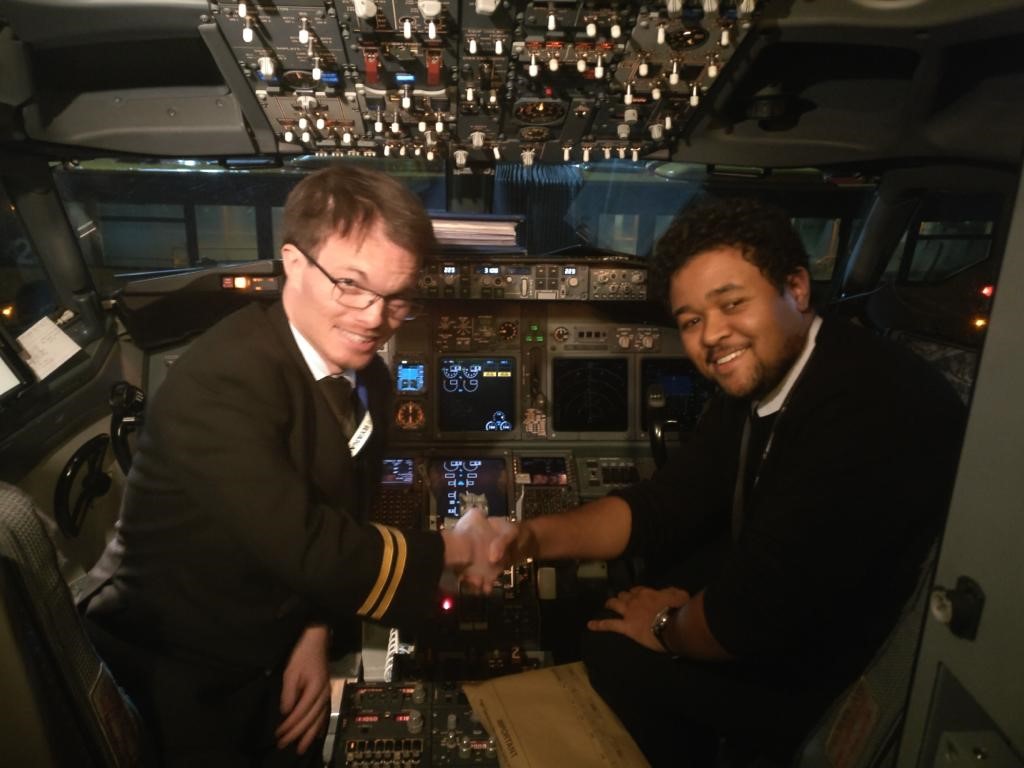 At the end of the interview, Jerome reflected on his time at FTA…
As a Flight Instructor, I already knew about the various flight schools around the UK, (so knew which schools were good or not). A friend of mine recommended FTA, as they were known to be very professional and would look after me.
I enquired about positions with the company and was pleased that because I already have my MEP IR they would be happy to move me forward and be able to fly the Diamond DA42. In my previous company, I didn't have the opportunity to work as an advanced flight instructor due to the number of students and aircraft.
The Diamonds are fantastic aircraft. They really prepare you for working in the modern airliners. The systems are very orientated to what the airlines are like, Ryanair, EasyJet. They are lovely to teach in and easy to fly. A stark comparison to older, more conventional aircraft which can be old fashioned.
I really loved my time as an instructor. It's very flexible, I had the opportunity to become a flight examiner which I took. I think the high responsibility of a flight examiner gives you a different perspective to the job.
In any job you have to move forward, I've been a flight instructor for nearly six years so I feel like I have done everything and I love a challenge. If I didn't like it, I know I could always come back as a flight instructor and that's why I keep my rating as a flight instructor just in case I wanted to be an instructor again, I would definitely come back to FTA.
Jerome is someone who is clearly very passionate about flight instruction and the value of continued development so we pressed Jerome for what he'd advise someone considering flight instructor as a career.
First and foremost they have to love what they do and want to be a teacher. If they don't like teaching then there is no point continuing with this area. So if they are passionate about flying, love to teach and talk in a positive way as well as deliver lots of important information then they should definitely consider the career.
How does work as a First Officer for a major airline compare to that of a Flight Instructor?
It's a different job because as an instructor you're teaching first and foremost but as a First Officer, your flying and you work as part of a team.
As a First Officer at Jetfly, we flew a lot of hours, (though it may be not as much as when you work for a major airline), we could typically complete 8 hours a day from two trips. As a First Officer with Ryanair, your typical role is to fly from A to B.
However, as a Flight Instructor, I would do four to six flights a day all with different missions.
In the morning I could start with an integrated student, phase 1, who doesn't really know how to fly the plane. Later that morning, I could be with a ME IR student, completing a four-hour flight to Oxford and initiating a different pattern.
That's why I loved FTA as no day was the same as you had a different aircraft, student and journey.