Recruiting high-calibre Flight Instructors is a significant issue for all Approved Training Organisations (ATOs), especially in the current climate where the airline industry is seeing exponential growth and experiencing an unprecedented demand for pilots. With airlines recruiting at their greatest levels in decades, Flight Instructors, (who are typically highly experienced and qualified pilots), are getting snapped up for First Officer roles.
The direct consequence of which is a distinct lack of qualified Flight Instructors. Flight Instructors are generally only able to teach a maximum of 4 full-time students per annum so if ATOs are to keep up with demand they will need a number of basic and advanced instructors to deliver the training.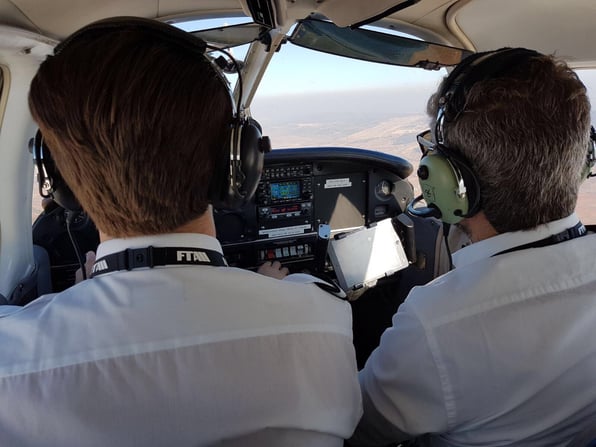 The regulation changes in 2012, also mean that not only is it expensive to become an instructor, but also to advance your Flight Instructor qualifications.
Instead of falling victim to this issue, FTA Global has decided to be proactive and devised a creative solution to the problem, as Head of Training Phil Jones explains:
"We continually look for ways to improve how efficiently we operate, but also the opportunity for flight training to reach the widest possible audience. This is why we are launching a sponsorship scheme like no other: a 100% funded Instrument Rating Instructor course with a clear career progression path for successful applicants."
A company is what it is because of its people and we have great people; this is why it is so important for us to recruit the best possible pilots
The sponsorship programme combines employment as a Flight Instructor and building the necessary hours to be able to start the Instrument Rating Instructor Course. Following successful completion of course, candidates will be promoted to teach the Instrument Rating elements of our pilot training.
The programme offers excellent, mutual benefits both for FTA and suitable instructors. The successful applicants will not only see their Instrument Rating Instructor Course paid for, but they will also receive a salary whilst they train. We want to remove the cost barrier ensuring that we hire candidates purely based on their calibre rather than affordability.
The value of the training offered is up to £15,000 (dependent on training already completed). Phil explains the significance of the programme: "A number of people we speak to are keen to become Instrument Rating Instructors and we hope this sponsorship programme will address the financial barrier".
FTA Global is unusual since their group also own and manage an aircraft engineering firm (Apollo Aviation maintenance), and their primary base, Brighton City Airport. This unique set up means that FTA is able to optimise every element of what they do, and this will be reflected in the sponsorship programme, with students gaining experience across all parts of the business.
The closing date for applications is the 14th February 2018. To apply, candidates must possess the following, minimum requirements:
EASA CPL
Flight Instructor Rating
EASA Class 1 medical
Radio licence
ICAO English Level 5
Instrument Rating
Documentation required
Curriculum Vitae (CV) – Single page
Cover Note with the reasons why you want to join FTA and become an Instrument Rating Instructor
Commercial Pilot's License
ICAO language certificate
Last 3 logbook entries
FTA is no stranger to launching, innovative initiatives. Their vision is to make pilot training as accessible as possible and pride themselves on their warm, professional but friendly culture.
The application could not be more straight-forward, with the first stage of the application process completed by email.
Interested candidates, should send all relevant documentation, by email: sponsoredtraining@fta-global.com or visit: fta-global.com/pilot-training-sponsorship.