We recently caught up with FTA Graduate Liam, who is now working as a First Officer with Ryanair. Liam discusses a day in the life of being a pilot at Ryanair, the training process and offers advice to those embarking on their pilot training.
Why did you choose FTA for your pilot training?
I chose FTA because I was very impressed with what I saw during a personal tour led by Dan. The small number of cadets compared to larger schools was a highlight for me, and you truly felt a family feel. The instructor ratio also stood out, I could really see the bonds the instructors made with the students. The friendly but professional environment shown suited me, and I can confirm that everything I saw on that day, I received throughout my training.
I also like where FTA are based, in Shoreham. There's no better place to learn than taking off and within 2 minutes already talking to London, one of the busiest airspace, in the world.
Tell us about your training when you arrived at Ryanair? What happened and in what order? Was it hard work?
I was the first course to start after the pandemic, so it all started with a remote classroom with an introduction to the airline and what to expect. Then we were straight into distance learning, studying the Boeing 737 type rating technical systems via interactive computer base learning provided by Ryanair. Then we had virtual classrooms on performance, CRM and standard operating procedures. After the two weeks of distance learning, I travelled to East Midlands airport to spend the first week completing the theoretical exams and learning the safety and emergency procedures.
After this, it was around 6 weeks in the simulator to learn the procedures and how to operate the 737. Following this was the licence skills test, then most pilots favourite day, base training, flying the 737 for the first time and completing 6 touch and goes and 1 go-around. Then I was assigned a training base and began Line Training, flying passengers around Europe. It was hard work, but the training delivered by Ryanair is excellent and they are there to help and support every step of the way.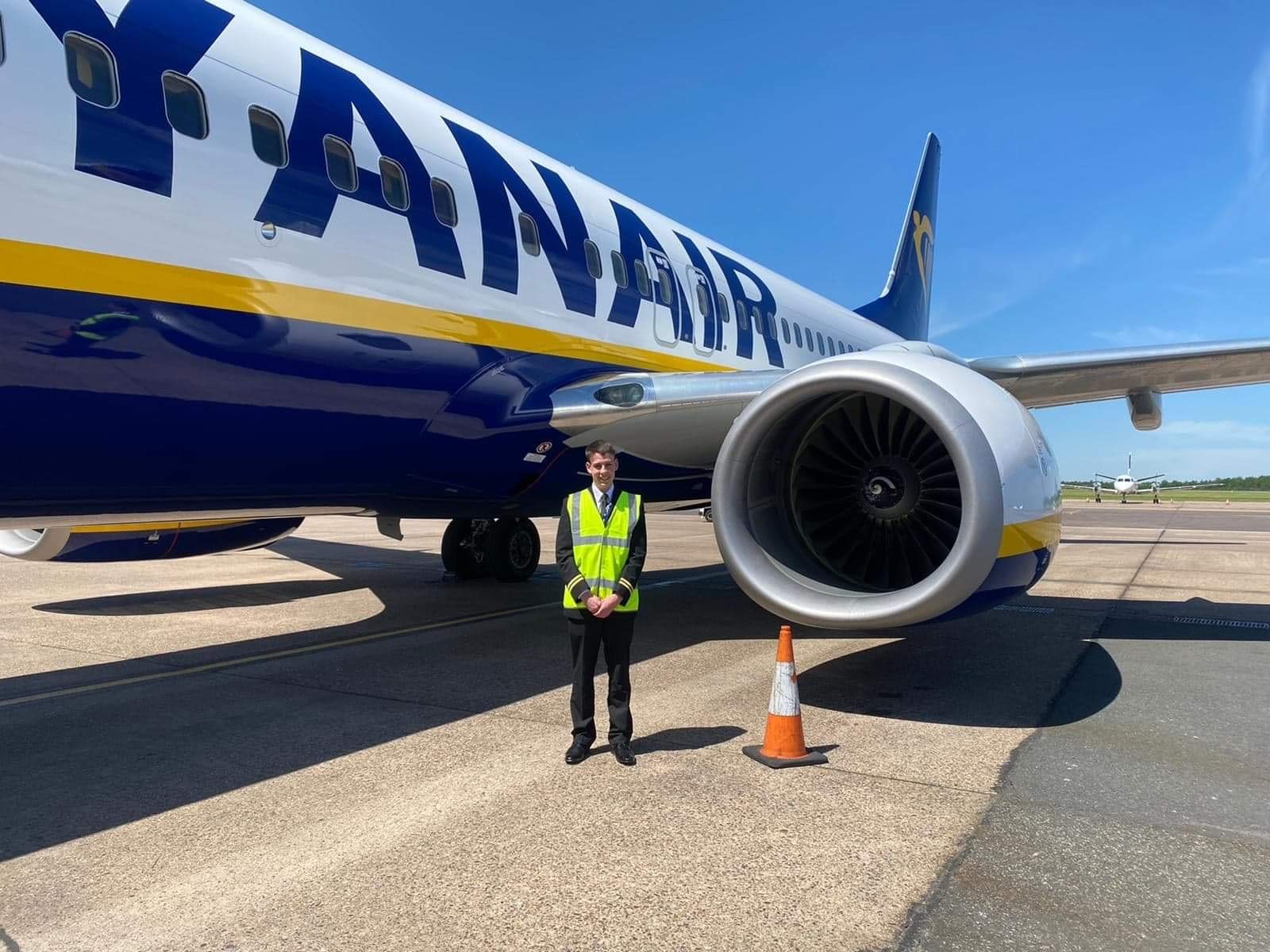 Describe a day in the life of being a pilot at Ryanair? What happens at the start?
Once through security, we now meet on board the aircraft. Our flight plans are electronic, so I will review this first with the captain, and go over areas such as our route, the weather, NOTAMs and aircraft notes. We will discuss any additional fuel and decide who will be pilot flying which way. The pilot flying then begins to set up the aircraft whilst the pilot monitoring will start the walk around. With all the cabin crew onboard we will have a short brief to introduce ourselves. Once everyone is ready we will start the boarding and begin briefing for our departure. Then we'll start the flying, sometimes it's two flights, sometimes four in one day!
What happens regarding briefing? Does this take place before you step on the plane?
Our initial brief where we assess the overall day begins on the aircraft. If the aircraft has not arrived yet (for example, starting on lates, taking over from an inbound crew), then we will most likely meet in the crew room.
What's your favourite part of your day?
My favourite part of the day is when you've performed the perfect continuous decent approach into an airport to a landing, open the flight deck door and see the smiling passengers disembark to enjoy their holiday.
Of all the skills you learnt at FTA, what is the one that has benefitted you the most at Ryanair?
For me this would have to be the instrument rating as a whole delivered by FTA. The excellent instruction delivered from the start allowed a smooth transition to flying the 737. As I had been taught a strong understanding of flying on instruments, this became second nature, allowing me the capacity to then focus on specific 737 elements. I would also say training in London airspace from the start. You master the art of communication in Class A airspace with FTA, so when it comes to flying in it as an airliner, you're already one step ahead as everything is just familiar. Cadets that didn't have this exposure found it was an additional hurdle during their line training.
How did you find your first landing? Where was it?
My first landing with paying passengers was in Alicante, and it went really well, and I believe this was due to the sound training delivered by Ryanair.
In terms of soft skills, what is the most difficult situation you had to deal with?
I would say this would be my first medical emergency. This is where the competencies come in, as you have to have good team work with your crew to gather all the information, and then strong communication is needed to pass this to the authorities. You'll then use your decision making, critical thinking and time management skills learnt through FTA and partners to assess what the best solution is, and discuss potential diversions. For this particular event, we were just starting our decent, so the solution was continue, only at a much higher speed. The excellent skills taught by Ryanair allow this to happen safely and professionally.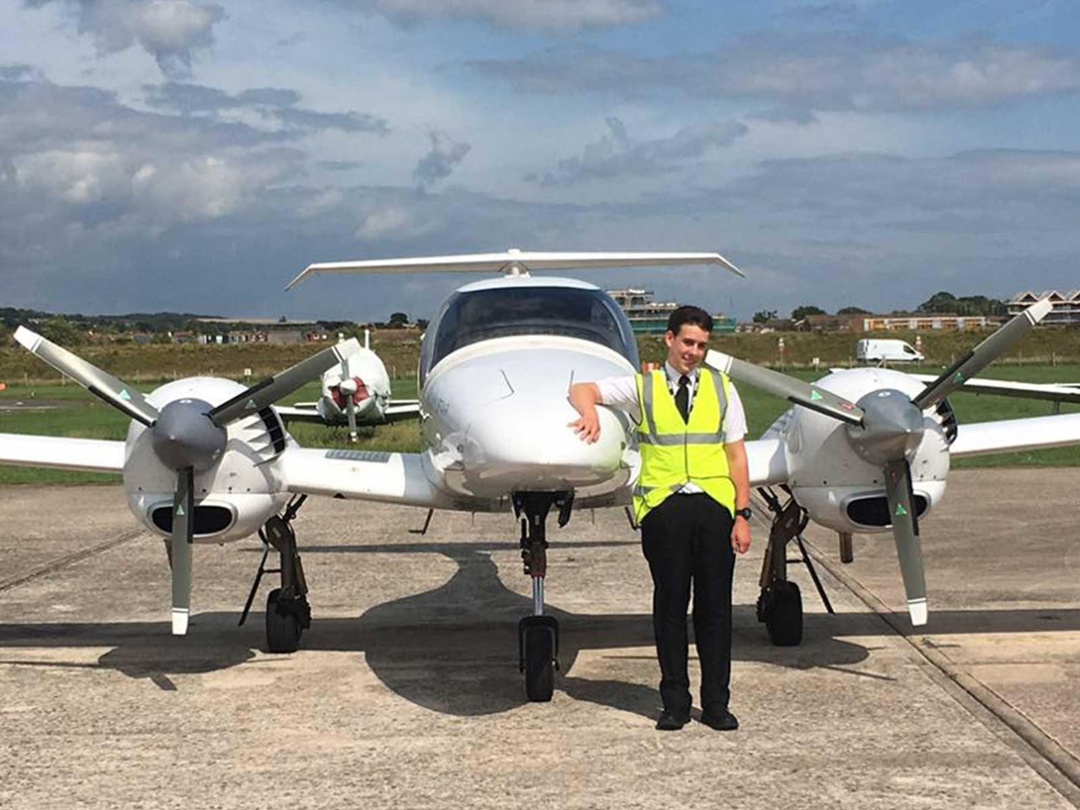 In terms of hard skills, what is the most difficult situation you had/ to deal with?
The most difficult situations I have been in is when I've been under assessment in the simulator, when multiple technical issues occur (such as engine failures / fires / depressurisation / flight control failures etc). But with the excellent standard operating procedures and training that is provided by Ryanair, and the backbone knowledge delivered by FTA, I have always dealt with the problems in the best, correct and safest way.
What is the one piece of advice you would give to FTA students
If you're wondering whether the APS MCC is worth the additional week and cost, my advice would be to absolutely make the investment. It truly gives you the exposure of what it takes to be an airline pilot and will give you the confidence to tackle the airline assessments, knowing you have the strong competencies the airlines are looking for.
Thank you Liam for your time and good luck with your future adventures with Ryanair!