Completing
our Modular CPL IR
course with us just last week,
Demetris explains to FTA what made him become a pilot, his journey to where he is and his plans for the future.
When he is not studying and training, he is working on his YouTube channel -
Great Flyer Aviation
which has nearly a quarter of a million followers. He regularly posts videos of his journey and has a massive fan base.
When did you decide you wanted to become a pilot?
Ever since I can remember really! Working behind a desk is just not for me; the flight deck, in contrast, is such a dynamic environment, where no day is like the previous one. It is often a challenging job as failures and adverse weather conditions do happen, but I'm up for the challenge. I can never imagine doing anything else for a living.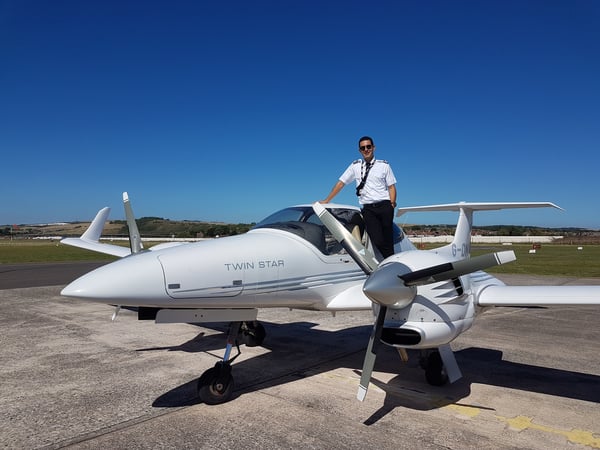 What was it that first sparked your interest in Aviation and becoming a pilot?
When I was younger I used to fly a lot as a passenger because I have relatives in Greece and I'm from Cyprus; I used to fly there at least three or four times a year. Flying regularly made me wonder: what is it that makes those metal tubes fly, and what is it that's happening in the cockpit? Humans have been flying for over 100 years now, yet the pilot's job is still a mystery to passengers, as the cockpit door is shut throughout the whole flight. I believe this mystery behind flying further "ignited" my spark for aviation!
What was it that made you decide to finally start your training?
Age, really! I started the training at 16 which is the minimum age to start your PPL training. I first flew solo at 16, got my PPL issued at 17, started my ATPLs at 19 and here I am now, 20 years old, training towards my CPL/IR. By the age of around eight to nine, I had managed to convince my parents that aeroplanes are completely safe, and ever since they have supported my decision to start training as early as it was legally possible.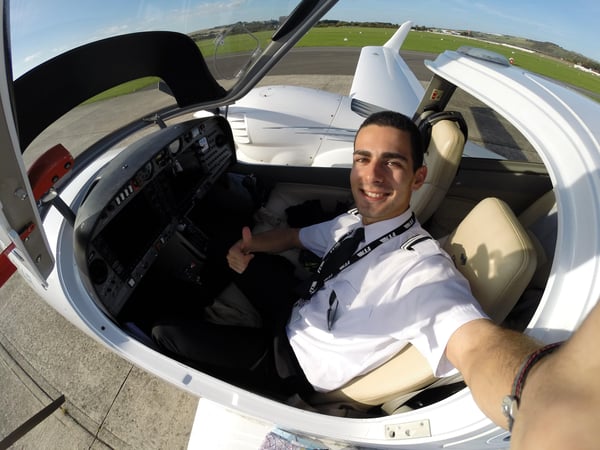 Why did you choose FTA for your pilot training?
I chose FTA because I was offered a complete package which includes the
Multi-Engine Piston rating, the Instrument Rating and the Commercial Pilot's Licence
for a very competitive price. Also, they had an availability exactly when I needed it. I finished my ATPLs in May 2018 and then wanted to take a couple of months off. There was a course available in July so the timing was perfect. I was very impressed with FTA from the start. They offered everything I needed.
Can you explain what it was like to go solo for the first time?
Most people would describe it as the scariest, most dramatic day of their lives! Without bragging, it was almost just like another flight for me. The only time adrenaline kicked in was right before takeoff, when I had finished my engine checks, and it was time to call ATC and let them know I was ready for departure. I then wondered, "am I really ready for this?". However, as soon as I was airborne I forgot about everything else, flew the circuit and came around to land. Funny enough, the aeroplane climbed like a rocket without an instructor on board! It was an amazing feeling and I couldn't stop smiling for the rest of the day after landing.
What's it like to learn to fly in the UK?
It's different from Cyprus, the biggest difference being how busy the airspace is. There are aircraft everywhere and lookout is essential. But at the same time, there is an excellent Flight Information Service and Radar Service available, so you have experienced officers looking after you throughout the flight. Flying IFR inside London's Terminal Manoeuvring Area is an experience no student pilot will ever forget! It makes you feel like an airline pilot flying along the airways, sharing the sky with A320s, 737s and so on. The weather can often be challenging here, but that is what the Instrument Rating is for! Flying inside clouds, with no external reference was scary at first, but very rewarding when you finally see the runway in front of you. Many people argue that the UK is the ideal place to do your pilot training, and I wouldn't disagree.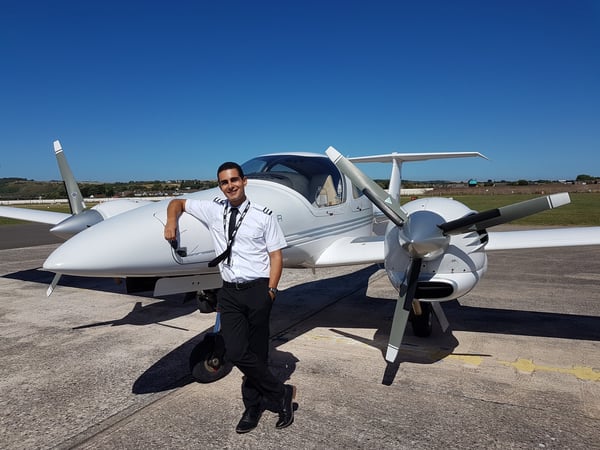 How has your experience been at FTA?
My experience was pleasant indeed; I was never promised anything that didn't happen. For example, I was given an estimate of three to four months to complete my course and here I am, three months into my training, with one week remaining. The instructors here are undoubtedly experienced and very approachable, which contributes to the environment being both friendly and professional at the same time. I have genuinely enjoyed my time here greatly.
What do you think of the aircraft?
They are very modern. I believe that nowadays it is of extreme importance that pilots are trained in aircraft fitted with glass cockpit displays, i.e. the Garmin G1000 system installed in FTA's fleet. The technology behind it and the presentation of information is almost identical to what you would find in a commercial airliner. I had never flown an aircraft this technologically advanced before, so I thoroughly enjoyed flying FTA's DA40s and DA42s!
What are you doing next now you have finished?
Next, I need to do my Multi Crew Cooperation and Jet Orientation courses, which include both classroom tuition and simulator training. They are essentially an introduction to the procedures used in the airline environment. Thereafter, I will start applying for potential jobs around Europe, and I will see where that takes me.
What do you like to do when you are not studying?
When I'm not studying I spend most of my time editing videos; I'm running an aviation YouTube channel, called
GreatFlyer Aviation
, where I keep my viewers updated about the progress in my training. Apart from that, you'd usually find me cycling somewhere around Brighton. I fell in love with the area since the day I moved here, it does live up to its name indeed – a bright, vibrant city with lots of things to do when you're free.
What made you start a YouTube channel on your flight school journey?
My YouTube channel started as an experiment, but I did notice that some of my videos were gaining particular attention. I uploaded aeroplane-spotting videos, shared my flying trips abroad as a passenger, built my home-made flight simulator and filmed some flights in it, uploaded my first flight piloting a four-seater Cessna, and people were loving to see my progress throughout the years. It always pleases me greatly when I see that people are entertained by watching my content and this just keeps me going, as my channel is growing bigger. As a fellow aviation YouTuber supports, "aviation is worth capturing".
What's it like living here?
Living on the south coast has been fabulous – as I previously mentioned, Brighton makes the perfect afternoon out. Additionally, I come from an island so the sea always makes me feel like home! Transport is very easy, as there is both a train and buses running down the coast. Last but not least, there are plenty of shops, cafeterias, as well as a gym within walking distance to the airport.
Do you have any advice for those considering training to be a pilot?
My advice to them is just to go ahead and do it. The biggest obstacle is, of course, funding your training, however, there are many ways around it. For example, I chose to carry out my training in the modular way, which gives more flexibility in financing your course. Here at FTA, you can pay on a pay-as-you-fly basis, which means that you can add funds to your account whenever you want, as long as you keep your account in balance. This has helped me tremendously. Also, do not be afraid of the academic side of the training, as you will be on the same boat with your classmates. Your instructor will do their utmost in explaining the syllabus as simply as possible.
What are your plans for the future?
My plan for the future is to start a career in aviation through getting employed by a good airline, building up my flying hours and my experience to the point that I become a captain one day. What I love about this job is that you never stop learning; each time you move a step forward by passing an examination or getting a higher licence, you feel like you're starting from ground zero again, with lots to learn ahead of you. I am loving every minute of my journey so far, and I am so glad to be sharing it online through video.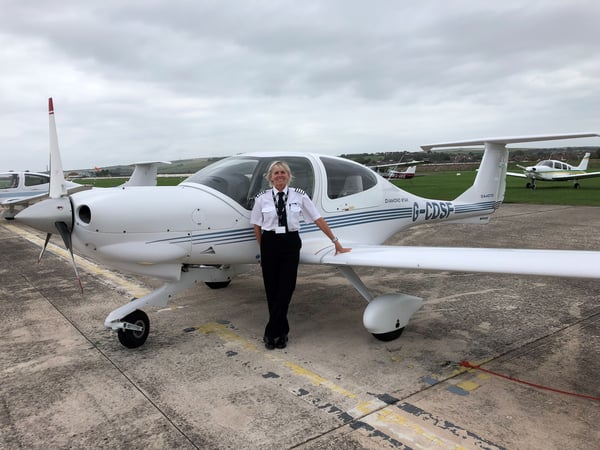 Just one week after this interview Demetris finished his training and went on to complete an MCC/JOC with
SimTech
.