Estimates from the International Society of Women Airline Pilots (ISA) in 2015 suggested that there were about 4,000 women pilots worldwide that's just 3%. Another estimate, by easyJet, puts the balance at 5%, with 6% of its own flying staff female.
Today British Airways (who says about 6% of their pilots are female), operated the UK's biggest ever all-female flight to celebrate International Women's Day (IWD). Their flight from London Heathrow to Glasgow took off with 61 women involved including baggage handlers, pilots, cabin crew, flight managers, loaders and push back teams, security, check-in and airport teams. Today is also special for women in aviation, specifically as it is the anniversary marking the first woman to receive a pilot's licence – 105 years ago!
Equal pay, flexibility, variety, challenge and travel are just some of the many benefits female pilots cite as reasons to pursue a career in the industry.
It seems many that do go into to the industry, do so because of both male and female role models within their family. That said, a poll of 2000 women (conducted in 2014) found that 63% of women were put off by the lack of visible role models and being led to believe that the career was a 'man's job'. Airlines are actively rejecting this perception and BA are one of many airlines, including easyjet, Virgin Atlantic who have launched initiatives to attract more females into the industry. In fact, easyjet's Amy Johnson's initiative aims to double its new-entrant intake of women from 6% to 12% by 2020 – a very ambitious target.
"The proportion is very slowly coming up but it is still minuscule," says Marion Wooldridge, deputy chair of the British Women Pilots' Association (BWPA).
The BWPA has 300 members and has been supporting female pilots for more than 60 years. It grew out of the Air Transport Auxiliary, the second-world war pilots who were deemed unfit for combat but remained vital to the war effort in ferrying aircraft around the country. A considerable number of them were women, most notably Johnson, who died in 1941 while ferrying a plane. The Association offers a number of scholarships to women who want to train to train to become a pilot but would benefit from the financial burden being alleviated a little.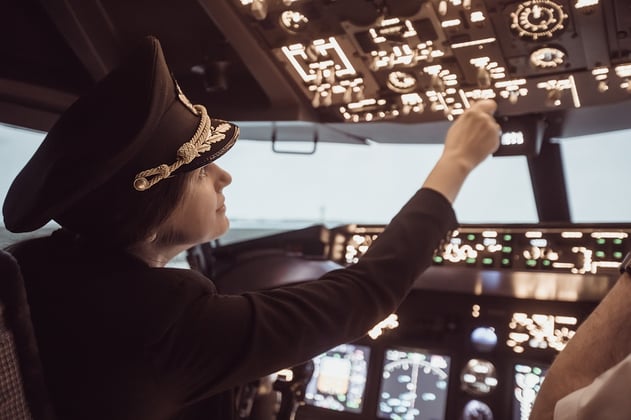 At FTA we have seen an increase in interest from women and in 2017 we were delighted to welcome a number of new female cadets onto our integrated programmes – a figure which represented 22% of our intake for that year. Enforcing positive messages and imagery of female pilots is very important to us. It's wonderful to see how encouraging our cadets are towards all new entrants into the pilot school.
The low representation of females in STEM subjects (science, technology, engineering and mathematics) is a long-acknowledged issue and typically those that are strong in these subjects are also likely to perform well at the academic elements of pilot training. There are a number of UK-wide initiatives focused on attracting more women to study these subjects (science, technology, engineering and mathematics) which can only be a good thing.
There is also a perception that women may be concerned that being a pilot could prove problematic when starting a family becomes a priority. However, there is no reason why this should prove the case. Women all over the world are finding a work-life balance between family and work commitments – in all careers and aviation should be no different. Indeed, we spoke to qualified Flight Instructor and First Officer Ana about her training and career as a pilot with Air Baltic, she explains: "I love the dynamic of being a pilot. We fly the same route but each time with a different crew, in different weather…my favourite is when I work with other females. Around 10% of the pilots at Air Baltic are female and there is a terrific sense of affinity with your colleagues, standing together and supporting each other."
Ana, has trained and worked at FTA Global and is truly inspirational. She started life as a secretary in an aviation company before falling in love with the industry and the possibility of becoming a pilot. Ana worked, saved and trained over 4 years for her commercial pilot's licence and just 1 month after completing her multi-crew cooperation (the final module of the course) she secured her first position as First Officer. After a year working as a pilot, Ana took a short career break to have a son with her boyfriend who is also a pilot, she explains how they make it work for them both, "It was tough at the beginning with our schedules, but I was able to return on 50% hours until my son was three. It worked very well and we are happy. Together with the help of a full-time nanny, we are able to make it work".
It sounds like her son is already enjoying a jet-setting lifestyle. Ana sees no obstacles to career progression within the company and hopes to join other women within the company who are already employed as Captains for the airline.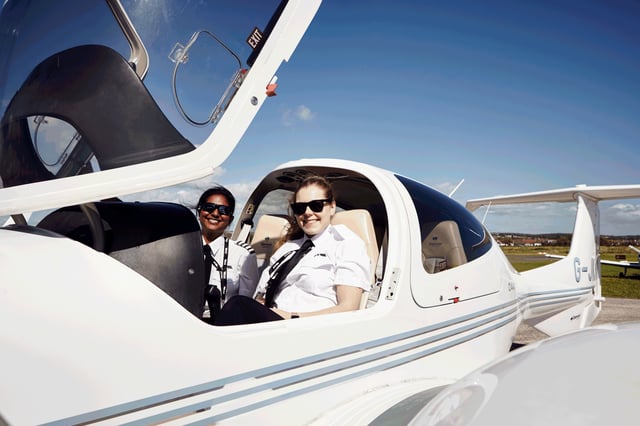 Indeed if you're considering becoming a pilot – whether your male or female there has never been a better time. The aviation industry is growing and with that is the demand for pilots. The cost of pilot training is an obstacle to many which is why we offer such competitively priced courses. Add to this the growing number of airlines and ATOs offering scholarships, apprenticeships and bonded training and you can be forgiven for realising that the dream can very much be made a reality.