We have recently made significant upgrades to our Diamond DA42 Simulator; ensuring that our students get the very most of their training. The upgrades to the DA42 simulator are part of FTA's continuous investment in the training fleet. Since our inception in 2006, we have increased our holding of Diamond aircraft which, as it currently stands, accounts for around 10% of Diamond's UK-based aircraft.
Managing Director, Jonathan Candelon, said of the recent investment: "We aim to maintain the highest levels of quality in our pilot training. Ensuring that our students get the most out of each training session is at the centre of what we do. The investment in our DA42 simulator is just part of the story."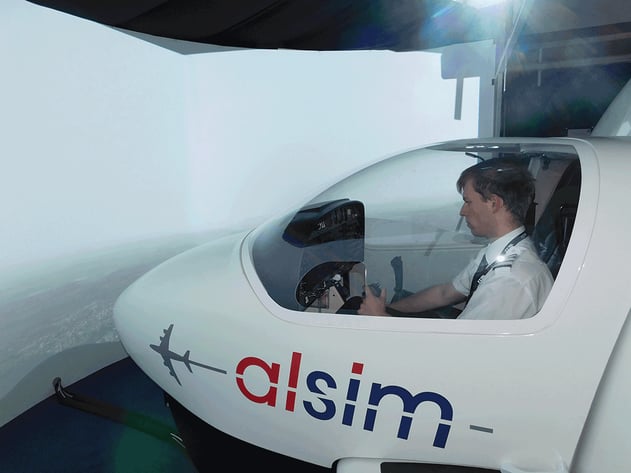 Simulators are an essential part of the flight school's fleet, allowing students to practice instrument (precision and non-precision) approaches, simulated engine failures and emergencies, instrument flying and generally perfect their flying abilities.
The improvements will enhance the experience for pilot students and instructors, creating simulated flights which are as close as you can get to the real thing. The main components of the upgrade include: new graphics; new high definition projectors; Garmin 1000 firmware update; a new instructor station; new software and a host of additional improvements.
Simulators are used throughout FTA's advanced stages of flight training, they are an important part of the training. They allow students to rehearse and revisit manoeuvres, fly in poor weather conditions and simulate emergencies. They are also a crucial tool in helping students to transition from the single engine aircraft to the dual engine with confidence, providing the perfect environment to practice radio telephony, communicating with ATC in a non-pressured environment.
All FTA's our courses are competitively priced but most notable are our Integrated Flight Deck Programmes in addition to our MEP, ME IR, ME CPL course package which costs just £24,950. Our flight school remains to be one of the only academies to offer a course with 100% UK-based training despite our commitment to making pilot training more accessible for all.