After the most unimaginable 18 months, Heather is able to put aside any negativity and continue to pour her energy into her love of aviation. Most have needed to demonstrate a level of resilience during the pandemic, but Heather has had to switch ATOs and persevere despite extreme upheaval.
This interview will inspire you, as it has us, to trust in yourself and focus on your long-term goals not matter what life throws in your way.
When did you start your training and what stage are you at now?
I started my flight training in June 2019, completing my ATPL's at a different ATO. Prior to beginning the flying phase of training in New Zealand, I had an allergic reaction that led to the temporary suspension of my class 1 Medical Licence. 18 months and a global pandemic later, I'm pleased to say that I'm now just a handful of flights away from my completing my CPL at FTA.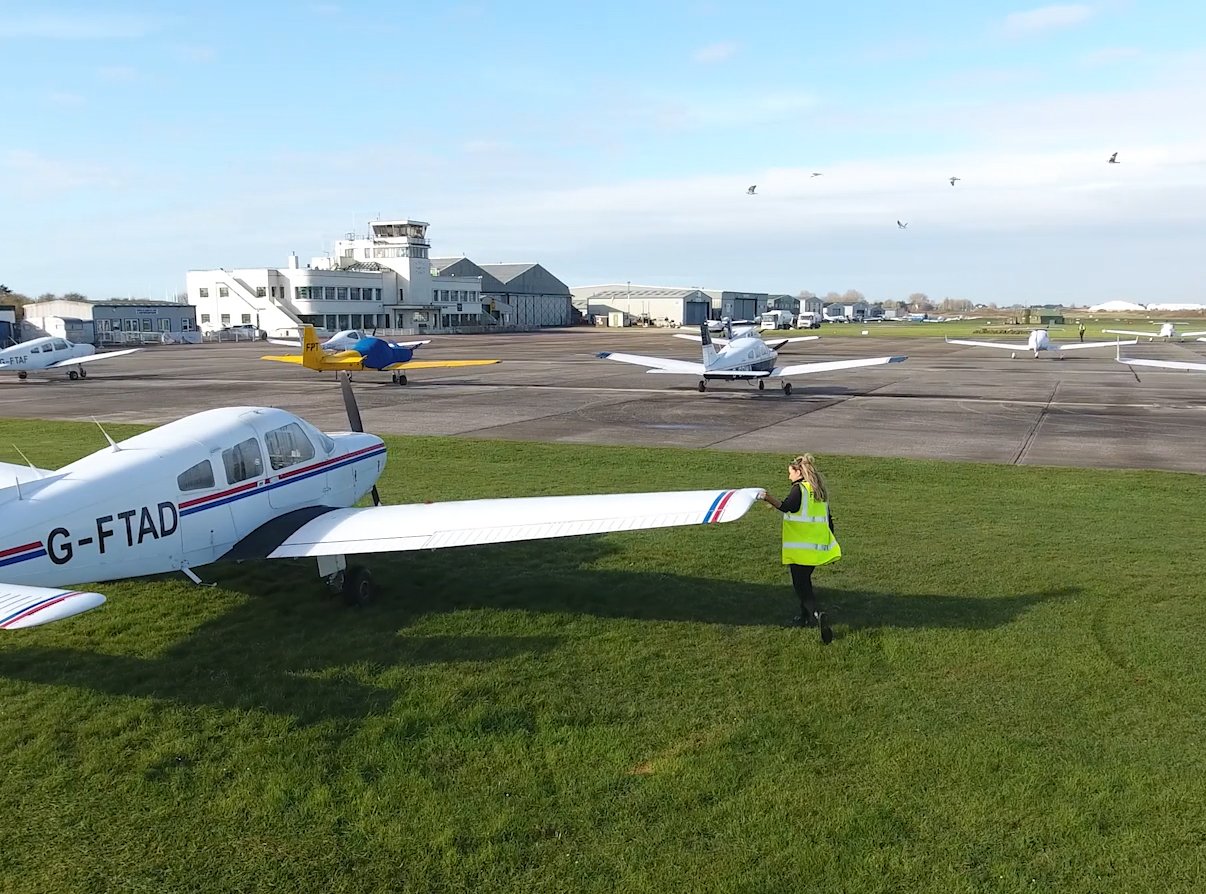 WHAT HAS BEEN YOUR FAVOURITE ASPECT SO FAR?
If you'd have asked me in the thick of it, you'd have had a different answer; but with hindsight the ATPL's were really enjoyable. You have to find ways to enjoy the less exhilarating parts of the course, and though tough, I love that every single day I was learning something new. It made me appreciate subjects I would never have considered even remotely interesting at school; and seeing how such a diverse set of topics relate to aviation and just how important they are to me is really exciting.
The more conventional answer for most though is probably the first solo. There's nothing comparable really to the exhilaration you feel doing your first circuit and landing and the realization on final approach that there's only you!
What has been the most difficult aspect so far?
It's been a really unusual and difficult 18 months. The trajectory I set out on in 2019 is a completely different one to that which I find myself on now. There's no real way to dress it up - the pandemic changed everything and did so very suddenly. For a time, I didn't know when my training would continue, if at all. I'd had an opportunity with EasyJet and losing that was really disheartening. It was a fork in the road moment - the aviation industry became a different place entirely overnight, but I had to make decisions about the rest of my life. Everything was - and to some extent still is - a big question mark; but when you have invested so much and worked so hard to get to where you are, you have to learn to approach those uncertainties optimistically and pragmatically.

I ended up with the stress of changing ATO and fitting into a new flight line in the midst of a pandemic. And in September - just as I was about to resume my flight training - my sister passed away. That was an extremely difficult time and it remains hard to contemplate, but she never gave up and neither will I. I've worked really hard and I'm thankful that I've been able to focus on something I love to help me get through it. As hard as the decisions made this year were, I believe I made the right ones and I'm at peace with them. My path to the flight deck might not be how I envisaged, nor the opportunities thereafter; but I believe I ended up in the right place for me. You have to accept that things can and do change very quickly (especially in aviation) but if it's what you want to do, you just have to adapt and persevere.
Was there ever a time that you've doubted yourself or what you could achieve?
Can I be forgiven for saying that in the last 18 months I've probably felt like saying 'Am I ever going to make it?' a thousand times? But I'm very determined. I know when I set out to do something, I'm going to complete it. Making it a reality has been quite daunting, especially with everything that's happened the last 18 months. Its easy to let the financial and logistical stresses take over; to worry about even just 1 landing that wasn't your best. But you just have to have confidence. I'm fortunate to have really good people around me helping and supporting me, and with that I think you can achieve anything.
How did you hear about, and subsequently decide on FTA?

I'd heard about FTA a few years before I came down to visit in the summer of 2020. I knew they had a good reputation and it was really clear why from the moment I arrived. It had such a relaxed and cordial atmosphere, where everyone was so genuine and easy going. It really just felt like a group of good and like-minded people, small enough that they all knew and had a good rapport with one another. I instantly felt welcomed and that's never changed. It was just really easy to talk to people and that was important. They understood my circumstances and helped make what could have been so much more difficult and stressful that much easier. Shoreham is such a nice location to be based for flight training (the surrounding coast line never gets old) and I like that you fly with a basic analogue panel before transitioning onto the G1000.
what do you do in your free time?
It might make me sound boring, but I actually try and do a lot of studying. When I eventually started the flying phase of training it had been a really long time since my ATPLs so I put a lot of effort into going over things to keep my knowledge refreshed. But as I went forward, I found the theoretical knowledge helped back up the practical aspects of the course – everything just became a bit easier when I had a fuller picture so I've tried to keep it up.
I otherwise mostly work on my days off as a delivery driver. My employer has been really flexible and understanding giving me any extra hours available to help me support myself whilst also respecting that flying comes first.
are you from sussex?
I'm originally from Lancashire, but over the last 10 years + I've found myself in all sorts of places. I went to University in Bristol and spent several years living in Hong Kong & Dubai. I completed my ATPL's in Southampton so coming to FTA was a relatively short move down the coast and although its not been easy to get out and about due to lockdown, my part time delivery job has helped me to get to know Sussex really well and I love it.
DO YOU HAVE ANY TIPS FOR FUTURE STUDENTS?
It sounds really obvious but just remember that you're learning. Whenever I had days that I felt weren't my best my instructor would remind me that I'm not going to be perfect first time (…if ever). He encouraged me to take a step back now and then and look at just how far I've come. Things that are hard at first, become easier with time and practice, so just enjoy it - even when you make mistakes. It's important that you do, precisely so you learn from them. And no matter what happens, just don't give up. Life can give you all sorts of reasons to feel like doing just that but stay focused on what you want to achieve, and you will.