If you've ever dreamed of becoming a pilot, flying a commercial aircraft is one of the most rewarding, exhilarating jobs you can do.
But how do you become a pilot?
You will read about pre-flight assessments, modular courses, MCCs, MEPs, IRs, ATPLs, distance learning, travelling across the world for flight phases, but what is the right path for you, and which path will place you in the best possible position to be snapped up by the airlines?
We've constructed a mini-guide to help you identify the best route to 'frozen' ATPL (the qualification required to gain your CPL license and become a commercial airline pilot) and included items you should consider to help you make the best, most informed choice about your flight school.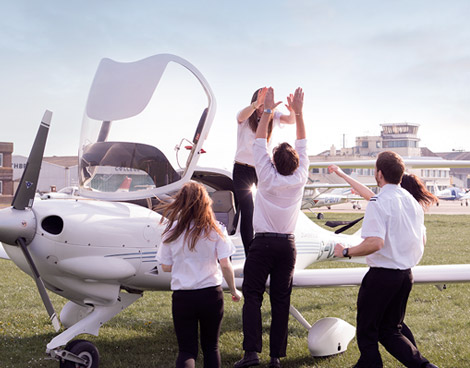 ---
DO YOUR RESEARCH
To qualify as a first officer for an airline, you'll need to take a CPL (commercial pilot licence) training course with a reputable flight school, like FTA. How do you find the right pilot training school for you? We'd advise the following:
Finalise your budget
Identify the most practical pilot course for you
Research what, if any, exemptions you qualify for
Seek advice from commercial pilots, airlines (recruitment pages), forums and career pages
Create a short list of flight schools by cost, proximity and training location
Look into open days - visit some flight schools and be sure to ask the right questions (Click here to see our guide on 'questions to ask your flight school').
CHOOSE A GOOD LOCATION
Think carefully about where you'll learn to fly. The UK's congested airspace and variable weather conditions mean that those trained here go on to be confident, highly trained pilots. Warmer climates offer more predictable weather conditions for flying lessons, which can be very useful in the elementary phases of flight training. This means you can complete your training without too many weather related delays, maximising your time in an aircraft.
CONSIDER YOUR CAREER DEVELOPMENT
Good flight instructors train students to become the best pilot possible. Aviation recruiters will look at your performance in training, not simply your CPL license and interview skills. At FTA, we not only support our students in training, giving them the skills and confidence to realise their potential, but also support with job preparation. When you're researching which flight school to choose, look for those that offer support with getting your first job opportunity – providing CV development and interview workshops.
Read the stories of former students in our pilot and cadet stories section of the website. You may also want to consider training to become a bush or barefoot pilot; it's not always about flying for major airlines or private charters.
You can also read more about our partnerships with airline preparation specialists, here: FTA's Airline Preparation Options
FIND A FLIGHT SCHOOL WITH GREAT FACILITIES AND EQUIPMENT
It's important to look for a modern fleet of training aircraft and an excellent safety record. It's ideal for students to train on similar systems to those found in modern commercial airliners.
Flight simulators are also invaluable for training, they enable the instructors to replicate extreme weather conditions and emergencies. They also provide the opportunity to run through lessons learnt in the aircraft and focus training on specific areas – all at the touch of a button.
FTA's Diamond DA40s, DA42s and flight simulators are all equipped with the systems found in modern commercial aircraft.
LOOK AT JOB PROSPECTS AFTER QUALIFYING AS A PILOT
Look for dedicated flying instructors who are knowledgeable, approachable and who create the best environment to help students succeed. We have featured interviews with some of our instructors in the news section of our website.
Many students choose pilot training as an alternative to university; by taking a commercial pilot training (CPL) course with FTA, students have the ability to start earning as soon as they qualify, within 18 months of starting their course.
Students of FTA go on to fly for over 30 different commercial airlines around the world – perhaps one of our graduates will be flying you to your next holiday destination?
CONSIDER SAFETY AND EFFICIENCY
Student safety should be the priority at your chosen pilot school. FTA applies strict operational procedures to ensure their aircraft and simulators are managed efficiently without compromising on quality or safety. FTA is approved and adheres to aviation safety requirements and regulators including the CAA, EASA, and BAC.
CONSIDER BOTH INTEGRATED AND MODULAR ROUTES
Whilst Integrated courses often offer the best value for money, this might not be the solution for you. The important thing is to choose a path you can afford. Good schools work hard to make their courses accessible to people with different budgets and time commitments. At FTA we offer course fees are over 12 months, in instalments.
What are the differences between modular and integrated training?
Integrated:
Integrated training is the perfect way to complete all your flight training in one go. You wear a uniform and are taught to operate the aircraft in a similar manner to that of a commercial airliner.
With standard entry requirements of: 5 GCSEs (including Maths and English) and preferably two A-Levels, students can join an integrated course from 18 and will need to obtain an EASA class 1 medical certificate to enrol.
Modular:
Modular training allows students to obtain the flying licences and theory examinations required, at the students own pace and with various training organisations, if required. The advantages of Modular training can mean training costs can be spread and conducted at a pace suited to the student, and allow for the opportunity to work between modules.
We now offer an 'all-inclusive' training schedule to cover all of the advanced training required. To enrol you need to have a valid medical, a PPL, Night rating and have the minimum hour requirements for the CPL. Full information is available here.
FORECASTS FOR THE AVIATION INDUSTRY
There is always a high demand for pilots. Whilst there has been significant disruption to the industry during covid-19, history proves that the industry bounces back from such times of trouble with rigour. Aviation experts spend a great deal of time analysing the future for the industry. Recent research points to positive growth for the industry – here are some headliners:
Airbus' Global Market Forecast for the next 20 years echoes that of Boeing's market outlook for 2019-2035. They estimate that more than 2 million new aviation personnel will be required worldwide - including 645,000 new commercial airline pilots.
'Growth' is a sentiment echoed by the UK government who expect the UK to see a 1-3% increase in demand for air travel per year, up to 2050.
FTA analysed data published by Europe. Their results found that, based on the current rate of issue, Europe will encounter a shortfall of 750 pilots per year, up to 2034.
YOUR PROSPECTS
The average starting salary for a first officer is £30,000-40,000 pa. The combination of quick completion, great prospects and starting salary suggest that there has never has there been a better time to train to become a pilot.
Choosing where and how you study requires careful consideration. Your employability upon completion of your ATPL will be down to you and your ability as a pilot.
We suggest to work out what you need to save to carry out each phase of your training and try to save sufficient costs to complete as many phases in one go. It may well be practical for example, to complete your PPL and flying lesson hour building first, and then save sufficient funds to complete your training within an academy."
CONSIDER THE COSTS OF PILOT TRAINING
Consider the direct benefit of being careful with your money. The cost of training can be as high as £150,000 and FTA think that's too much.
We firmly believe that it's not about getting the biggest loan or making that debt any larger than it needs to be. Why spend over £100,000 when you can obtain the same qualification for less?
We are able to offer our courses at a competitive rate by planning our resources effectively. This is without detriment to the quality and prestige of the course, of which all the instruction and study, is carried out in the UK.
Topics: pilot training, how to become a pilot
---
For more information about training with FTA please contact us.