Established in 1911, this day is a focal point for the movement of women's rights. Just as we will celebrate the achievement of men on 19th November, today we are taking time to celebrate the social, economic, cultural and political achievements of women and most notably, pilots.
the first women in aviation
Amelia Earhart is probably the most well known women in aviation history, however there have been many other pioneers. The first woman to pilot a heavier than air craft was a french sculptor and aviator, called Therese Peltier (in 1908), and just two years later, Baroness Raymonde de Laroche was the first woman to be granted her pilot's licence. However it was 62 years before Yvonne Pope (who started out as a flight attendant) became the first woman to fly a commercial jet.
Last year marked the centennial anniversary of the First World War and a significant moment in the history of transport. You can view a timeline of 100 years of women in transport and its impact here: www.wes.org.uk
However our focus today is on the present, and our female pilots who have overcome their own challenges, and inspire us and other aviation enthusiasts.
"I'm grateful for the courageous flying women in history that's have made it possible for me to do the thing that I love every day"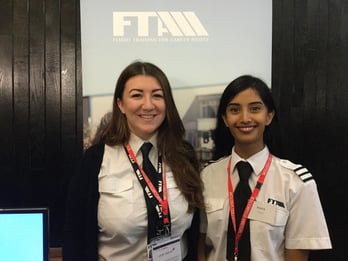 At FTA we have seen an increase in interest from women and are always delighted to welcome students onto our training programmes.
Reinforcing positive messages and featuring female pilots is very important to us. As FlyBe's, FlyShe campaign states, 'women cannot be what they cannot see' and so role models are essential.
Equal pay, flexibility, variety, challenge and travel are just some of the many benefits female pilots cite as reasons to pursue a career in the industry. We asked some of our female trainee pilots what being a pilot means to them:
"I honestly can't believe that this is my life, I feel incredibly lucky to be where I am today. I have to say however that being a 'pilot' means to me, that I have managed to overcome my own personal fears. I never thought I was intelligent enough or had the ability to do this, not because I was a woman but because I just lacked confidence. So every time I achieve a new stripe on my shoulder, I'm happy that I have worked hard to achieve that" Hannah.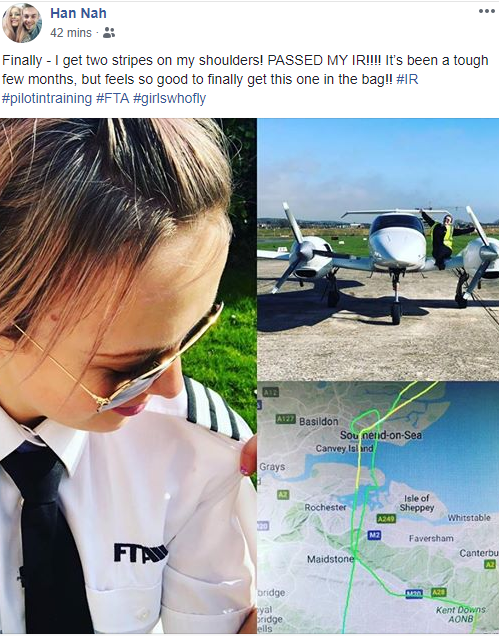 Whilst the journey is once in a lifetime, commercial pilot training can be challenging at certain points. "To be honest, becoming a pilot is not an easy task...it has been a big step for me because throughout the training I have experienced highs and lows, (like riding a roller-coaster) and it is very intensive. However, I chose this path and I believe I will overcome these obstacles and become a better and responsible pilot" - Angie.
"What being a female pilot isn't is, is judgement.... throughout my training I honestly feel that I have been treated as an equal. I'm judged on my knowledge, skill and ability - not my gender"
Women in aviation - the statistics
The International Society of Women Airline Pilots (ISA) estimates that there are 155,267 pilots worldwide and just 8,674 are women (under 6%) but over 25% of these pilots are captains. We recently shared an interesting graph which showed which employers have the highest number of female pilots:
In the UK about 4.77% of airline pilots are women, it's 4.4% in the US but India tops the polls at 12.4%. In 2012 India was voted the worst G20 country for women in live in, so it's interesting that they have double the global average for female pilots. The pilot profession in India is one of just a few in the country without a gender pay gap. Since pilot pay is dictated by union agreements and based on a combination of seniority and flying hours, women can enter the profession with full knowledge that they will have equal pay to their male counterparts. Is this a contributory factor to the above average statistic?
The Global demand for pilots
The aviation industry have a huge demand for pilots and this is driven by the increasing demand for air travel. This year alone, air passenger numbers are expected to increase by 6% - a record 4.59 billion (International Air Transport Association), and any additional aircraft ordered will need engineers, cabin crew and pilots.
Trainee commercial pilot, Hannah explains her thoughts on the pilot shortage and women entering the industry in general:
"I think this is a very tricky topic. I actually think the issue is the global shortage of pilots in general not specifically female. I think it's great that more women are being encouraged to think of aviation as a career and that they are aware there are job opportunities exist - but I think we need to be careful not to get too caught up in this. Women are able to fly without prejudice, just as male cabin crew are able to work without being judged. Every pilot that comes out of training is equal".
What of the lack of female role models?
What more can be done to encourage women to enter this thriving industry? It is an industry-wide feeling that if more students (male and female) share stories about pilot training and engage with passive audiences it will make a big difference. Overcoming a seemingly entrenched stereotype is a significant undertaking and airlines have a big part to play in promoting a range of role models.
"The statistic is shocking because globally only 5% of pilots are females. I guess the lack of females in this field is because of the insufficiency of information and role models. If more females can step out to take up this role I believe as the year goes on, this 5% is not going to be a single figure anymore"
THE ROLE OF airlines
We recently attended Virgin's Future Flyers event which forms part of extensive activity to inspire children aged 9-16 years to consider a role within aviation. This year the event focus was women. FlyBe presented their most recent 'FlyShe' campaign.
In a recent survey, only 5% of their flyers said they'd feel 'safer 'with a woman at the controls. We asked the delegates at the event what their thoughts were, and a ten year old young lady answered "the problem is that a woman's place is mostly in the home. Even if she goes to work, it's expected that she needs to run the household - to cook and clean. It's hard to do this if you are away with work every day". In spite of this belief, her aim is to become a doctor one day. The campaign shows the importance of promoting this, or any high flying career to young and ambitious young adults.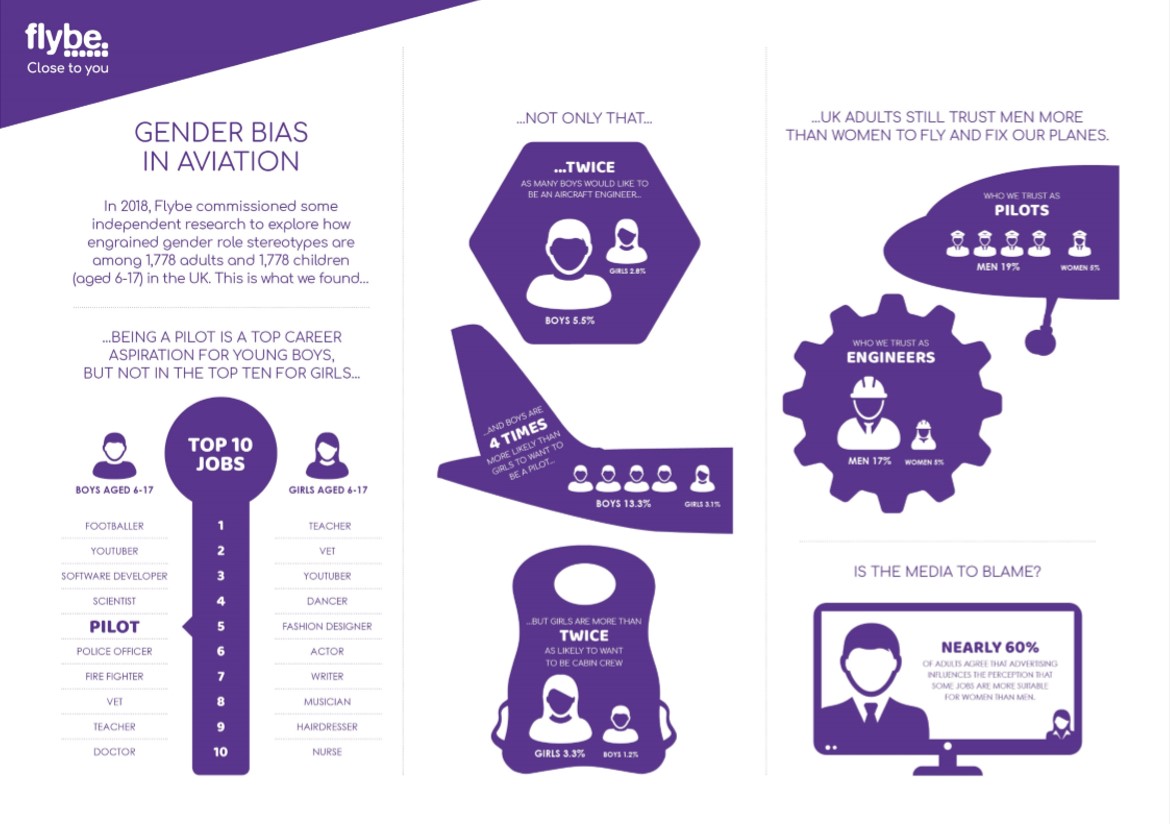 Another airline who have played their part in promoting women in aviation is EasyJet. Only 5% of their pilots are female, so in 2015 they launched the Amy Johnson Flying Initiative. The aim of which is to 'tackle an industry-wide stereotype, and double the number of new entrant, female pilots to 12% over two years'. A target they've since increased, and now aim for 20% of their new entrant cadet pilots to be female, in 2020.
WE HAVE ALREADY GONE FURTHER THAN OTHER AIRLINES IN TRYING TO ATTRACT MORE WOMEN INTO A CAREER AS A PILOT. I WANT US NOT JUST TO HIT OUR TARGET OF 20% OF OUR NEW PILOTS SHOULD BE FEMALE BY 2020, BUT TO GO FURTHER THAN THIS IN THE FUTURE.

JOHAN LUNDGREN, EASYJET CEO
Hopefully this article, and the students we interviewed have inspired you today. For more interesting stories, please visit our pilot and cadet stories page.