A question we often get asked is: "What is the maximum age to start my pilot training?"
The simple answer is: there isn't one. Pilot roles within the aviation industry are endless.
Our cadets train to work for many different companies around the world qualifying for roles as airline pilots but also in other areas such as ferry flying, private charter, bush flying and flight instruction. The industry is experiencing unprecedented growth. It is predicted to continue over the next 20 years and the current number of cadets training to be pilots simply won't be enough.
The minimum age you can gain your Commercial Pilot' Licence is 18 (with it possible to become 'unfrozen' at 21). It is amazing to consider you can become qualified at such a young age however for many, this age also can frequently present an issue with accessing the funds necessary.
We are very lucky at FTA. We train cadets from all walks of life and of all ages and because of this, our school is not only diverse but also comprised of enthusiastic and supportive students. Our Integrated courses start every two months and it's exciting to meet the new intake of cadets and hear about their work, life experiences and what their hopes are for the future which is most significantly true for our more mature students.
Whilst the majority of those that enrol on our programmes are under 24 years of age, 21% are aged 25-30 and 24% are over 31 and have a very different perspective. It's fantastic to hear their passion for the industry and how their dream of becoming a pilot is so relentless that no matter what incredible success they've enjoyed elsewhere, their dream of becoming a pilot some day is constantly at the back of their mind.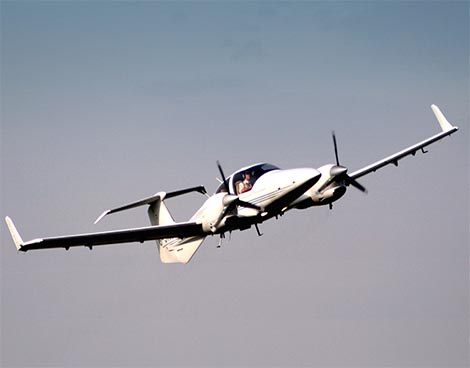 These students inspire us every day and we wanted to share their stories and inspire others to follow their dreams too. Take students such as Sandy Beatty for example. Originally from South Africa, Sandy came over with the intention of earning enough money to cover his training costs back in South Africa when all the other avenues for pilot training in South Africa had closed, but life had other plans. Fast forward 15 years and he was in a secure enough financial position to fund his own training here in the UK rather than in South Africa. Despite having experience in property development and finance, and having led expeditions and events all over the world, nothing has dulled his desire to become a pilot. Extremely determined by nature, he has found pilot training as demanding as it is rewarding: "being a married man with a small extended family, you are constantly aware that there are other people in your life and of their personal demands that are indirectly affected by all the demands you are under from the various aspects of your training. You become very good at juggling responsibilities".
Sandy describes how FTA not only met, but exceeded his expectations in his cadet interview. He said: "to FTA you are not just another number. You are seen as an individual and treated as such" he goes on to add "the instructors are experts in their field and are highly knowledgeable and are happy to share their experiences" When asked about his plans for the future Sandy says: "I just want to fly. I am not solely focused on the big and shiny jets of the airlines, but I certainly wouldn't decline a right hand seat if one were offered to me!"
to FTA you are not just another number. You are seen as an individual and treated as such
Sandy is not alone in his indifference to Commercial Airline roles. Not everyone starts their training with the ambition of becoming a First Officer for an airline. Many of our students fall in love with aviation first, and the career perspective comes second. Students like Rob Vianello, who told FTA "I have discounted certain options already… but I am certain I will find employment in the industry and will enjoy my new job whenever and whatever that turns out to be". Rob is someone with a very interesting career history. His current career is 'ethical hacking' and with over 14 years' experience in the industry Rob is somewhat of an expert in breaking into computer systems and attempting to 'subvert the controls that have been put in place to protect the systems'.
Rob enrolled on a modular programme which often attracts those that need to complete the pilot training around family or work commitments. Rob explains how he has found managing his pilot training around his work "I won't lie, it has been a real challenge. I've had to take time off work unpaid. I've had to forgo social engagements, holidays and make other sacrifices on my journey toward a professional pilot licence. But I am focussed on completing my goal and will feel all the more satisfied for achieving it given the trials on the way"
Rob is a classic example of someone that, once derailed from pursuing his dream chose to re-visit the opportunity later in life when he was more financially secure. He says of the pursuit if his dream "I've wanted to fly professionally since I was a teenager. In my early twenties I narrowly missed out on an airline's sponsorship scheme and then considered there was no realistic way I could achieve my dream. Some fifteen years later I found myself in a position, both financially and professionally, to be able to pursue aviation as a second career".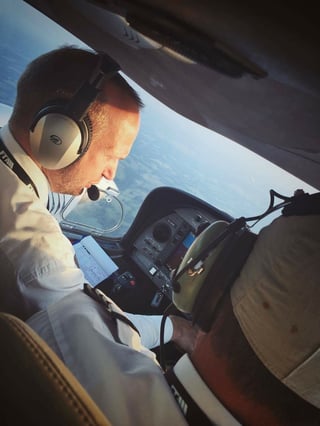 Rob's enthusiasm for the industry is infectious, he says of the future "There is an element of uncertainty about the future but that uncertainty is quite exciting. The possibilities are almost limitless". And he is right to be optimistic about the future.
There is an element of uncertainty about the future but that uncertainty is quite exciting. The possibilities are almost limitless
Our more mature students are able to bring life experience and confidence to their training which is very attractive to some employers. An example of an FTA student that has proved age is no obstacle is Neil Geddes, who having just completing his pilot training has already secured a pilot job within the industry. Neil elected to enrol on the modular courses having had a private pilot's licence for 34 years. He has been an exemplary student and completed the course in just 13 months! There were 3 reasons that Neil chose FTA "Reputation, location and fleet".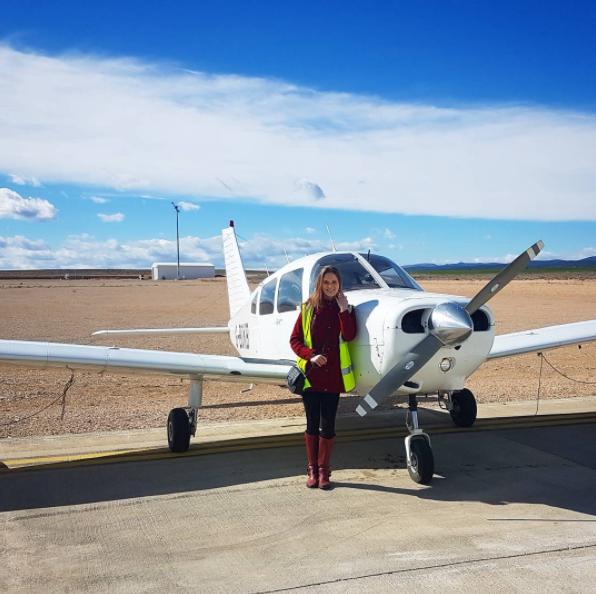 Neil is not the only student drawn to FTA by its value, location and fleet. Paulina completed her pilot training just a few months ago and was equally a confident and exemplary student. Paulina echoes Rob's sentiment regarding commitment and sacrifice. Paulina is in a significantly underrepresented group for the industry where little more than 5% of pilots are females. She offers advice to anyone considering pilot training: "aviation presents a unique set of challenges and future aviators must be alive to the fact that they will experience failure, disappointment and frustration at some point in the journey. It is how you deal with these issues as they arise that matters. We have all been there. The key is to commit and never give up. Through self-discipline, effort and hard work you will find a way. You must never lose sight of your dream. You will get there in the end and your aviation journey will make you a stronger and more capable person".
The key is to commit and never give up. Through self-discipline, effort and hard work you will find a way. You must never lose sight of your dream
Paulina worked hard as a flight attendant and saved every spare penny to afford the next stage of her pilot training. We recognise that cost is one of the biggest factors in pursuing your dream to be a pilot. This is why we carefully manage operational costs and structure our courses to optimise the customer experience whilst minimising the cost to our students. Our courses are amongst the most competitive in the country and come with flexible payment plans. Consequently, we find that the students that chose to enrol on our programmes are committed, hard-working, accomplished (be it academically or professionally) and share our passion for flying.