We caught up with Jake last year to see how he was finding the training amidst the pandemic. He is enrolled on our Integrated Flight Deck Programme and is on target to complete his training this year.
When did you start your training and what stage are you at now?
When I enrolled, we started with three weeks foundation which is kind of basic theory of what you do in ground school. After foundation theory you then go straight into ground school. FTA extended the ground school from 6 months to 9 months after I enrolled, so I should hopefully be finished by December 2021. Having finished ground school, I'm now flying and currently in the final phase which includes your CPL skills test and IR (instrument rating).
When I think about how quickly time's gone… It is one of those things that's gone really quickly and will go really quickly. I even miss stuff I was doing earlier in the year already. With a course like this, you want everyone else to do well as well so there's such a good team ethic and effort. It sounds slightly cheesy but you do want to call it your home in a way. Someone else who's better than you at that subject will be able to help you and visa versa you could help them as well, so there's a really good teamwork ethic and there's a lot of good people out there. Some of the subjects I found really tough, but you have to want to enjoy it and make yourself enjoy them. There's a saying at FTA actually. It's like, you won't always be motivated so you have to be disciplined. My friends and I did all our exams at the same time, and we all agreed that it's pretty tough. Learning large volumes of information is part of the struggle and you can't fight it. You simply to have to find a way to enjoy it.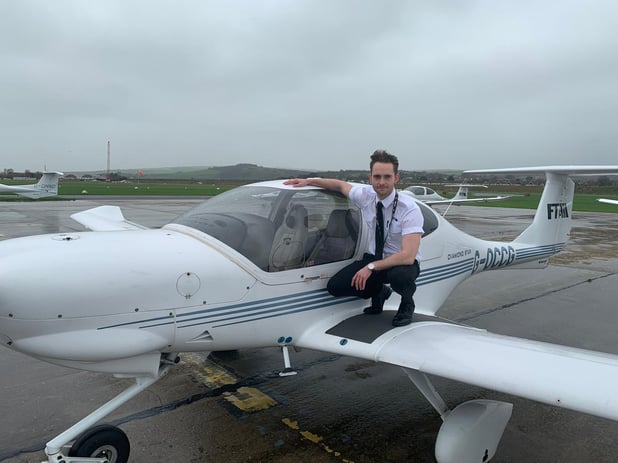 Has it been what you expected so far?
It has been more enjoyable than I was expecting, as far as how the exams and the ground school have been. You think that is going to be like dragging yourself through mud but it's not actually. It was more than I expected but, as I say, the people that were on the course and the instructors have been great. They've been amazing.
When did you choose to become a pilot?
I was primarily influenced by my parents because they were both in the aviation industry. That's probably the main reason, but I think I would probably would have done this anyway. I remember being pretty obsessed with planes at a young age. My dad is a retired airline pilot and my mum is a retired cabin crew member. She was what they call a 'number one'- head of the cabin crew. They both really miss it. It's an industry you do really miss when you've left it from what I've heard.
I think people love travelling and going different places. I don't think that there's many people out there that don't and to be in a position to fly people there one day, hopefully, is a real driving force. It's a big passion, I think.
Is it the dream, then, to fly for a big commercial airline one day?
Yeah, 100%. My main passion is commercial flying. Ideally, I'd love to get a job with an airline first time, but you have to take the opportunities that present themselves. I'd love to get a job with a good company such as Ryanair. EasyJet is a good one too. To work for airlines like British Airways and Virgin first time is very tough, so that might not happen. My friend Dan was saying he was looking at jobs flying fish round Antarctica… It does happen.
There are a lot of different opportunities which you can appreciate but someone who's not obsessed with the industry may not realise. When you finish a course like this you have to diversify. If I had to the opportunity to fly fish around Antarctica for 6 months and get my foot in the door, then I'd go for it.
Despite wanting to fly around the world, I have never wanted to do the 'travelling thing' - it just doesn't interest me. If I travel somewhere I want to really enjoy it.
What's been your favourite part of flight school so far?
The people, 100%. As far as the actual course goes, flying the planes. In the end, that's why you're doing this. Although the planes are quite small, it is still an amazing feeling and they're still a great piece of kit. I feel hugely grateful to be doing something like this because there are lots of people out there who would love to do this and the fact that there's an opportunity to do this, regardless of all the stuff in the world that's obviously going wrong, is really amazing. I'm thankful to be able to keep focused on something I really care about.
Have you gone solo yet?
I did my first solo before Christmas 2020. I wasn't that nervous if I'm honest. More excitement than anything which I think is a common feeling when you're given the green light by your instructor to go and do it. ATC were great as well, and make you feel reassured and at ease
What have you found the most difficult about flight school?
Ground school and coronavirus disruptions. With ground school you have 14 exams to sit in 9 months which is quite intense. There are quite a few times where you don't know if you can do it, if I'm honest, but you have to remember why you're doing it. As I said though, that's countered by everyone wanting to help each other and the instructors being really supportive, so that's good. It was tough not to be able to sit your exams.
Most, if not all, of us passed our mocks (at the beginning of 2020) but then coronavirus happened. You typically complete each module and prepare for exams by sitting mock tests but we didn't have the relief of finally sitting the exams (because they were cancelled by the examining body). Because of the coronavirus we had to learn 14 subjects without seeing exams; we had to try and retain 14 subjects worth of information for when we sat the exams. When you go onto the flight line you want to go into it having passed all 14, because you really want to focus on that and enjoy it. We all started the flight line either just before or just after sitting the first exams, so we had to sit most of these on the flight line which wasn't ideal.
Knowing we would have to progress onto the flight line whilst still preparing for exams was pretty deflating really, because you just want to enjoy the flying. It has been tough but we've all rallied together and we all support each other. We've got a Whatsapp group and we all make each other laugh on that. Laughter is good for the soul. Thankfully I've now passed all 14 with EASA, including an extra 3 with the CAA to qualify for a European and UK licence.
Are you all really close?
Yeah, there's a bunch of us who are close. I think we've become close because of what's happened with the virus. We've all found good synergy and as I said, we all chat on the Whatsapp group and keep each other going. It's a smaller group than the whole class but everyone gets on really well at the end of the day. We're all really honest with each other as well and if someone's struggling we're all like, 'how can I help?'. It's really cool. There are a lot of people in the world who are quite selfish. Aviation is a place where everyone wants to help everyone else and it's very unique in that respect.
What does a typical day at flight school look like?
We normally do one or two flights a day, depending on what scheduling you get. A usual day is get up, have a healthy breakfast (I know that's important) and then fly in the morning. I'd then break for lunch, probably do a bit of work for these exams, and pre-read the flight brief and lesson for the lesson coming up, so I know what to expect. The instructors like it if you've read up and got a heads up on what to expect. I'd then fly in the afternoon and go back home and study. It's kind of like having a 2 full-time jobs, because you have to do it at the weekends as well. Even when you're not flying, you have to study. I also run, which is good. Running is a good way for me to clear my head. There are people that started ground school earlier in the year who didn't run before but now do because it's a good way to release energy and you can all meet up, though obviously not with these restrictions.
So you're living in Shoreham at the moment?
I live in Shoreham but I also live in Kent as well sometimes, so I commute between the two. I live with two others- the three of us have lived together since December (2019). I spoke to George over email before I started and asked if there was anyone who wanted to live together while we study, and he put me in touch. We found a really nice maisonette in the heart of Shoreham. It's within walking distance to the airport. As someone who's doing this, I would strongly advise living with other people on your course because it makes studying together and ground school much easier. If you're struggling with something you literally walk across the corridor and just knock on the door and hopefully they'll get it and be able to help.
How did you find moving to Shoreham?
We found a really nice property so we put down a deposit and then the landlord pulled out. So, it wasn't without drama but we worked it all out. I was lucky because I only lived 45/50 minutes away, but for Dan and Alfie, who live further away, it was more effort. It was fine overall though. I did an IKEA shop to get a bed and a wardrobe and things. I was really glad I had saved up to buy stuff because it was all within my budget.
I don't really go into Brighton or clubbing. The social scene in Shoreham is on the quiet side, but it's enough for me. To be honest, when you're doing a course like this you don't really have the time.
What do you enjoy doing in your free time?
This, really. I know it sounds silly but it is basically; if I'm not doing FTA, as I say, I'm studying or doing exercise, and then before flying I used to do music. For most of my life I lived in London and worked with some producers, which was good fun. Music's my downtime really. Playing the guitar or piano or writing song ideas are the main ways I relevel my energies. Music is a good way for me to rebalance. Music and exercise are two things I really enjoy. Music is an amazing thing to be able to fall back on when I need to.
Why did you choose to pursue a career in aviation rather than music?
I used to be obsessed with music, but I always knew I wanted to be a pilot I think. Even if I became as big as the biggest band or artist in the world, which probably would never have happened, I would've wanted to be a pilot anyway. I made sure I passed all my exams in school so I could do this and it all worked out really. I did music most of my life and then one day was like enough's enough. It's a tough industry. It's all so subjective; no one's better or worse than anyone else. Your average listener doesn't understand music either. You get to a point where there's only so much music you can do and I just got to that point. Luckily I got my exams and applied to FTA, although they had quite a long waiting list so I had to wait a year. That was a shame as I wanted to get going with it, but all's well that ends well.
Why did you choose FTA?
The first reason is that one of the senior flight instructors is my cousin, so he obviously recommended it. I think it was the location for me, as well. Even at this early stage on the flight line you really do get to experience what it's like to fly in a challenging airspace. The south-east is the busiest airspace in the country because of Heathrow and Gatwick, and even with lockdown measures you can still notice it. You have to be on the ball and it's good training. Due to the hills the weather can be a bit unpredictable, a bit windy, and that's really good training. It makes you a better pilot. You're able to fly a plane better because there are more challenges. I think even if I lived on one of the islands north of Scotland or something I'd probably still have come to FTA anyway because it's in that sweet spot in the south-east that gives you that opportunity to better your training.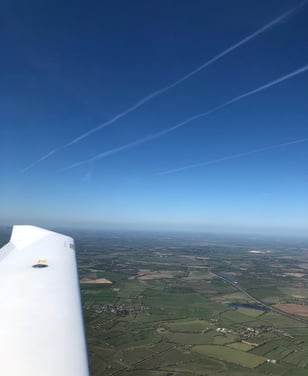 Do you have any advice for other cadets?
Consider all the options (as a qualified pilot) available to you. Try to remember that there's no pressure in this world if you don't want there to be. People can have 2 or 3 careers in one lifetime and that's quite common.
My relocation to Shoreham wasn't without its obstacles. Make sure you set aside budget to relocate and cover your living and accommodation needs (outside of flight school) for the early days. I moved in a few nights before we started just to settle in. It meant I could spend time with my flatmates a bit more which was good. Thankfully, we all got on and didn't want to throw each other out of a window or anything.