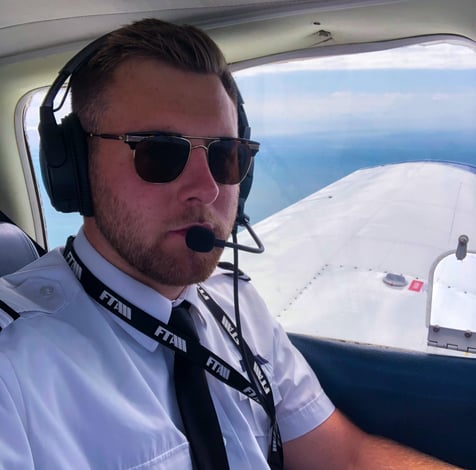 We spoke with Joe, who has always known what he wants to be - a pilot. Joe wasted no time in pursuing his dream. He completed an aeronautical engineering course before immediately starting his pilot training. Currently enjoying his flight instruction phases, Joe enrolled on our UK-based Flight Deck Programme where he conducts all his training in Sussex. He offers advice on how to find the right training provider for you, and what it feels like to fly every day.
When did you decide you wanted to be a pilot?
I wanted to be a pilot from a very young age, my biggest hurdle was funding the training. I had a great interest in aviation and have always been mechanically inclined. I decided to go down the Aeronautical Engineering route as my next option, this ticked a lot of boxes for me. However, one year into the course I knew that being a pilot was what I really wanted to do. I finished my engineering course and pursued my ATPLs.
What qualifications or tests did you do before you enrolled at FTA?
I finished school with 11 GCSE's, I didn't do A Levels or attend University. I wanted to waste no time starting a career in aviation. I gained a diploma in Aeronautical Engineering with the plan to obtain a licence in engineering straight after course completion. What I had learned helped me massively during my ATPL's and provided a good foundation of knowledge.
i chose fta for the family feeling and the professional environment i saw while on the tour.
What made you decided to start your training and why did you choose FTA?
I started my training knowing that I truly wanted to become a pilot and I was prepared to put the work in for it. The decision for me didn't happen overnight. I had researched for a while about what to expect and what training is required. Fortunately, the funding hurdle had been overcome so I took the opportunity while I could.
I chose FTA for the family feeling and the professional environment I saw while on the tour. I was impressed with how friendly the staff and students were. Knowing that theory is hard, it was refreshing to see students receiving the same support and teaching regardless of their results. After finding all of this for under £100,000 I sent my application in the following week.
Can you explain what it was like to go solo for the first time?
I didn't know I was going solo until just before. The instructor and I had just been flying circuits and while taxing back he tells me I'm going solo, not sure if I had much choice! A few minutes pass and suddenly I'm by myself taxiing along, both very excited and nervous for my flight. It happens so quickly I didn't have time to think about it in the air. After landing it's an almost surreal feeling of realisation and adrenaline.
What's it like to learn to fly in the UK?
I have only ever flown in the UK so I can't compare it to anywhere else. The weather can be very frustrating and can feel like an eternity between good and bad weather for flying. However, when we do have good weather, we really make the most of it. The airspace is quite complex and can be daunting at first but it's something you adapt to. Brighton City Airport is rewarding to fly with the steep approach and narrow runway.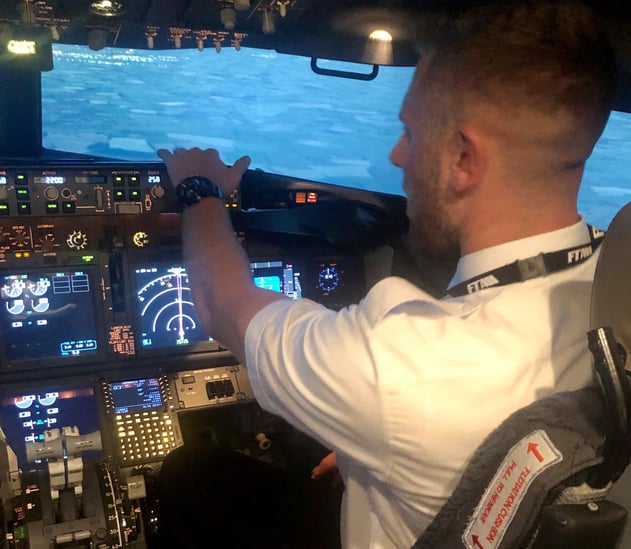 What do you think of the aircraft?
There is a good variety of aircraft at FTA. I've started my training in the Pipers which are both great to fly and learn in. Starting on the Pipers means I get to fly all of the aircraft FTA have to offer throughout my course. I like the idea of progressing onto different aircraft and being able to experience flying something new. I had only ever flown gliders before my training so anything that has an engine is a luxury to me!
How was your experience with ATPL Theory?
This was the hardest part of training for me so far. I struggled with the volume of information we needed to learn at first. I found a revision technique that worked for me after trial and error, this didn't happen straight away. Everyone has different ways of studying so trying new techniques helped me find what worked. At the time of my training there currently are 14 exams we have to cover so everyone has a strength and a weakness within these topics. I found studying with others very useful and helped me learn subjects which I thought were near enough impossible to learn.
How did the COVID-19 outbreak affect your training?
The COVID-19 outbreak struck while I was on the flight line and it put a sudden stop to training. It felt like it came at the worst time just a week after my first solo and really slowing all momentum I had. As frustrating as it was, there was nothing we could do but follow the guidelines. Of course, during lockdown, we had nothing but fantastic weather, perfect for flying of course! The industry was obviously hit very hard, there were many unfortunate job losses and the job prospects for me and any student in training as of now are poor. The positives of the situation which I think should be focused on as students is that time after time the industry has suffered but has always come back and grown.
How does it feel to come back to flying after lockdown?
I was excited to return to flying after lockdown and pick up from where I had left off. Not flying for 60 days made me fear I had lost progress. We were all generously given a refresher flight on return to go over all the safety items which was greatly appreciated. Admittedly I was relieved I hadn't forgotten a lot of what I had learned on return to flying!
Do you have any advice for those considering training to be a pilot?
My advice:
Research the training required and the options available. There are many ways to become an airline pilot and different routes that come with pros and cons.
Make full use of school open days, tours and ask lots of questions.
Attend events like Pilot Careers Live.
Join forums like PPRuNe and the many forums on Facebook. There is a lot of information to be found through these sources and lots of people willing to help.
Don't be afraid to ask a someone questions or for advice. There are lots of fantastic people in the industry willing to help and give their time.