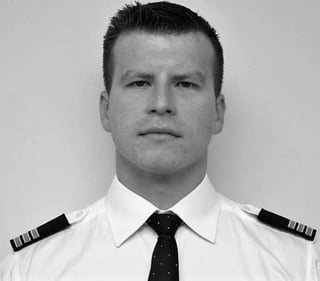 When did you decide you wanted to become a pilot?

I was about 6. The seed was planted when I learnt there was a pilot in my family two generations back flying in the 1950's! I made a entirely committed decision to become a pilot after my A-Levels when I identified Bucks New University offered Air Transport Management with Airline Pilot Training degree.

How did you go about choosing a flying school and what aspects were important to you?

I took my first 'steps' in 2008 in, now defunct, flight training organisation. I knew students who lost full amount paid up front for the whole training when the company closed. This was a real eye opener, so I made sure I did thorough research before committing to any flight school to complete my training. I visited three organisations, attended their selections and seminars, visited the facilities and compared fleets, the general feel of the place and people as well as past student success in passing their examinations and securing airline employment. The most important factors, however, were joining a school recognised and respected by my future employers, followed by financial stability of the organisation and ability to pay in instalments.

How did you find out about FTA?

I was driving home from a seminar organised at another flight training organisation and came across FTA sign! On my return, I did further research and found FTA mentioned as one of the top flying schools in the UK in quite few aviation forums and internet publications.

Why did you choose to train at FTA?

Having been to three flight training organisations including two of the biggest and well-known names, I compared and couldn't find an overwhelming reason not to choose FTA. The fleet was modern, clean and comprised of same type aircraft as the other two schools. I was very happy with FTA's ownership and financial stability based on independent research. The staff were friendly, instructors and students looked smart in their uniforms, the airport was busy with lots of other businesses on site, student success was statistically high, my past flying experience was taken into account, effectively reducing the cost of integrated training and it was possible to distribute payments over 12 months.

FTA wasn't just a flying school; it had all ingredients of what I expected a professional airline pilot training organisation to have, with a personal touch. I considered all my options and couldn't justify spending about £20,000 more for effectively, same piece of paper at the end of my training and what turned out to be a very high-quality instruction. Now I can say with conviction, I'm very happy with the overall result and even now, having completed the process, I can't find a reason why FTA wouldn't be the best choice for any aspiring airline pilot.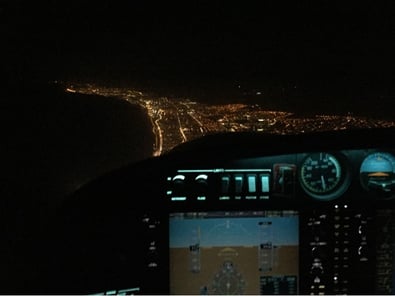 What was it that made you decide to start your training?
I couldn't afford to continue with my university degree and pilot training, so I went into employment with only one objective in mind, of saving enough money to choose any school I thought was best in giving me the tools to become a professional airline pilot. Life threw few curve balls along the way, yet after working in an office in London for seven years, my heart was longing for the sky. I made a decision to pursue happiness and was in a position to fully dedicate my time and soul to flight training and chose FTA to be my guide.
Can you explain what it was like to go solo for the first time?
My feelings changed as follows:
I was excited as I waited on the ground to be signed off to fly solo.
I was frightened as I sat in the plane by myself, my finger placed on radio transmission button about to make my first radio call - without anyone to help if I got it wrong.
It was terrifying lining up on the runaway - waiting for permission for 'take-off'.
It was peaceful, once I was in the air by myself, where my training came through naturally.
The landing was fulfilling. I received a handshake from my instructor and a certificate of accomplishment that my father still has on his wall!
It was a perfect day, from that moment, I knew there was nothing that would take my sight away from becoming an airline pilot.
What qualifications or tests did you do before starting your pilot training (e.g. did you complete your A'Levels, or go to university?
I completed A-Levels in Accounting, Business Studies, Law and Polish. I joined Bucks New University in 2008 on Air Transport Management with Pilot Training degree. I left University after the first year due to lack of funds to continue.
What was the most enjoyable part of your pilot training?
It's difficult to pinpoint a specific part I enjoyed the most. I went into training with my whole heart and full dedication. Each step carried its challenges and each day I was put well outside my comfort zone. Knowing I'm doing this for the love of flying and fulfil my ambitions, I enjoyed every moment. I can't imagine any other industry where everyone works so closely together and do their best to help each other. I've met like-minded people, made good friends and made the sky, my office. I enjoyed every bit.
How do you like to unwind after studying?
Over my time at FTA I fell in love with the south-downs and became a keen hill walker. I keep my body in shape to make sure I hold onto my medical certificate as long as possible! I also like to keep up to date with aviation industry as a whole by reading various publications. I wouldn't say no to attending classic car shows either.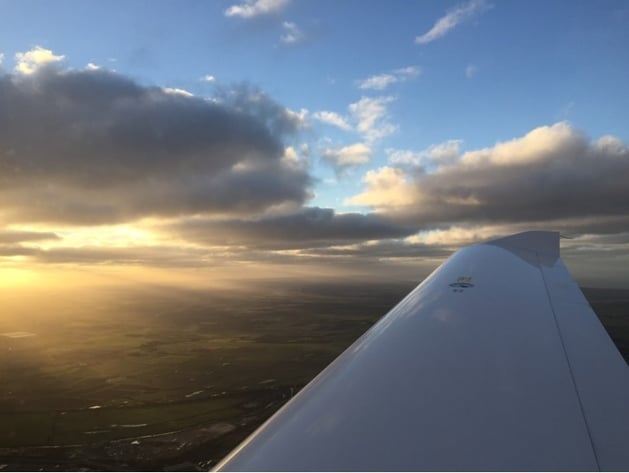 What advice would you give to aspiring pilots?
Think for yourself, bear in mind that neither the glamorous adverts nor the highest prices make the best training establishment, do your research and make sure you know the romance and the reality of being an airline pilot. Remember that nothing is handed on a plate and you have to work hard to get to the right-hand seat. Persevere and don't lose sight of your goal. If you have the passion for aviation, then be yourself, and you'll be fine! Don't let anyone or anything put you off track. Dream big, the sky is no longer the limit.
What are you doing next, what are your plans for the future?
I'm going to Berlin in a couple of weeks to complete simulator part of the type rating. Then relocating to Poland where I will start Line Training and fly fare-paying passengers as First Officer. Who knows what will happen further down the line?. Whatever it is, I'm happy now and ready to take on new challenges!
Do you have any advice for those considering training to become a pilot?
Think for yourself and take promises given with a pinch of salt.
Without hard work, no one can guarantee a job at the end of your training irrespective of their network or amount of money thrown at your training.
Make sure you feel comfortable when you visit a flying school and try and quickly pop in without prior arrangement.
See what the real operations are like
Speak to students and instructors
Once you make your choice, fully dedicate yourself
Training is really challenging as it is fun. It will feel overwhelming, yet it only lasts few months so it's worth it in the end. I wish everyone the best of luck and hope to come across you in the sky!
What are your long-term career goals?
I would like to be a good First Officer and become a good Captain. One day I would like to operate the biggest and the fastest. Once I gain more experience, I will most definitely get involved in making aviation more accessible and cheaper for all aspiring airline pilots. There are so many better pilots than I will ever be who can't get into this industry due to costs and I would love to help to open the door to commercial aviation to all who are passionate about it.
You completed your MCC/JOC with Kura Aviation, how did you find the course to con/process?
I can't recommend KURA enough to aspiring airline pilots. The course was challenging and prepared me well for anything that may be thrown at me at airline selection and type rating. It was also fun along the way. I met some amazing people whose experiences thought me a lot.
KURA creates fantastic working atmosphere. I felt their instructors, with their enormous airline experience, really went above and beyond to make me stand head and shoulders above other candidates during airline selection.
FTA thought me to be a safe, able and efficient commercial pilot. KURA thought me to think, act and present myself as an airline pilot. Together they provided a complete and unrivalled product.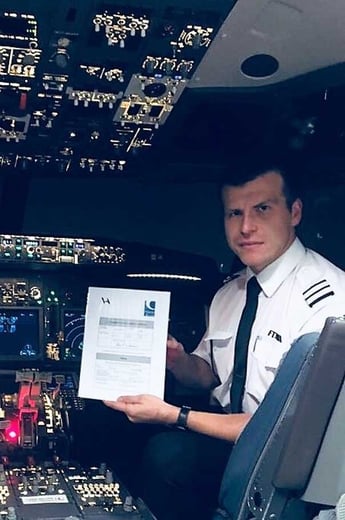 How long did it take from finishing the course to securing your first interview and your first job offer?
I received my first interview invitation within six weeks and a resulting job offer within three months.
Can you tell us a bit more about your role, can you briefly outline the application/interview process for the position?
I'm currently on a Type Rating course where the main focus is: building the knowledge of Boeing 737NG systems and limitations to safely operate the aircraft with 189 fare paying passengers on board. Having passed the theoretical stage of Type Rating I'm now preparing for simulator stage where I'll be practising normal and non-normal procedures and operate the aircraft according to company Standard Operating Procedures.
I found my job advertised on a social network site. I received an email asking me to complete further forms within 15 hours of applying and half an hour later I had an invite to attend selection. I was competing with a vast number of candidates. The selection process took over a week and comprised of numerous written tests, interviews, psychological and simulator assessments.
I enjoyed the process as this was what KURA and FTA prepared me for. I felt very comfortable and used the selection to demonstrate my abilities and prove I possess the competencies to be a safe, efficient and confident first officer and future captain.
Do you have any regrets?
I wish I volunteered at a local airport/flying/gliding school and started my story with aviation much sooner. This industry is vast and truly, amazing.