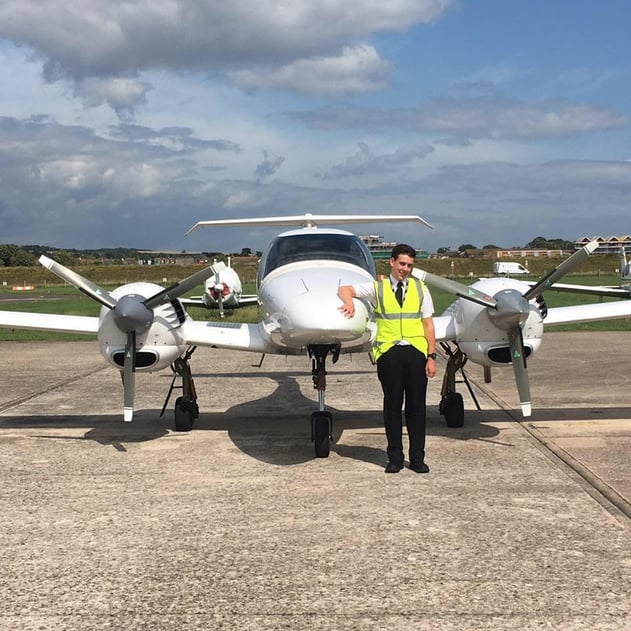 Family holiday's inspired and intrigued Liam to become a pilot. We managed to grab some time with him before he completed his training in 2019 and went on to secure a role with Ryanair flying B737s.
When did you decide you wanted to be a pilot?
I have been fortunate enough to go abroad on holiday pretty much every year since I was two and the flight was always a major highlight! I can remember always being intrigued by the flight deck, and loved the idea of flying as a job. This is where I believe the passion began. So, being a pilot has always been my ambition but it was during secondary school where I realised it was actually attainable, and pursued it straight away.
The realisation that actually it was achievable, both financially and academically meant I just wanted to start as soon as possible. I had to wait until I turned 18, so I looked at the best routes to help my training whilst waiting.
What qualifications or tests did you enrolled at FTA?
I studied Level 3 in Aeronautical Engineering at college. My idea was to have a solid backup plan to fall back on if my pilot medical picked up any hidden concerns. I believe some elements to the course has helped me through ATPL theory, or at least given me a distinct advantage. When particular topics came up, it was only a matter of recalling what I learnt from college, making the whole revision processes a little bit easier.
The friendly but professional environment shown suited me, and I can confirm that everything I saw on that day, I received throughout my training.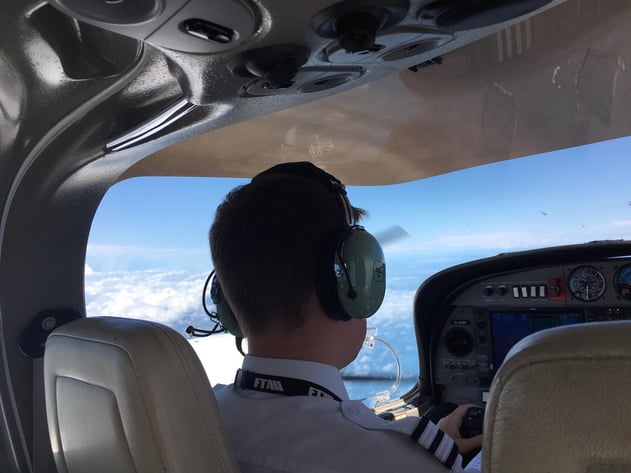 Why did you choose FTA for your pilot training?
I chose FTA because I was very impressed with what I saw during a personal tour led by Dan. The small number of cadets compared to larger schools was a highlight for me, and you truly felt a family feel. The instructor ratio also stood out, I could really see the bonds the instructors made with the students. The friendly but professional environment shown suited me, and I can confirm that everything I saw on that day, I received throughout my training.
I also like where FTA are based, in Shoreham. There's no better place to learn than taking off and within 2 minutes already talking to London, one of the busiest airspace, in the world.
Can you explain what it was like to go solo for the first time?
Going solo for the first time was certainly a massive highlight in my training. I remember looking to my right and seeing no one sat there, just the whole right wing, it was a proper surreal feeling. I think it still today felt the fastest circuit I have done! You honestly feel a true sense of accomplishment once you step out of the aircraft, and get congratulated by both your instructor and your fellow trainees.
What's it like to learn to fly in the UK?
Learning to fly in the UK was brilliant. You're taught to a very high standard, making adapting to very professional airspace a breeze. The views of the south coast everyday were truly spectacular. UK air traffic controllers are very friendly, not criticising your mistakes, but rather pointing it out in a relaxed manner to help you learn. When on the final phase of flying, you're in the fast paced airspace in which the big airliners fly. What better place to learn?
What do you think of the aircraft?
I had experience in three aircraft throughout my training with FTA; the PA28, DA40 and DA42. The PA28 was perfect to learn the basics and go solo in. The Diamond fleet are very modern, with some very high tech inside. They were perfect for the instrument flying stages. They definitely make the transition from small aircraft to jets smooth.
What was the hardest part of your pilot training?
For me, the hardest part was ATPL theory. Yes, I came straight from school, so stood a better position to some, but I still found it incredibly tough just like everyone else. Most people say its not actually the content that's difficult, it's just the huge amount of information needed to retain in a short amount of time, and I strongly agree. But, once a few weeks have passed, you develop a system, and get in the swing of working for a 9 hour day, then studying at home, consolidating and getting that all important me time!
What is it like learning to fly here?
It's a challenge at first to master the basics. Once you've established a foundation, a lot of things you learn during your training fall into place.
What are you doing now?
I am currently on the APS MCC course with JetMasterclass. I'm thoroughly enjoying it, developing a huge insight to the airline world I'm about to enter. It's not just flying an airliner simulator and learning multi-crew skills, it's also learning what makes a great, professional, employable airline pilot, developing key skills that will stay with me throughout my whole career.
Only 6% of pilots are female – what are your thoughts on this?
I think if you have a true passion and are very determined, you can achieve your dream, regardless of gender. The male stereotype of being a pilot is on a downward gradient!
What are your plans for the future?
My plan is to begin my flying career with an airline. Having no commitments, I can go anywhere needed, and I'm looking forward to seeing where it takes me!
Do you have any advice for those considering training to be a pilot?
My advice would be to do some solid research on the following:
Flight Schools - visit your short list and get a feel for what they offer, rather than just read what's on their website.
What life as an airline pilot is truly like - it includes long hours and time away from family and friends, be sure that is what you are ready for, and want.
The skills and characteristics you need to go through the whole process.
A great way to meet students and staff at schools and current airline pilots is through events hosted around the country. If finance is an issue for full time integrated training don't disregard the modular route! Do some work, save up for your PPL, then see where it takes you. It'll take longer sure, but you'll still end up in the same place!
Since our interview, Liam has secured a role as a First Officer for Ryanair! Congratulations!