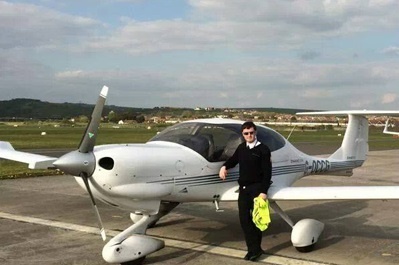 FTA Graduate, Chris Metcalf explains how he funded his pilot training and was able to pursue what was once just a dream. As he looks to the future, at roles within airlines, he reflects on what he has accomplished despite some painful setbacks in his youth.
Since I was a child, I've always dreamed of becoming a pilot. I used to go on holiday every year and would always remember getting a rush from hearing the engines roar on take-off. Ever since then I've always been fascinated with wanting to be able to fly one of these beautiful machines. With this in mind, I decided to go off to school and study really hard so that I could work towards my dream of becoming a pilot one day. Unfortunately, at this time in my life, the pilot career path got put on hold due to funding, college commitments and other things going on in my personal life at the time.
My story is quite different from the rest because I'm from a no money, working class family and I took a massive risk to fulfil my pilot dream.
I lost my dad to cancer aged 13 and my mum died just over a year later, and life became extremely tough for me. Due to this I found it difficult to finish school and get good grades, but after a lot of sheer grit and determination I managed to achieve this. This experience taught me that if you put enough effort in no matter what hurdles stand in your way, you can always achieve whatever you put your mind to. After completing school I enrolled at a local college but eventually decided to leave my course and join the Royal Marines. After a brief stint in the marines I left as decided I was a little too young and didn't feel ready enough to put myself through the gruelling training they required. At this point I moved into my parents' house which I inherited when I turned 18, got a job in a motorcycle clothing shop and started renting the spare rooms in my house out to friends to make ends meet.
I decided it was time to make a decision; Do I keep my parent's house and work in retail for the rest of my life...or do I sell the house and everything I own to have a shot at my childhood dream?
After a lot of thought I decided it was time to make a decision; Do I keep my parents' house and work in retail for the rest of my life, just getting by and never be fully happy, or do I sell the house and everything I own to have a shot at my childhood dream..? As you can tell by me currently writing this blog, you know which one I chose.
It was a difficult decision to make as some people agreed with what I was planning to do and other people objected to it - but ultimately it was my choice. I really believed it would make me happy again. The whole process of researching flight schools was exciting because I saw it as a new adventure. I had the opportunity to live in a new place, make new friends, and basically start life over again. After more research I concluded that the best route for me to take was the Integrated course route. I felt it was best to complete learning to fly all in one hit and that I would enjoy the intensive challenge that the Integrated pilot training course brings.
I researched all the flight schools in the UK that offered the Integrated course. I visited a few but eventually chose FTA as my school of choice because of the modern aircraft fleet they possessed and the family feeling I got when I went on a tour. It was really important to me to have that close-knit community feeling because I seemed to have lacked this feeling in my earlier life. At FTA it feels like everyone knows each other and there is a very good relationship between students and flight instructors. I felt comfortable with everyone, no matter what position they held. I felt I could always have a laugh with the other students and just as easily with the managers and even the Managing Director because the school is its own community.
At FTA I didn't feel like just a number; the school goes above and beyond to help you achieve your goals.
I felt this environment was perfect for me, especially coming from my background. I also enjoyed living near Brighton - I found it quite pleasant being down South because as a Northerner originally, I'm not used to as much sunshine and good weather as I got here.
When I think back to the first time I was in a DA40 I remember how nervous I was. I was very uneasy about every bump and movement I felt in the air but my flight instructor did an amazing job of reassuring me and overall we had a great first flight. It makes me laugh looking back now to see how far I have progressed since my first flight. My first real milestone was my first solo flight, where there was no instructor present by my side and I was completely alone in the aircraft. It was massive confidence boost knowing that I was trusted and able to fly an aircraft all on my own. I was in control and if anything happened it was my responsibility to make the right decision and sort it out. I think it's the responsibility and the adrenaline of your first solo flight that makes it so unforgettable. I also noticed the subtle changes of my instructor not being there; the aircraft feels a lot lighter and faster, it climbs a lot quicker. All these minor things just add to the excitement of your first solo.
With the ATPL theory I found it hard to get into a routine as I hadn't been in education for quite some time at this point. I'll admit that at first I didn't try hard enough with setting out study time at home and being pro-active with revision sessions. I foolishly underestimated the sheer volume of information that you have to absorb within a relatively short amount of time. I struggled and failed my first series which I'm not proud of, but I kept going and I made sure that I put in 110% effort and passed on my next attempt. I wasn't the perfect student and really I'm just an average guy - but I believed I could do it and I eventually got there. Anyone, from any background can do it, you just have to stay really focused and motivated. The best advice I can offer anyone about ATPL theory would be to put in the work from the beginning. It will be a really hard 6 months but once it's over and done with it's so worth it! The more you put in the more you get out.
I got my Frozen ATPL at the age of 23 and it was a really great feeling of accomplishment. After everything I'd been through, all the training and the hard work, it was amazing to see the licence there in front of me for real. This was different to when I did my CPL test because after you pass your exam you don't get anything physically to show for it.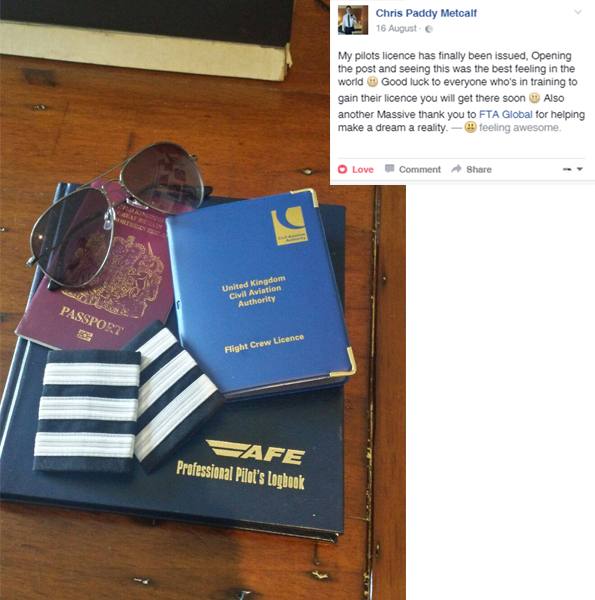 It's always a great feeling when a licence arrives for you in the post. It's at this point when you really start to realise just what you have achieved and the reality of it all really hits home.
I love flying because it gives you a sense of freedom. I like the feeling of responsibility you get from being able to take off and go anywhere you want to. When I'm in the air the views are thrilling and are so varied depending on where you're flying. When I'm airborne I forget about all the problems and stress in my personal life - I'm just a call sign, just another pilot in just another aircraft and all I think about is flying.
My head is literally up in the clouds. My goal now is to potentially work towards gaining my single engine rating so that I can rent an aircraft at my local airport and just keep on flying.
I want to build up my flying hours and keep on top of my skills, honing them in until perfection. In the future I'd love to gain employment with a commercial airline as a first officer or maybe start off as cabin crew and work up from there.