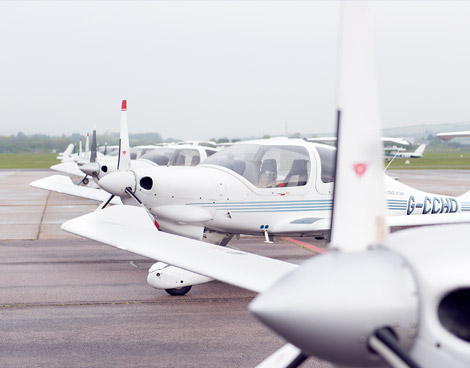 2016 marks FTA's 10-year anniversary at Brighton City Airport. It might be a surprise to many that this successful commercial pilot training school is based in Sussex. But in fact, Sussex is a great location for pilot training. It's estimated that the UK supplies a market-leading 25% of Europe's qualified commercial pilots each year. With its changeable weather, high-quality standards and congested airspace, the UK is the perfect training environment.
It was FTA's co-founder Tony Realff that was responsible for creating FTA. Tony says of the company's beginnings, 'I worked in the aviation industry from the age of 18 but never learned to fly. It was only after I sold my company, AMI, that I decided to learn to fly and buy my first aircraft. I chose a Diamond DA40 and needed somewhere to keep it - Shoreham Airport (as it was known then) proved the perfect location'.
Tony caught the flying bug and found himself buying more planes and looking at other aviation businesses to invest in. 'Eventually, I bought a flying club and after a few years', decided to transform it into a top class academy for trainee commercial pilots. Our aim was then, as it is now, to build the best training academy with the best aircraft, based at the best airport with superb instructors', he adds.
But Tony and his co-founder, Richard, wanted someone to run the training school. Tony says, 'I had an absolutely superb flying instructor called Jonathan Candelon. We decided that he was the person for the job'. Having seen the potential in his instructor, Tony then made Jonathan a partner in the business. 'Jonathan was exceptional in many ways; his enthusiasm, drive and undoubted ability has made FTA the business that it is today', he concludes.
The training school now flies a total of one million miles a year and attracts students from across the globe. In the last six years alone, the fleet of Diamond training aircraft has grown significantly. FTA's sales are up nearly 300% and the staff total has increased by 700%.
ADR Candelon (owned by the majority shareholders of FTA Global) also owns Brighton City Airport Ltd as well as Apollo Aviation Advisory Ltd (the aircraft maintenance company). Built in 1910, Brighton City Airport is the oldest continuous licenced airport in the UK. It is a popular attraction for locals and tourists and in 2013, when it encountered difficulties, Tony and Jonathan saw an unmissable opportunity. Critics said that the airport's fortunes could not be transformed but a year later the airport was not only generating profit but flourishing.
The airport offers private aircraft and jet owners a great gateway to the South Coast but also a fantastic place for locals to relax, unwind and enjoy watching aircraft arrive. ADR Candelon's management of the airport and aircraft maintenance means that FTA cadets are trained in a fully operational airport with its own aircraft maintenance company. They gain important experience and understanding in preparation for jobs at commercial airlines. FTA-trained pilots fly for over 30 different airlines across the globe and are proud that 40% of all that enrol, do so because the school was recommended by their students.
This astounding growth has seen FTA nominated for a 'fastest growing company in the country' award but managing director, Jonathan Candelon is not complacent. 'A big part of the company's success is the fact that we're unafraid to do things differently. We like to challenge people that say something can't be done and prove them wrong. We support the people who work for us and students that train with us because we understand that it's the people inside the business that make it what it is. Great people are what makes great companies and we have a team of nearly 70 people, who are all great', he concludes.
FTA offers a modular training package for prospective pilots that want to learn in stages or those that need to continue to work, in order to fund pilot training. The company also offer integrated training to those with zero flying experience and want to gain a full commercial pilot licence in under 16 months. There is even an option to take a degree and complete commercial pilot training in 16-18 months with FTA and Bucks New University.
As Jonathan Candelon adds, 'We understand that this is not simply a training course but it's a life changing experience and many of our cadets have wanted to be a pilot since childhood. We recognise this and aim to offer competitively priced, high-quality training, with flexible payment options – making the pilot career as accessible as possible'.
FTA recognises their importance in the marketplace. In an industry where overheads are high and competitors that charge up to £100,000 for the same course, Candelon feels that part of the success of the company is found in the products it offers, 'The safety, support and success of our students are of paramount priorities for us. We carefully manage our costs and invest in important areas such as our high-quality instructors, modern aircraft and excellent aircraft maintenance. This enables us to deliver competitive fees – reducing the financial barriers to becoming a commercial pilot'.
The company celebrated their milestone with dinner at La Galleria Restaurant in Shoreham where Directors, Tony and Jonathan, gave moving speeches about everyone's accomplishments over the past 10 years.