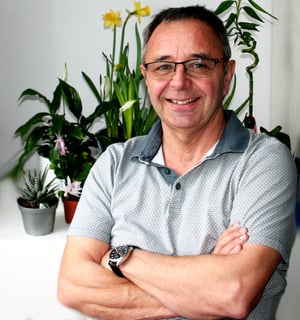 "We all say that we are certain Martyn built aviation in his back garden. He has an incredible amount of knowledge that you can tell he enjoys passing on to others. No question in the classroom is ever left unanswered and he is always happy to explain in that extra bit of detail if you're finding it hard to understand something" - Chloe, FTA Student.
We interviewed Martyn, FTA'S Theoretical Knowledge Instructor who tells us the most awarding aspects of his job. He discusses his

experience and journey...
What made you want to be a Theoretical Knowledge instructor?

It wasn't a particular career choice but having spent many years as a flying instructor in various roles (particularly in-flight instructor training) and flying twin piston engine aircraft commercially, when I lost my medical, I was approached by FTA about the prospect. As I also had an extensive engineering background before becoming a commercial pilot, I felt I did have the right credentials for the job.
How did you become a TK instructor?
As a Flight Instructor Trainer, I was used to delivering the ground school subjects as well as the flying part of the course. It sometimes comes a bit of a shock to the prospective instructor-student how much ground school is required, bearing in mind all the theoretical study that must be done for a commercial licence. I had also previously written many manuals on the subjects. So really my training came from over twenty years' experience as a flight instructor and flight examiner, including being a flight instructor examiner. But like all things in aviation, you never stop learning, so I still have to research and learn more about the subjects I teach. The day a pilot thinks he knows it all, is time to stop flying!
What do you enjoy most about your role? What are the most rewarding aspects of your job?
I most enjoy passing on information that will aid the students' knowledge to become the best pilot they can be. The most rewarding aspect is when I have been able to explain a challenging technical aspect of a subject in a manner that a person with little prior knowledge can understand.
What advice would you give to aspiring cadet pilots?
Do not underestimate the challenge ahead, yet be diligent, determined, and hardworking to overcome them. Most people can achieve their goal if they put in the effort required and have researched what is expected of them.
What advice would you give to aspiring TK instructors?
Be prepared to continually learn as much of the subject matter is evolving. As for all instructional work, you have to have a mindset of wanting to help other progress towards their goal and not do it just because it fills in between other jobs.
Can you describe a 'typical day' in your job?
I begin by reviewing what the subject matter is for the day and any questions that have arisen from the previous days' lesson or a quiz I have set the class. Like any other instructional work (or indeed pilot duties) preparation is the key. I gather any additional props that I might use to illustrate a point and any handouts for the class, although this has been limited with the distance learning of the past year. Each lesson lasts around fifty minutes with a ten-minute break before the following lesson. I encourage questions from the class to ensure a full understanding of the topic in hand as many are learning completely new subjects with little or no prior knowledge, so the instructor also has to have some empathy.
What would you say that students should be aware of when they first start training to be a pilot?
Firstly, it is hard work. There is much theoretical knowledge to learn and assimilate, and new skills to acquire. Learn to walk before you run. I have often flown with pilots which demonstrate a lack understanding of basic handling and secondary effects of controls of an aeroplane. Flying can basically be brought down to two factors – the aircraft attitude and the power applied. Know these for all the aspects of your flight and the accuracy will follow. The aircraft is designed with two other features that considerably help if you fully understand them, namely the trim and stability – ignore them at your peril!
As well as being a TK instructor, you are also an author! Tell us more about your books?
As I headed towards retirement a few years ago I decided to plan what I might do when the flying stopped. One idea was to write a book. I had written articles before of mainly a technical matter, but I now had a fictional story idea. It took a couple of years (I was still flying full-time) to complete my first children's novel published in 2016 – Charlie Green and the Pirate's Treasure. It is based, of course, on a time-travelling magical aeroplane! Another interest of mine is history, so I linked the flying I so much enjoy with an adventure back in time to solve a historical dilemma.
I have published three others since, the last in October 2020. These take my main characters back in time to visit the heroine of slavery emancipation Harriet Tubman, the court of King Arthur in Camelot, and the latest book finds them in Pompeii just before the eruption of Vesuvius debating with the Greek God Zeus about the event! Plus, there is a ghostly figure playing some tricks and helping them in the present.
In normal times I visit schools to talk about my books as the target audience is 8-14yrs, although many adults enjoy the books too. The main protagonist – Charlie – is a boy of eleven who discovered his magical transport in an old hangar on a disused airfield. Those old enough to remember the children's TV animation Mr Benn, will be able to recognise some inspiration for the adventures!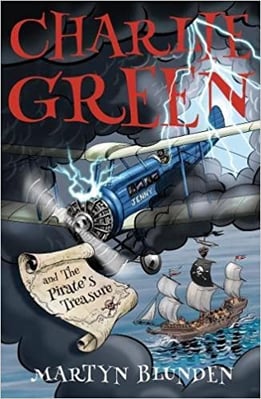 What do you like doing in your spare time?
I have an allotment which has been a place of escape during lockdown where I enjoy the challenge with nature to grow vegetables rather than weeds! I also enjoy repairing, restoring, and making things in my comprehensive workshop. I have a vintage (1950's) speed boat fitted with an internal marinized Ford car engine which I had to recently strip-down and rebuild along with some of the wiring. I also have a 1975 Alfa Romeo Spider which seems to constantly need attention, mainly because it does not get used very much and resides in my garage most of the time. Some time ago I was given a 1979 Vespa scooter which I stripped down to all its individual components and it still awaits rebuild! But many smaller construction projects come along and of course my writing is done in my spare time!
What's your favourite aircraft?
An aircraft I really enjoyed flying was the Socata Rallye which I flew in 1980's and 90's. It had great short-field performance due to leading edge slats and fantastic all-round visibility. Nick-named the 'tin parachute' you could safely fly it really slowly. But the aircraft I would love to have flown is the De Havilland Mosquito – simply because of its graceful lines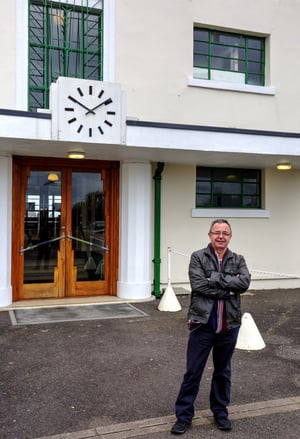 More information on Martyn and his books can be found here.