Earlier this month we hosted an online discussion panel regarding modular and integrated pilot training. Our panel of students and pilots answered your questions on the difference between the two routes and the benefits they have enjoyed, training via their preferred route.
First, let us introduce our panel:
Pilots
Hannah, Modular student and now Pilot for Lauda Motion.

Ryan, Integrated student and now First Officer for Saxon Air.

Ben K,

First Officer at Flight Calibration Services Ltd.
Students
Chloe, Modular student currently completing hour building.

Ben E, Integrated student completing the final phase of training.
Staff
George, Student Services Assistant, FTA Global.
If after reading this useful Q&A you have any questions, please do get in touch. Online tours are available and can be booked here.
When are your FDP start dates?
"Our first start for the FDP is 21st of June, with two further opportunities to enrol in September (20th) and December (6th)." - George
What made you choose FTA?
"The old flying club feeling. I did ground school at CAE and it felt very big- we were in a large class and were just a number. You have a more personal relationship with instructors at FTA and the airspace is incredible, because it is the London airspace." - Hannah
"I heard bad reviews of others but not FTA. I did a tour and signed straight after! You have to be at FTA to experience the atmosphere and to chat to people at ops. There's a really lively atmosphere there and FTA have not bitten of more than they can chew. FTA have also got a maintenance company on the airfield, so the aircraft are in and out maintenance quickly. The atmosphere was the main thing, though." - Ben E
Which training route did you choose and why?
"I chose integrated because I had the finances. I started training when I was 19 so had few other responsibilities." - Ryan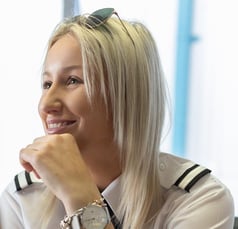 "I didn't know whether I'd want to continue after I completed my PPL. Modular allows me the freedom to halt my training if I want to and I am not in any rush at the moment so it has worked well. This way, I can work as well." - Chloe
What's day to day life like as a pilot and a student?
"I work as many as 14 days on and then get 5-6 days off. This works well with a family because I can have days off to spend with them." Ben K
"We have block of 5 days of flying. We get our allocation for the next day's flying by 8PM the night before. I've managed to find a flexible job, which is great. There's still time for social stuff too and FTA runs social events." - Ben E
Do integrated and modular get the same quality of training?
"Essentially, aspects of the integrated course are divided up into modules and packages. The requirements to get your frozen ATPL are the same. Modular and integrated students are in the same classes and have the same instructors." - George
Do airlines prefer a certain route?
"I've never even been asked if I was modular or integrated. They just care about whether you got a first or partial pass and ATPL grades. They take people based on personality." - Hannah
"If you followed the modular route, you have your SEP so you can go and fly a light aircraft." - Ryan
"It's how you view the approaches. You can do different things with different places." Ben K
Did you feel you had a lot of support during your training?
"Yes, definitely, but you need to ask for it as well and not feel like you can't. No question is too long for the instructors." - Chloe
"Everyone's struggling at the moment. Unrequested, the school called me and every other student to check up and make sure everyone's okay which was really good." - Ben E
What is the hardest part of ATPL training and how did you cope with it?
"We used to do it in 6 months but we've added 1 month onto each section to give people a bit more time for exam preparation, consolidation and revision. We've also added Computer-based training, which you complete after each day of classes. The average pass rate was recently 98% and exam averages of over 90%." - George
What's the hardest aspect of the training?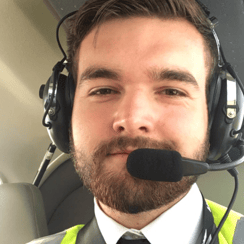 "No one wants to do the theory. My advice would be to establish how you learn early on. Being talked to doesn't help me: I'm a written learner. I deferred some of my exams so I did it across 8 months. Your first licence check is done by an internal instructor and the second done by an external examiner. You will feel more nervous with second person and test day is scary." - Ryan
Best financing options for each route?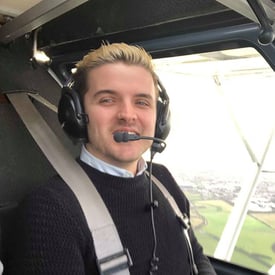 "Pegasus finance did loan in the past. I would recommend discussing your options with your local bank. The reason modular is more popular for those concerned about finances is because you can pay for it as you go along. You can also do some aspects of the course at home so you don't have to pay for rent or somewhere else which is cheaper. Integrated is a different story and people usually finance it through family or bank loan. You cater your training to what is available to you." - George
Does having a degree make a difference when applying for a job as a commercial pilot?
"I'm glad I went to university because I had a great time, but as a day-to-day flying pilot I don't think it's a requirement. But think about what you want to do in the future. If you want to go into management after line flying then business management may be useful, but my degree hasn't been." - Hannah
Would you recommend that someone begin their training now?
"Holiday surges are predicted for next year. If the industry takes 2 years to recover, as experts estimate, the industry should've picked up again by the time you finish your integrated training, because that takes around 2 years anyway. A lot of people are suggesting aspiring pilots follow the modular route so you can do your training at your own pace." - Ben E
"Companies like Ryanair actively search for cadets. The Laude fleet is looking to increase and they love cadets." - Hannah
Will emirates require a degree?
"They could turn round and say that but I don't see it happening. The training we do is specific for our jobs and that's what we need." - Ryan
"British Airways look for maths and physics B's, but places rarely ask for more than that." - Hannah
Effects of Brexit- will it continue to be EASA?
"FTA have secured the approvals to deliver both CAA and EASA training. We advise that if you're starting your training in 2021, that you complete your aeromedical at Centreline Aviation Medical Services, and obtain both a CAA and EASA medical certificate." - George
Full information on our CAA and EASA approvals is available here.
What are the accommodation options?
"There's lots. We're in contact with landlords and can put you in contact with them too. We don't own any accommodation which is why we have all the landlords on our system. Two months before your start date we will get in touch and refer you to an appropriate accommodation provider. We can also help if you choose to look on your own if you prefer." - George
Do you have any advice for future students?
"Do your homework. I spent 2-3 years researching. Be aware that it's a mountain to get your frozen ATPL. It was difficult and you need to focus at the beginning and then you're into world of looking for a job. It's series of mountains you keep climbing. I don't regret doing it- it's been brilliant fun." - Ben K
"If you want to be a pilot you'll make it happen. You'll find a way. I know I'll get there. My advice to future students is to go and have a look at flight schools.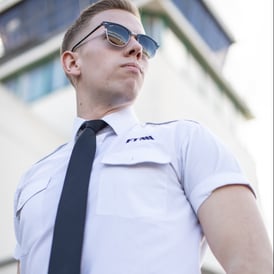 We still did tours after the last lockdown, just with smaller groups. Ask yourself, is this some
where you want to spend 2 years and a large amount of money? You might as well go somewhere else if not. I didn't have a look at others but I wish I had because I'd like to have had a look at what FTA is like in comparison." - Ben E
"Do it. Do your homework. Keep the end in sight because you'll get there if you want it." - Chloe
Is 50 too old to begin pilot training?
"No, if you want to do it then do it. Age 50 isn't a problem." - Ben K
"Where I work, we have 4 captains going through line training who are 50 or older. Go for it if you want to do it." - Hannah
"There were 4 of us on my course. One was 50 when he started. His dream was to be a pilot. Now he flies for an Italian airline." - Ryan
Can I get my ATPL theory in France?
"Yes, if you follow the modular route you can start your training anywhere and transfer to FTA Global. Our multi-engine flight training packages are very popular with modular students" - George
Would an airline fund your tight rating if you've secured a job with them?
"There's a 50/50 chance. There are lots of schemes and different ways. I had to pay." - Ryan
"Ryanair offered a bonded scheme. It's free if you stay and work for them for a few years. I would recommend a bonded scheme- tight rating can be £30/40k." - Hannah
What are your favourite things about flying?
"The views and what you see from the air. My favourite nav flight was to Guildford and Isle of Wight. I like being up there." - Ben E
"I like challenging myself. There's new stuff to learn every day." - Chloe
"The first time you fly a jet is possibly the coolest thing you've ever done and full thrust is very good fun." - Hannah
"I haven't been lucky enough to fly a jet yet. I fly the diamond which is similar to the twin engine at FTA. This is lucky because we can fly below 500 feet and rip around low and fast. We fly at over 160 knots so we get to experience the fun side of things close to the ground." - Ben K
What is the best age to start training ?
"Some people join as soon as they leave college. Others are older e.g. 50 as Ryan said. The best age to start depends on your preference and your financial situation." - George
We were sent a number of questions in advance of the online discussion and the answers to these have been provided below.
I am interested in completing my PPL (A) on the DA40 (£14,935) and would like to start as soon as possible. When could I start this training?
The earliest availability we have on the DA40 is 2022. This is due to the demand for commercial training for the IR and CPL. We do have sooner availability in the PA28 (£13,015) to start in early May.
I have completed all nine PPL Theory exams with the last exam in November 2019. Would I need to redo all these exams, or have the CAA extended the 18 month expiry date due to Covid-19 lockdown? If so, when do I need to complete my flying training by, in order to avoid re-doing my nine PPL exams?
The Civil Aviation Authority (CAA) has released new guidance for student pilots who have already taken some or all theoretical examinations for a PPL or LAPL. The guidance in CAP1913 states that the CAA have added a 6 month extension to the 18 month TK examination validity period, this means that if your examinations expire before 18th September 2020 your results will remain valid for a further 6 months.
Would I be able to fly everyday (Monday to Thursday and weekends)? I need to know if you can fit me in with an appropriate DA40 flying programme, and if you can do an intensive course. I am happy to do this too?
We are only able to provide you with a full-time course that is scheduled in 5 out of 7 days a week. As mentioned before, I'm afraid we do only have availability in the PA28.
Would you be able to continue flying training if we have another Covid-19 lockdown?
The CAA has approved for commercial pilot training to continue; therefore, our PPL training has been able to continue during this current lockdown.
I'm interested in following the modular route and enquiring about doing my PPL with you in the not too distant future. Could you give me some information about pricing and how the training is structured?
You do not need specific qualifications in order to enrol on the PPL. However, an EASA class 2 medical certificate is required. Further details on medical requirements and booking medical appointments can be found here.
The price of the course is £13,015 if completed in the Piper PA28. The price for the full-time course also includes VAT, the nine theory exam fees, 30 landing and 20 touch & go fees. We do not operate a fuel surcharge policy. For the flight equipment you should budget an extra £400 and for aircraft hire for test, CAA fees and flight test fees I would budget £500. Following an initial deposit of £1,500 to secure your place, the remaining course fee is paid off over 6 equal monthly instalments. The duration of the course (assuming full time attendance, good weather and completion in minimum hours) is typically between 6-9 months. We are open 7 days a week for flight training.
I would like to know more about how you get selected to work for an airline after you get your frozen ATPL. Also, is the instrument rating included in the course or we do it separately? If is separate, how much does it cost?
After you complete your training and have your frozen ATPL, you have the opportunity to apply for as many airline positions that are hiring at the time. You get selected by the airline by going through the application process and usually go through a group exercise and an individual interview. The instrument rating is included in the Integrated course and is available to complete as a modular course with FTA.