We were delighted to welcome our new FDP students on 21 June. It really is a fantastic time of year to start. With covid-19 cases and hospitalisations on the decrease, our students can enjoy the closest thing to a 'normal' training experience that's been possible for over 12 months.
Our classes are small, and students are socially distanced in lessons, and flight operations. With theoretical instruction delivered onsite, students can enjoy interactive classes with in-person student engagement and create friendships that will last a lifetime.
With our June enrolment complete we now look to our September start date which is 20th of the month. September has always been the most popular month to enrol on our integrated course. Students have spent the last 13 years in class, like to make the most of their summer holidays. Read on for our 'top five reasons to enrol on our FDP' this year: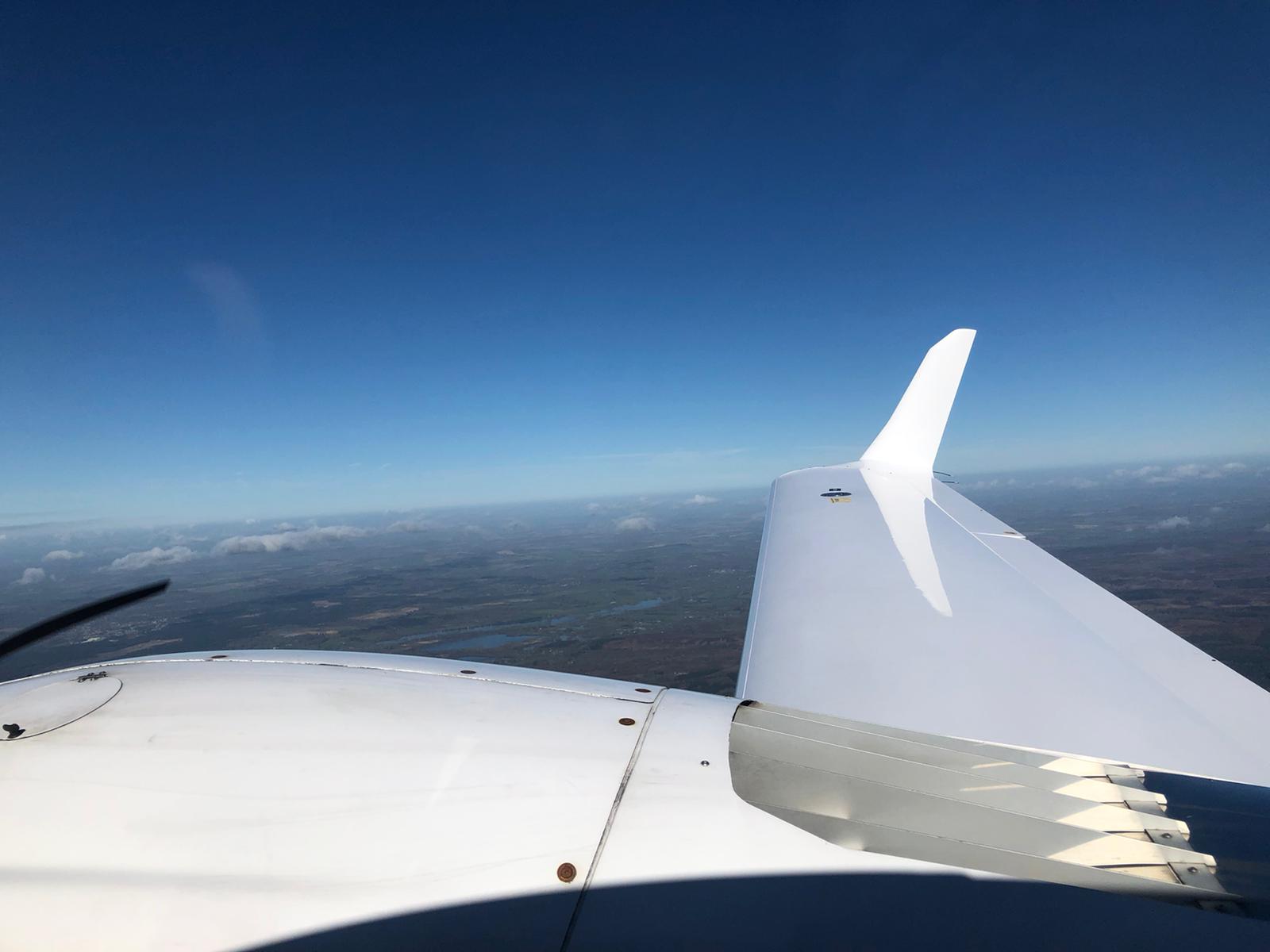 1. Elementary flight phases conducted during the Summer months
Following a few introductory weeks, our FDP students quickly start their theoretical training which is nine months long. Once all tuition and exams are complete, our September students will move on to the flight line in the summer. June is a great time to start the elementary stages of flight training. Tikhon enrolled on the integrated course in June 2020. This gives a slightly earlier head start on the finer UK weather. He therefore, started flying in Spring 2021 and explains how it is going so far:
"Enrolling on to the integrated program has been one of the best decisions of my life. The whole process went and is still going so smoothly. It is important to mentioned that my cohort joined at one of the most challenging times in the industry, due to Covid-19, and FTA has been a fantastic help and guide through this period. Starting the flight line only recently, I have already managed to go solo after my 12th hour which is just proof of the excellent instructing that goes on at FTA. As I am spending more time at FTA, it is beginning to feel like a big family where everyone knows everyone. It really feels like you can talk to anyone at the school, and they will help you as much as they can. Overall, I don't think I could have chosen a better flight school which would have met might needs to this extent. Thank you, FTA!"
2. Continuity
It is great to have a break after more than four years of dedicated revision and learning, through GCSEs and A Levels. Continuing with that discipline following a break over the Summer is an effective way to remain in the correct mindset.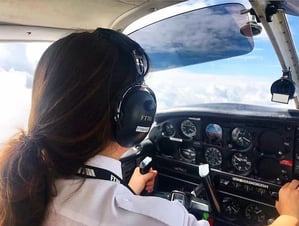 Whether you're leaving Sixth Form, College, University or even a full-time job, we can reassure you that pilot training will prove an experience like no other. Ashley enrolled on our FDP following the completion of her degree, she explained what the catalyst was, and how she found the training:
"I was very late to the game in deciding to become a pilot. I never even considered the role until I was 21, and it was only because of an article featured in an in-flight magazine. Within the article it discussed the lack of females in the industry, detailing the role of a pilot, the lifestyle and what training would be required. As someone who was nearing the end of her degree and could not fathom a role that would suit all the challenges and adventures I craved, this profession ticked every box. In some ways that article catalysed my journey, as soon after landing I booked trial flights, researched training schools, and undertook a job dispatching."
She continues: "Pilot training is a varied and immersive lifestyle. No two days are ever the same, especially when on the flight line, as you are continually having to deal with a multitude of factors e.g. weather, delays, beacon slots etc. What I would say though is that there is a real sense of camaraderie for all those involved in the training, as there is always someone to hand who can sympathise with your stresses and achievements. So, whilst being a trainee can be tough going, it's very rarely lonely."
3. A time of little distraction
Life will hopefully return to a new normal after the 19th July. However, the short- to medium-term expectation is that some social distancing and limitations on events, weddings and travel will be in place. The pandemic has resulted in significant social physical and emotional upheaval. Staying resilient and focused on a single goal is challenging at the best of times. Despite this, our students were able to use this time of limited distraction, (in terms of social events and activities), to yield the highest ATPL Theory results and averages we could possibly have imagined.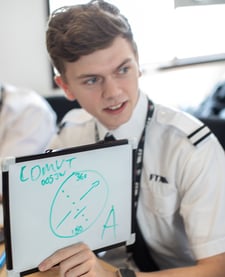 Dan has just completed his ATPL Theory and he has now started flying, he explains how his class made the most of the situation: "Every time there was someone who said they were struggling we'd all message them and say, 'don't worry, it's fine, we're going to get through this together, if you need any help go on teams and we'll have a little teams call, we'll do some revision sessions together, some quizzes'. That was really nice, and the odd occasion go on the teams call just to talk and catch up… When you're in the classroom it's a bit different, because you're wearing the uniform and you can hear planes all round you. The motivation was each other, supporting each other and making sure everyone was alright. I never thought I'd bond so much with the flying guys on my course. We've got quite personal connections now and I'd like to think we'd keep in contact for a long time."
4. Employment prospects upon successful completion
Pilot training takes around 18 -24 months to complete full-time. Aviation has its highs and lows like any industry, but the highs are never greater than when preceded by a major economic event. Industry experts are predicting airlines to return to their pre-covid recruitment levels in as little as 18 months, and some (such as Ryanair) have chosen to get ahead of the curve and recruit their pilots now. Liam was recruited by Ryanair in 2020 and has subsequently completed his line training. He said of his experience: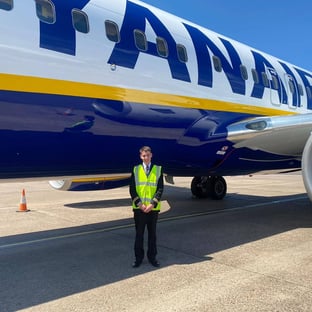 "I went to the Ryanair interview with nerves, of course, but also confidence, and this is thanks to the support offered from FTA, JetMasterclass, FPT and AirlinePrep. The technical questions I was asked in my interview were to a similar style to the questions asked before my progress tests and flying examinations at FTA. I developed confidence massively for the simulator assessment thanks to the huge support from the JetMasterclass APS MCC. It truly helps deliver transition training from light aircraft to airliners."
Liam experienced disruption in the recruitment process due to delays caused by the 737 Max and Covid-19. However, upon successful completion of an interview he was offered a role, he adds: "I was thrilled to be told I would be starting in March 2021. I have just finished base training, which was flying the Boeing 737-800 for the first time for six 'touch and gos' and one 'go-around', a total of seven circuits completely manually flown! I cannot wait for the weeks ahead when I'll be flying passengers hopefully for this summer season around Europe!"
Ryan works in corporate aviation and has flown throughout the pandemic, he tells us more about his role: "I love it, personally, and it is a great way to improve your flying skills that is not as routine. That diversity is what is going to make you a better pilot, really, and you can take those skills with you forever. I have flown into London city, Northold RAF base, and places like that that you just can't do and that many people my age who fly for airlines just haven't done, because even your likes of FlyBe of BA, no one gets into BA really at that age and no one on the FlyBe crew is going to be put straight into London city so I definitely think it is a great way to experience flying. It is not as big of a leap from your 4-seater DA42 into a Mustang, a Phenom or a CJ or something like that as your 737's. I think the flying is a bit more enjoyable and a bit more free."
5.EASA/CAA dual licence
Since Brexit, cadets must choose whether to train to be able to fly for either an airline based in the EU or an airline based in the UK. At FTA, we offer students the opportunity to study for an EASA licence (allowing them to work for an airline based in the EU), a CAA licence (allowing them to work for an airline based in the UK), or both.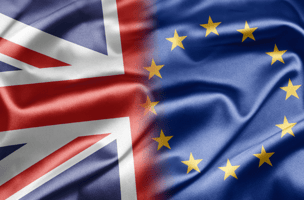 This is a rarity: no other flight school in the UK offers their students this choice, all delivered from a UK mainland school. They instead offer training for one licence or the other and may require you to spend time based at another flying school for flights in European airspace. For 2021 FDP students only, we are offering the ability to pursue a dual licence, at no extra cost.* Click here to find out more about each route and how to choose the right one for you.
If you are unsure when, and how to complete your training we urge you to get in touch. We are happy to meet online, as part of a tour, or at one of our 'Life as a pilot: Summer Sessions' (click here to register). We know this is a big decision and one that takes time and proper consideration. We are very happy to help you research all the options and identify the right one for you.
*Offer relates to the additional cost of a first sitting of both EASA and CAA exams, and the additional IR and CPL skills test only. Training completed in addition to the course syllabus (detailed upon enrolment), will be charged at standard rates, more information on how this is calculated is available on request.