The Pilot Careers Live event is held at the Sofitel, Heathrow Terminal 5, in November and April each year and this one promises to be better than ever as it is extended over two days!
Hundreds of prospective pilots attend the event in a bid to get expert advice from airlines, industry professionals and Europe's most prominent flight schools.
Friends of FTA get a special rate on their tickets - you need only quote FTA18 when you place your order online: http://bit.ly/2DYXYNU
FTA's event team will be comprised of marketing and student support staff, senior flight instructors, FTA students and graduates who all love speaking to aspiring pilots.
As the demand for pilot training rising each year, so too does the number of delegates. Forecasts for the industry are very positive, and we recently published a summary of Boeing's recent marketing outlook (click here to view).
Many delegates return year after year as every event offers a fresh perspective on the industry and seems to draw a different audience.
This year the seminar programme will include talks from those training to become pilots as well as those qualified, which should prove very informative.
FTA's courses are market-leading, and our Integrated Flight Deck Programmes offer incredible value for money. Our fees are open and transparent and we ensure you can easily compare our courses to others across the industry.
We fear that the insinuation that pilot training costs over £100,000 will deter the cadets from believing in the accessibility of the career. We are happy to discuss finance options and assure future pilots that they can still achieve their aim without paying extortionate amounts of money.
Full or part-time pilot training?
FTA's integrated courses feature all the modules and flight phases required for commercial pilot training. The Integrated Flight Deck Programmes can take you from zero flight experience in as little as 14 months. However, if a full-time course is not for you, modular is equally as good an alternative.
Explaining the difference between modular and integrated programmes is something we are glad to do in detail at the event. The day aims to offer as much useful information and advice as possible, with the expectation that the many people we meet will be able to continue their research and create a realistic short-list of flight schools.
It's heart-warming to meet those that have shelved their dream of becoming a pilot, having to prioritise another career in the hope that an alternative to their childhood dream is realistic. The question of whether or not the delegates have 'left it too late' comes up a lot and the reality is that it's never too late to pursue your dream. Students at FTA come from all walks of life, ages and countries. We published an article which featured interviews with some of our cadets and pilots. Read 'is it ever too late to follow your dream' here.
It is also great to meet aspiring female pilots, and they seem appreciative to meet women working in the industry. We are proud at FTA that so many females choose to train with us, and 2017, twenty-two per cent of our integrated student enrolments were female. We hope to increase this percentage every year!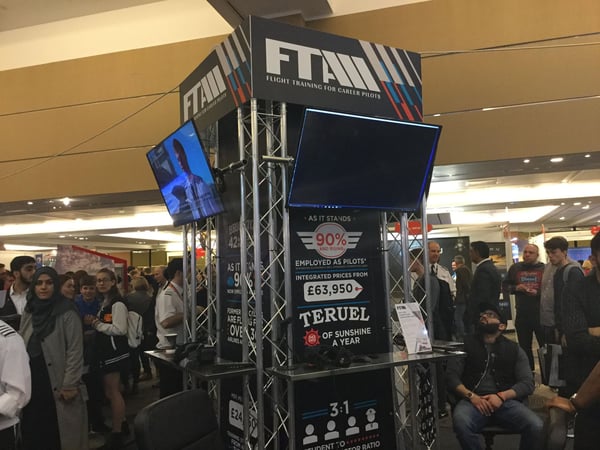 VIRTUAL REALITY FLYING LESSON
As well as speaking to our team at the event, we offer the chance win a free introductory flying lesson and experience a taste of a typical lesson in one of our DA42 Diamond Twin Stars. We offer the VR experience using the latest technology – Oculus Headsets and Samsung 360 Gears. These VR experiences always prove incredibly successful with students and their parents who get to enjoy the scenic views of the South East and perform specific manoeuvres with an FTA Instructor.
The event dates are 2 - 3 November 2018 from 10:00 - 16:30. So if you are interested in finding out more about FTA and what we offer, then we will see you there!
If you are interested in meeting us sooner, our tours are every Thursday at 10 am and provide a great insight into a typical day at FTA where you can meet our lovely staff and students.
Click here to book your tour online.