We recently caught up with former student and FTA instructor Steve Pearson about his transition from teaching to flying on the line for Scotland's leading regional airline, Loganair: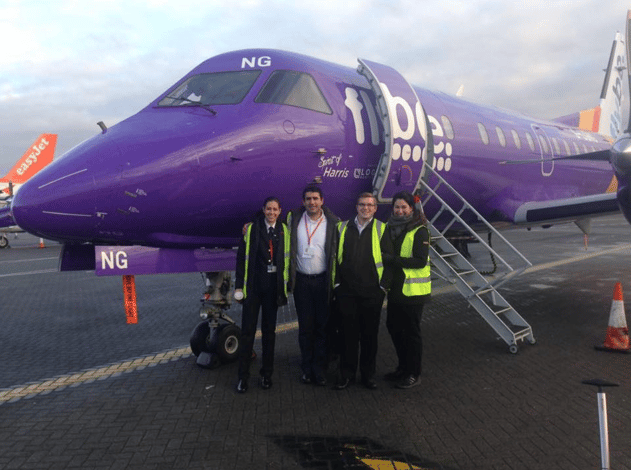 WHY DID YOU TRAIN TO BE A PILOT?
I always wanted to be a pilot from an early age. The first time I seriously considered it as a career and what it would involve was a few years into secondary school. I guess the thing that appealed to me was the fact that nobody else I knew had trained as a pilot before, and therefore the mystery surrounding the training and operation of an aircraft inspired me to pursue it. I loved the idea of doing something different, and I've always been fascinated by technology and how things like aircraft work and fly, so training to be a pilot was right up my street!
HOW DID YOU GO ABOUT CHOOSING A FLYING SCHOOL AND WHAT ASPECTS WERE IMPORTANT TO YOU?
I went to see a few schools in person which I'd recommend doing if possible. Looking round a school in person really allows you to see what happens, get a feel for the place, and discuss things one-on-one. Unfortunately I didn't get chance to look round FTA in person, so I got most of my information from the website and speaking to the operations staff over the phone. I wanted a professional looking school with a good aircraft fleet that offered the courses for a reasonable price. I found all of these qualities at FTA and discovered that although it was professional, there was a relaxed atmosphere with friendly staff.
HOW DID YOU FIND OUT ABOUT FTA?
I started my training in Bournemouth completing the PPL and ATPLs, but it didn't cover any of the advanced training. I started looking around several schools when a friend who had also been in Bournemouth mentioned FTA Global. They seemed very professional and based in a lovely part of the south coast. One of the main things that attracted me to the school was the value for money. The course package for the MEP/CPL/IR was much cheaper than some of the other schools offering the same training on the same aircraft fleet. The application process was very simple and FTA were very helpful in providing all the information I needed before starting.
I wanted a professional looking school with a good aircraft fleet that offered the courses for a reasonable price. I found all of these qualities at FTA
HOW DID YOU HEAR ABOUT THE JOB OPPORTUNITY?
Finding out about the First Officer job at Loganair was purely by chance. I know a previous instructor who had left to join Loganair about 6 months before, but hadn't really thought about submitting an application. It wasn't until a student of mine whom I had taught the night rating was approached by someone from within the company asking if they were interested in attending an interview. Due to not having completed his training he was unable to attend, but he passed on the information to me and said I should apply. A few days later I had an email from Loganair asking to attend an interview.
CAN YOU TELL US A BIT MORE ABOUT YOUR ROLE?
I am a First Officer working for a small regional airline which mostly flies in Scotland and Northern England. I fly the Saab 340 aircraft based in Inverness, which has a new contract with Royal Mail. As such, not only do I fly passengers between the Hebrides, Orkney and Shetland Islands, but also transport mail on the freighter aircraft. Some of these flights often go down to East Midlands airport overnight. The flights are challenging; flying to and from the islands means the flights are very quick, with a flight from Benbecula to Stornoway being as little as 15 minutes! As well as the quick flights most of the airports don't have radar, which means the approaches must be flown proceduraly. On top of all that the weather can be pretty fierce! A lot of the time the cloud will be right at minimums in heavy rain, and the wind will be straight across at 35kts plus!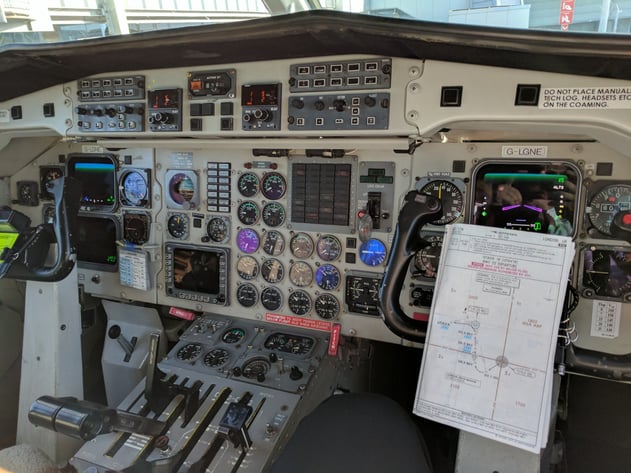 CAN YOU BRIEFLY OUTLINE THE APPLICATION/INTERVIEW PROCESS FOR THE ROLE?
I submitted an email with my CV and within a few days I was called for an interview and simulator assesment, to be held at Dundee airport. I had an interview with the Fleet Manager and Director of Flight Operations which consisted of basic HR questions. Everyone was friendly and it felt more like a chat than an interview. Then I had to do a maths test before going for the sim assessment. This involved two flights as pilot flying and pilot not flying. Both myself and my sim partner had to brief and fly a basic departure, track navigation aids, return for an approach and perform a go-around followed by an engine failure, which lasted about 40 mins per flight. We were given some simple standard operating procedures from Loganair to help with this. I was told of the result within the week.
HOW LONG HAVE YOU BEEN IN THIS JOB AND HOW ARE YOU ENJOYING THE ROLE?
I started in October 2016 but have been flying on line since February 2017. It's taken a little while to get comfortable with the speed of the flights and all the procedures but it's started to come together now. I've recently completed my first OPC and post-initial line-check, which is always good to get the first one out of the way. I love the job and the location. Inverness and the Highlands are a lovely part of the world to fly in. The job offers a chance to really improve flying skills as it involves lots of hand flying around difficult terrain and in poor weather.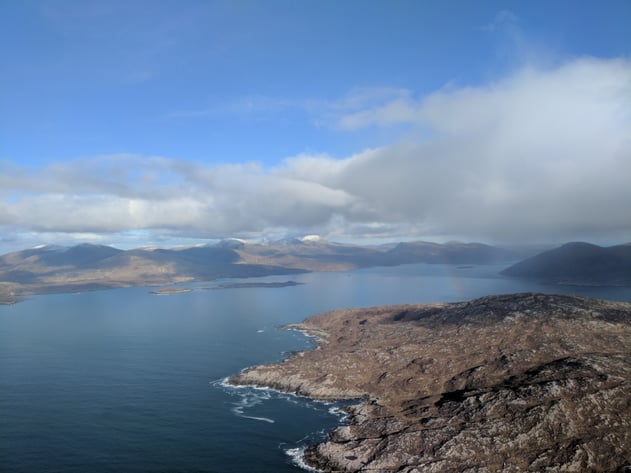 CAN YOU DESCRIBE A 'TYPICAL' DAY IN YOUR JOB?
A typical day would involve flying passengers to and from the mainland to the islands, or flying mail either on the day shift to the islands, or on the night shift to East Midlands. I normally meet with rest of the crew an hour before the flight is due to depart, prepare all the paperwork and discuss things like fuel, weather and NOTAMs. Then we head out to the aicraft to get set up, board the passengers and cargo and head off. A typical day could have anything between 2 and 6 sectors with 20 minute turnarounds. We are a vital link between the mainland and the islands as in bad weather the ferry will often stop operating, so it's down to us to get the passengers where they need to be.
WHAT ARE THE MOST ENJOYABLE AND REWARDING ASPECTS OF YOUR JOB?
One of the things I really look forward to is a nice clear day at our destination which means we can fly a visual approach. As the islands tend to be quite quiet (apart from other company traffic) it means we are not generally restricted in flying these approaches. Sometimes we can disconnect tens of miles out and with thousands of feet left to descend. If we get a really clear day, we sometimes cancel IFR when flying between Stornoway and Benbecula and fly visually up the coast at 2000ft. Flying up the west coast allows views of all the beautiful untouched beaches, and past all the of mountains, some of which can be higher than the aircraft! Another thing I like is that because the number of crew per base is smaller than other airlines, you get to know all the other pilots and cabin crew really well.
WHAT ARE YOUR AVIATION CAREER GOALS – WHAT WOULD YOU LIKE TO DO IN THE FUTURE?
At the moment I don't have any specific plans other than build up my hours and progress towards getting my command. Loganair gives me a great lifestyle around work so I'm quite happy to stay for a while. I'm continuing to instruct at a local school. At sometime in the future I'd like to continue training towards the IRI and CRI that I started at FTA, which would allow me to teach the IR and MEP courses. I've also considered becoming an examiner but that will be a good few years down the line before that happens.