Hannah has recently become a pilot for Lauda. Hannah completed her training by what's called as the 'modular route' complete each flight phase it its entirety, back to back. We were fortunate to get to know Hannah when she enrolled on our MEP, ME IR ME CPL course package (advanced flight training).
Read her full article for advice and inspiration for pursuing your own dream of becoming a pilot one day...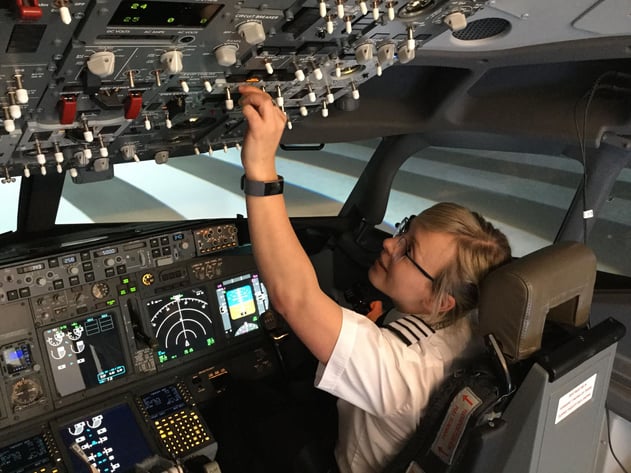 When was Hannah's dream of becoming a pilot born?
As everyone says – I've always wanted to be a pilot, the difference was I just didn't think I could do it. I really lacked confidence and only built up enough courage to actually give it ago when I turned 30. I had a "now or never moment" and decided to go with now!
WHAT WAS IT THAT FIRST SPARKED YOUR INTEREST IN AVIATION AND BECOMING A PILOT?
I've been surrounded by aircraft since I can remember, my father is a jet engineer and an aircraft fanatic, so I've been going to air shows since I was a little girl.
The first time I can remember being in awe of an aircraft was at an old RAF St Athan Air Show where the Vulcan bomber took off. I can just remember the noise and the growl of aircraft as it hurtled past me. The next day I remember being in school, on a windy day, putting my coat over my head like a parachute and trying to run in the wind to see if I could lift off. I think then I knew I was hooked.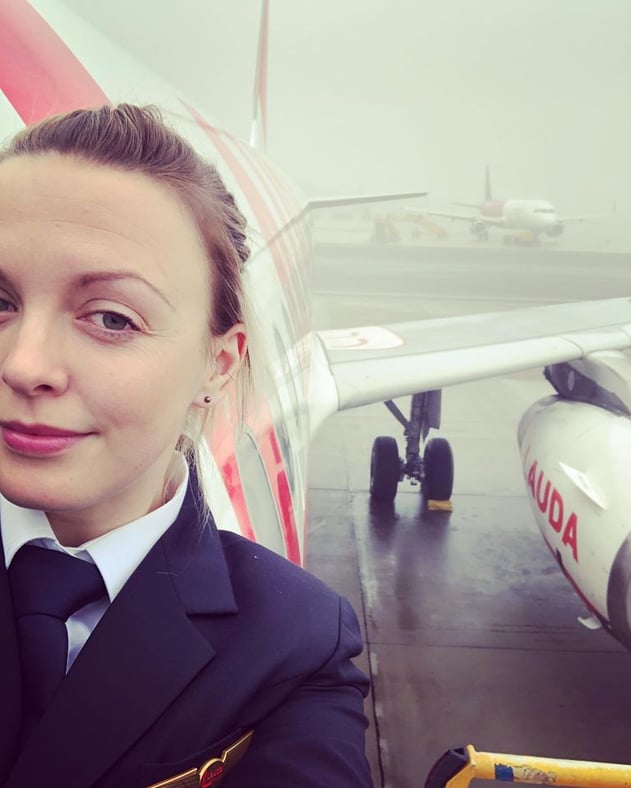 WHAT QUALIFICATIONS OR TESTS DID YOU DO BEFORE STARTING YOUR PILOT TRAINING (E.G. DID YOU COMPLETE YOUR A LEVELS, OR GO TO UNIVERSITY?)
I completed A-Levels and then went on to University to study Economics. But I have to say I don't think a degree is completely necessary these days. I have met a lot of young pilots who didn't go to University and have gone on to be successful pilots. I'm glad I went to University as I had a great time and met wonderful friends, but I don't feel it's helped me along the way in my aviation career.
I was a modular student and completed my ground school at a different flight school before moving to FTA for flight training. The exams to get into the ground school were maths focussed, so I definitely recommend being up to speed on mental arithmetic and multitasking. But you don't have to be Einstein, the maths is fairly simple, you just need to be fast.
"I have to say I don't think a degree is completely necessary these days. I have met a lot of young pilots who didn't go to University and have gone on to be successful pilots"
WHY DID YOU CHOOSE FTA FOR YOUR PILOT TRAINING?
As a modular student – I was looking for the perfect place to meet people and be challenged. I liked FTA because it had that 'flying club' feeling – which a lot of the bigger schools have lost. I liked that there was one central room which everyone hung out in, to flight plan, study etc.…every day you would get to meet up with your fellow students / friends, as well as the instructors to have a laugh with and work alongside.
The location of the flight school was also a big part of my decision making. Brighton City Airport isn't the easiest of airfields to fly the DA42 in and out of. It's got a very short runway and a steep approach on one side. In addition, on weekends in nice weather its very popular with private pilots, so there's constantly a lot of traffic. I found it really pushed me to be aware of my surroundings, and really tested me as a new multi-engine pilot.
The area itself is great for 'after flying'. Shoreham town has lots of nice little coffee shops, pubs for an after-work beer and the beach is great for the summer evening barbeques; And of course, Brighton is just down the road so when you do have a weekend off, it's a great place to go out and let your hair down. I also love sports, cycling in particular. I found there are lots of nice cycling routes along the coast or in the South Downs.
"As a modular student – I was looking for the perfect place to meet people and be challenged. I liked FTA because it had that 'flying club' feeling – which a lot of the bigger schools have lost".
CAN YOU EXPLAIN WHAT IT WAS LIKE TO GO SOLO FOR THE FIRST TIME?
It was a very strange feeling – complete mixture of nerves and excitement. I remember adding full power and thinking "no turning back now". The circuit I flew, I don't think I've ever concentrated so hard in my life, but that feeling of landing on your own and taxiing back was like nothing I've ever felt before, the sheer pride was overwhelming.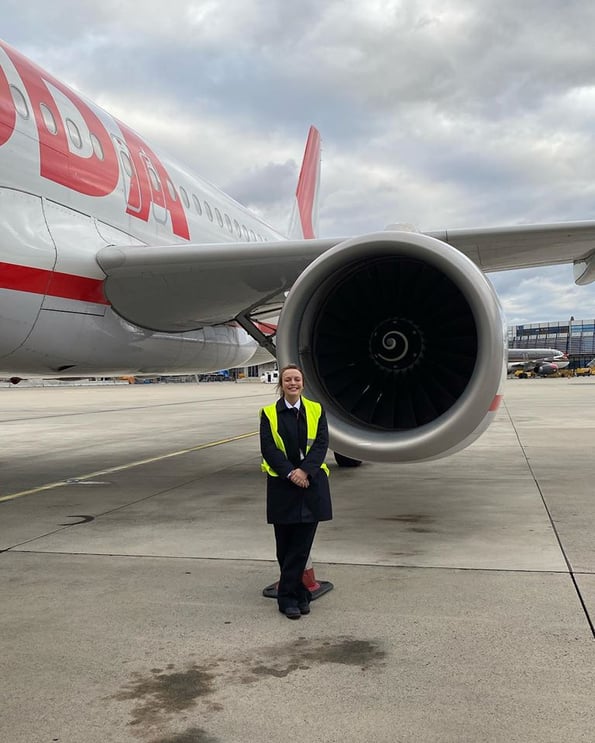 What's it like to learn to fly in the uk?
I actually did my PPL out in America and came back to the UK for MEP/ IR/ CPL. The airspace and comms were very different in the UK compared to the US at first – it's a lot more formal, but it's easy to pick up after a few flights. FTA is a great location for learning to fly as you are surrounded by lots of challenging airspace such as Heathrow, Gatwick, Southend, Military areas, danger areas etc.
I loved the DA42 – It was a great plane to fly, very fast and great fun to throw around.
WHAT WAS THE HARDEST PART OF YOUR TRAINING?
I'd say the weather for the CPL was hard – living on the coast we did get our fair share of bad weather days and had to cancel a few exams – but this is all part of general aviation.
In addition, I found the IR a challenge – it was very fast paced, sometimes doing 2 sim sessions a day for 5 days – which was mentally draining, but the hard work was worth it in the end.
WHAT ARE YOUR THOUGHTS ON ATPL THEORY?
I completed mine at a different ground school – sadly not FTA. I can't lie, it was the hardest 6 months of my life, not because the material was hard, but because of the sheer volume of work, you have to start your ATPL's being completely focussed. For 6 months my life revolved around waking up at 6am to study before class – working all day, then studying till 10pm at night. A weekend is a time where you can catch up on your reading, not to relax.
ONLY 5% OF PILOTS ARE FEMALE - WHAT DOES IT MEAN TO BE A FEMALE PILOT?
I must confess I don't really think about it. I don't see myself as a 'female pilot', just a pilot. I'm so proud that myself and my male training colleagues have completed the course and been successful. I know the hard work that each and every student has put in. It's about dedication and passion, not gender.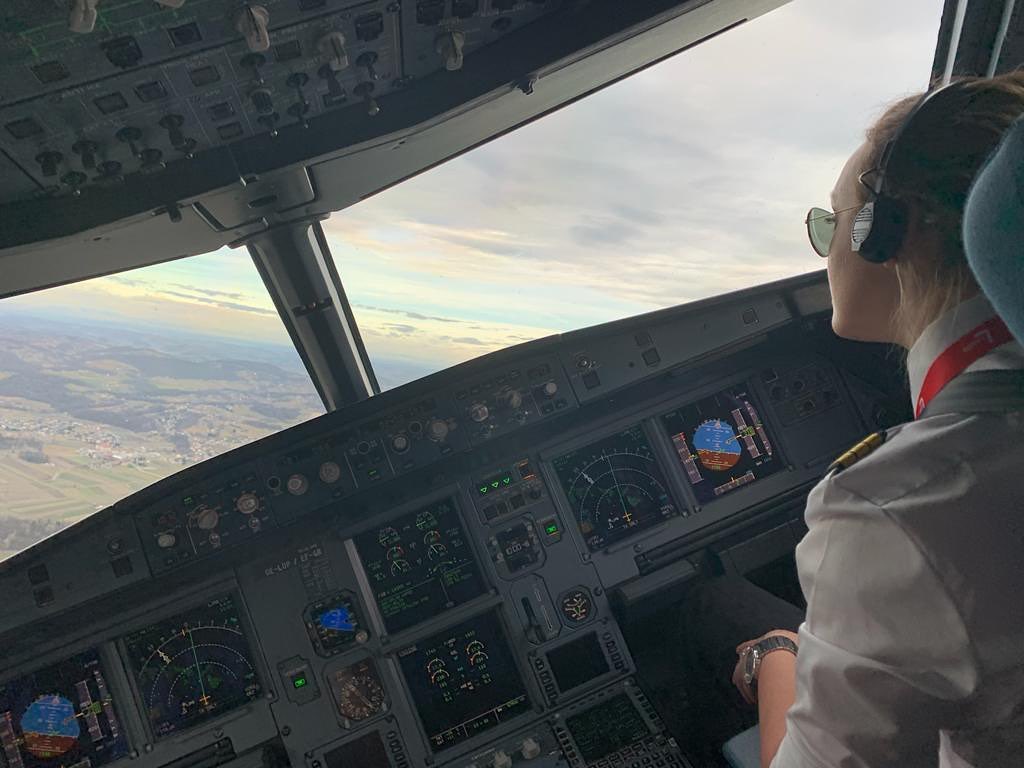 HOW DID YOU GO ABOUT SECURING YOUR FIRST JOB OPPORTUNITY?
I applied to Ryanair straight after I completed my MCC/APS at Jet Masterclass. The interview with Ryanair was a normal process, you apply online, complete the online assessment/skills test then if successful move on to the interview and simulator test. I actually secured Ryanair on my first go, but sadly my training course got cancelled in August 2019 due to the issues with the Boeing 737 Max. I stayed in the Ryanair holding pool – and in October 2019 was offered the opportunity to move across to fly for Lauda (Ryanair's other company) to fly the Airbus A320.
HOW DID YOU FIND THE RECRUITMENT PROCESS?
It was straight forward. It's a standard, apply online with your documents. Then if you meet the basic requirements, you will move on to the online assessment.
With the online assessment I would say make sure you practice before hand, there are lots of good websites out there that have similar tests such as https://www.latestpilotjobs.com/interviews/index.html
After the assessment if successful I was called to the head office for interview and sim tests. I always recommend having a sim prep airline interview prep session before you go for an interview. It can be expensive, but in the grand scheme of things - what's an extra few hundred pounds if it gets you a job after all this training?
WHAT'S BEEN YOUR FAVOURITE PART OF TRAINING WITH AN AIRLINE?
I have really enjoyed the Type-Rating course – I loved working with my sim partner as a real crew. But the one thing above all is the base training day – actually flying an Airbus was one of the most surreal days of my life.
WHAT ARE YOUR PLANS FOR THE FUTURE?
At the moment I'm flying the Airbus and living in Vienna. So I think I'm looking to stay here for a while. I would like to progress into training and of course Captain. Ultimately, I think I would like to try and fly something larger, ideally the A350 – but let's wait and see what happens.
DO YOU HAVE ANY ADVICE FOR THOSE CONSIDERING TRAINING TO BE A PILOT?
There are lots of elements about flight training that appear scary and you might think I can't do it. But don't let that be a factor, you will be trained by people who have been there and done it and it's their job to help you get where you want to be. As long as you know you want it and you are willing to put the work in, there's nothing stopping you!