Congratulations on choosing to become a commercial pilot. As exciting as it is, we know the training can be very daunting. We have put together a guide to help you prepare for your training.
Follow our five step guide to place you in the best possible position for your first day at flight school. Whether you're enrolling on an integrated programme, or studying via the modular route, the core essentials for embarking on your commercial pilot training are the same.
Step One
- Book your aeromedical
To train to become a pilot you will need to complete a class one aeromedical. This is not a standard medical check-up: it is very in-depth. If you have a condition or ailment that you're concerned will affect your ability to pass the test, you should contact an aeromedical practitioner at your earliest convenience.
Medical certificates need to be revalidated every year, so it is important to maintain high levels of fitness and health to train and work as a pilot. It is your responsibility to ensure that you have a current and valid Class One Medical Certificate before you start your commercial pilot training. A copy of your valid certificate will be requested when you submit your admission form.
Full information regarding what to expect from your aeromedical can be found here.
Step Two
-
Get thrifty and save some money
Not everyone has access to the balance of their training fees before they start their training. Even if you do, it's wise to save what you can before your first day.
The funds will prove useful if you are faced with repeated phases, exam resits or unexpected living costs. It can also be hard to find time to work when completing the Flight Deck Programme (FDP). Time is most precious during ground school, when you have lessons from 09:00-16:00, two hours of Computer-Based Training from Monday to Friday and must dedicate a considerable amount of time over the weekend to recap, revise and prepare for upcoming lessons or exams.
Before I signed up, but after I left college, I secured a job at Gatwick airport as a security officer for 3 years. This allowed me to save up a chunk of money to support myself throughout my training. Ben
Step Three
- Brush up on your maths and science
A sound knowledge of maths and science, especially of physics, is critical for succeeding in your pilot training. Your instructors will teach applied knowledge and so it's important to ensure that you spend any available time refreshing your maths and science - especially if it's been a while since you studied for your GCSEs or A Levels. GCSE Maths and Physics handbooks/guides are really useful for refreshing core skills and knowledge.
Padpilot's book, 'Maths and Physics for Pilots', is free from the iBookstore, and is perfect for equipping you with the knowledge you need to embark on your ATPL Theory.
If enrolling on our ATPL Theory or Flight Deck Programme, you will be granted access to key Padpilot modules three months in advance of your first day. These modules offer essential foundation knowledge which will help you in your training.
Brushing up on your maths helps to take the edge off the ATPLs. Padpilot have a free book to help get you started, but I just went over some old A Level books to cover Trigonometry and algebra. I also used a handy mental maths app called Maths Tricks Free. Also be prepared for a month of little social life outside of the classroom. Nathan
Step Four
- Research pilot qualities
There are certain personality traits which are not only expected of pilots, but necessary to complete a pilot training programme.
Ask yourself, "What can I do to ensure I develop myself and my abilities to become the pilot and person the airlines expect me to be?"
The myth that airlines are simply looking to see if you're a 'good egg' and easy to sit next to for 8 hours doesn't paint the full picture. Personality certainly plays a part in the decision but it is the demonstrated behaviours which really matter.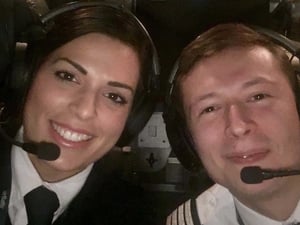 Take time to consider areas you know you struggle with. Do you find it hard to remember key items or events? Can you motivate yourself? Or do you rely on support from others? Are you good at managing stress and pressure? Spending valuable time discovering your weaknesses before you start your course will give you time to plan how you can overcome them.
Paid or voluntary work will help you understand more about yourself, but so too will a challenge, such as a charitable sports event or travel abroad. The experience doesn't have to be relevant to aviation - this is just about getting to know yourself better.
We worked with professionals to identify key traits required to become a pilot. To read more about these 'pilot personality traits', click here.
Step Five
- Identify how you work best
It's no secret that ATPL Theory is hard work. One aspect that can be particularly challenging to students is the independent revision. It is useful, therefore, to try and identify the learning styles and revision techniques which most suit you.
This is one of the reasons it's useful to have completed A Level study/exams before starting your training. As you did for A levels, you will need to be able to retain large amounts of information.
By establishing how you learn best before you start your course, rather than during, you save yourself a lot of time and effort.
Ready to start? Book a virtual tour of FTA and take the next step to becoming a pilot.