We spoke to integrated student Mark, who will soon complete his pilot training with FTA. Mark came back to pilot training after realising that the time simply wasn't right in 2011 when he first wanted to embark on his dream.
Mark explained to us how timing was crucial and how his burning desire to become a pilot would simply never go away.
When did you decide you wanted to be a pilot?
Flying has always been something at the back of my mind. I joined the RAF cadets at school, and I caught the bug for flying. I was fortunate enough to get a gliding scholarship through the cadets. I did the training during the Easter holidays, and I flew solo within the week-long course. I was just 17, so I had my gliding licence before my driving licence!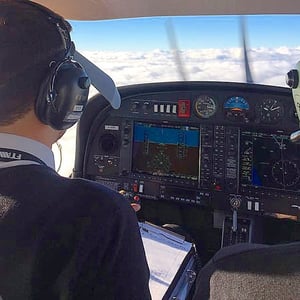 It was when I attended Pilot Careers Live (PCL) that I first considered a career as an airline pilot. The event was great, there was no better place to get so much information all in one place. The reality was that the costs and therefore the risks seemed too high. It was 2011 when the global economy and aviation was still recovering from the economic crisis. It didn't feel like the right time. So I came away with the decision to go to University instead. I chose to study a degree in Geography as it was the subject I enjoyed most at school. Being a very broad subject, it allowed me to keep my career options open.
I did consider becoming an Environmental Consultant and I had an interview in Southampton for a job. As the company were paying for my travel, I decided to fly down from Manchester to save time. Once the interview was over, they enquired as to how I would be travelling back. When I answered that I had flown down, I realised that they perhaps would have expected a potential environmental consultant to have chosen the more environmentally friendly option. It was whilst reflecting on this that I realised I had to look into a career in aviation again.
What was the process of finding your chosen pilot training school?
I attended another PCL event, this time in Leeds, and found as many pilot training schools as I could. I used the summer to research as much as I could about pilot training and added schools to my shortlist. Practically only a handful made sense. I quickly realised that the larger schools were inexplicably more expensive given that we all graduate with the same license. Therefore I looked at the schools that were large enough to provide high quality commercially orientated training, but yet weren't too large that you would just be another number in their system.
I visited my shortlist of schools and was suitably impressed by FTA. It ticked the most boxes for me, so I signed up in September and started in October.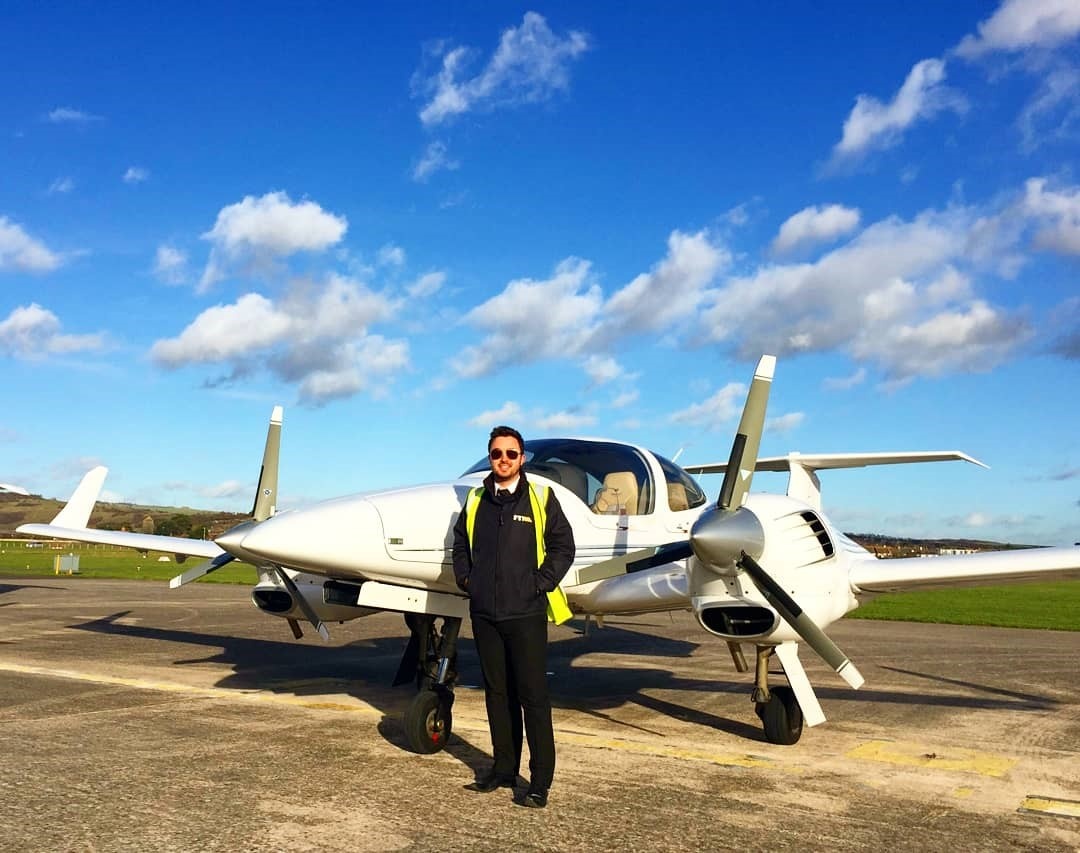 Why did you choose FTA for your pilot training?
I wanted my experience to be more personal, and FTA offers that. They have proved you don't need to spend nearly £100k to receive high-quality training. I made my decision while on my tour of the school. It was the Managing Director that showed me around, and right there you realised how valued you are, the staff were friendly, the airport was buzzing and the range of aircraft was very impressive. I knew FTA was the perfect choice for me - it just ticked all the boxes.
What was it like to fly in the Spain compared to the UK?
Spain is the perfect place to learn to fly; you get a lot of good weather days and the airport is generally very quiet which is perfect for the basic training phases. The airport is primarily used as a maintenance and storage facility, and so you can occasionally watch an Airbus A340 do engine testing or a Boeing 747 arrive for storage. There's nothing better than being surrounded by all the old airliners to remind you what you are working towards.
The terrain and mountain ranges make Teruel a very scenic place to fly. However, being more remote than the UK base, it means that visual navigation can prove more of a challenge as landmarks are few and far between.
It's a stark contrast to the UK where the first few flights come with a steep learning curve. Air Traffic Control, the congested airspace and weather make the UK more of a challenge, and perfect for the advanced phases of the training. The airport and the airspace in the UK are bustling, but it prepares you for everything. Now it is all very natural to me.
Can you explain what it was like to go solo for the first time?
My first solo was aged 17 in the glider. I had no idea I was about to do it until my Head of Training hopped out the aircraft and told me, 'You're ready, take it on your own'. I did one circuit and I can't describe the feeling. The training kicks in and it all comes naturally. The only opportunity you have to really take in the fact you are alone is the short period where you are flying "downwind" to come in to land again. It's a surreal but great feeling.
Going solo in Spain was different because having already done it once before, though now several years ago, I knew the process and roughly when it was going to happen.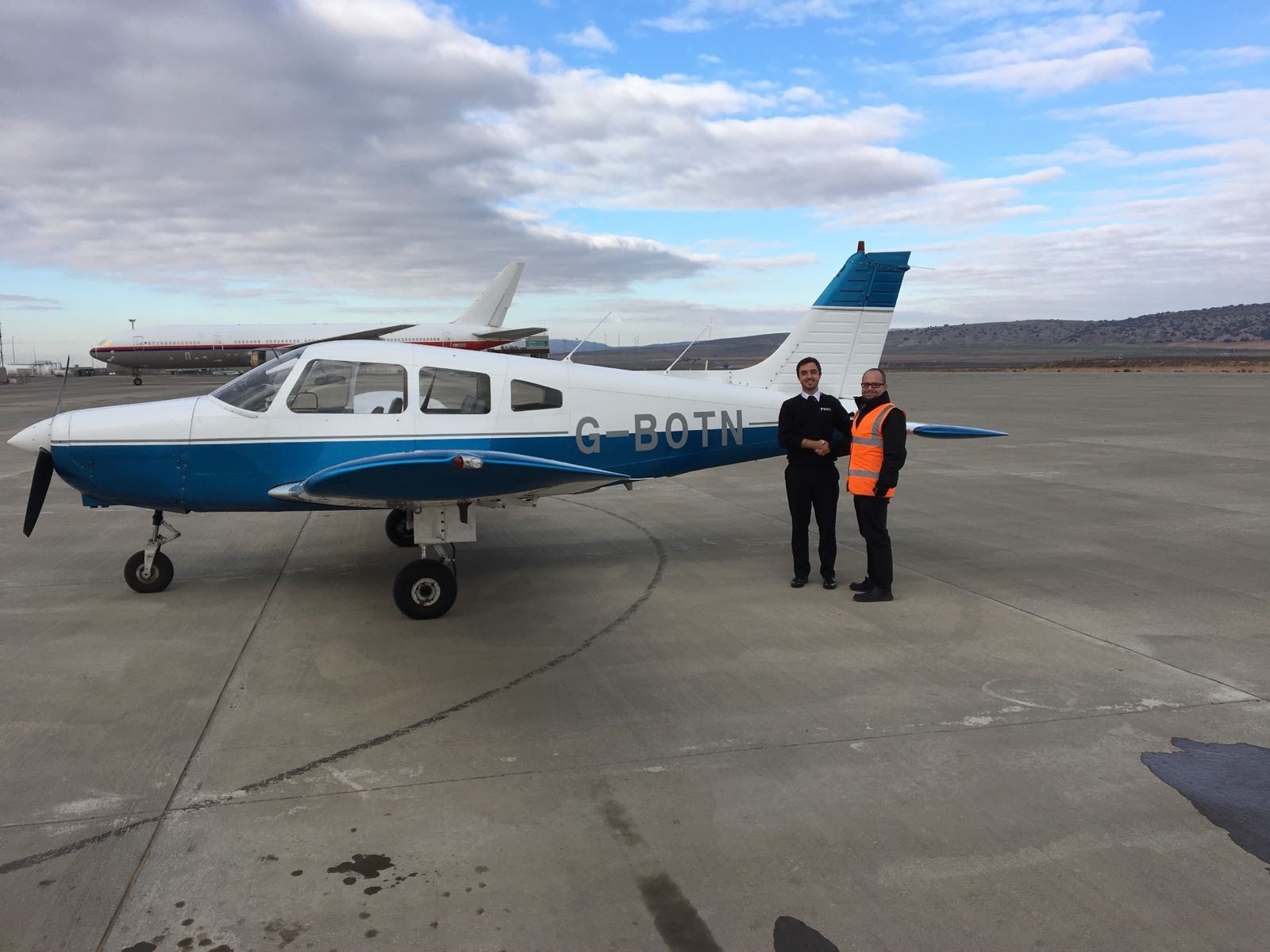 "I WENT SOLO BEFORE I GOT MY DRIVING LICENCE!"
What do you think of the aircraft?
I recommend anyone reading this, considering training at FTA, to choose Option A where part of your training takes place in Spain. The PA28s are the perfect aircraft for the basic training phases. They are the robust workhorses of the flight training industry, providing you with the stable foundations from which to learn the fundamentals of flying.
Many pilots say that going from conventional aircraft like the PA28 to glass cockpit aircraft like the Diamonds is a natural progression, and I must agree that it felt that way for me. It particularly helps with the ATPL ground school to have had experience using conventional aircraft instruments.
The modern Diamond aircraft, with their systems such as the G1000, EFIS and FADEC, are the closest you can get in a training environment to the systems a commercial aircraft may have. This makes them ideal for the advanced phases of training, especially during the Instrument Rating.
The DA42s are easily the best aircraft, the principles are the same, and so it's a natural progression and of course it has an extra engine, so it's that much more powerful; which feels great to fly.
What do you like to do when you're not studying?
I love playing sports, especially Hockey. I'm lucky that my flying schedule means I get weekends off so I can spend time with friends.
In Spain, Teruel itself is very historic and picturesque, so it's nice to walk around during the weekends. When we weren't studying we would go on walks up into the mountains or watch football in one of the many local bars. Saturday evenings we would often go for tapas and drinks in town.
If I was to go back there, I would consider taking a car to explore the surrounding area, particularly the local skiing resort or nearby mountain towns.

Only 6% of pilots are female - what are your thoughts on this?
I think the aviation industry has a massive role to play in making it clear that this career open and available to all. It should be about getting the best talent, regardless of gender, ethnicity or social background. Cost of pilot training is the biggest obstacle for everyone, and training organisations have a big role in making it more affordable, something I particularly like about FTA's philosophy. I would encourage any female who wants to be a pilot to do it – there really hasn't been a better time!

What are you doing next? What are your plans for the future?
I'm going to complete an MCC/JOC with Kura Aviation through their BEST PILOT programme.
I will be busy applying to airlines, all the while knowing that I need to take the first opportunity that comes along. You can't afford to be too fussy, so my aim is to get a foot in the door and to get some good experience. My heart is set on being a commercial airline pilot. However, I do intend on becoming an Instructor one day where I can pass on my knowledge. You can learn a lot from teaching others and it's a great way to gain more experience as a pilot.
Maybe I will come back and work for FTA!

Finally, do you have any advice for those considering training to be a pilot?
Firstly, I would say to do your research and be aware of misleading advertising. Every school gives you the same licence; the important thing is choosing a school that is of a high-quality standard and will suit you. At the end of the day, every school is a business selling a product, so it's a case of choosing the product that you think will suit you best as a customer. Visit the schools on your shortlist and select the one that offers the best quality and life experience, as FTA did for me.
Since his interview Mark has secured a First Officer role with a major European airline.