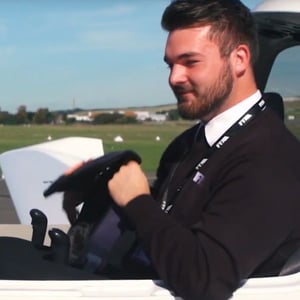 We spoke to Ryan whilst he was completing the final stages of his training. He chose to enrol on our UK-based Integrated Flight Deck Programme.
Interestingly, Ryan had not always set out to become a pilot. Having turned down the opportunity to do a Private Pilot's Licence when he was younger, Ryan had embarked on a degree in the US.
Throughout the interview, it was clear that Ryan is a very level-headed, committed student with a real passion for flying.
The weather conditions in the UK are very changeable and the airspace very congested – in this interview Ryan explains how he feels this affected his training.
When did you decide you wanted to be a pilot?
To be honest I didn't want to be a pilot. When I was 16, I was offered the opportunity to do a PPL but turned it down as I was more interested in cars and wanted to do mechanical engineering.
After I finished my A-levels, I took a year off then decided to move to Florida where my grandparents live to complete a Mechanical Engineering degree. After four months of study, I decided I wasn't enjoying the course and to consider something else. Over Christmas break, I became interested in flight training. I saw others learning to fly, and grew intrigued by the experience. I investigated the options and decided to enrol instead in a degree in Aviation Management.
I loved the course and realised what my next steps should be.
At the end of the first year, I decided to move back home. I wanted to do my flight training in the UK because I knew that to convert a US licence would not be straightforward. There were also other factors, such as the high expense to complete my flight training and the final salary and job expectations.
When I moved back home, I did my research discovered FTA. I visited the school for a tour in May 2016 and immediately signed up.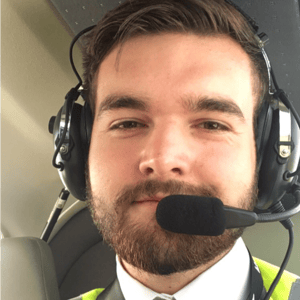 What made you choose FTA?
My main reason for choosing FTA was the location. I live in Crawley, which is only a 30 minutes' drive and staying at home while I study I mean I save on the cost of my accommodation - it works perfectly.
My secondary reason for selecting FTA was the value for money over other flight training schools. Why would I want to spend over thirty thousand pounds more for the same licence? I had my heart set on FTA and didn't need to visit anywhere else.
The Managing Director led the tour, who was nice and provided lots of detailed information; I was very impressed.
The tour gave me everything I needed, I saw the flight simulators, the diamond fleet and the aircraft maintenance company based here.
It was great to see a typical day at FTA, the staff and students were all friendly and I instantly knew I would fit in.
Can you explain what it was like to go solo for the first time?
Well, I had no idea I was about to do it which was terrifying! I had been building up to it, but I thought it was going to be the next day.
However, I remember the day like it was yesterday. I was doing circuits with my Flight Instructor, and as we parked up, he hopped out and said it was time. It was such a scary feeling although not knowing when it would happen, meant I didn't find myself worrying about the night before. The airport that day had such a buzzing atmosphere, and so I had no fear, just a mixture of excitement and thrill - it was such a surreal feeling. I remember just smiling the whole way through, telling myself I could do it and to be confident. The landing felt like it took ages, but when I had done it, I was very proud. It was a great day.
What is it like to fly in the UK?
The UK airspace is very busy! Learning to fly in the UK prepares you for everything, and that is what you want. Flying from Brighton means we are near the biggest airports in the UK, and it's great to know you are in transit with them. On a typical day at FTA, I will fly over London city and see Brighton's seafront all lit up at night, the views are amazing.
What do you think of the aircraft?
The diamond aircraft look fantastic and are unique. It is a very well equipped professional fleet. They are perfect to use for flight training, and I really enjoy flying them. Going from the Diamond DA40 to DA42 was a step, but not huge. The DA42 is powerful, but I didn't feel overwhelmed due to my practice in the DA40. The second engine is very noticeable, and the flying is pretty special.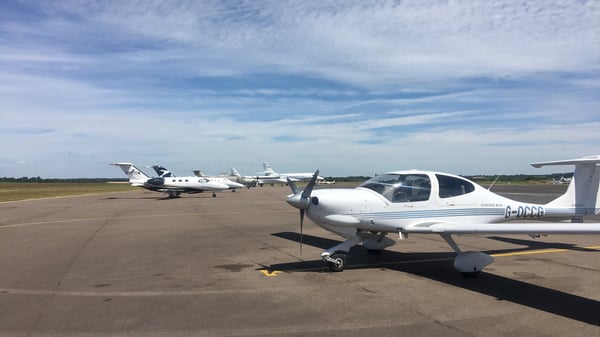 What do you like to do when you are not studying?
I love socialising and seeing my friends. Another benefit of living at home is that all my friends and family are around, so I get to see them on my days off. I enjoy playing football and rugby every week too. Also, FTA has a great social life for their students so we always try to hang out with each other and go to drinks at the local bars nearby. The fact that we all know what each other are going through really helps. I have made a great bunch of friends which I hope to stay in touch with after I have completed my flight training here.
What are your thoughts on the ATPL exams?
The ATPL exams are a lot of information and not a lot of time, and you are learning a subject in a week. I felt that I benefitted from just coming out of education which helped me with organising my time and made revising that much easier.
As hard as they seem, learning the basics, staying focus and not getting overwhelmed is key.
You have to remember this is what you want to do and training to be a pilot requires dedication and hard work. I feel that the skills you develop during your time at FTA prepare you for everything you need to be a high-quality pilot.
Only 6% of pilots are female – what are your thoughts on it?
I am all for gender equality. I don't see any reason why your gender should determine if you are a better or worst pilot, everyone is equal. I think it's all about getting the right image across. Unfortunately, we live in a world where being a pilot is seen as being a male's job, a stereotype.
I truly hope that more females become pilots and this figure goes up. Thanks to social media and airlines, there are more campaigns and issues raised on this. We all have a role to play to change this and encourage women globally to achieve their dreams.
What have you enjoyed the most about your journey at FTA?
Firstly, flying as a whole. I have loved every minute of being in the air. The whole process is still as exciting as the first day I flew. I love learning new things; you learn something new here at FTA every day. Also, the memories I have made here I will keep forever. It ranges from the photos, what I see and the conversations I have with my friends and staff. Everything from seeing the east coast lit up to going through clouds puts it in a different perspective.
Regarding flying, I enjoyed long solos – the cross country the most. Flying solo is great; it gives you a sense of freedom and you impress yourself. Flying is fun. However, it does get serious for tests. You just have to remember this is what you enjoy doing and be confident. It all comes naturally to me now.
Do you have any advice for those considering training to be a pilot?
Firstly do your research. Investing in flight training is a massive deal and a life-changing experience. Research schools, visit them, ask questions and choose what is best for you.
I would also say enjoy the flying. There will be hard flights and days where you don't want to fly but always push yourself. Even in bad weather where you don't want to fly, do it. It prepares you for anything.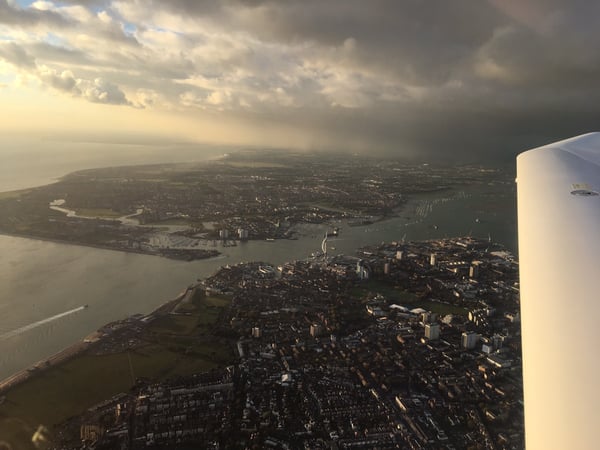 What are you doing next? What are your plans for the future?
I am currently in phase 4 of my flight training. I am looking into my MCC and deciding where to do that; I heard good things about Kura Aviation who offer their BESTPILOT programme. After I have finished, I plan on applying to as many airlines as possible. Airlines are a great way of building up your hours.
I'm still young and have nothing holding me back so if an airline wanted me to move halfway across the world, then I would. People look for specific airlines the second they finish, but it doesn't work like that. You need to earn a reason to get the job.
My end goal for a commercial airline would be Virgin Atlantic. However, I could see myself one day passing on my knowledge and becoming a flight instructor. I have all the time in the world so my journey could take me anywhere! As long as I get to fly, I'm happy.
An update since Ryan's initial interview...
Following the completion of his training Ryan went on to secure a role as a pilot for a executive jet company a job he thoroughly enjoys and hasn't looked back.