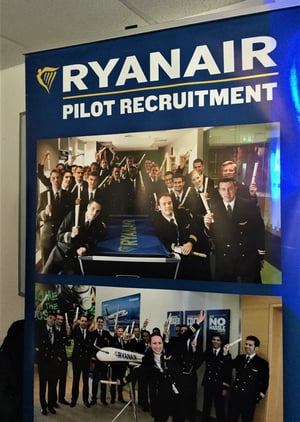 Last week, we had an exciting day at FTA when Europe's leading airline, Ryanair came to visit. Ryanair is Europe's number one airline, carrying over 130 million customers each year on more than 2,000 daily flights from 86 bases, connecting 215 destinations in 37 countries. In 2017, Ryanair became the first European airline to have carried over 1 billion customers.
The room was packed with around 40 of our cadets excitingly awaiting their arrival. Many of our former cadets have gone on to secure a career with Ryanair, who are known for presenting great opportunities and benefits. Last year, around 90% of our former students were all in employment within their first year of graduating FTA.
The team of Ryanair who contacted us stating they were visiting the top flying schools in the UK, discussed their pilot recruitment. A few months ago, Ryanair announced a new, sponsored cadet programme that will offer cadets the opportunity to join Ryanair as an entry level cadet. Cadets will no longer have to pay a course fee of €29,500. This will instead be replaced by a one-off, up front €5k payment and a 5 year reducing bond. Cadets will be paid a salary from day 1 of line training. Other great benefits include job security and unrivalled career progression.
The 2 hour presentation included the discussion of this new cadet programme as well as the process of the recruitment path. Students enjoyed hearing that the roster includes a stable 5 on 4 days off pattern as well as great opportunities living in different countries. In addition, an important highlight was the demand for pilots that the airline need. Ryanair stated that they will need 1000 cadets a year to meet their increasing growth and demand. Our cadets were thrilled to hear this with many planning on applying straight after graduating.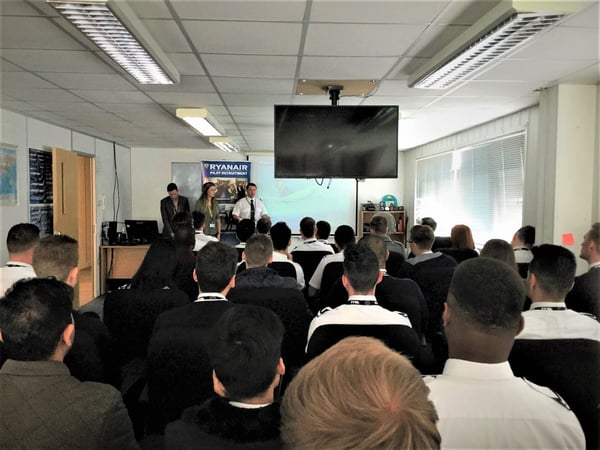 Towards the end of the presentation, the students had a questions and answers session. Immediately all raised their hands eagerly awaiting their opportunity. As there were so many questions, the students formed a massive queue where they got to have a one on one discussion with the Ryanair team.
Overall, the day was a great success and our students were delighted. We would like to give Ryanair a massive thank you for their time in visiting us and we hope to see many of our cadets secure careers with them! The event was so successful that Ryanair will be visiting us again.