Ibiza DJ - turned commercial pilot Sarah is one of FTA's longest serving employees. Sarah has worked at FTA as an instructor since the beginning where she is popular with all students and staff. She took time from her busy schedule to share her advice for those considering the career.
The journey to becoming a flight instructor
Growing up, I always knew I wanted to be a pilot. From a young age, my uncle Teddie told stories of his flying during WW2 and I was mesmerised. At the time it wasn't an obvious career choice for a female, plus it seemed out of reach financially, but I knew I had to make it happen. I decided to continue my education after school and went on to obtain a mathematics honours degree at Portsmouth University. At this time flying was very much on the back burner, but it remained an interest of mine which I wasn't prepared to shelf.
Career path
After finishing university, I began to DJ which resulted in myself traveling up and down the country. This eventually resulted in traveling to Europe and worldwide for further work. It was during my time as a DJ that I decided to make a start on my PPL here at Brighton City Airport. Working mainly on weekends allowed me time in the week to study and fly whilst financing the course with the money I saved.
Flying for the first time
My first ever flight at the controls was a trial lesson in a PA28, which I bought myself for my birthday! It was exhilarating, but terrifying at the same time. I remember I knew I wanted to train to be a pilot as soon as we had started to taxi out.
Initial pilot training
I started my PPL flying the C152 at Sussex Flying Club here at Shoreham. After completion I built up my flying hours by taking friends and family on trips, which meant I got to visit lots of different airfields and travel further afield.
During this time I realised how much I loved to fly and decided that I wanted to make aviation my next career. I looked into all options and decided the modular route was for me to become a commercial pilot.
I had come to the conclusion that the career path for me with my commercial licence was to become an instructor. I have always enjoyed teaching and learning, and both my parents were teachers, so it seemed the most natural path to take.
To gain experience I started working in operations at the flying club called Airbase, with the promise of securing a job as an instructor once I completed training. I completed my Commercial Pilot License (CPL) at Goodwood Flying School, flying the PA28.
Sarah's interview for Channel 5 regarding women in aviation
Instructor training
My instructor training took place at Goodwood. The school operated Tomahawks, which are 2 seat, low wing trainers and this was a totally new aircraft for me. The first challenge was learning to fly in the right-hand seat, since all previous flying had been from the left. The second challenge was learning to teach whilst flying the plane.
My flight instruction career started at Airbase flying club teaching the PPL. Airbase flying club merged and became FTA Global. FTA has a great atmosphere and I really enjoy the professional school environment.
The rewarding aspects of being a flight instructor
Instructing can be challenging, but is always rewarding when someone succeeds, especially when you see someone who is struggling and then they have a breakthrough.
Instructors carry a huge responsibility not only in the safety of the students, but also with their progression. Everyone learns at different rates and in different ways, so whilst one student may pick up one thing in an hour, it may take another 10 hours. It's my job as the instructor to find out how each of my student learns to ensure they achieve the best grade possible. You have to be able to get along with many different people and I really enjoy working with such a wide variety of students.
I find it hugely satisfying when I hear about a former student's first flying or airline job and love continual updates of their career progression.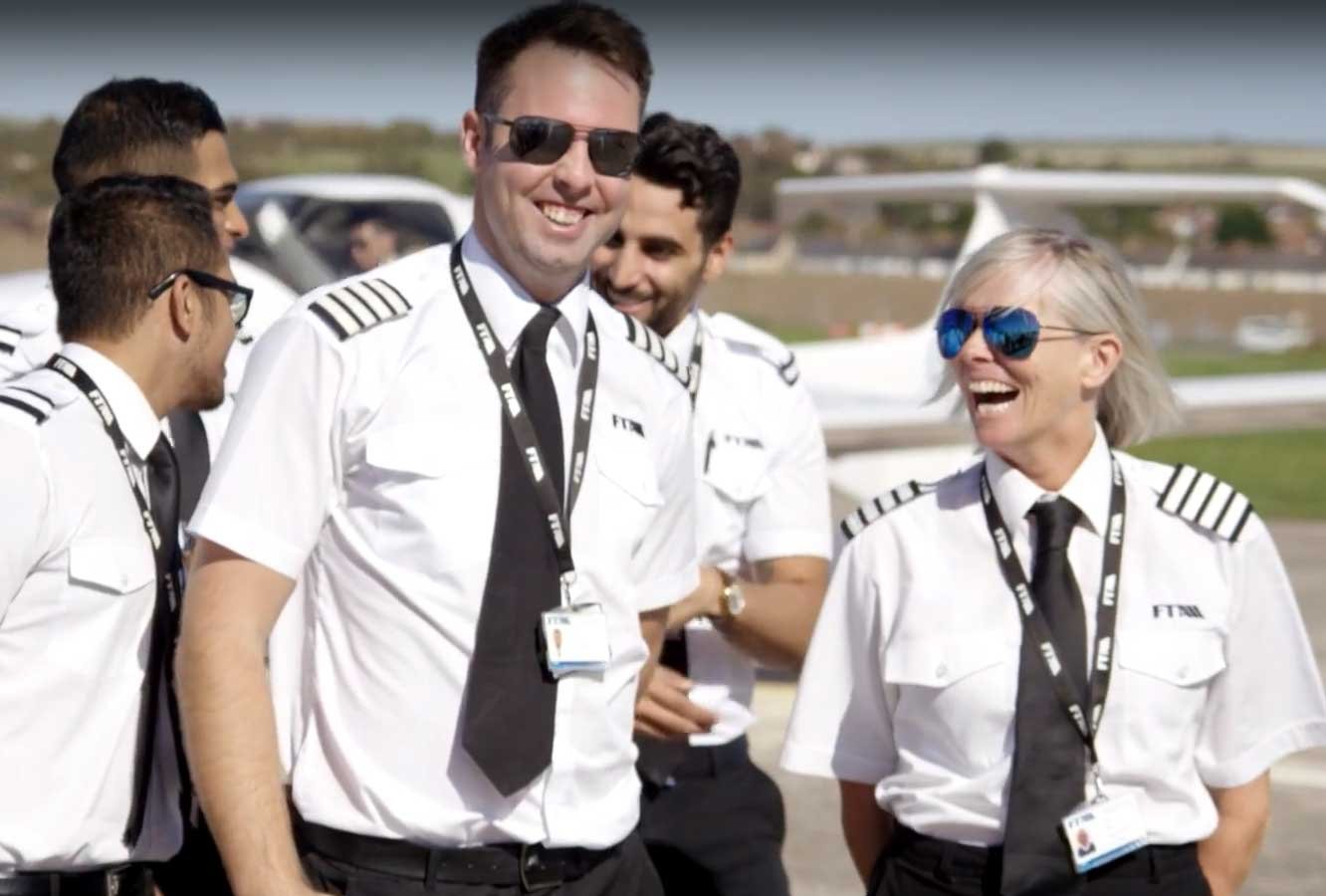 Advice to aspiring cadet pilots
My advice would be before you start training:
Have a couple of trial lessons to decide if it's definitely for you.

Do your research at all schools.

Get work experience in a flight school.
Once enrolled my advice would be:
Spend as much time as possible at the school on non-flying days - you will be constantly learning.

Get involved with everything at the school.

Read ahead with the syllabus.

Back seat other student's flights as much as possible.

Listen to feedback.

Put the hours in and study as much as possible.
Advice to aspiring flight instructors
Get as much flying experience as you can. Try new aircraft, go to new destinations and absolutely challenge yourself whenever the opportunity arises. If you can, try and backseat with other instructors so you can get a better understanding of the job first hand.
A 'typical day'
No day can be described as typical as no day is ever the same! Teaching a variety of courses and exercises to a whole cohort of students who are at different levels keeps it interesting. Plus continual changing weather conditions make flying interesting. Usually, a day consists of a mixture of dual flights and supervised solo's, VFR and IFR flights, each with a pre-flight brief and debrief to highlight what went well and what needs work. The day needs to include time for refuelling, de-icing, tying down planes in the evening and paperwork. The final task of the day is usually logbooks and student records, which are logged in FlightLogger by instructors. Students can access them to reflect back on their progress, and how to continue to succeed.
The future
I plan to continue to fly with FTA, moving towards more qualifications, next stop twin instructing and constant progression towards more experience and more ratings. Who knows what the future holds! The aviation world is quickly changing, and opportunities arising!