To qualify as a commercial pilot, a prospective pilot will need to have completed both theoretical and aircraft flight training and have passed all the required exams and flying skills tests as laid out by the UK CAA.
ATPL is an acronym for Airline Transport Pilot's Licence and ATPL theory is an integral part of any commercial pilot's training and forms the basis of any pilot's continued professional development throughout their career.
The ATPL theory ground school phase of training is carried out in a dedicated classroom environment at Brighton City Airport.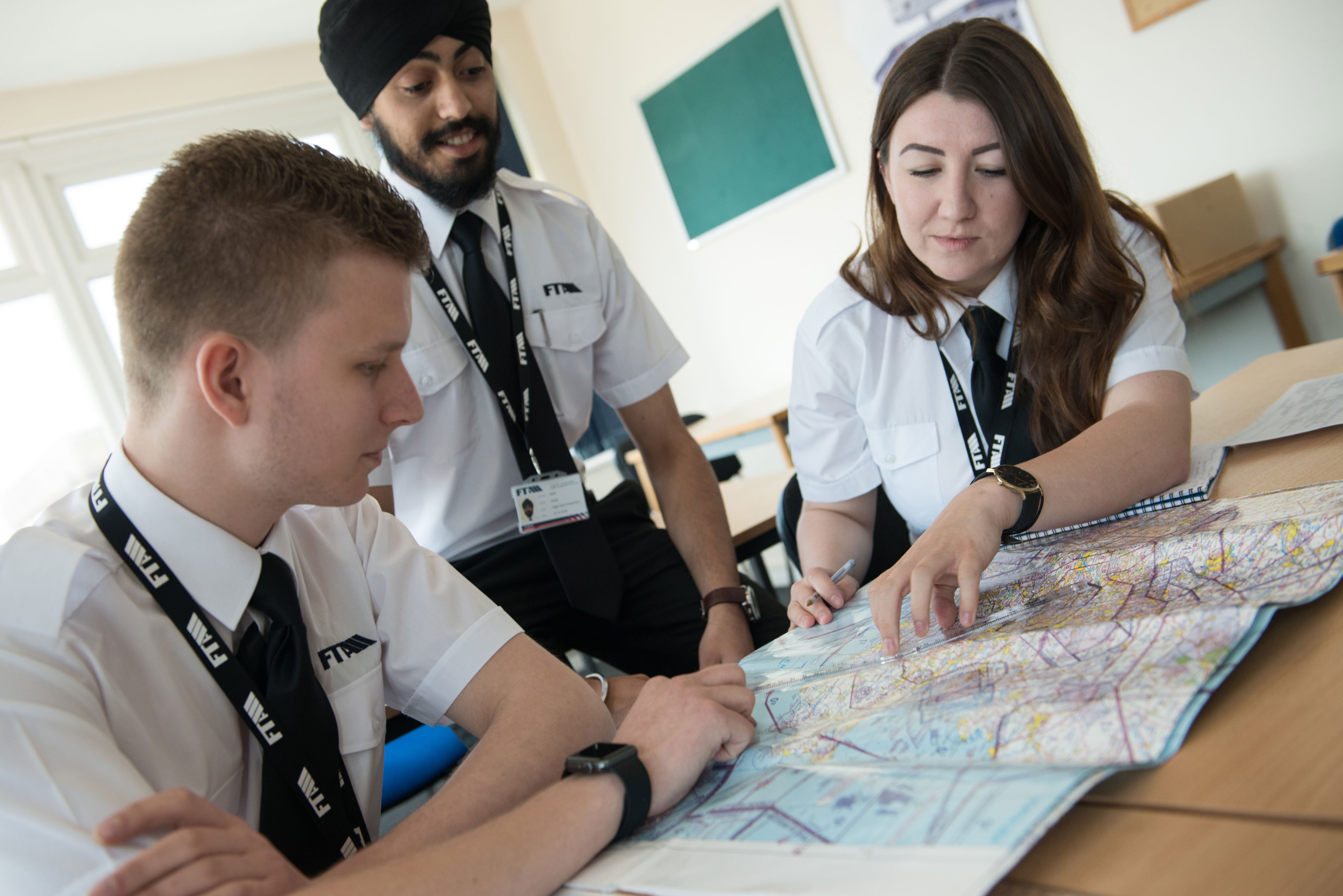 Does FTA offer any ATPL theory distance learning options?
FTA only offers a 'residential' study option which means that students are expected to attend class five days a week from Monday to Friday.
What is a typical day's schedule?
A typical day starts at 0900 and ends at approximately 1600. There is an hour lunch break that separates the day into two halves. Instructors ensure frequent and regular breaks are taken during their sessions throughout the sessions they are instructing. Students are then assigned two hours of computer-based training each evening.
Are there any facilities at the school for use by the students in their breaks?
FTA has a comfortable crew rest room which has a microwave, coffee machine and well stocked vending machine. There is also a mobile food truck serving hot and cold food at appropriately 1100 everyday from Monday to Friday. The airport also has a superb restaurant open every day of the week, called The Hummingbird, at which FTA students receive a 10% discount.
Shoreham town is a short walk away with numerous eating options.
How long does the ground school phase take?
The ATPL theory ground school phase is designed to take nine months to complete instruction in all the required subjects. Each module is delivered over 12 weeks. The first eight weeks are spent teaching the different subjects within the module and the final weeks are dedicated to exam preparation, progress tests, self study and exams at the CAA.

How often does FTA offer a start on their ground school courses?
FTA offers the opportunity to enrol on their courses approximately every four months. Contact FTA for more information about specific dates for each module.
What module will I start on?
FTA runs their courses sequentially which means that what module you will begin with depends upon when you enrol and when your start date is. Visit our ATPL theory webpage for the start dates and module order.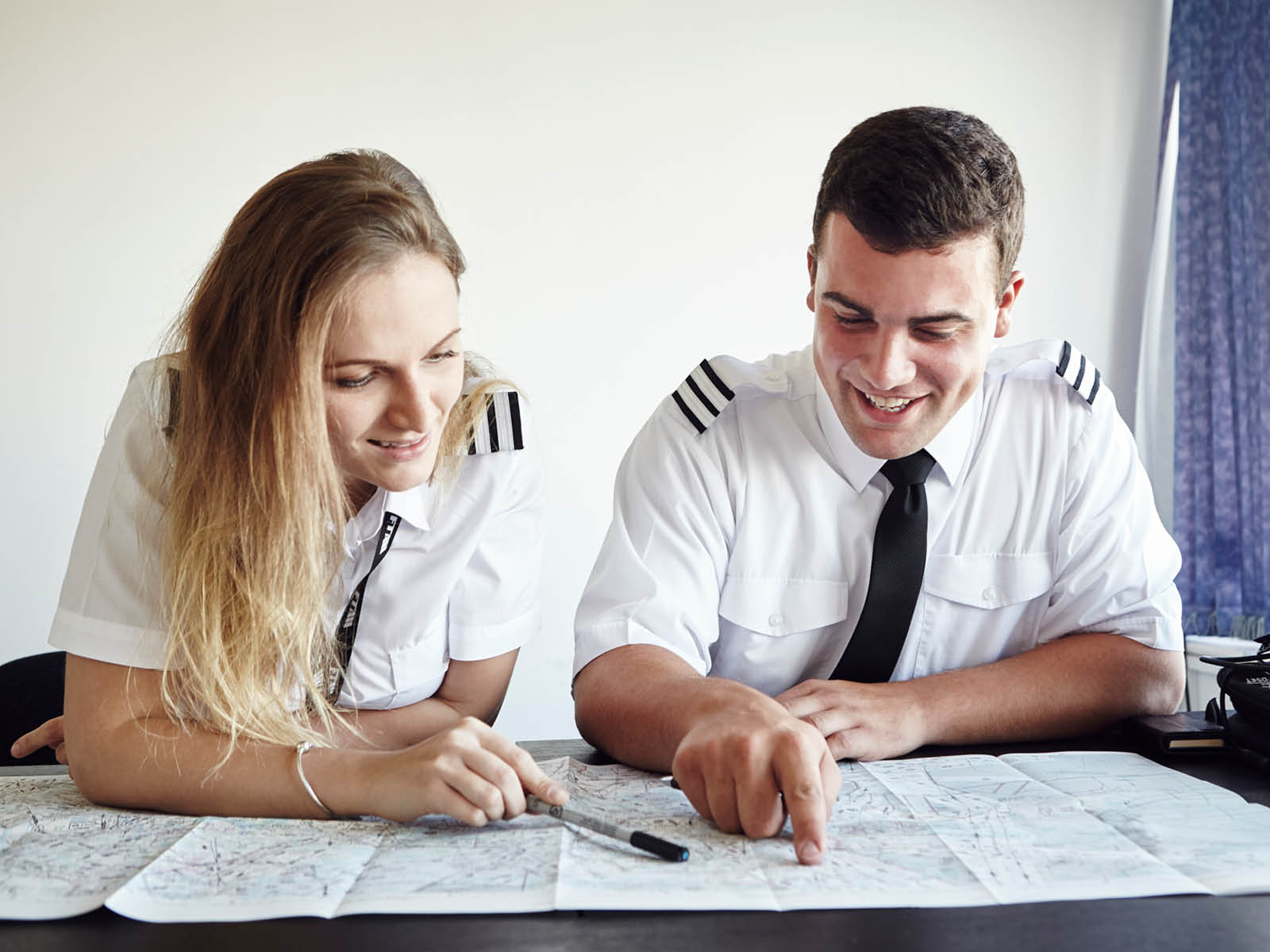 How is your ATPL theory ground school course structured?
FTA breaks their ground school phase into three separate modules. Two modules will have five subjects each and the other module will only have four subjects.
How are subjects grouped together?
Each module is designed to have a balance of theoretical learning subjects and calculation and problem solving type subjects. FTA believes the distribution of subjects per module gives students a healthy balance of between the two types of subjects.
What are the ATPL theory subjects and how many are there?
There are a total of 14 subjects that a student will be instructed in. FTA have designed their modules in the following manner:
Module One
Air Law
VFR Communications
IFR Communications
Meteorology
Aircraft General Knowledge
Module Two
Performance
Principles of Flight
Flight Planning
Instruments
Module Three
General Navigation
Radio Navigation
Human Performance & Limitations
Mass & Balance
Ops Procedures
What does each subject entail?
Module One
Air Law:
Air Law is the study of the legislation that concerns the safety of aircraft at all phases of flight through the compliance of all the appropriate regulations.
Basis of International Legislation
The Chicago & other Conventions
ICAO Annexes
PANS-OPS
PANS-ATM
EASA Aircrew Regulations
VFR & IFR Communications:
Communication is the study of the importance of correct aviation phraseology as it has a direct impact on safe, orderly and expeditious flow of aircraft in the air and on the ground at airports.
Communication Principles
Standard Phraseology
Weather reporting
Communications failure
Emergencies
Categories of messages
Meteorology:
Met, as it is colloquially known, is study of the complex processes that contribute to the our weather and the climate within the envelope of the Earth's atmosphere.
The Atmosphere, Pressure & Density
Temperature & Heating
Altimetry
Humidity
Lower & Upper Winds & Windshear
Clouds
Air Masses & Fronts
Weathers
Climatology
Reporting & Forecasting
Aircraft Knowledge Systems:
AGK is the study of an aircraft's design and material and all the associated systems that make up that aircraft to ensure its safety and that of the crew and passengers.
Airframe Design, Materials & Construction
Hydraulic Systems
Landing Gear
Wheels, Tyres & Brakes
Primary Flight Controls
Secondary Flight Controls
Pneumatic Systems
Cabin Conditioning & Pressurisation
Anti-icing, De-icing & Rain Protection
Fuel Systems
Fire & Smoke protection
Oxygen Systems
Module Two
Performance:
Aircraft performance is the measurement of how an aircraft performs at all phases of flight from take-off to landings. Performance has to take many factors into account when calculating any necessary measurements.
Performance fundamentals
Lift, Weight & Drag
Climbing, descending & level flight
Thrust and Power
Take-off
Climb speeds & calculations
The Cruise
Range
Endurance
The Descent
Landing
Principles of Flight:
As a body moves through a body of air it experiences a variety of forces that affect the aircraft's aerodynamics. Principles of Flight is the study of those forces and those aerodynamics.
Air, Atmosphere, Airflow and Airspeed
Introduction to Lift & Drag
Stalling, Stall warning & Protection
Spinning
Stability and Control
Propellers, Design & Effects
Asymmetric Flight
Principles of High Speed flight
Supersonic Flight
Airframe Contamination
Limitations
Flight Planning:
Flight planning is the process of producing a flight plan that describes the proposed plan a flight will take taking the two safety critical aspects of fuel planning and air traffic control compliance into account.
Distance and Speed
Aircraft Loading
Fuel Planning
VFR flight planning
IFR flight planning
Mid-range and Long-range flight planning & calculations
Flight progress monitoring
Non-normal operations
Contingency planning
Instruments:
To fly as a commercial pilot, a professional pilot needs a thorough understanding of the basic and advanced instruments they will be using on every flight that they will be making.
Basic instrumentation
Pressure sensing instruments
Temperature
Air Data Computer
Terrestrial & Aircraft Magnetism & Deviation
Directing Reading & Remote Indicating Compass
Gyro Instruments
Advance instrumentation
Inertial Navigation Systems
Inertial Reference Systems
Computers in Aviation
Automation
Engine Instruments
Module Three
General Navigation:
General navigation is the study of the techniques of navigation across the Earth's surface.
Charts and projections
The Earth and the Solar System
Latitudes and Longitudes
Bearings, distance, speed and time
Wind and wind calculations
Use of the CPR-5
Radio Navigation:
Radio navigation is the study of electromagnet waves and how to use them via appropriate instruments for navigation. The subject also covers the principles of area, performance and satellite navigation.
Basic radio theory
Radio navigation aids
Basic Radar theory
Weather Radar
Area navigation
Satellite Navigation Systems
Performance Based Navigation
Future Air Navigation Systems
Human Performance & Limitations:
HP&L is the studying of both the human body and the human psychology and how both interact and impact upon a pilot's performance as a pilot and a member of a crew.
Human Factors in Aviation
The Human Body
The Atmosphere, Oxygen and Respiration
Sleep
Human Behaviour
Higher functions & perceptions
Human Information Processing
Stress
Cockpit Management & Automation
Mass & Balance:
In order for aircraft to fly as efficiently and effectively as possible, the mass of the aircraft and how it is balance needs to be calculated as it has a direct bearing on the aerodynamic forces acting on the aircraft.
Allowed Take-off Mass
Maximum Traffic & Fuel Load
Cargo Loading & Limitations
Effect of Mass and its distribution
Datum, Moments & determining CG Position
Aerodynamic Chord & CG Position
Weighing Passengers, Crew and Baggage
Specimen Aircraft & Performance Classes
Derivation of Formulae
Operational Procedures:
Ops Procedures is study of the procedures that pilots and crews will be operating under as and when they fly.
The Air Operator, Flight & Cabin Crew
Flight Preparations & fuel planning
All weather operations
Aircraft Emergencies
Dangerous Goods
Security
I have heard that ATPL ground school is difficult. Is that true?
It is true that ATPL ground school can be very challenging, demanding and intense. It will require you to be determined and motivated. The volume of content and the depth & breadth of knowledge required to pass each subject requires very considerable focus and dedication.
As an aspiring professional pilot, you will be expected to manage your own study schedule and as such, you will be responsible for your own knowledge consolidation, revision and testing on a daily basis as you will have periodic in-class quizzes and tests to check your progress.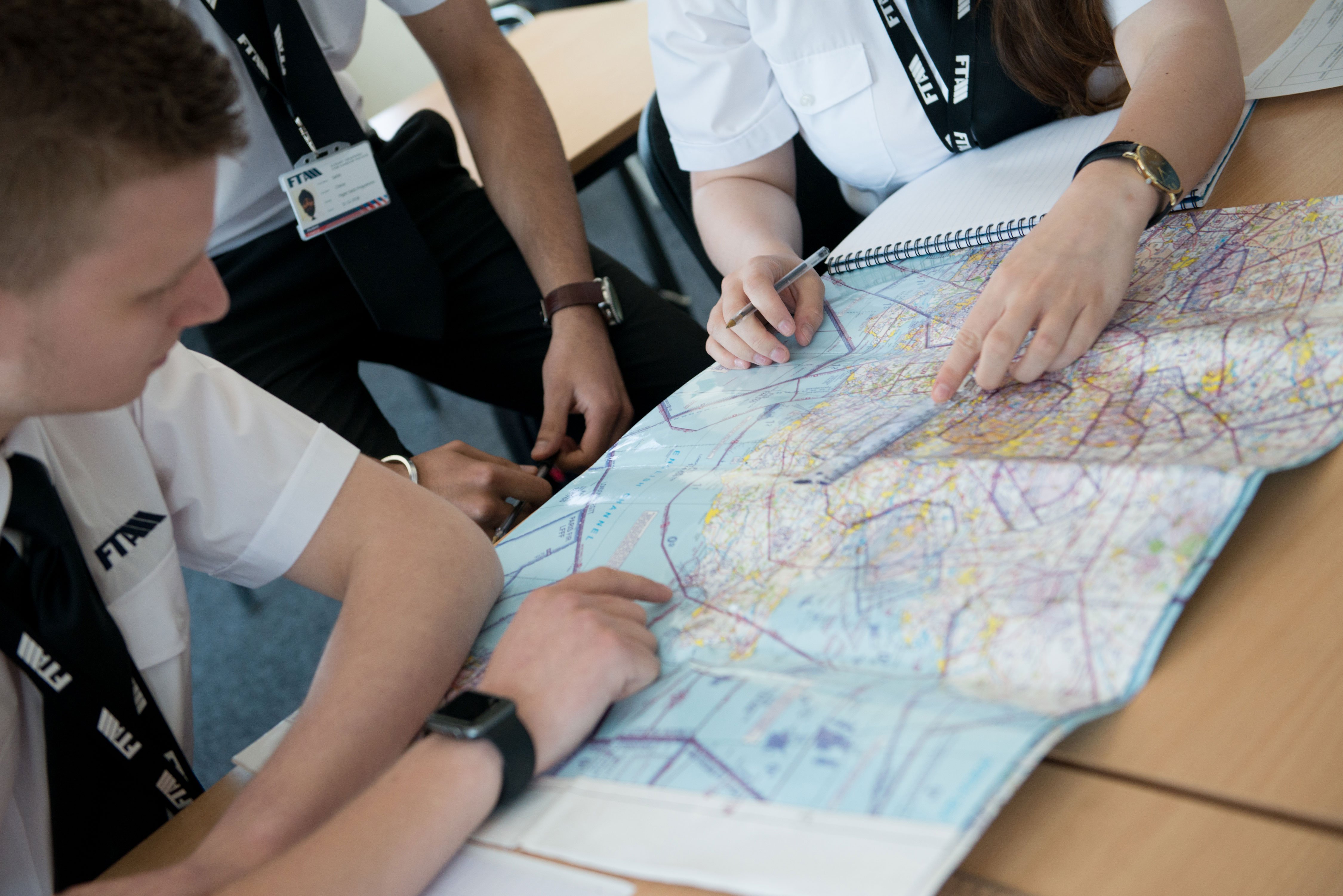 How do I progress through each module of ATPL theory?
At the end of each module, you take a progress tests to see how you will perform in your exams. Time is allocated (three weeks in total) for instructor led revision, progress tests, resits and revision before you progress on to the CAA to sit your exams.
Students are required to sit, and pass, every subject's progress test administered by FTA before they can take the UK CAA's exams. You will then be sent on to complete the exams for which you've successfully passed a progress test and only those exams.
As well as pass the progress tests and exams, students are required to have maintained or exceeded FTA's minimum mandated attendance requirement.
What is the pass mark for each exam?
A mark of 75% or more is a pass. This applies to FTA's progress tests too.
You must complete and pass all required theoretical knowledge exams within 6 sessions and/or 18 months. The 18 months is counted from the end of the calendar month in which you first attempted one of the required exam.
What happens if I fail a progress test?
Students will not be put forward to the UK CAA to write the corresponding exam. Students will have to re-sit the progress test for that subject at an appropriate time within FTA's schedule.
What happens if I fail an exam at the UK CAA?
If you fail an exam, you will be required to re-sit that subject's progress test and exam again in a specified time and/or session.
Students are given six sessions and/or 18 months in which to complete their exams with the UK CAA to attain a 1st series pass and this will be noted on their records with FTA and the UK CAA.
Failure to pass all the exams within the initial six sessions or time allocated will result in the student having to re-do the entire ATPL theory ground school phase again. The student that does so then has another six sessions and/or 18 months in which to complete their exams with the UK CAA.
However, upon the potential successful passing of all the exams, a student will have a 2nd series pass noted on their records with FTA and the UK CAA.
Any additional exams or ground school training will be at an additional cost.
What is an exam session?
The UK CAA publishes a schedule on their website of when exams will take place at their Gatwick facility. A session is considered the week, or appropriate time period, when those exams take place and a student attends to sit an exam.
Do I need to have passed all my exams before I get my ATPL licence?
Technically students can take their CPL and IR skill tests before they have passed their theoretical knowledge exams, provided that they have completed the ground school phase.
However, students can cannot have their licence issued until all theoretical exams are passed.
FTA strongly recommends that all students complete their theoretical knowledge exams before undertaking their final CPL exam flight (if they are modular) or their final IR flight (if they are integrated).
How is ATPL theory instruction delivered in the ground school?
All ground school instruction is instructor-led in a classroom environment and each subject has a dedicated instructor responsible for their subject. Content is delivered in a multi-media format suitable to the topic.
All lectures are made available to students via the school's online system. Each classroom is wi-fi enabled and so each subject's lecture material can be accessed by the student at any time in, or out of, the classroom environment via their own personal log-in.
Students will also have access to their own set of online state-of-the-art multi-media textbooks that supports and compliments what is delivered by the instructor in the classroom.
Who provides your state-of-the-art multi-media textbooks?
FTA has partnered with Padpilot, a leading aviation digital online education content provider.
What additional equipment do I need to have with me in the classroom and at home to help me?
We strongly recommend that every student has a suitable portable electronic device that allows them to access the internet at the school on which they can access their collection of textbooks and through which they can access FTA's online system.
Students should have adequate and uninterrupted access to the internet at their place of residence and/or where they study.
Access to a personal printer is desirable.
As with any classroom, students are encouraged to have all the necessary & suitable means of taking notes and then filing them at home for easy access and future reference.
What if I need any additional help and support during ATPL theory ground school?
FTA operates an open door policy where all flight and ground school instructors are readily available to help any students with any issues about any subject that students may have at whatever phase of their training.
How can I best prepare myself for ATPL ground school?
We strongly recommend that you spend as much time as you feel you need to revise, and if necessary develop and strengthen, your GCSE level (or your country's equivalent) maths and physics knowledge and understanding. Geography, especially weather and climate, would be useful too.
FTA cannot emphasize enough the need to have a strong foundation in these subjects before embarking on any flight training programme and FTA is no exception.
Prospective students are also actively encouraged to make use of the vast resources available on the internet to help them prepare for ATPL theory ground school phase.
Potential Resources
Padpilot have produced a Pilot Foundation Course which is a three part series of digital iBooks which provide very useful industry, theoretical and practical knowledge for an aspiring professional pilot. They also have a standalone Maths and Physics iBook available.