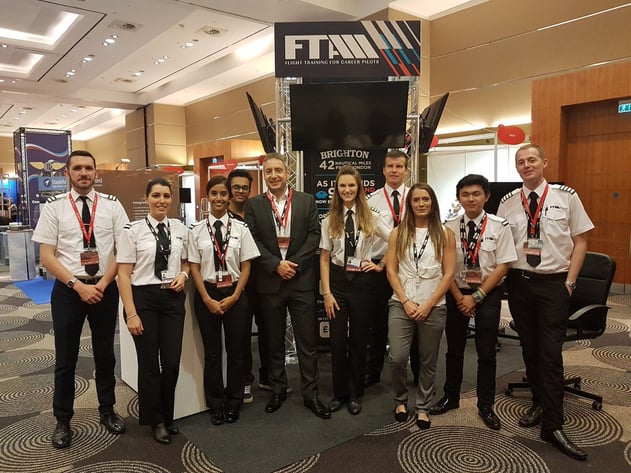 The last item has been packed away and finally the lid is closed on another successful Pilot Careers Live (PCL) event.
November's event was absolutely the busiest one we have ever attended. Each year we see the numbers rise and this one was without question, the most successful. It seems the time pilot training has spent in the news and media has proved very valuable to those in the industry, together with the many recruitment campaigns launched by the airlines in recent months.
We had 3 team members and 6 students (past and present) talking to aspiring pilots and their parents, and yet we still had queues of students and parents, eagerly waiting to speak to us about our competitively priced courses.
A noticeable aspect of the event was the number of young ladies asking about pilot training. In April, around 1 in 10 of the people we spoke to about being a pilot were female, this November it was more like 1 in 5!
Young ladies completing their GCSEs and A'Levels are asking why the gender bias in the pilot industry is so heavily skewed to males. Not only are women renowned to be great, multi-taskers and communicators but they are increasingly excelling in Maths and Sciences – subjects where females used to left behind.
It was great to be able to share with these young, hopeful cadets that 22% of our integrated student enrolments so far this year (from January to October) have been female. The young ladies that came to see us on the stand, shared their concerned about being one of, if not, the only girl in the classroom or flight school. We can very proudly say that this simply won't be the case.
Students were again able to experience first-hand what it's like to have a typical lesson in one of our DA42 Diamond Twin Stars. We first launched our VR experience in April 2016, and again we used the latest VR technology - Oculus Headsets and Samsung 360 Gears. These VR experiences have proved incredibly successful in the past, with students enjoying what it's like to fly over the South East, and perform specific manoeuvres with Instructor to their right.
The biggest question of the day however had to be price. The headlines which persistently insinuate that the cost of pilot training is over £100,000 has, rather unsurprisingly deterred some young cadets. It was really sad to meet individuals, who had dreamed of being a pilot since infancy, having become disillusioned by the viability of becoming a pilot. Almost striking it off as possible all together.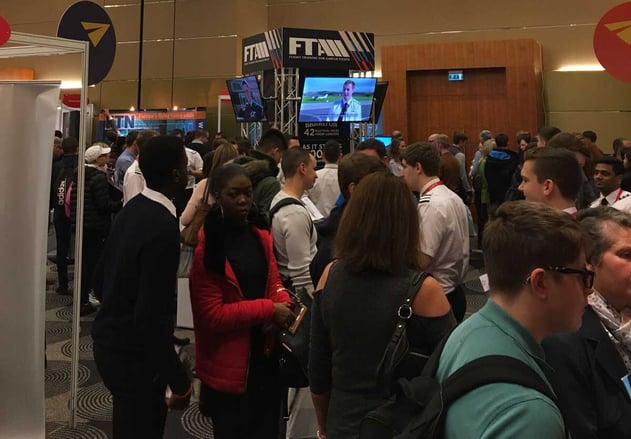 This is a problem with the industry right now. Airlines need engineers, pilots and cabin crew and yet unnecessary obstacles are being placed in the way of people's dreams.

Pilot training does not need to cost over £100,000, most of the training providers offer the training for much lower prices. FTA like many other companies in aviation, are working together to deliver high calibre training at much more accessible prices.
As it currently stands, 90% of FTA's integrated students from Europe (that graduated in 2016), have already secure jobs as pilots in either the commercial or private sector - some securing roles within weeks' of completing their training. This figure excludes sponsored students.
We were so busy at the event that it was hard to promote our special flight competition. We've decided to extend the entry, so now anyone that wants to be entered with the chance to win a free, introductory lession worth £189 can enter now online until 30 November 2017. To enter, click here: http://www.fta-global.com/pcl2017