Last year, the UK weather was amazing, and 2021 has been no different. In the past two months, our students have collectively accumulated the highest number of flying hours the company has ever seen. The total hours for March and April 2021 were double that of the same time last year - and indeed the summer of any year!
We closed our Spanish base in 2019 because we knew that by concentrating our operations in the UK, we would be able to increase hours flown, improve aircraft optimisation and enhance the student experience.
Not only has the UK weather enabled us to fly a record-breaking number of hours for two consecutive months, but students have also been able to enjoy quieter skies due to the pandemic. Chief Flying Instructor, James Piper, explains: "The quieter airspace has meant students have been able to complete flights which would be unheard of in a typical year. Flying over the city of London and its airports is an experience that is usually reserved for their time working as First Officers."
The next integrated start date is less than 4 weeks away and unusually we are in the position to still be able to enrol students. Student Services & Admissions Assistant, George Jarvis, says: "BALPA'S recommendation to pursue modular instead of integrated programmes has resulted in a distinct shift in the type of training enquiries we are receiving. The completion time for both routes is similar. With an anticipated resurgence of the industry to pre-Covid levels, the question of which training route you should pursue is a matter of financial means and opinion."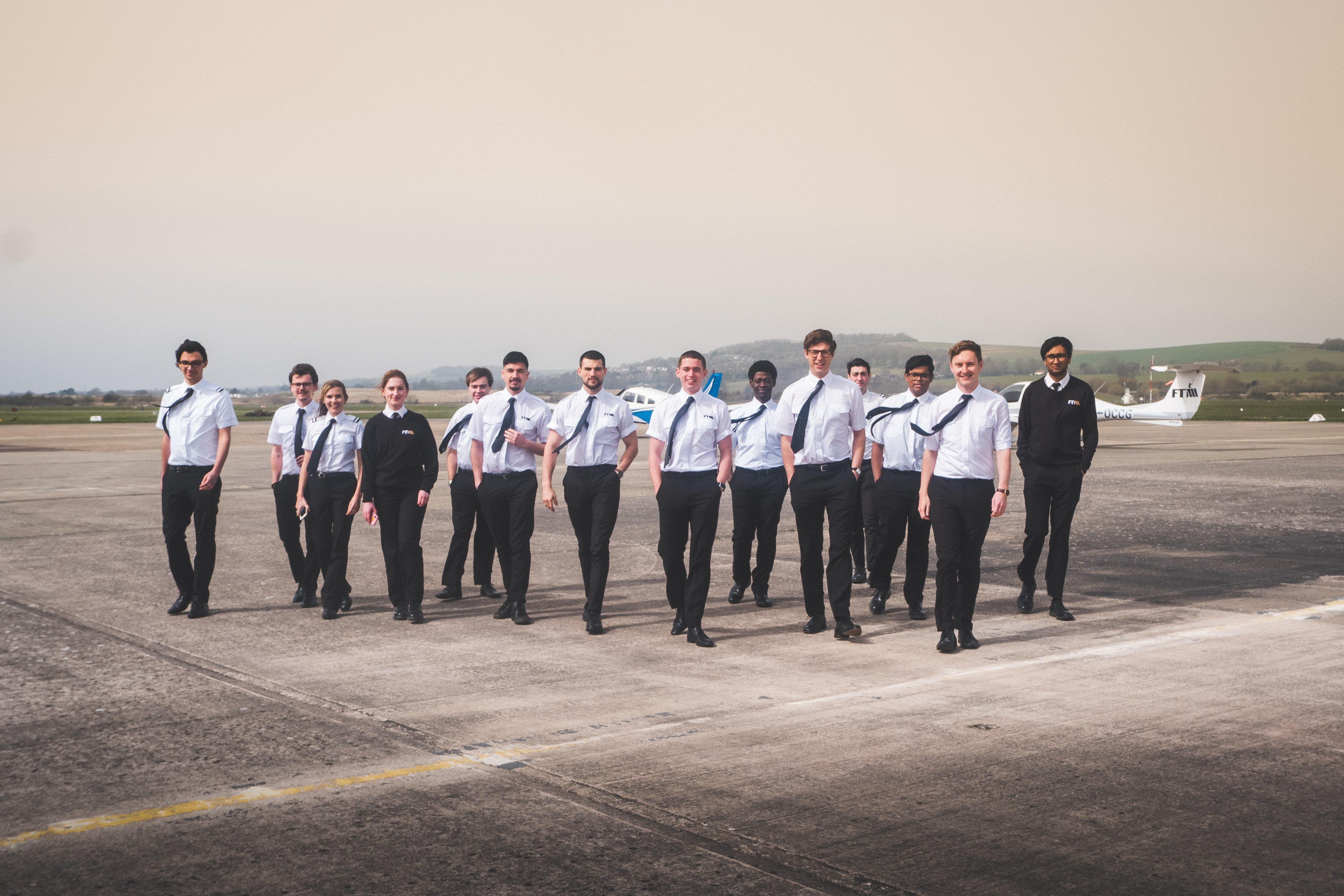 Picture: FTA student Tikhon, and fellow students who have moved on to the flying phases of their training.
June is a perfect time of year to enrol on our integrated programme. You spend the first 9 months in ground school, and when you finish all 14 exams you start your flying phases in the best weather months the UK has to offer. Tikhon enrolled in June 2020. Here's what he has to say about his decision:
"Enrolling onto the integrated program has been one of the best decisions of my life. The whole process went, and is still going, so smoothly. It is important to mention that my cohort joined at one of the most challenging times in the industry (due to Covid), and FTA has been a fantastic help and guide through this period. Starting the flight line only recently, I have already managed to go solo after my 12th hour which is just proof of the excellent instructing that goes on at FTA. As I am spending more time at FTA, it is beginning to feel like a big family where everyone knows everyone. It really feels like you can talk to anyone at the school and they will help you as much as they can. Overall, I don't think I could have chosen a better flight school which would have met my needs to this extent. Thank you FTA!"
James has enrolled on FTA'S UK-based FDP which starts in June this year. He explains why: "FTA seems like the perfect choice when it comes to airline training. The smaller class size will allow for a more one-to-one approach between instructor and student. Not only is Brighton a beautiful city with plenty of breath-taking views from the air, but its proximity to larger airports introduces new challenges such as Air Traffic Zones and controlled airspace, something which is absent in Gloucester and will provide me with the much-needed knowledge and confidence when flying in similar areas in the future."
Whilst FE and HE students have experienced significant disruption, FTA's trainee pilots have encountered minimal turbulence to their training schedules. Isabelle transferred to FTA in January this year following significant disruption at her commercial flight school. Indeed, many students transferred to FTA amidst the pandemic. Isabelle explains: "When I decided to move schools, I looked at alternatives both local and different to the main companies everyone goes to. I came across FTA, which was 1) local to me and 2) as soon as I walked in, I knew that I was going to sign up. It was so much nicer that the person you are emailing and talking to is sat upstairs. The instructors were all there and I just really liked the feel of the school. After having such a bad experience somewhere else, for me that was the number one thing that I was looking for to continue my training,"
Positive news for the economy and brighter days ahead
The Department for Transport has just published their roadmap for General Aviation which includes their ambition for the UK to be seen as the best place in the world for aviation. A thriving commercial and private pilot training sector, with vibrant aviation support services sector imperative to this grass roots strategy.
There is much to be positive about for aviation and the economy:
The banks have made the headlines with positive predictions and the biggest financial boom since 1948 and a post-war Britain.

The housing marketing is 'on the boil' with prices rising by 7.1% and aircraft orders continue throughout with positive profit reports for manufacturers.

Ryanair have just announced that they are making continued plans to

expand, and a need

for low-hour pilots this year, and long into the future.
The industry's enthusiasm for the resurgence of the industry is demonstrated by Jet.com, easyJet and Ryanair's announcements of new routes both this year and next. Sean Jacob, Managing Director for FTA Global shares his positive outlook for pilots in training: "The 2021 market outlooks from Boeing and Airbus' remain fiercely positive for future. We work closely with those in the airline industry who are confident that airlines will bounce back this summer and start looking to recruit pilots within the next 18 months. Indeed, Ryanair have already announced their latest recruitment drive with a presentation to our students. Low-hour pilots will prove a fundamental part of airlines' recruitment strategy and with the lowest numbers ever completing their training last year, now is great time to embark on your training".
We are holding special online and on-site events as well as tailored tours of the flight school. Students see the flight school on a typical day so that they can identify whether the environment is the right fit for them. If you are interested in enrolling at FTA please get in touch.