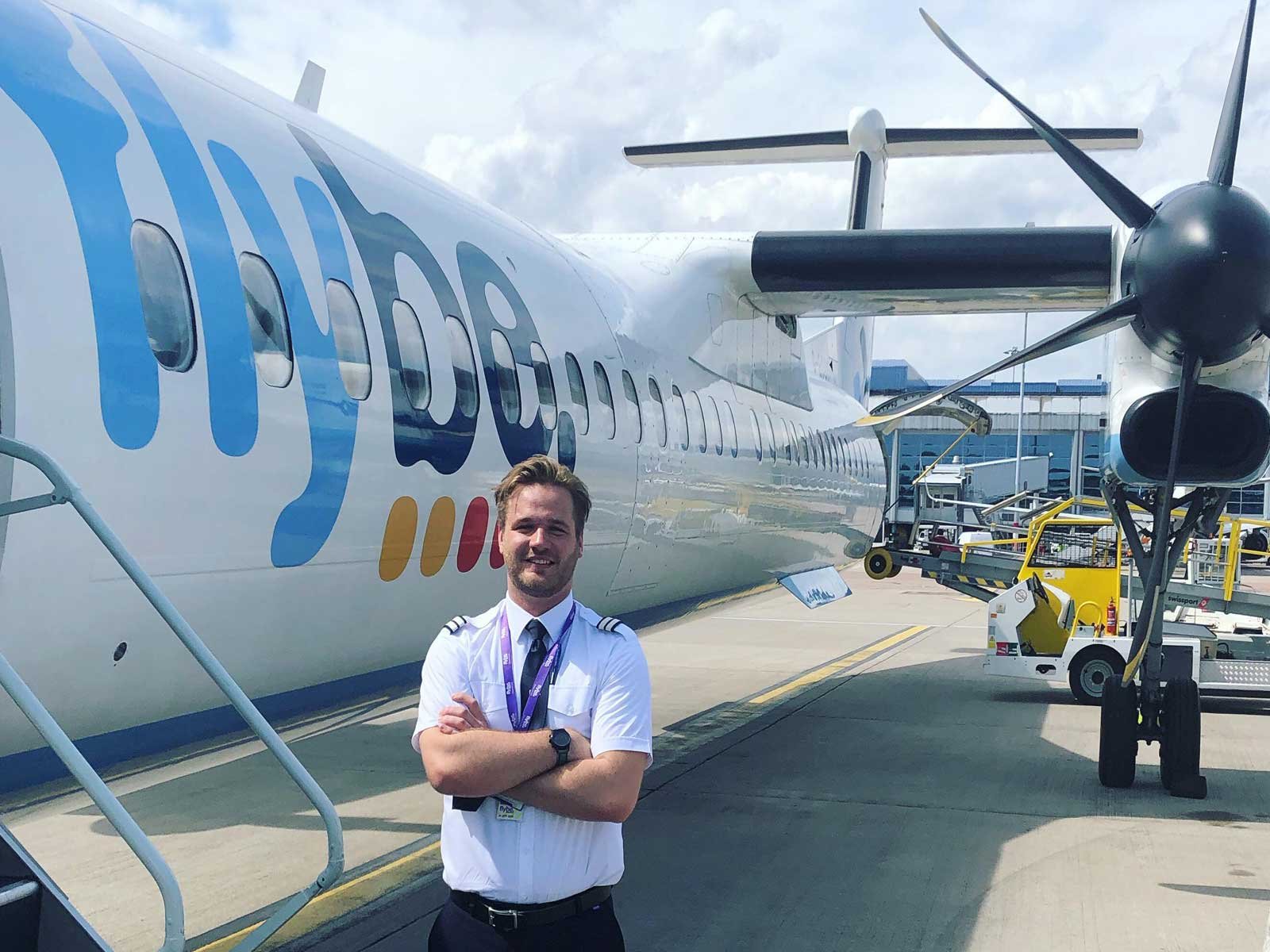 Before joining Flybe, Toby had undergone specialist airline preparation training with industry experts after completing his flight training at FTA. We caught up with Toby who has just completed his line training with Flybe. Prior to this, his technical training at the airline consisted of seven exams over three weeks.
My exams were on areas such as mass and balance and performance, security and dangerous goods. I finished my flight training with FTA Global just days before Christmas and in the New Year, I started my APS-MCC followed by specialist training in airline preparation, this took roughly 12 weeks. Just as I finished my course, (on 7th March) I got the call from Flybe – an invitation for an interview. They gave me the option to complete my assessment that weekend or in four weeks' time. I decided to go for the latter option on 4th April, as it meant I could spend some time preparing for the interview. I wanted to take that time to ensure that I was 100% prepared for the application process. It was a good choice as they offered me a job!
Toby finished his training and went almost immediately into a First Officer role, he explains:
My ground school with Flybe took three weeks and I really enjoyed it. However, you cannot go in to training thinking that you know everything and have learnt everything there is to learn, that's definitely something that you'll realise wherever your pilot career takes you. Whilst you have completed your flight training, a lot of the training is still required to teach you how to fly their aircraft - a Dash 8 - and how its size, characteristics, specifications and performance distinguish it from any other aircraft. Once you've learnt the technical and theory behind the dash and its operations, I found it quite exciting to explore all this in action in the simulator.
I was at first apprehensive, as I had completed my ATPL theoretical training three for years earlier, so it felt like a big gap where I was worried that I was going to be rusty with the fundamental knowledge required. But as I found out, you think that you have forgotten it all but once you start to explore the key area's of the technical systems and specifications, the fundamental knowledge all comes back and makes sense. You had to take on such large amounts of information during the ATPL theory, so it feels familiar when you return to that routine when studying for the Type Rating.
The theoretical side of commercial pilot training is recognised as an intense part of your commercial pilot training:
ATPLs are tough and it is about finding a balance between question bank and studying the theory. You can understand why schools discourage students from relying on question banks. The extensive research and reading you complete creates your foundation knowledge for your career as a commercial pilot. With hindsight, I think it is good know that, however overwhelming ATPL theory is, the time you spend studying will hold you in good stead in the future, not least in your exams.
What exams did you do before you started your pilot training?
I chose to do a degree in air transport with commercial pilot training at Bucks new university. I had lived abroad for about 15 years and wanted to live in the UK. You are given time during your degree to complete your pilot training, I did my ATPL theory during my 2nd year and my hour building in Cyprus which meant that after my degree I could enrol with FTA Global to complete all my advanced flight training.
Do you have any useful tips for modular students in need of hour building?
I trained at a different flight school where they send their modular students to Arizona and Cyprus for hour building. You travel out in groups and complete your hour building together which means you are able to back seat and benefit from viewing the flights from a different perspective. It was great to fly in and out of Larnaca, which is a very busy airport with charter and scheduled flights. The airport is close to a mountain range so you have to be disciplined in managing your height and speed.
Toby explains how it was hard adjusting to a more 'commercial' mentality with his flight training…
The first time I flew a DA42 was quite an eye-opener. I felt like my circuits were quite sloppy so I asked my instructor what I was doing wrong in the air and he amusingly replied "It's fine, you are just flying like a PPL student", meaning that I needed to more precise with my flying. Apparently, it is quite typical for modular students to need time to adjust and therefore, one of benefits of integrated training over modular.
The application process
The airline training specialist I trained with after FTA helped me to recognise and develop the core competencies required in being a commercial pilot. They help train you to become more self-aware of how you and others might respond under pressure and varying scenarios, which is obviously important as you progress onto airline interviews and display that you can handle any situation thrown at you with a calm approach.
AirlinePrep are one of FTA Global's training partners and their interview preparation workshop is available to all FTA students. I would say that students should not underestimate the importance of this training and be sure to attend the workshop. The advice and training they offer really helps you with the job application process, which was something I was very nervous about going into.
Having spent a lot of time in education, I worried that perhaps like other individuals coming straight out of school or college and into flight training, that I would lack sufficient 'life experience' to fall back on and talk about in my interview. But having done this preparation, which included being taught and trained what recruiters are actually looking for when they ask about times you've displayed leadership or good communication, I was able to go into the interview prepared, confident and with a positive mind-set and I was able to relax a bit more and even enjoy the experience!
Why did you choose FTA?
Due to the nature of my modular training, I had been to a few flying schools prior to FTA and all I can say is that although some were great to be a part of, others lacked the transparency and communication you would expect when investing such large amount of money as flight training entails. When I visited FTA, I asked lots of questions and it was a breath of fresh air at how open, honest and engaging they were in making sure everyone was on the same page when it came to scheduling and finances.
My best advice is to make sure you do your research before investing into your flight training. Nothing is perfect, and that includes flying schools so there will be Pro's and Cons to any flying school you look at. It's a matter of what flying school suits you best, be it on the cost side of things, the learning environment of the school, the location and so on. If you do the research it is likely that you'll find yourself in the school perfect for you.
For me personally FTA was the perfect school because I was impressed with the scheduling, everyone seemed to fly consistently (weather permitting of course) and it was the close community of the school which made it a joy to be there. Every instructor was amazing at FTA and I had a really, positive experience. Everyone has their different perspective and flying experience and they all put in tremendous effort with the students.