Dan's interest in flight training started in an unusual place – a car boot sale. There he stumbled across a copy of 'flight sim' a computer game which focuses on aircraft simulation, and he became hooked. Just as well, because before that chance encounter, he'd always wanted to become a virologist…
I'd always found virology (a specific study of microbiology) to be a fascinating subject and for a long time determined that this was what I wanted to make a career from. But then a PC-simulator programme I discovered at a car boot sale called 'Flight Sim' changed everything. It was exactly what it was called – a flight simulator game which offered insight into what it was like to fly. I found myself spending increasing amounts of time using this programme and really enjoying the mathematical elements to precision flying. My parents could see flying had sparked my interest and so my mum bought me a trial flying lesson as a birthday present. I was 15 years old, we flew to the Isle of Wight, and I just fell in love with the whole experience.
After the trial lesson, I made the decision that I wanted to complete my commercial pilot training, but the question was 'how?' The forums would say how expensive it was and such an impossible task without £100,000 which was somewhat concerning when investigating this as a new career path.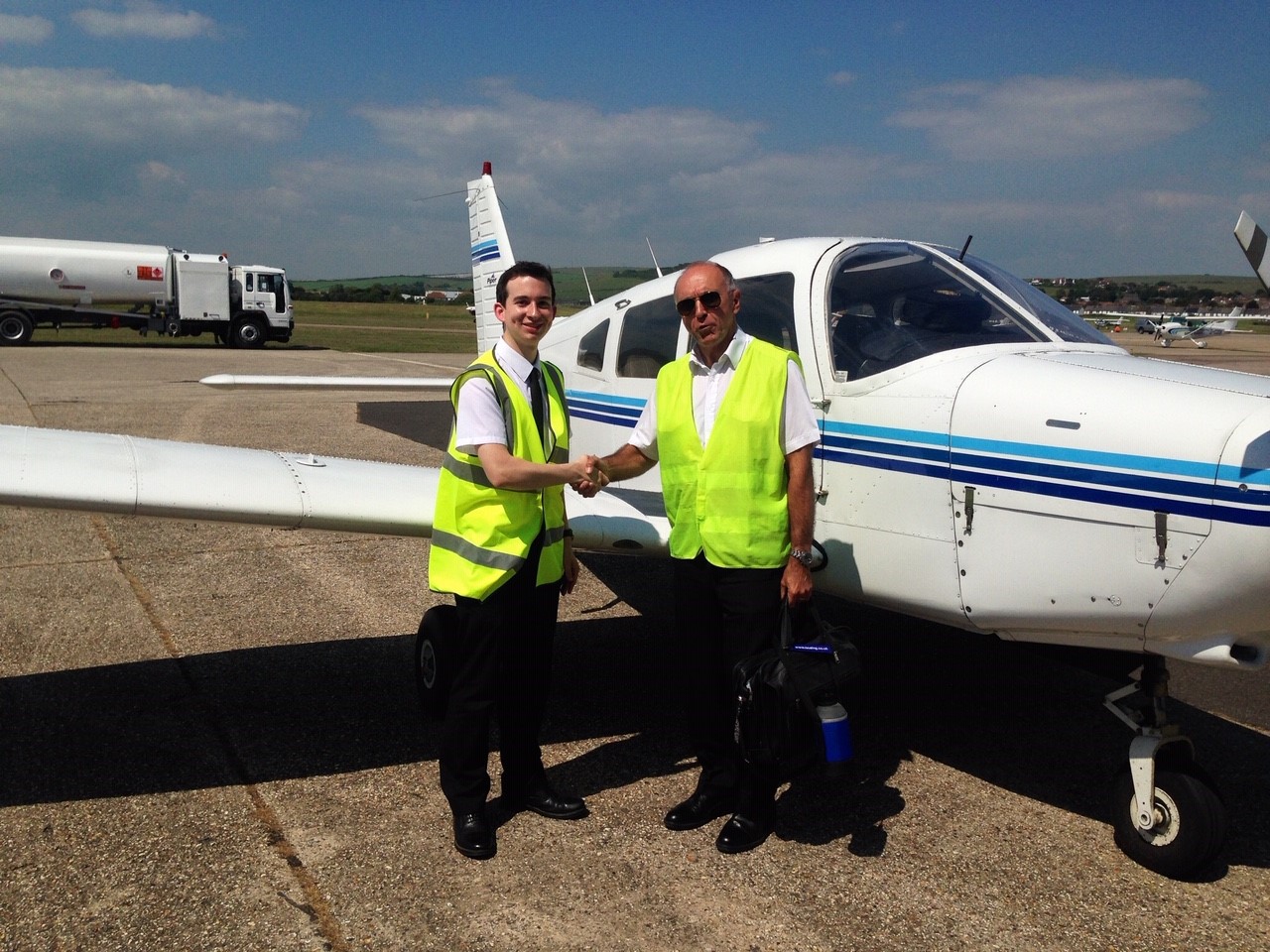 I decided to obtain my private pilot's licence (PPL) to begin with and determine the next steps to my future once acquired. I was working in a café and every penny I had went on the training with a flying club based at Brighton City Airport. As I progressed with the training and found the need to conduct longer flights, it became a struggle to fund on my cafe wages. Knowing this, I secured a job at a mobile phone retailer which was better paid and helped me continue with my lessons in my spare time (this was in 2015). I was keen to increase my knowledge and experience in aviation and so applied for a job at a pilot shop based at the same airport. Luckily I was offered the position to work in the shop and gained a great insight into working life at an airport.
It was later when I attended a Pilot Careers Live exhibition (on behalf of my pilot shop employer) that I was approached by the then Managing Director of FTA Global about working on operations within the school and the rest, as they say, is history.
Being resilient and staying true to your dream
There's no question that Dan is a complete inspiration. Listening to him talk about his love of aviation and dedication to working and saving the funds to complete his training is humbling. You can be forgiven for getting a little emotional when he goes on to explain how resilient and tenacious he's had to be in pursuit of his dream:
I completed my A 'Levels in 2011; Business, ICT, Law and Media because even at that point I didn't quite believe that a career as a pilot was something that was accessible to me.
I want to think that my situation and experience will inspire others to realise that you do not need to have immediate access to vast amounts of money to become a pilot – I certainly didn't. As commercial pilot training was not something my parents could afford, I knew that if this were something I wanted to do I would need to raise the money myself. I worked several jobs to save every penny I could to fund my training and at times it had been incredibly hard.
It was sometimes tough to stay resilient against negative comments about the viability of what I was doing and often I'd be dismayed about the task ahead. Forums were full of comments like "good like with that unless you've got oodles of cash tucked away" or "you'll never be able to raise the money to complete your training". It was tough, but I became more determined to show others that they were wrong and it was possible for anyone who was willing to work hard enough for it. By far the most difficult time of my training until now has been working three jobs while studying ATPL theory; it's been very challenging, but not impossible.
In the earliest stages of my flight training at the flying club, I had a fantastic instructor, but I also had an awful experience with a different one. His teaching style was the complete opposite of my earlier instructor Sophie, but it focused my energy on staying determined. I decided that his approach was not proving beneficial to me, so I looked for a different school and found that same, incredible instructor had moved to FTA Global.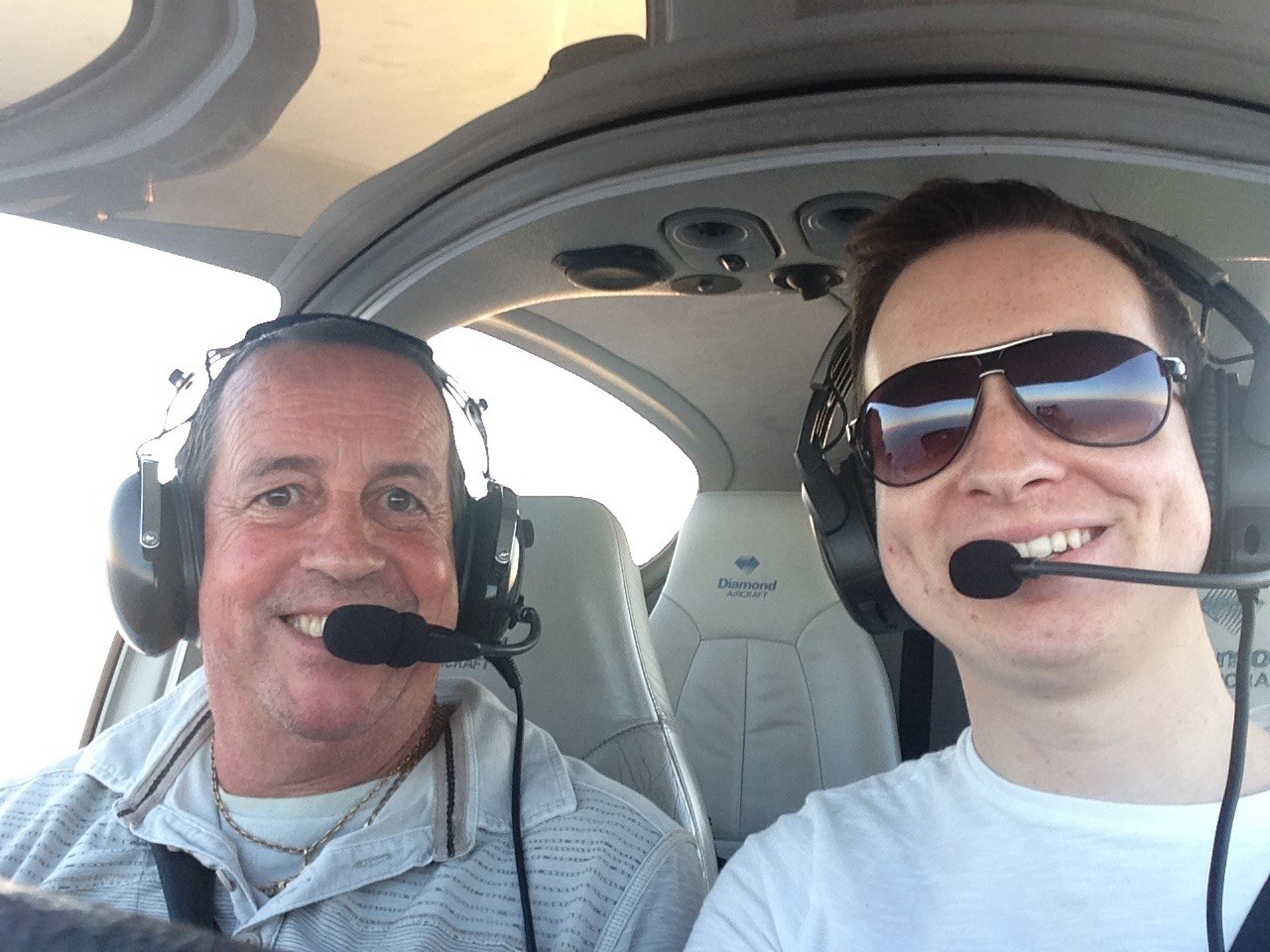 If I've learnt anything through my experience so far, it has been not to let other peoples' self-doubt, opinions or experiences get in the way of you knowing your abilities and motivations. That said, I don't want people reading this not to realise the stakes fully. Working several jobs while studying towards my ATPL theory was very hard. It took me a year all in all as I studied via distance learning and thankfully finished with a high average and first time passes. I can look back on that time now with pride and great relief. A significant section of my training is now done, and it's now just about completing the final stages.
Becoming an instructor
Dan's potential as an instructor was identified early on by the Management team at FTA. He has always been a popular member of the flight school and is that person that always goes the extra mile to help others. Students will recognise Dan as he helps out with the tours each Thursday at 10 am. What better person to advise others on pilot training than someone who is going through the training themselves. He describes the moment he realised he could become an instructor and what he enjoys about giving students tours.
I was working as usual behind operations, and we had a work experience student spend time in various departments for a week. I found myself teaching him about life behind the operations desk and showing him how to plan for a flight, calculate directions and times for navigating, submit flight plans, checking the weather and performance data for the aircraft. It was then that I realised how much I enjoyed teaching and supporting others.
I am also grateful to conduct our weekly tours because I appreciate speaking to people interested in becoming pilots, especially those who I see are in similar financial or work-related situations to myself. I like that we can be open about what is involved with pilot training. I frequently see the same motivation and determination in prospective students, and it always reminds me of my journey through training and how it is achievable to many more people than the industry may initially lead you to believe.
I am surrounded by professionals who are very good at what they do - they are my inspiration and show that the rewards are there for those that work hard. I see a future in a career as a flight instructor, and I feel lucky to be surrounded by those who are kind and experienced. I adore much about what I do, working at this airport, the environment and the aircraft.
Hour building and gaining experience
The route Dan elected to complete his pilot training is known as the 'modular' option, when you complete each flight phase in its entirety. Once complete, this will enable you to apply for a role as a first officer, or train to become an instructor. He explains a little about how this works:
As I have studied via the modular route, I need to fly a minimum of 100 hours' pilot-in-command time (time spent flying alone without an instructor) and so throughout the last few years have taken the opportunity to conduct hour building whenever possible. An aircraft needed to be flown to our second base in Spain, and I was the first to volunteer. I flew the Piper PA28 down to Teruel in the North East of Spain when our base was being set up (with a co-pilot/safety pilot for the company). I now only have 8 hours left to build, having built many of the hours while at working at FTA Global. Our school has a list of navigation routes (the set test routes), which I have made the most of and flown to gain experience.
I like the PA28 because of its stability and conventional instrument layout. Having recently transitioned to the Diamond fleet, I have however appreciated a lot more the ergonomics of a glass cockpit – particularly so during the instrument rating. I think that if you understand the system and controls in the diamond you're in a perfect position to understand those of larger passenger aircraft. The differences between the two aircraft are something I take the time to explain to people when I conduct tours of the flight school. Not everyone knows the difference between them, and it's nice to give them to the opportunity to sit in the seats and see the difference in design and controls.
Dan is one of those students that are in the flight school studying and preparing for this next lesson or flight; he even set up an impromptu study group the other day for several IR students embarking on that phase of their training. He explains where his passion and drive comes from:
People have often commented on my over-attention to the small details in life, but I am finding this is a useful trait to have, particularly for precision flying with the instrument rating. Having never initially believed a career such as this would be available to me, I am motivated every day to do my best and show others how achievable your dreams are if you work hard enough for them.
I train and work alongside others such as one of our instructors Tom. Having spoken to him about his journey and experiences, he remains an inspiration to me every day. He too has got to where he is through the modular route and is a fantastic, friendly, often highly praised instructor – precisely the kind I want to be.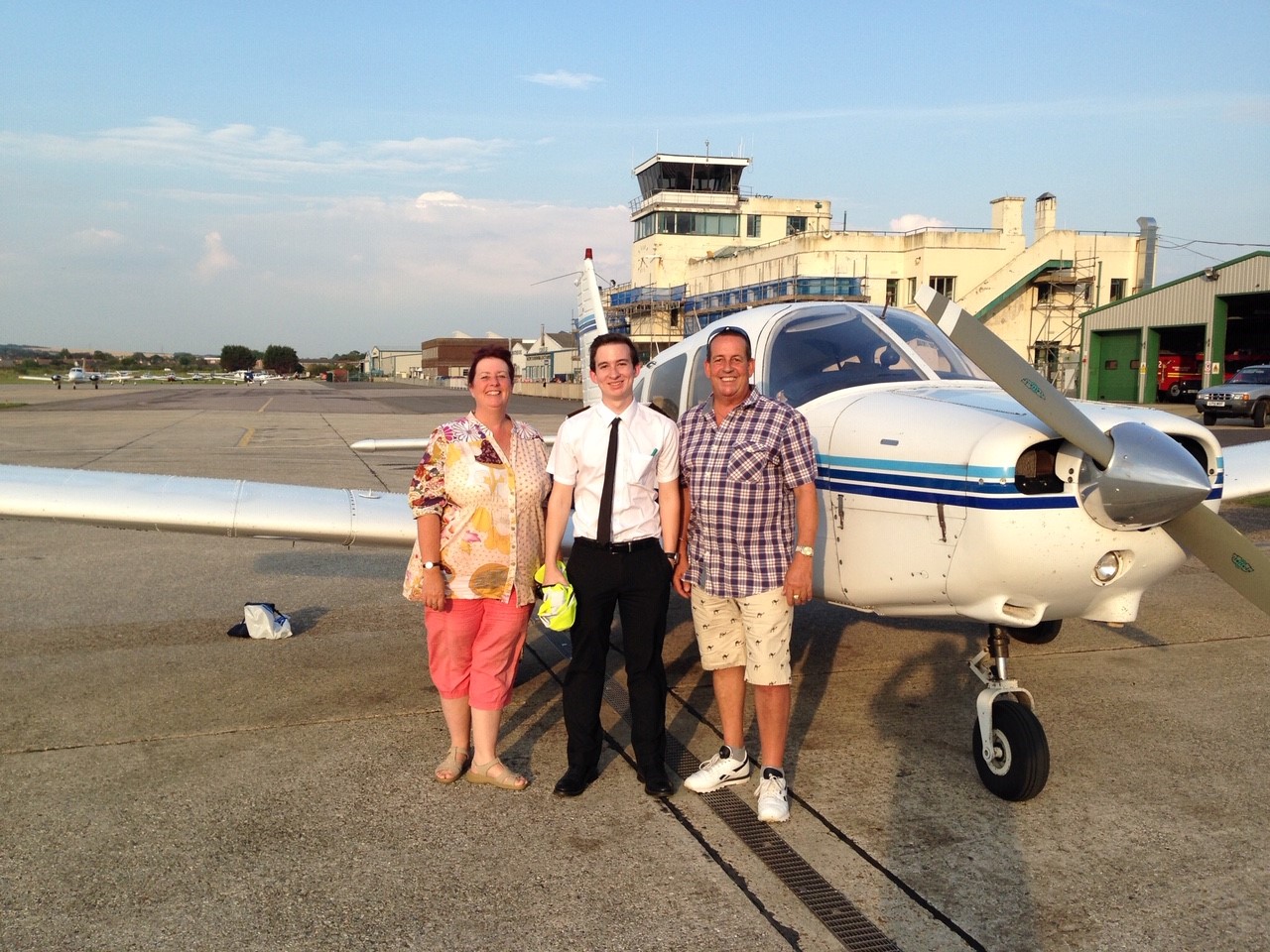 Loving aviation and the future
When I am not in the flight school, I like to pick up a good book, socialise with friends and am often organising activities for staff and students.
I am also fascinated by a particular turboprop aircraft, seen flying into the airport regularly. My reputation has become somewhat comical, often being referred to as the 'PC12-guy'. In one of my current jobs, I had the opportunity to position this aircraft to Cardiff and have been amazed at the technology, yet simplicity to fly a near 5-tonne plane.
The aircraft performance and versatility have impressed me, and it is certainly something I would want to be qualified to fly in the future. Also having worked on operations for the school, you come to appreciate the other side of flying – the planning - and I like that single pilot operations such as these keep your hand in flight plan submission, manual weather & performance calculations and passenger liaison.
Dan has since finished his Commercial Pilot's Licence at FTA Global (as well as his Flight Instructor Rating), and works as an Instructor in our flight school.